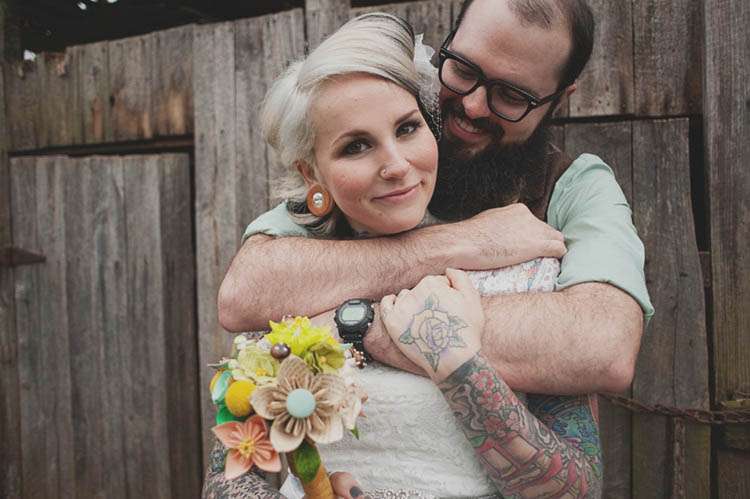 BADABOOM!
That's the noise my heart made when I clapped eyes on Ashley & Justin's wedding. These guys are Rock n Roll gold and I'm so so so excited to be a-sharing these today.
The wedding was held at Red Gate Farm in Tennessee, a beautiful 30 acre farm with a view of the mountains.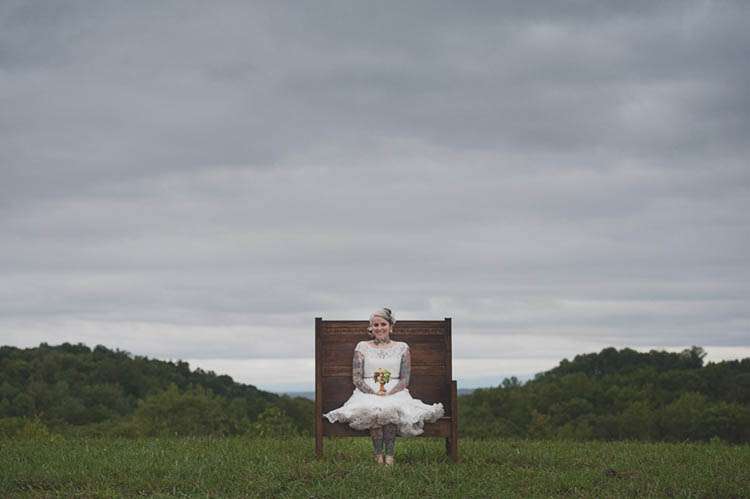 "We wanted to make sure the wedding was really laid back and not a typical, traditional wedding," the gorgeous bride told me. "I love collecting antiques, so naturally I was really inspired by vintage themes. I also found a love for rustic, barn weddings. We couldn't find any barn venues around here that really appealed to us, so with the help of our amazing photographer Tara, we found the location. It was absolutely perfect. The owners already had a lot of things on location for us to use, and they agreed to supply us with hay bales for seating! Score!"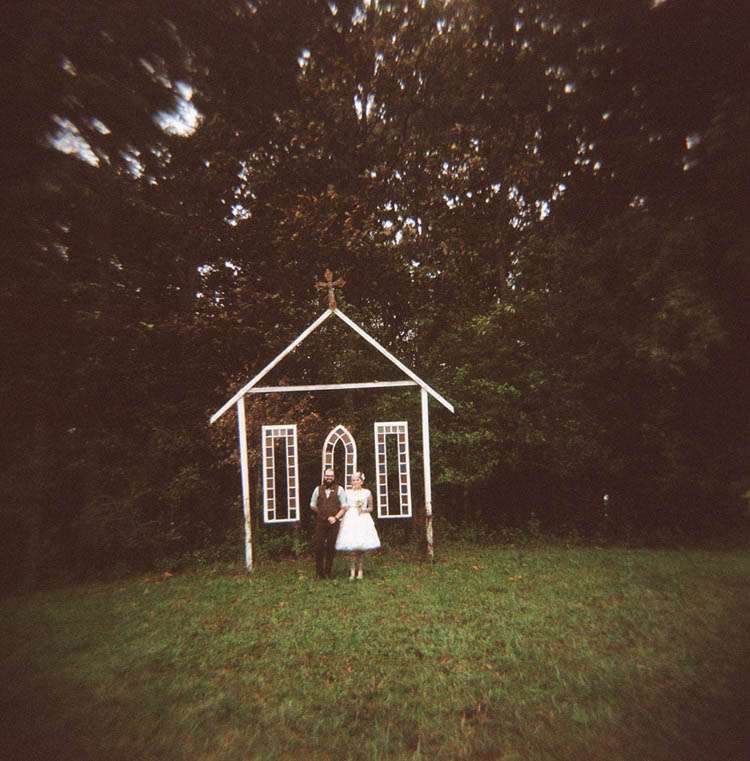 "With the help from my mother-in-law, we searched thrift and antique stores for lace tablecloths, vintage napkins, vases, spice tins, afghans for the hay bales, etc. I couldn't have done it all without her help."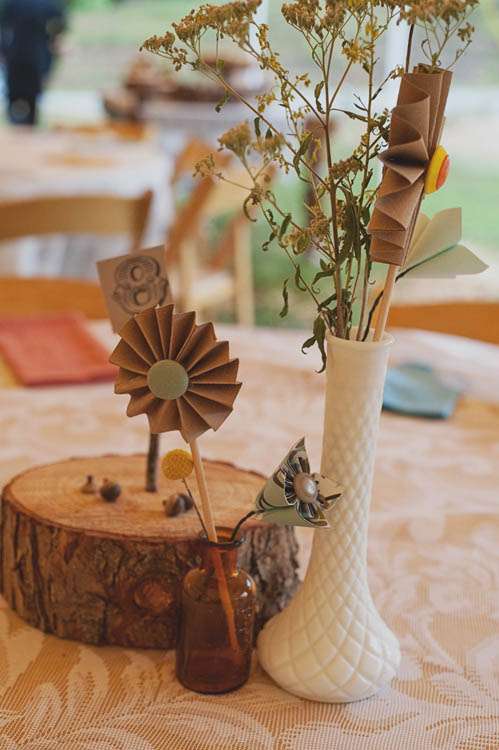 "Most of our wedding was DIY, she continued. "The most special DIY was my wedding dress, because my mother and I spent so much time reworking a dress I purchased from Unique Vintage. In the end, it was completely unique and one of a kind, just like my Mom!"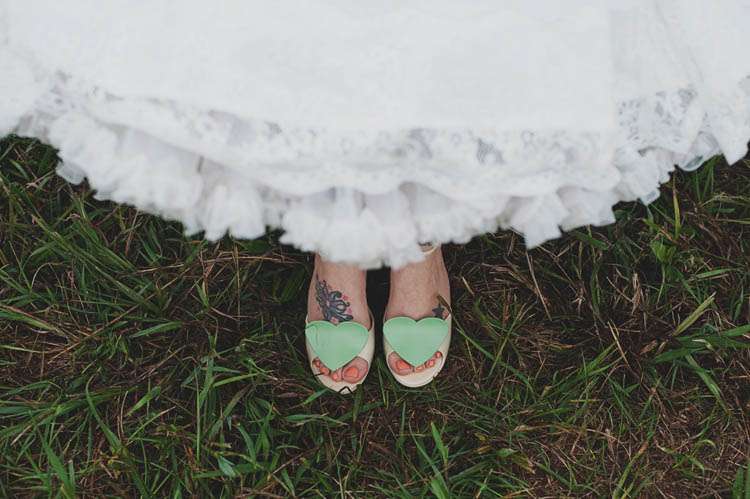 Ashley teamed her dress with Vivienne Westwood/Melissa shoes but she sprayed the hearts from red to green to they were totally one-of-a-kind.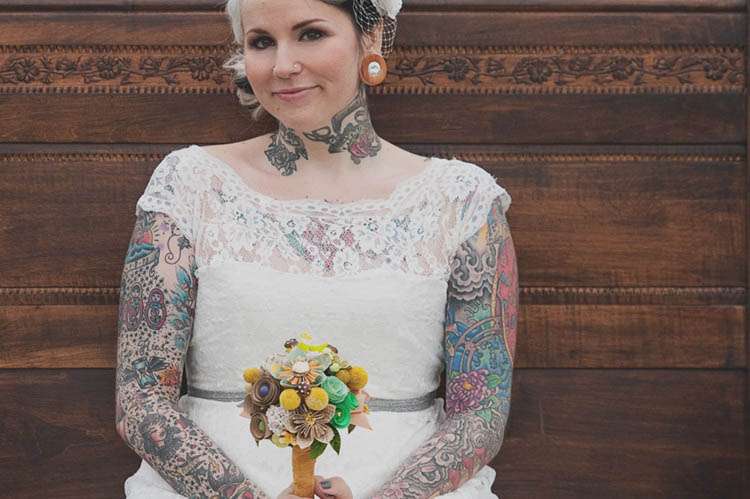 "I had always wanted to have a paper flower bouquet, so I looked up tutorials online. They were slightly tedious, but really fun to make and worth it! They were WAY cheaper than real flowers, plus I can keep them forever. I also spent some time with two of my best girlfriends to make mustaches on sticks for our party favors. With the help from coupons and a friend who worked at a local craft store, I spent almost nothing in comparison to how much they were selling for on etsy. They were a huge hit with our guests too!"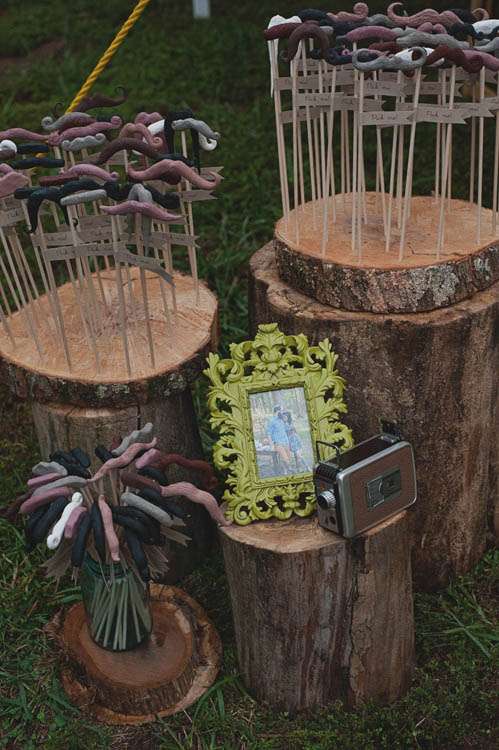 "To any brides planning their wedding with time to spare, start working on DIY projects early on," Ashley advises. "It will save you a lot of stress and late night crafting in the end. I started working on everything when we got engaged, and the week of the wedding was almost stress-free! Accept help from others. You don't have to do everything on your own, and believe it or not, you can't. Chances are, there will be plenty of friends and family around you that want to help. Let them."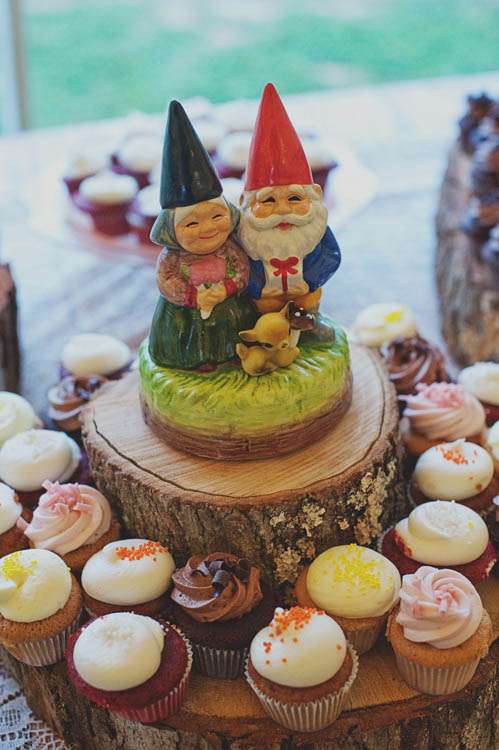 "Choose a photographer that that best suits your style. In the end, you only have your photos and you want them to be the best! I knew from day one that I wanted to work with Tara at Dixie Pixel. I have worked with her in the past and she is phenomenal at what she does. Her style of photography is like none other around here and I knew she would 'get' my vision, even if it was hard for me to put into words at first. I couldn't be happier with the way the pictures turned out. She and her assistant, James, were able to capture so many moments that I didn't expect to see. It brought tears to my eyes all over again."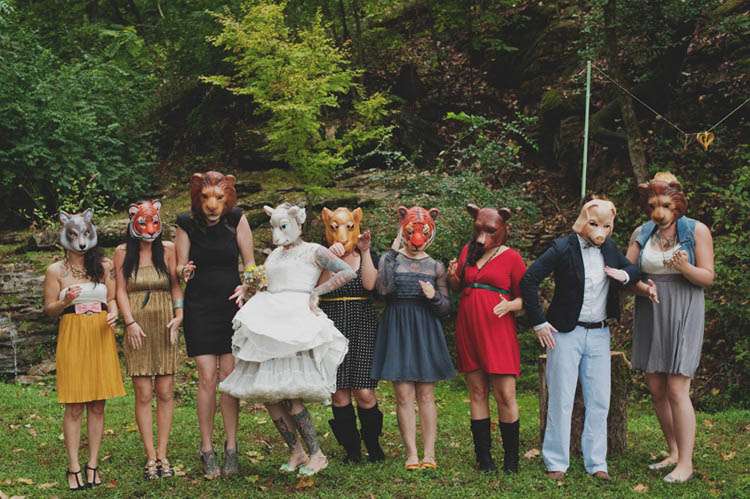 Oh these are just so beautiful/awesome/crazy all at the same time!
Thank you so much to Ashley & Justin and their fabulous photographer Tara for sharing.
Photography Credit: Dixie Pixel Photography
Venue: Red Gate Farm, Tennessee
Bride's Dress:  Unique Vintage
Bride's Shoes: Vivienne Westwood/Melissa
Bride's Headpiece: DIY
Bride's Jewellery: Black Heart Organics on etsy (earrings)
Groom's Bow Tie: DIY
Cake: Magpies
Flowers: DIY & EcoLectic Events on etsy
Hair: Corey Lambert at Tease
Make Up: Lia Patty
Stationery: DIY