Are you loving the mismatched bridesmaid trend but are a little unsure about how to pull it off with your own girls? Avoid them looking uncoordinated or simply like the rest of your guests with a few of my simple tips on how to tie them together in easy and subtle ways. With effortless attentions to detail your bridesmaids really will look as faaaabulous as the girls pictured here. I promise!
This article is illustrated with images of the 'bridesmaids' at Atlanta's NOT Wedding which took place in July.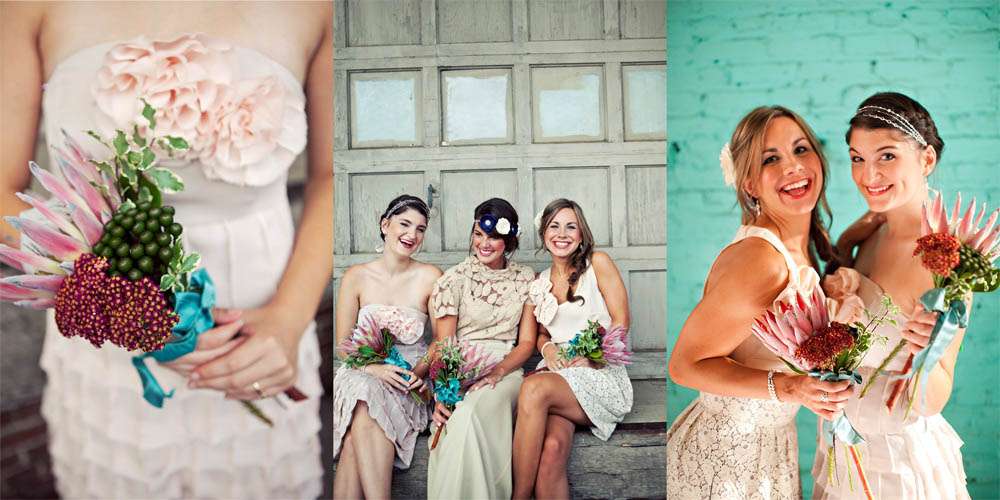 Photography Credit: Once Like a Spark (image 1 & 2) & Chelsea Patricia (image 3)
Making sure all your bridesmaid's bouquets are the same is a guaranteed way to make sure no one mistakes them. No matter how different their outfits are, anyone carrying a bouquet is pretty obviously part of the wedding party!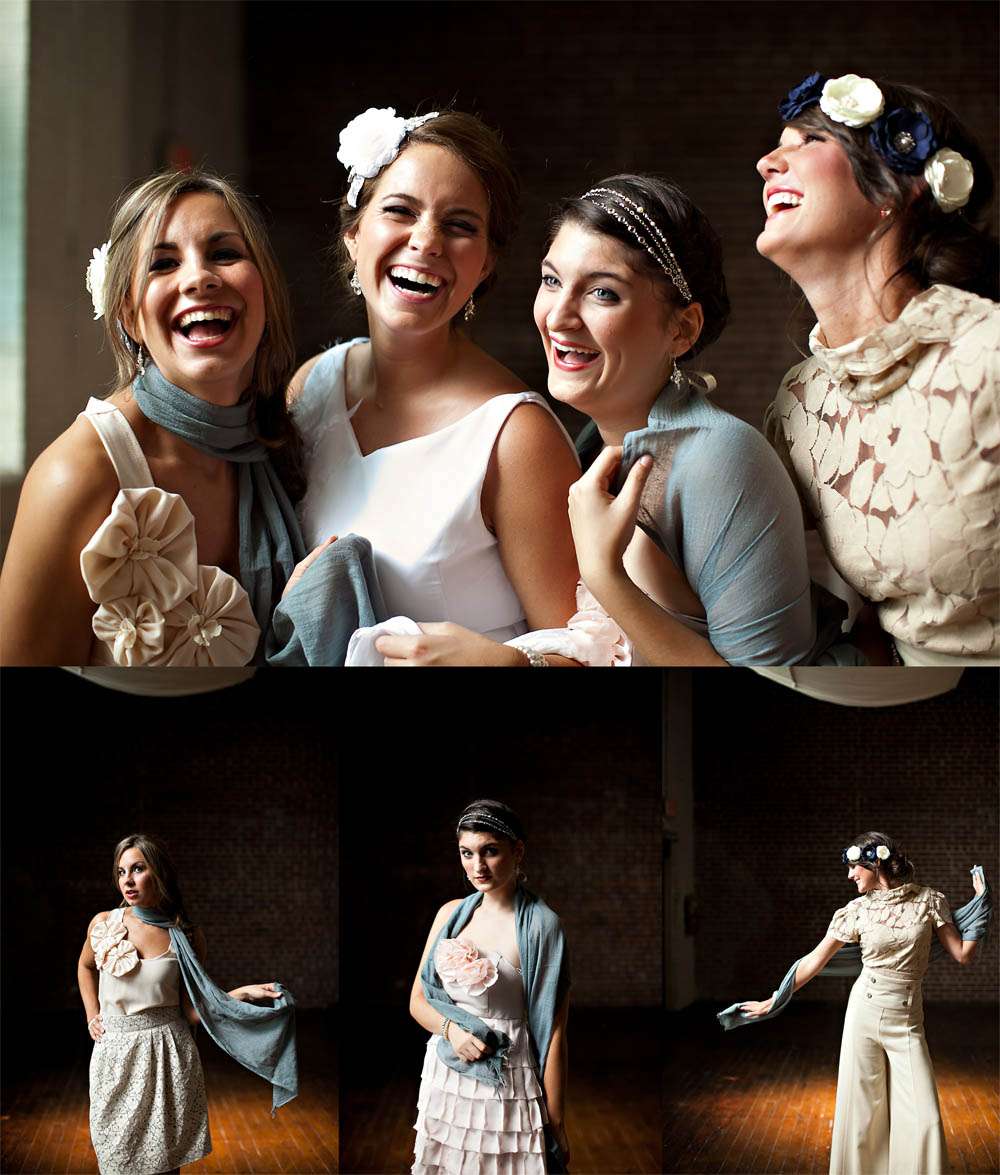 Photography Credit: Chelsea Patricia
Unusual but matching accessories such as scarves (as illustrated), handbags, shoes, or statement jewellery is another great way to tie your bridesmaids together. Even if they wear each the look quite differently (each bridesmaid pictured is wearing the scarf in a different way) the similar flash of fabric and colour will tie them together beautifully.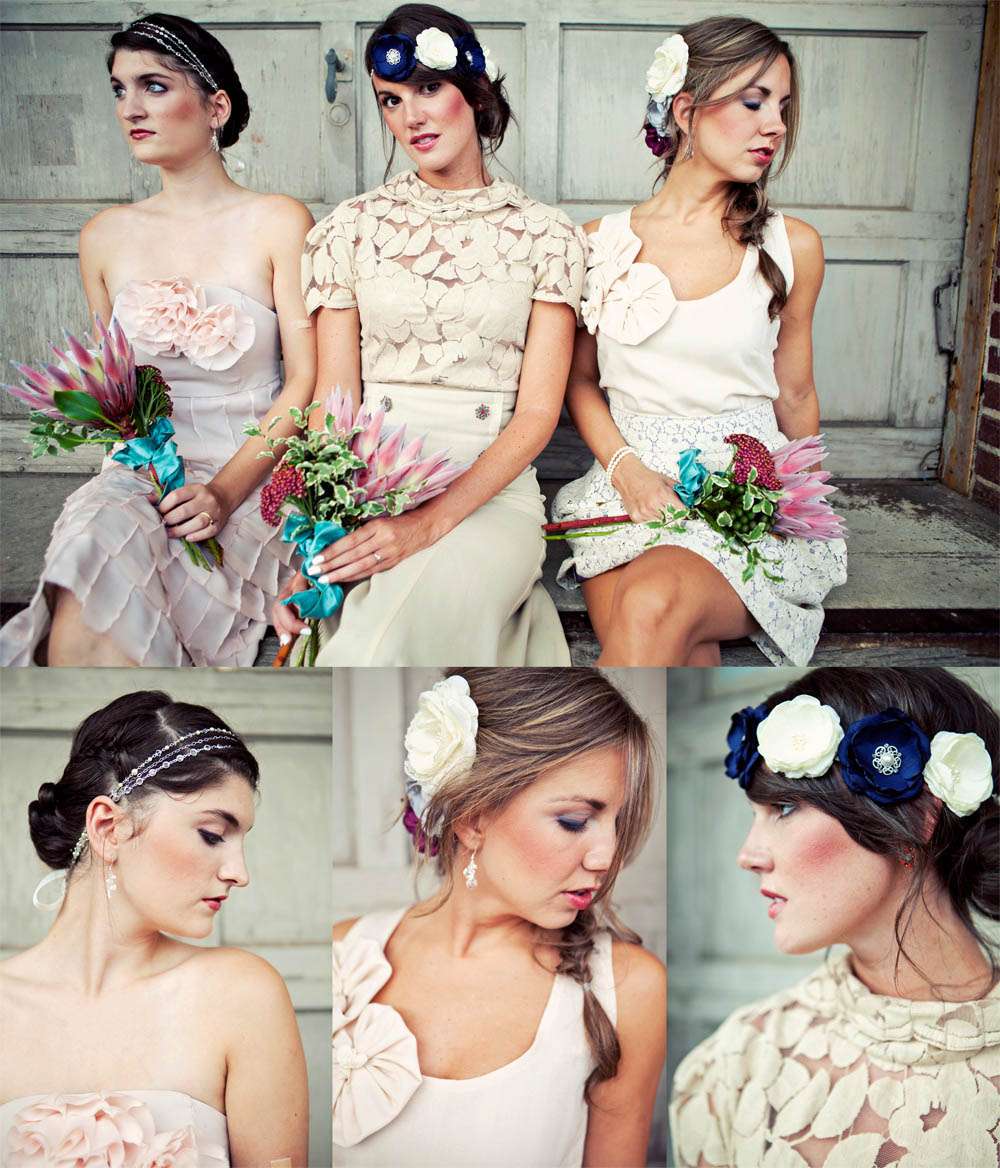 Photography Credit: Once Like a Spark
If their outfits are vastly different, keeping your bridesmaid's hairstyle or hair accessories similar or the same will again, tie them together in a unique fashion. Floral hair accessoires are BIG for this year's wedding season as are dishevelled and messy up-do's. Remember Elsie's tutorial for the beehive up-do? Her bridesmaids all rocked this look so well!

Photography Credit: Once Like a Spark (main image) & The Long Farewell (detail images)
Fabric details are another subtle way to make your bridesmaid's look part of the same team. The girls pictured are all dressed in a similar colour scheme, but even if they weren't, a dramatic and obvious pattern (ie aa distinctive pattern or lace as pictured) would tie them together really well.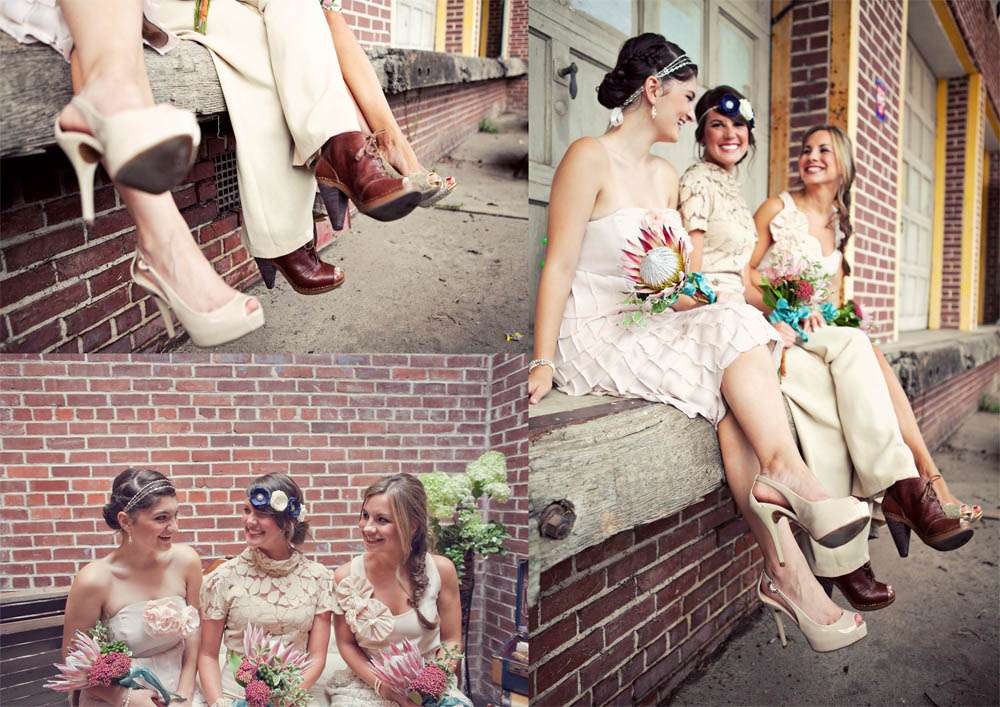 Photography Credit: Once Like a Spark
Different outfits in the same colour or hue (different shade variations of one colour) has been a popular option for Rock n Roll Brides for a while now and I certainly don't see this trend going anywhere. How about taking it to the next level and having one of your girls in a jumpsuit as pictured here? I personally love love love this look!
In a similar way you don't have to insist your bridesmaids wear the same shoes to tie this look together, keeping them in the same colour scheme will again allow them to make some thoroughly modern and unique style choices.

The Not Wedding is a unique bridal event in which a handful of Atlanta's most talented and brilliant vendors come together to stage a one-of-a-kind fake wedding. Complete with an unforgettable ceremony, a first dance, a cake cutting and a reception, The Not Wedding is a really unusual and awesome way to show off some of the city's' most Rock n Roll suppliers. What better way to see what they have to offer than by seeing them in action at a real (ahem fake) wedding!
The wonderful guys at The Not Wedding have also sent over this fabulous video of their most recent event. Be sure to check it out to learn more about what it's is all about.
Exciting news is that The NOT Wedding event is expanding and is moving to San Diego and Orlando in addition to Atlanta for their next run of events to be held in February/March. Keep your eyes peeled to their website for further info. They are also currently taking vendor and intern applications for each city.
Come to London next please!
Photography Credit: The Long Farewell, Chelsea Patricia & Once Like a Spark
Bridesmaid Outfits: CORE Bridesmaids Couture
Shoes: Bloomingdales Lenox Square
Scarves: fashionABLE
Jewellery & Headpieces: Fine and Fleurie
Hair & Make Up: Claudia Mejerle
Flowers: Gertie Mae's Floral Studio
Location: Ambient + Studio
Video: White Dress Media