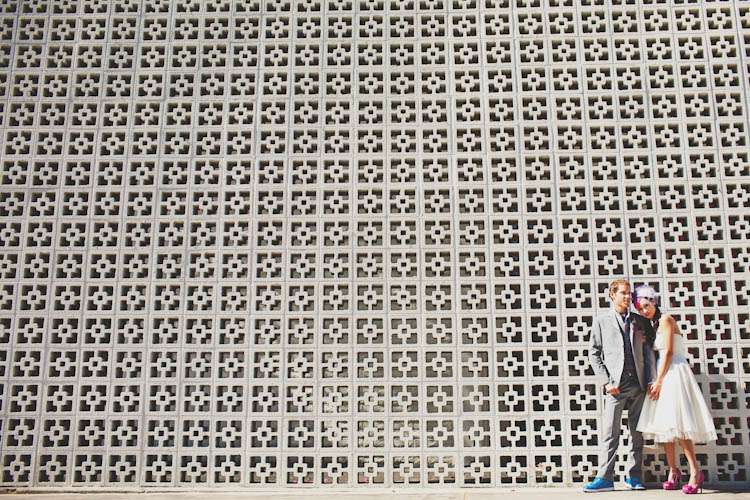 You're going to love Brandie & Ede's wedding…and not just because the bride has pink hair (although it helps – I'm totally biased towards my pink haired brides) But because it's well…awesome!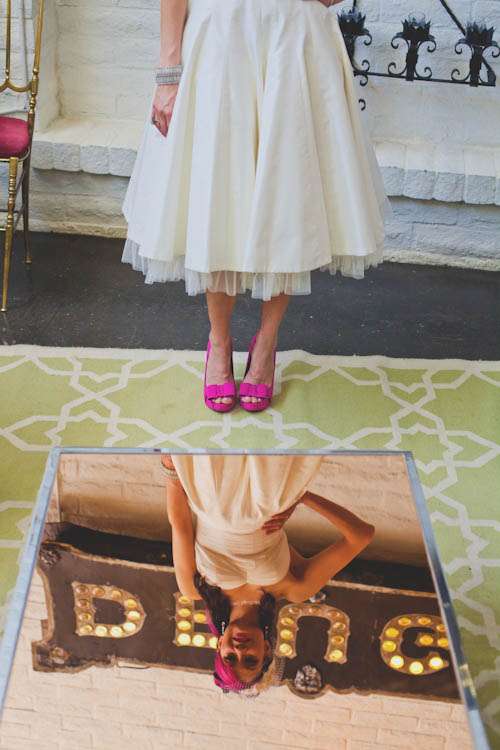 "Everything was different," Brandie told me. "We wanted stuff we loved and stuff we would want to enjoy at our own wedding. Everything down to the food was thought of. Our venue, The Parker was a perfect setting because of the fabulous design that is already there. We just brought in our personality. I never felt like we had to include anything traditional. We did the parts we wanted to do. Owls were a huge part of the invitation suite and birds in general. I think we approached it like our home design – colorful, modern, with a heavy dose of whimsy. All the centerpieces were a random collection of white items from animals to the Eiffel Tower. Wherever you looked the was something to put a smile on your face."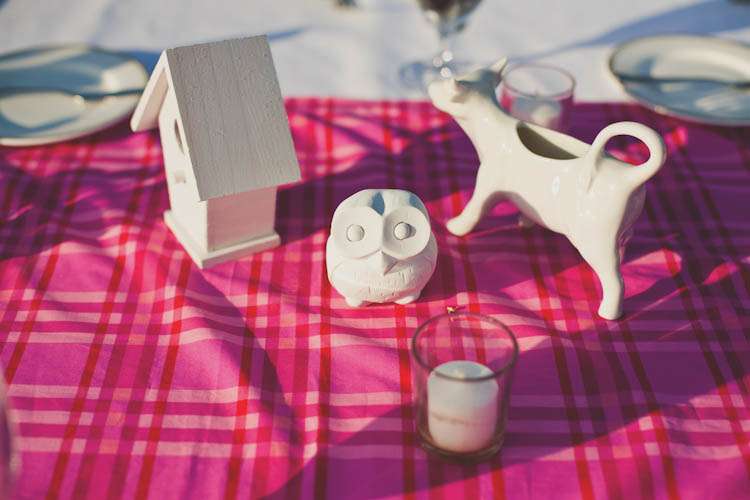 And I literally did have the biggest smile on my face as I looked through these photographs taken by the amazing EP Love Photography.
Brandie wore a dress by Priscilla of Boston, shoes by RSVP and a flower halo headband by Mignonne Handmade. Her jewellery was made by Ede's Mum and her rings were by Michelle Chang Jewelry. "She makes these super cute teeny animal face rings, earrings, and necklaces. Since, Ede says I remind him of a cat and I love felines-this was absolutely perfect."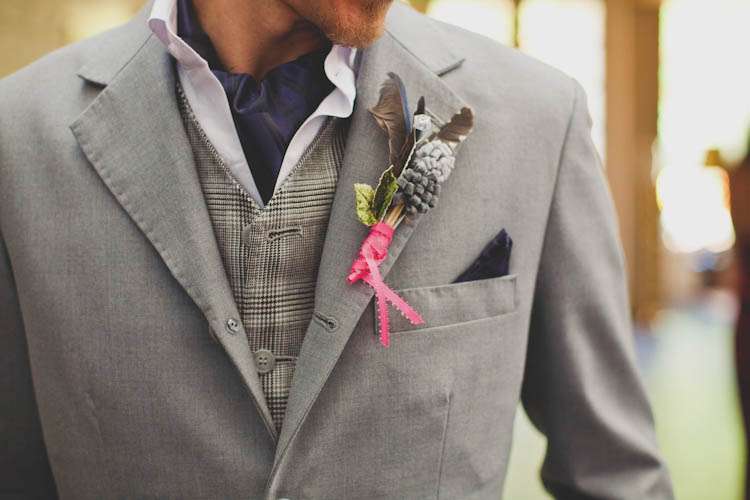 Ede wore a three-piece suit with an ascot tie. It was custom made by Duchess Clothiers in Portland, Oregon. "Ede was able to pick out all of the material, buttons, and even add an embroidered line inside his jacket," Brandie explained. "I made his boutonniere with feathers that Ede had collected on our hikes together."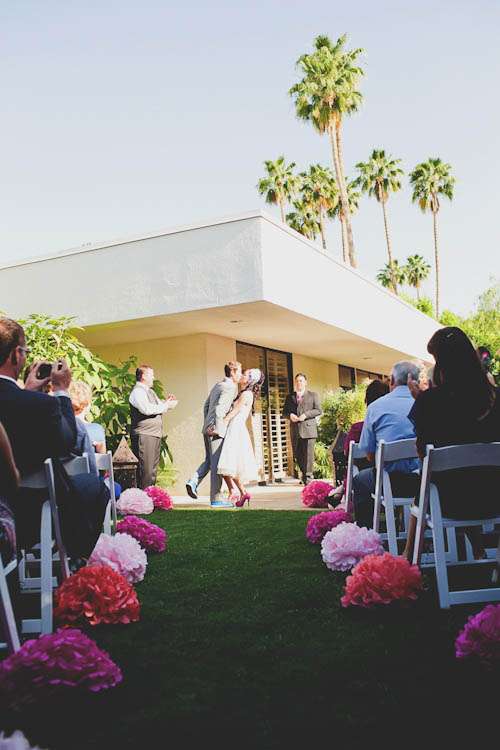 As you can see, the couple DIYed a lot of their wedding. They chose not to have fresh flowers at all and instead Brandie hand made all the paper pom poms and flowers. "I tried to teach a few people how, but they had little patience for it," Brandie laughed. "I created all of our bouquets with streamers. The cheap kind you get rolls of at the party store. I choose three different pinks to give it depth. Then I ordered floral supplies like the pearl and crystal sticks to add a little bling. There were several different big paper flowers I made to decorate different areas of the wedding, mostly made of crepe paper. We also used tons of Martha Stewart's paper pom poms throughout the house and back yard. I loved these because they were huge. So people even used them as props in our photo booth."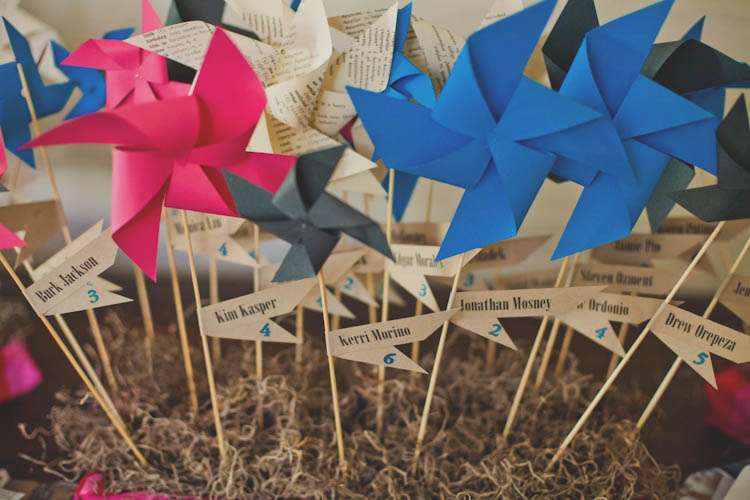 "This wedding was seriously a labor of love," Brandie continued. "I'm so lucky to have married a graphic designer. It was so much fun and meant so much to us to collaborate and brainstorm our wedding together. The best part, he actually cared about every detail and design decision. We created things both MacGyver and Martha Stewart would be envious of. Ede designed our save the dates, invitations, guest welcome bags, all of the signage, crafted the Mr & Mrs signs for our chairs and more. And since, nothing off the shelf was good enough or was my signature hot pink color, I pretty much had to sew all the table runners for the three kings' tables, runners for the bar and cupcake/ candy bar, and I even gave our teeny little bird toppers a custom top hat and veil. We created photo booth props with inspiration from wedding blogs. And hand made all the pinwheels for our escort cards (template/ how to from PaperCraft book–thank you!) because they were a nod to the all the windmills in the Palm Springs area. We got loads of help from Ede's parents the week of the wedding. We were literally set up in the garage all working on different crafts into the wee hours-it was a lot but so much fun."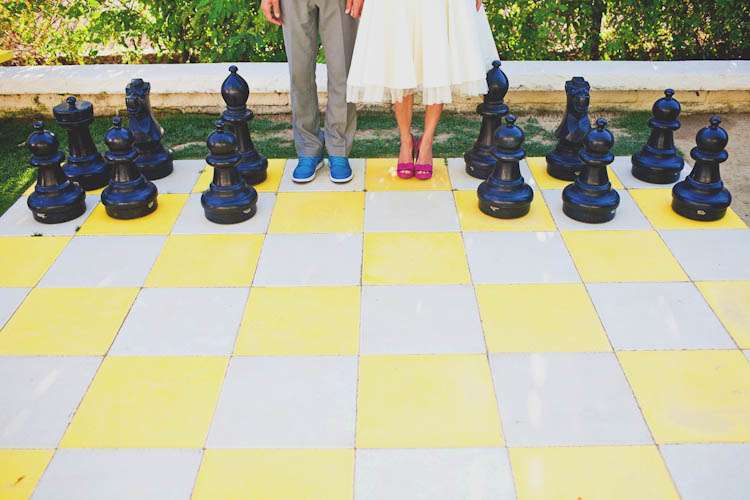 The music was also hugely important to the couple and their choice of entertainment was perfect! "OMG can I say how much we LOVE our band? Music is a huge thing for Ede and I. So, we wanted someone who would reflect us. These guys are some of the most talented artists I have ever met and they are so sweet. Justin and Drew of Almost Honest were such an amazing part of our wedding. From singing Yellow by Coldplay as I walked down the aisle to Mr. E's Beautiful Blues at the conclusion of our ceremony, it was all perfect. They even played quite a few songs they wrote during the reception. But I must say, the highlight, was hearing them do California Girls by Katy Perry!! Drew's voice and Justin's way with the guitar equaled awesomeness!"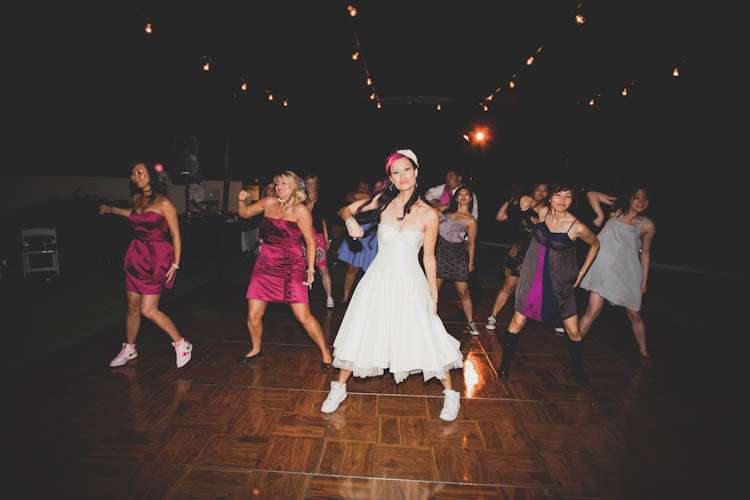 "Our DJ was a friend of a good friend. Jonathan Dale was super fun, easy to work with, and played everything I asked. He even played our song for our little dance performance. Since, I'm a hip hop choreographer/ instructor I had quite a few dancers at the wedding, so I thought it would be fun to "do a little dance." Even our officiant, who is one of my dancers joined us. The guests loved that part! And yes, I wore my wedding dress!"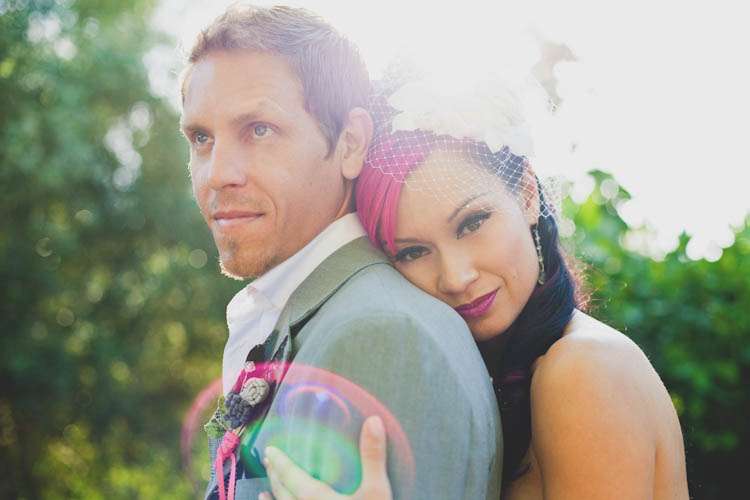 I. Just. Love. This! Who's with me?
Huge love and thanks to Brandi & Ede and their photographers EP Love Photography for sharing this with us today.
Photography Credit: EP Love Photography
Venue: Parker Palm Springs, Gene Autry Residence
Bride's Dress: Priscilla of Boston
Bride's Shoes: RSVP
Bride's Headpiece: Mignonne Handmade
Bride's Jewellery: DIY & Michelle Chang Jewelry
Groom's Outfit: Duchess Clothiers
Bridesmaid's Dresses: Priscilla of Boston
Groomsmen's Vest: Dietrich Fashions on Etsy
Cake: Parker Palm Springs
Flowers: DIY
Hair & Make Up: Stacey Chance
Band: Almost Honest
DJ: Jonathan Dale
Coordinator: Alex from Sterling Engagements