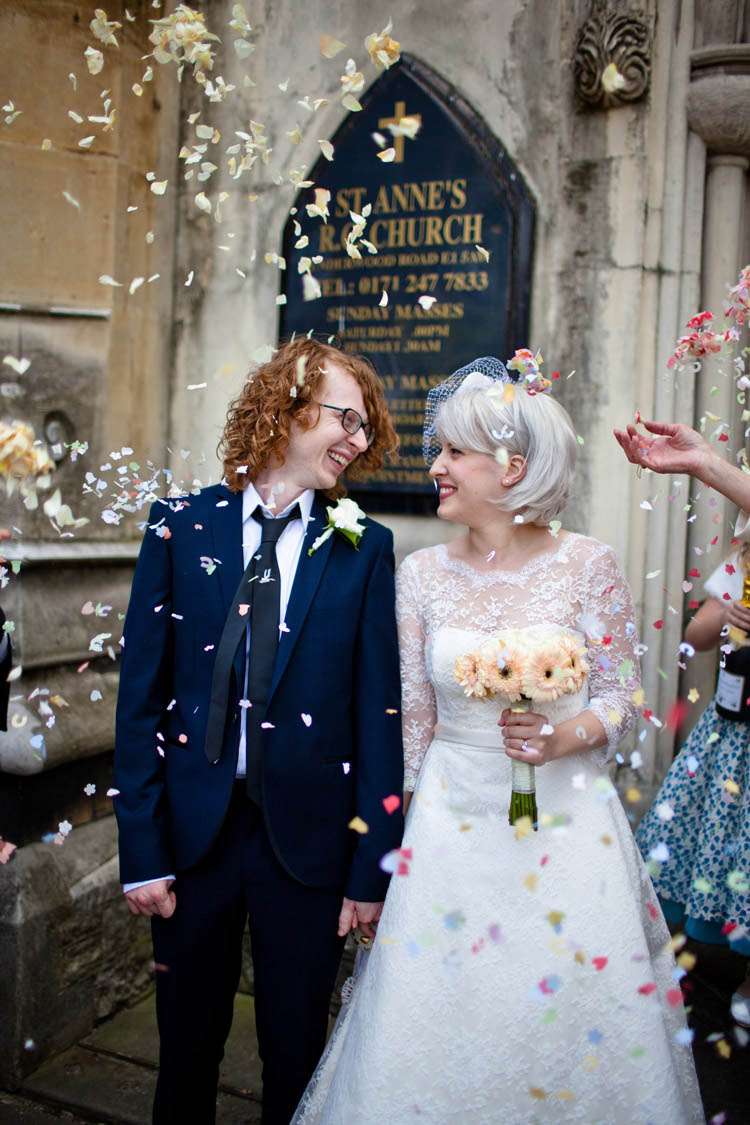 When I asked Jo & Oli to descrive their wedding, they simply called it an "East End knees up!" I love that and think the description cetainly matches the party vibe of their wedding photographs from Rosie Parsons.
"We knew that we didn't want a hotel reception (we couldn't have afforded one anyway!) because we wanted to put our stamp on our day: we wanted it to be really about what we like: tea and cake; Rock n Roll; dancing and cocktails!" Jo explained. "I dragged my Mum around every hall in the East End of London before deciding on St Peters in Bethnal Green. It had so much character whilst being a blank canvas at the same time. It was really important to me to get married in the East End as I grew up in Stepney and we now live in Bow. The hall was within walking distance of the hall and traffic was quite bad along Valance Road that day so Oli and I got to ride to the hall in our Morris Minor and chat to our guests as they walked along!"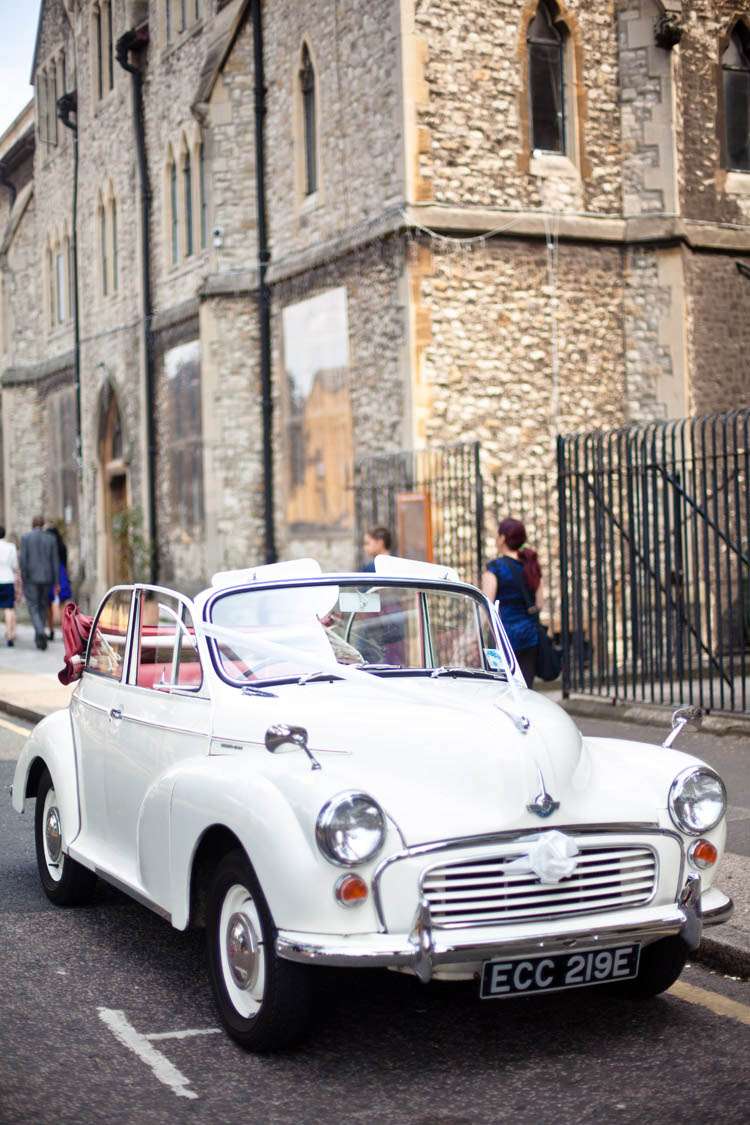 The ceremony was a very special party of the day and took place at St Anne's Roman Catholic Church. "Oli isn't Catholic so it was really important to me to make sure that the ceremony was as relaxed as possible while still being prayerful," Jo explained. "I've know Father Tony for a while and knew that he would be able to put Oli at ease as well as perform a ceremony that would be personal and meaningful. Father Tony sat us facing our guests which made the ceremony more intimate and something we could really share with out family and friends. The ceremony was perfect and Rosie really captured our happiness as we left the church. We decided not to spend money on decorating the church due to our budget and the fact that it's such a beautiful church, so full of character."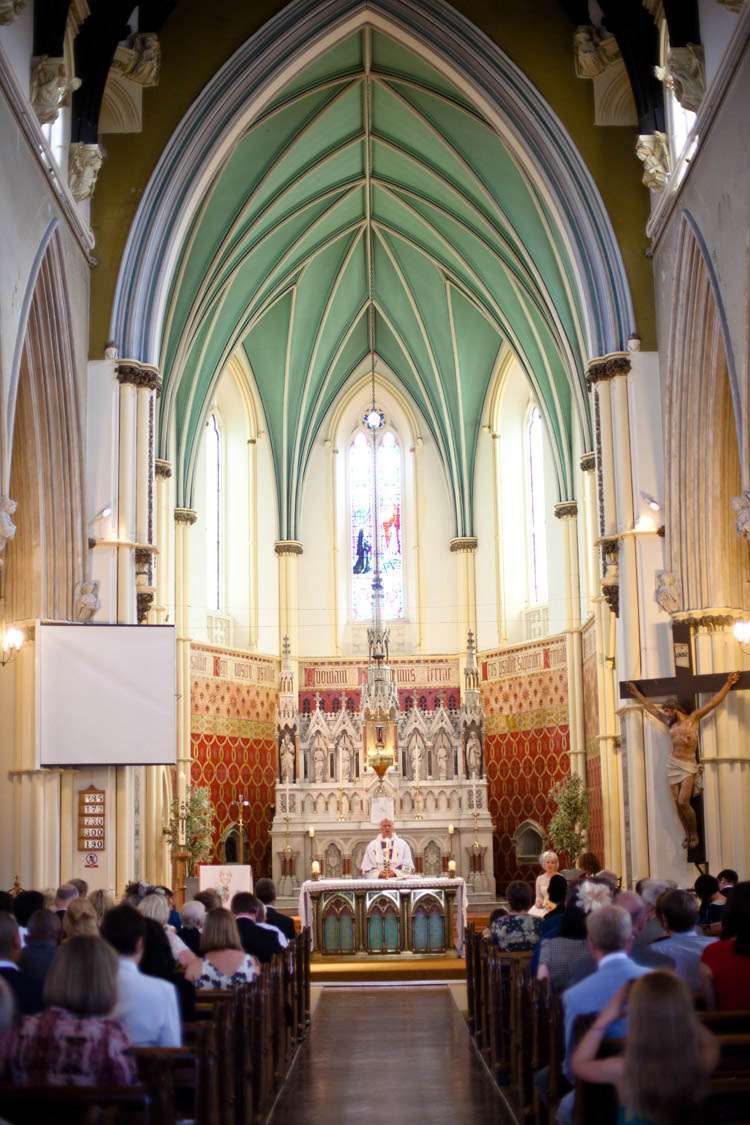 "A lot of what we achieved was due to the help of family and friends, everything from the bridesmaid's dresses made by Oli's mum to the flowers by my bridesmaid's mum to the catering and cocktails by my dad's friends at Drinks Fusion. The search for the perfect dress was the most fun part of the whole preparation. I knew that I wanted a short dress because I wanted to be on the dancefloor all night: I'm really clumsy too so just knew that I would tear a long dress. As it turns out I somehow managed to slightly tear the scalloping at the bottom anyway – Oli's mum to the rescue! I went to Melanie Potro with a specific idea about what I wanted and I couldn't have been more thrilled with my dress. Going to see Melanie for fittings was so much fun. It's so exciting seeing your dress being made from scratch, choosing the silk and lace and making the decisions. Melanie even out a little blue bow on my petticoat!"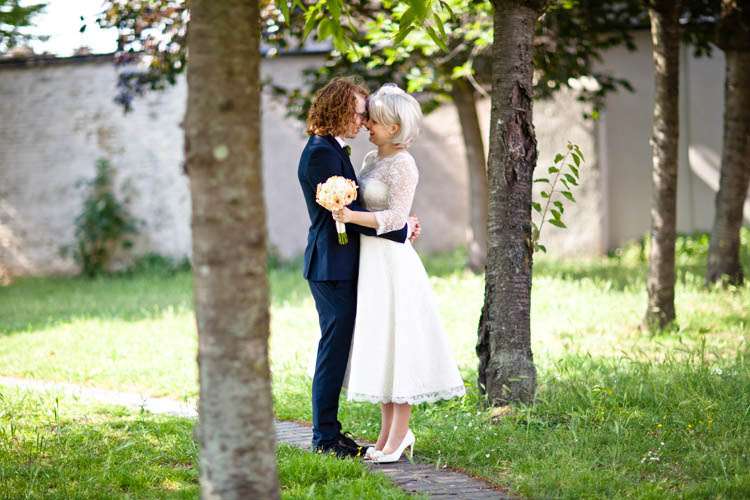 "Oli and I love to go for afternoon tea (you can't beat the Dorchester!) and thought that it would suit the hall which had an art deco feel. The vintage china was amazing – our caterer Jason spent a lot of time searching for the best in terms of quality and price – and was a real talking point with our guests as they arrived."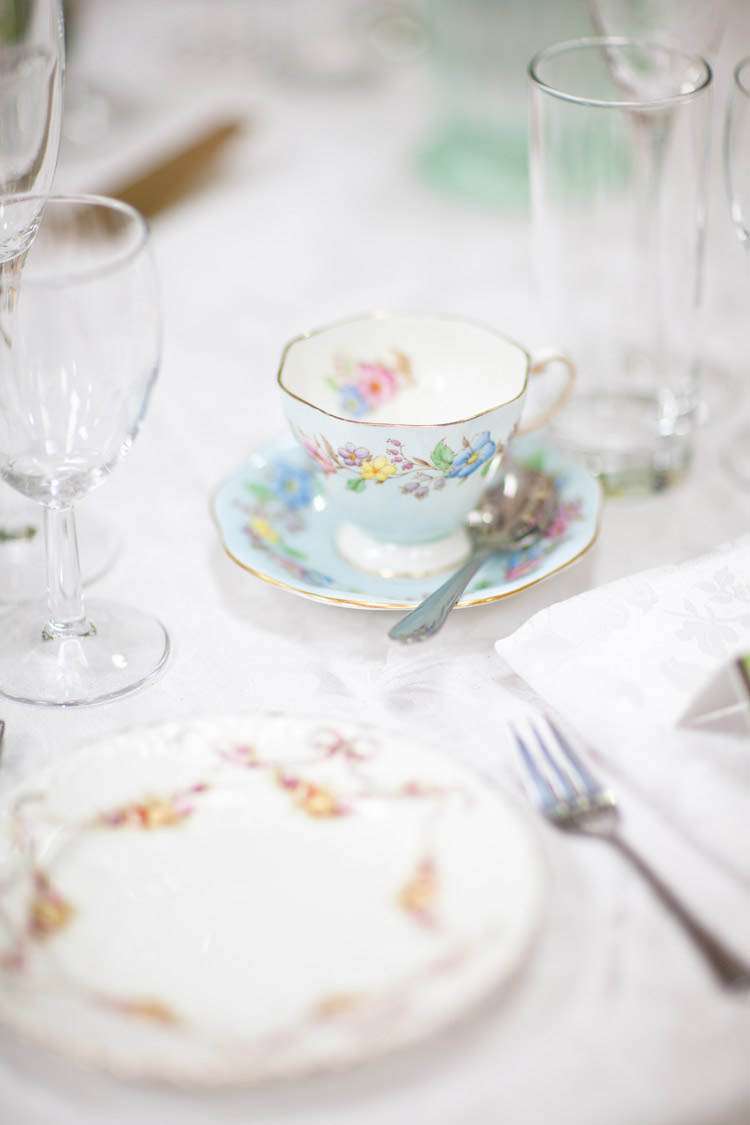 "Oli and I had our own table which we felt was a bit different, although our nieces pulled up their chairs and joined us! The table names were made up of the record sleeves of our favourite singers and we had our favourite 50's music playing throughout the afternoon tea. In the evening we had a huge buffet that quickly became the talking point of the evening as was the cocktail bar. Our guests drank over 400 cocktails!"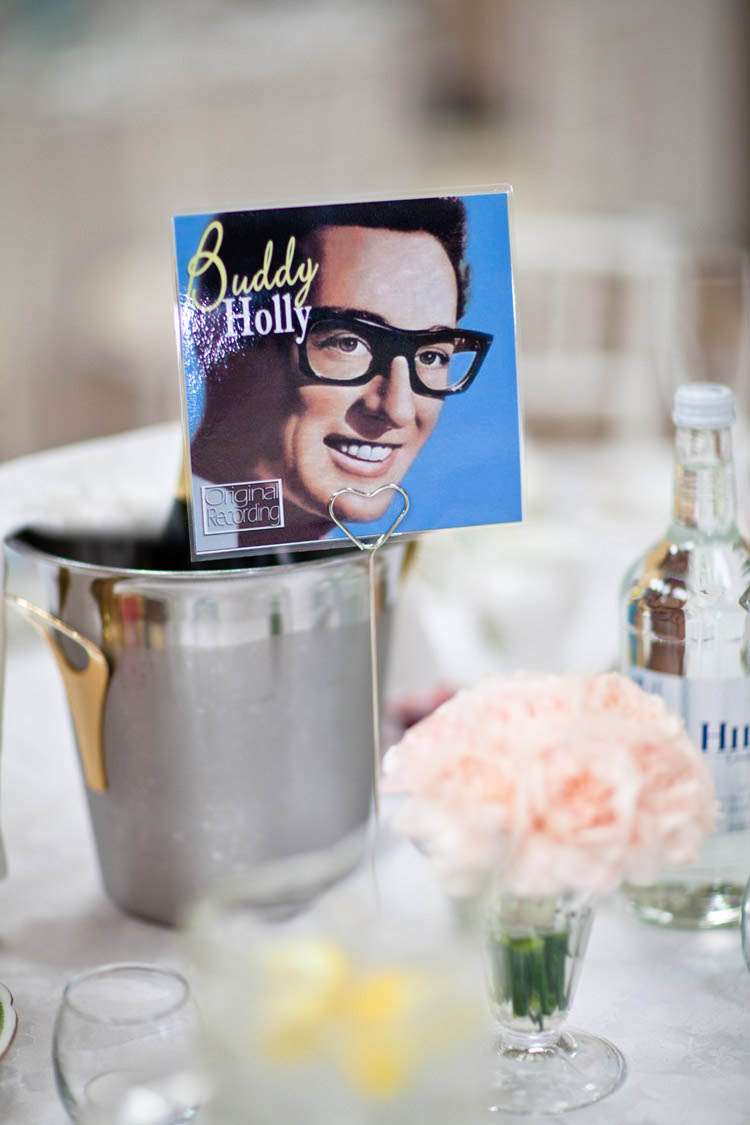 Thank you to Jo & Oli and their photographer Rosie Parsons for sharing this beautiful day.
Photography Credit: Rosie Parsons Photography
Ceremony Venue: St Anne's Roman Catholic Church
Reception Venue: St Peter's Hall, Bethnal Green
Bride's Dress: Melanie Potro
Bride's Shoes: Filippa Scott
Bride's Headpiece: Velvet Owl on Etsy
Groom's Outfit: Topman
Groomsmen's Outfits: Charles Tyrwhitt
Bridesmaid's Dresses: Courtesan Boutique
Flowergirl's Dresses: Sweet Disorder by Glynne Davies (Mother of the groom)
Cake: Marks & Spencer
Flowers: Edwina Fraser
DJ: Martin's Music
Vintage China Hire: Vintage Teas & RSVPs
Catering: Drinks Fusion
Car: Crown Cars