After such a great response to last weekend's post about How to Dress as a Wedding Guest, I got thinking about how I could expand this mini-series. I had a few photographers in the comments asking if I had any tips of how they should dress to shoot weddings. Now clearly I'm not a wedding photographer myself so I thought instead of trying to guess my way through answering this question, I'd ask some of my favourite photographers to share an outfit they might typically wear to shoot a wedding.
Here's what I learnt from the girls…
♥ Pockets are important – for memory card, lip balm, run sheets, your mobile phone etc.
♥ Comfy shoes are a must. Heels are to be worn with caution.
♥ Layers are great for changing weather (especially for the UK I'd imagine!)
♥ If wearing a dress that tights or leggings are often donned to avoid any embarrassing knicker flashing when getting into awkward positions to get that shot.
♥ It's important to make a bit of an effort. As Chloe Browne put it, "I like to look smart and I think it's good for my clients to see that I'm not "coming to work", but that I'm going to their wedding. It's also really important for me to feel like I fit in and it's often something that my clients bring up at their first meeting, so I know it's important to them too." You don't want to look like the 'staff' but similarly not like a guest…
♥ Dark colours are preferable as they are less likely to show up the dirt (again, after getting in all those funny positions!) but the most important thing is that an outfit is comfortable, doesn't crease (again, when getting into all those funny positions) and is easy to clean.
♥ You need to find the balance between something that's not too expensive (it's likely to get ruined!) or too cheap (no one wants to look cheap or have their clothes falling apart mid-wedding.)
♥ Pretty accessories are usually kept to a minimum so not to get in the way, however some bits of  'flair' can be great for distracting children when doing the group shots!
♥ Camera bags don't have to be ugly to be practical.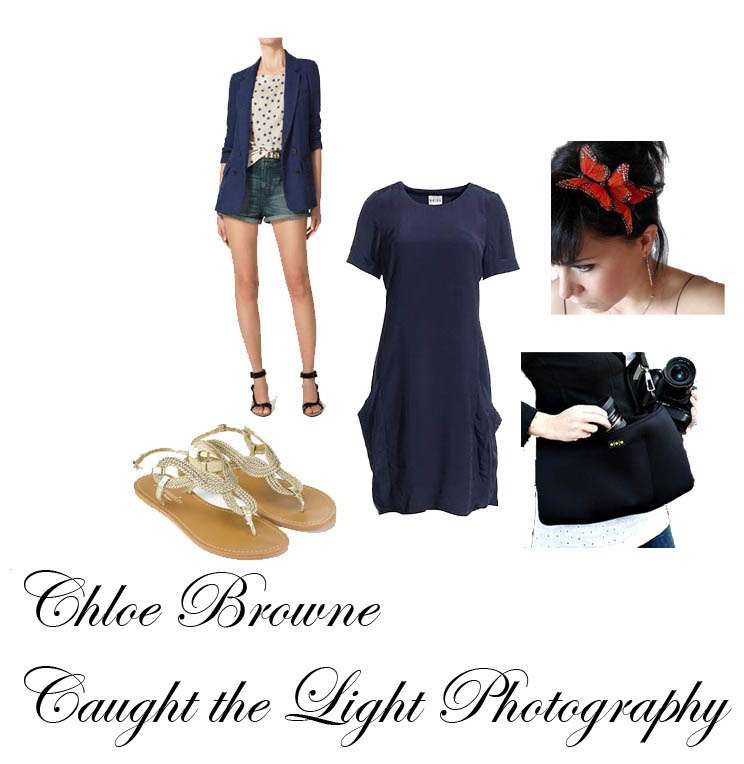 ♥ Waverley dress
Reiss, £97
♥ Double breasted linen jacket
Zara, £49.99
♥ Gallic Knot Sandals
Monsoon, £28
♥ Megan Orange Butterflies Headband
Kaang on Etsy, $20
♥ Shootsac lens bag
Shootsac, $179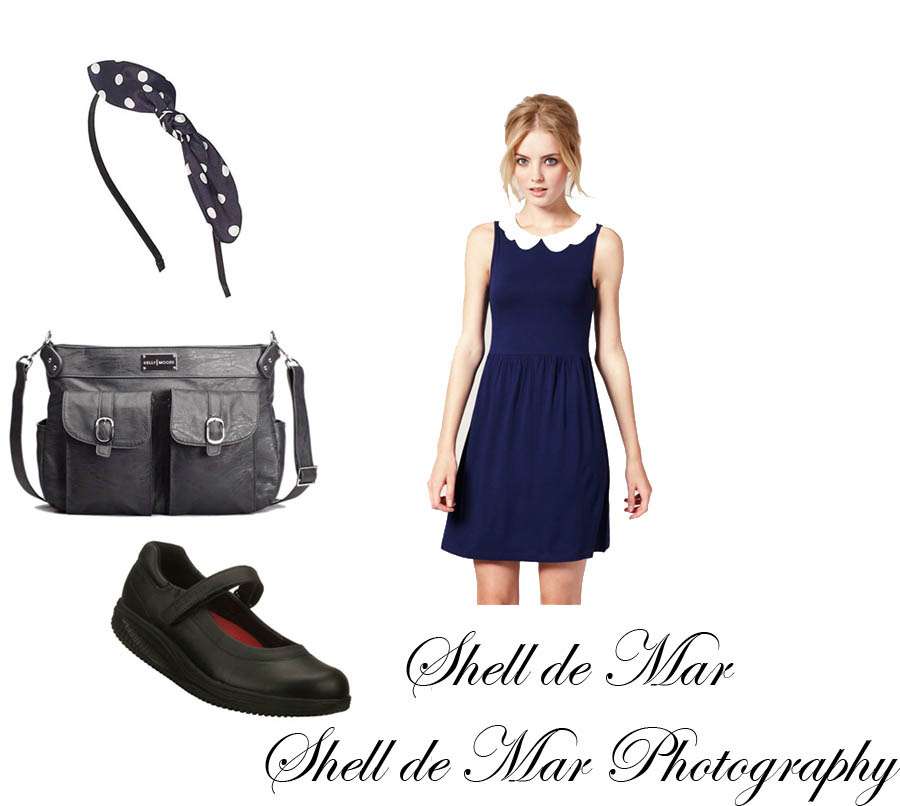 ♥ Waisted Dress with Scallop Collar
ASOS, £25.00
♥ Sketchers Shape-ups
Sketchers, $85
♥ Navy polka dot alice band
River Island, £4
♥ Kelly Moore classic camera bag in grey
Kelly Moore Bag, $199
♥ 'Pearl Lowe' Butterfly Dress
Peacocks, £20
♥ Swedish Hasbeens
H&M, $59.95
♥ 3/4 length shrunken blazer
Topshop, £55
♥ A4 Barbara Wiggins Metallic Document Wallet
Newsroom Online, £59.99
♥ Pieces Donna Leather Travel Bag
ASOS, £130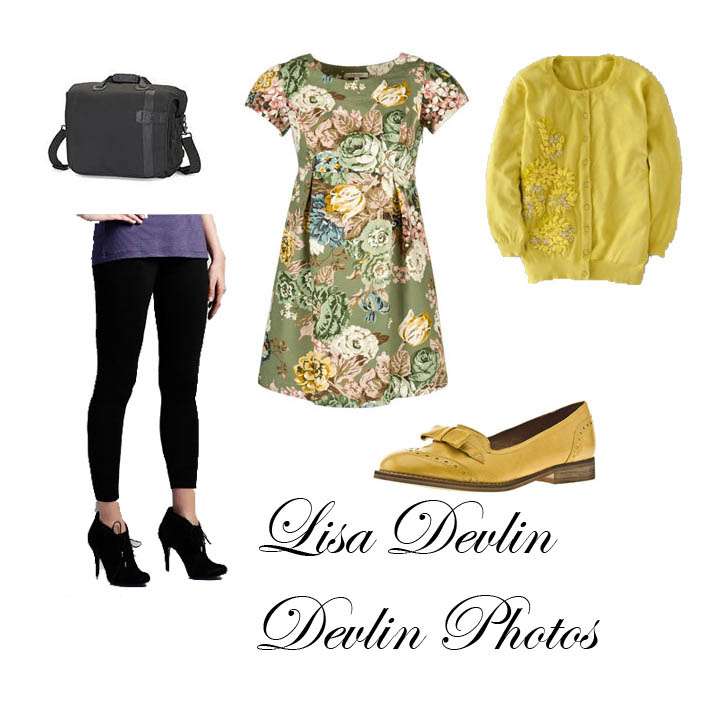 ♥ Maisy flower, 'Erin' top
Joules, £59.95
♥ Mindy bow loafer flats
Schuh, £65
♥ Flower stitch cardigan
Boden, £40
♥ Autograph Weekend Ankle Length Leggings
Marks & Spencer, £12
♥ Lowepro Classified 250 AW Black Camera Bag
Park Cameras, £99.99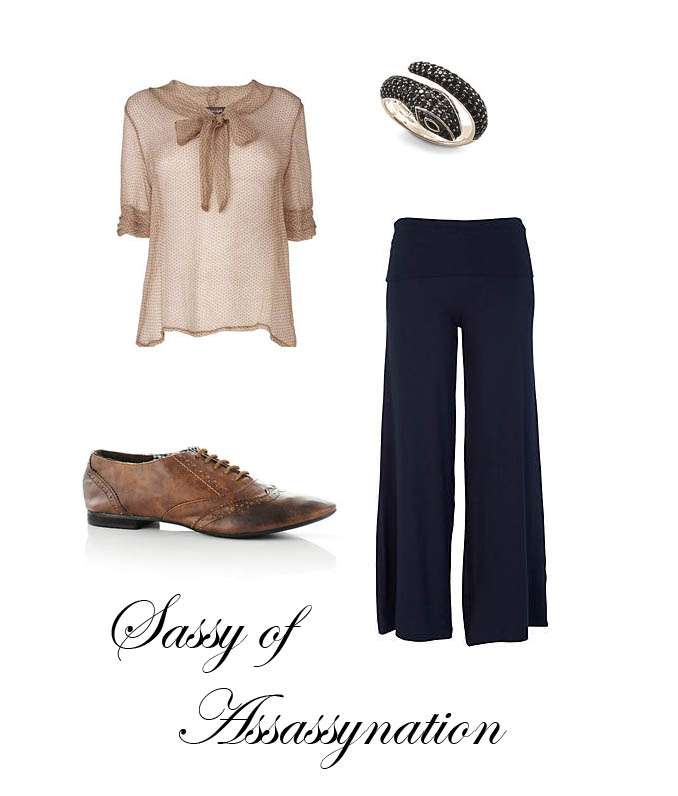 ♥ Caramel printed tie blouse
Phase Eight at Debenhams,  £26
♥ Navy roll top palazzo trousers
River Island, £19.99
♥ Brown lace up brogue shoes
River Island,  £26.99
♥ Snake Ring
Thomas Sabo at Rockoko Jewellery, £159
♥  ♥  ♥
"But hang on! What about the boys" I hear you cry…Well fret not, I haven't forgotten you lot…
Here's what the boys had to say…
♥ Boys worry more than girls – particularly about sweating! As Matt Miller told me, "Well here is the nasty truth. I wish I was thinner. I wish I was more in shape. I wish I wasn't bald. I wish I wasn't constantly sweating. I wish I could keep a shirt tucked in. I wish I didn't turn bright red as soon as I stepped into the sun…but I work with what I got. I'm a fat bearded bald tattooed sweaty mess." (ps does anyone kinda love Matt a little but more now? Yeah me too…)
♥ Practical is key and no matter how cool your new trousers are, splitting them mid ceremony because they were a little bit too tight is not a good look. Ever. A little bit of stretch is awesome.
♥ Boys like black and they like to blend in a bit more than the girls.
♥ Looking cool is important too. Weddings can be quite a girlie occasion and the boys want to show they're still boys! As Matt Miller said about his Kelly boy bag "It's 100% vegan and looks tuff and leathery. Mine is the mustard color so I can spot it among all the DJ's & the random photo bags I bring. Although my assistant Meghan thinks it looks like a diaper bag, I think its awesome. It fits 4 lenses and plenty of space for  papers, and other photo related goodies…and when I'm traveling it fits my 15 inch Macbook Pro and stuff."
♥ If they do wear a shirt, finding the right one is key – it mustn't look like a school shirt.
♥ If wearing a tie, then a tie clip is a must. It stops it getting in the way. As Adam Bronkhorst says, "It helps keep the tie in place, and stops it flapping all over the place, falling over my shoulder or looking skewif. It also is a bit of man jewellery and adds a nice finishing touch to the outfit…God I sound like Gok Wan ."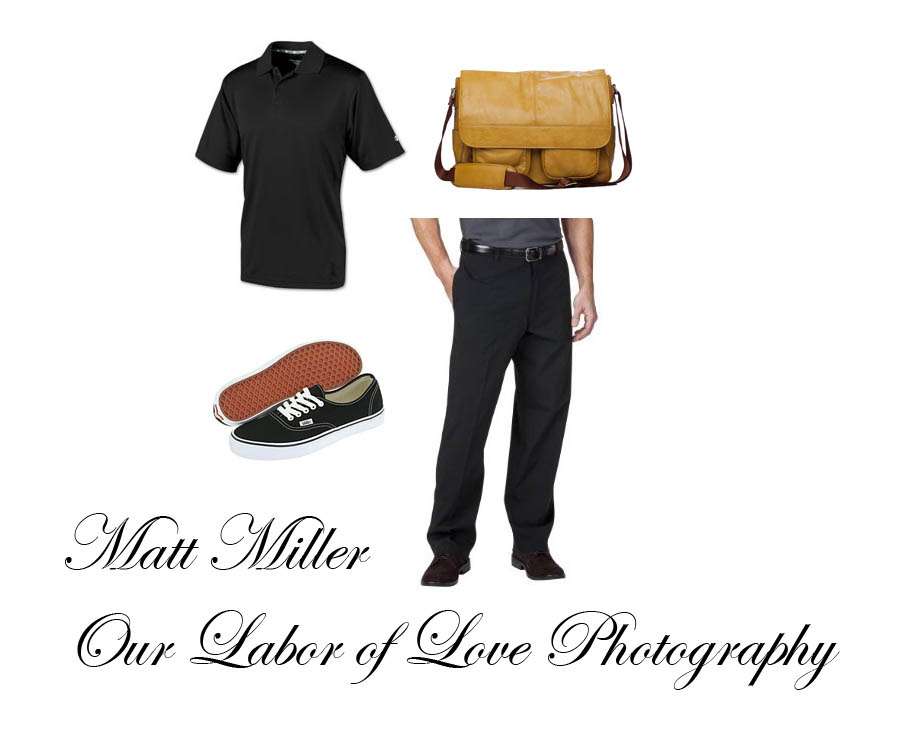 ♥ Champion Double Dry® Men's Solid-Color Polo Shirt
Champion USA, $36
♥ C9 by Champion Golf Pant
Target, $29.99
♥ Vans Athletic core classics
Zappos, $45
♥ Kelly boy bag, mustard
Kelly Moore Bags, $199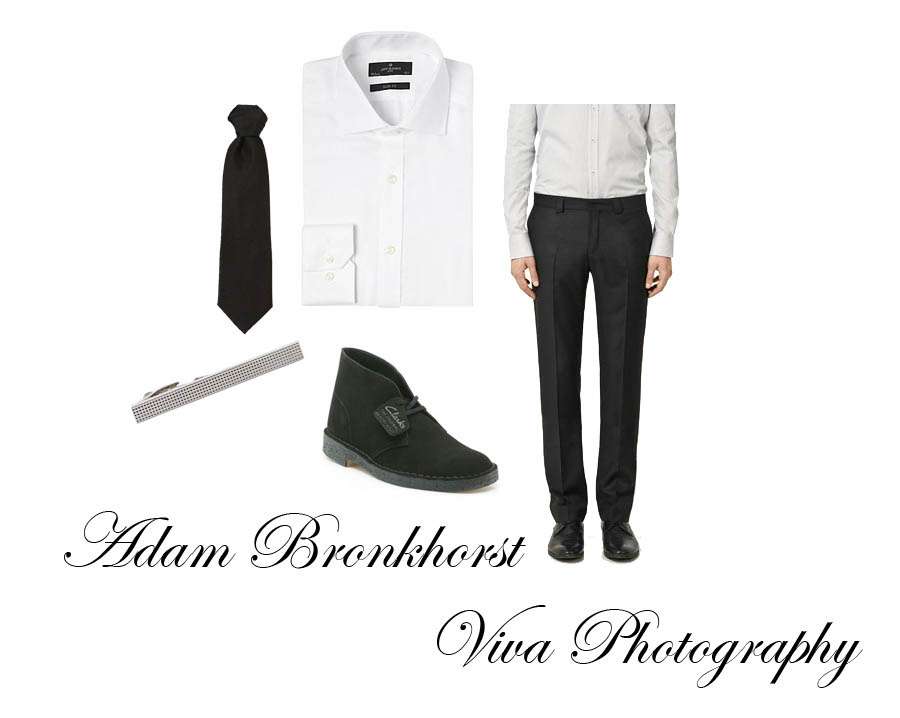 ♥ Jeff Banks herringbone long sleeved shirt
Debenhams, £24
♥ Cinzato trousers
Zara, £39.99
♥ Desert Boots
Clarks, £79
♥ Black silk texture tie
Topman, £16
♥ Tie clip
Austin Reed, £15
♥  ♥  ♥
Fun huh? Are there any areas of 'wedding fashion' you'd like me to cover next? Boy guests? The Mother of the Bride? As always, let me know in the comments section!
Thanks to all the photographers who contributed to this post – Chloe of Caught the Light Photography, Shell de Mar, Joanna Brown, Lisa Devlin, Sassy of Assassynation, Matt Miller of Our Labor of Love & Adam Bronkhorst of Viva Photography.