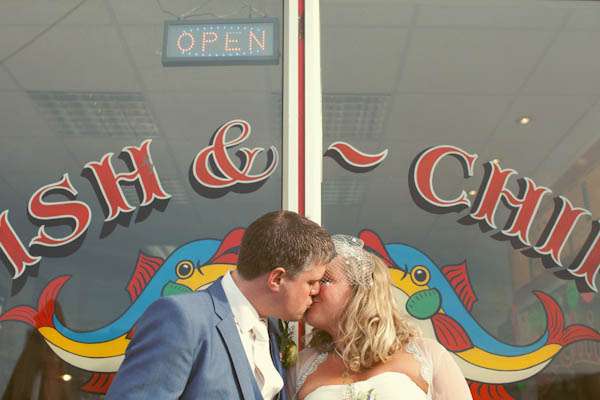 Ahh the great British seaside! While we can't rival (what seems like) the rest of the world in the sunshine stakes, our beach resorts certainly do have some beautiful British charm don't they? I've visited Whitstable a number of times (it's where we shot the mad hatter bride shoot!), and I have to say, photographer Joanna Brown's capture of this wonderful town is pretty much perfect. What a lucky couple Abby & Julian are to have had her as their wedding photographer!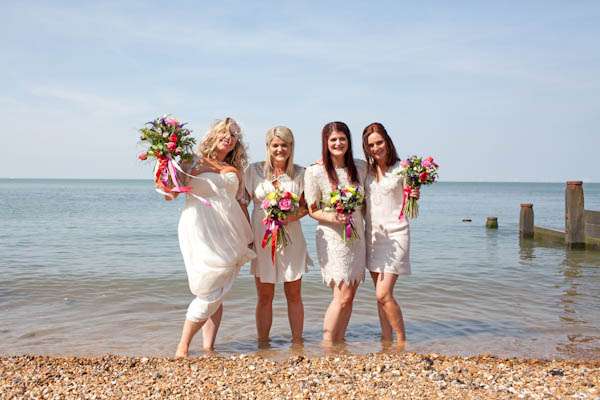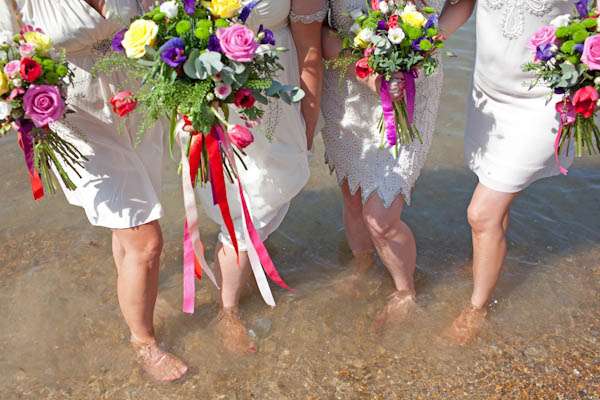 After Julian proposed on Whitstable beach in September, the seaside town seemed like the perfect place to get married too. The couple were wed at The Beacon House on the seafront. "We both really wanted to get married, but to be honest neither of us were particularly fussed about a fancy wedding, and once I'd had a look at a couple of wedding magazines I started having mini-palpitations at the horror and the cost of it all," Abby told me. " I do love a wedding, but I hate being centre of attention myself and the whole coordinated, packaged nightmare of it was enough to bring me out in a sweat. We did visit a few beautiful venues, but knew they were just not us, and the final straw was visiting a perfectly manicured courtyard garden venue which had installed a permanent marquee 'facility' complete with carpet tiles AND bow back seat covers (my two pet hates), glowing colour change pillars 'to fit your colour scheme' and multi-function twinkling 'star canopy'. They were so proud of it and it just epitomised everything I hate and DID NOT WANT at our wedding.  Finding the world of wedding blogs was a revelation and really just gave me the confidence to do what we wanted all along."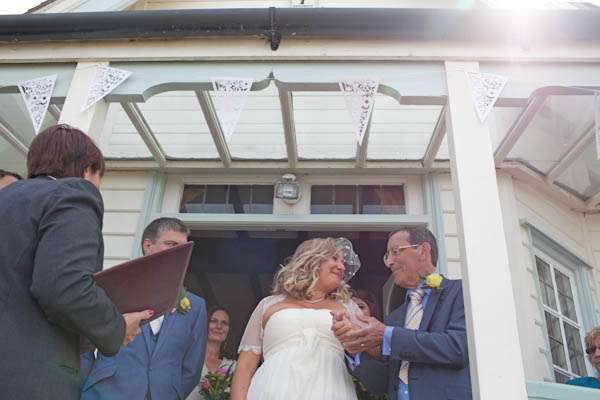 "I already knew about The Beacon House from researching accommodation in Whitstable but we'd initially ruled it out as being too small," Abby continued. "We went back to have a proper look just before Christmas, and while we were there popped into some nearby venues to see if they might work as a spill-over reception venue.  As soon as we went into East Quay we knew it was perfect.  I had my heart set on getting married at The Beacon House , so we decided to keep the ceremony small (on the veranda over-looking the sea) and just invite everyone along for a big party afterwards at East Quay."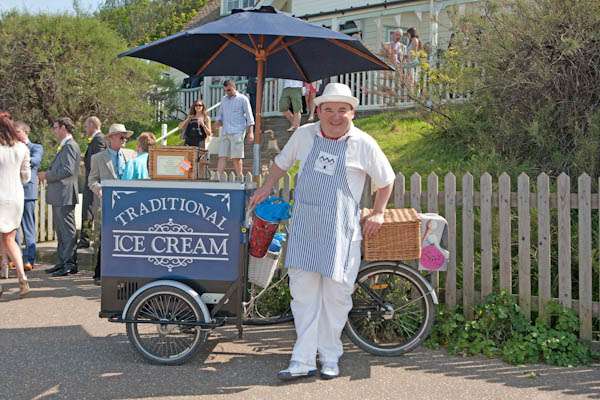 The theme really fell into place after the venue's were sorted, and a vintage seaside theme was settled on. "The obvious theme to go with was vintage seaside which is great in itself but I was really conscious that I didn't want it to be twee or pretty-pretty," the bride continued. " I also really wanted the wedding to have a personal, intimate feel about it, so decided early on that I wanted the whole thing to be as homemade as we could.  I think some people initially thought this was a cost cutting exercise but actually, tho our budget was quite tight, I would have done it this way regardless.  I don't get the opportunity to be particularly creative in my job but I'm always cutting, sticking and sewing things together at home so this was really a dream project for me."
"Because we didn't want anything to be too fussy, manicured, pretty or perfect, I decided early on to keep the decoration simple, fill the room with homemade white pom poms and make the flowers the main source of colour. In the end we ran out of white tissue and the pom poms ended up being various shades of white pink and purple but I think it worked just as well. I looked into hiring table linen but I ended up finding some red and white tea towels in Ikea for 19p each (approx a third of what I'd been quoted for napkin hire) and decided to go with them instead."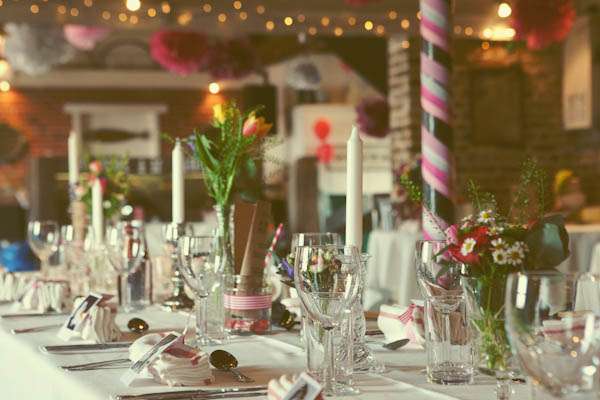 "We tied everything up with the same red and white striped ribbon and instead of name cards and table plans we just dug out funny pictures of all our guests, printed them out polaroid stylee and just left the guests to wander around and find their places, which was a great ice-breaker."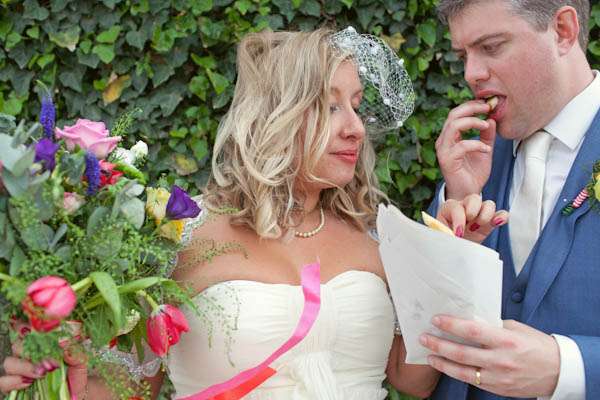 Wow. Just wow. HUGE love and thanks to Abby & Julian for sharing their magical day with us today, and of course to the wonderful Joanna Brown for sending over her beautiful images.