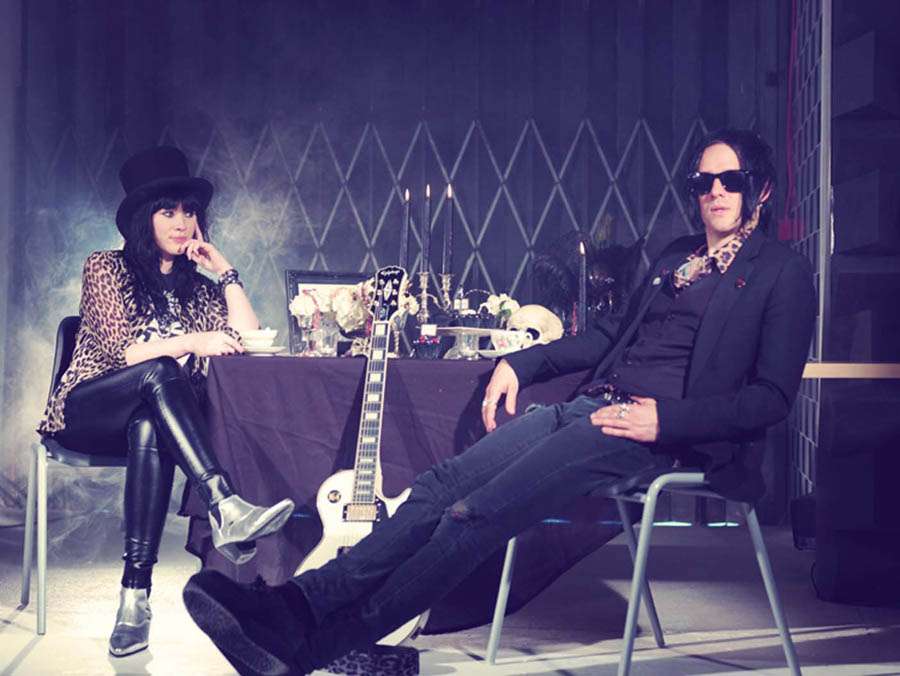 Alix & Zack…ahh what's not to love? I'm secretly still a bit of a closet goth at heart so anything gothic inspired really gets me excited…and cupcakes, cupcakes always make things 100 time better don't they?
Alix wrote to me to tell me all about their engagement shoot with Rock n Roll Bride favourite Lisa Devlin. "So what do you say when the fabulous Lisa Devlin asks whether you'd like to shoot your forthcoming engagement shoot at, none other than, the Hasselblad Studio in Hoxton? How about "Hell Yeah!!!"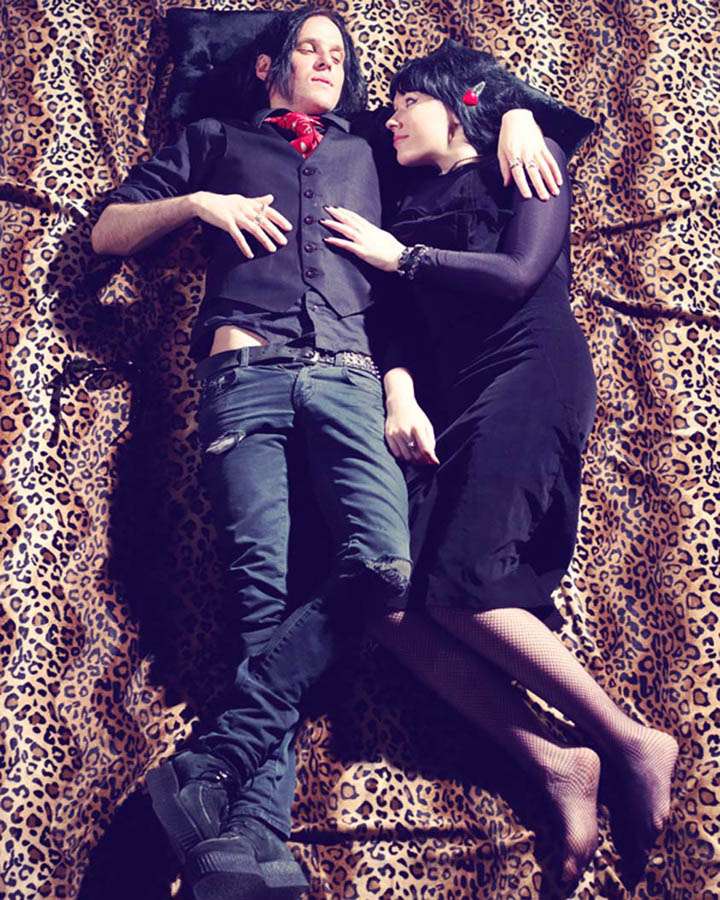 "We knew we had to do something that was very "us".  This meant including some guitar shots, as Zach plays guitar with glam punk band Bubblegum Screw and the Camden based rock band The Hyenas.  This was reiterated by the fact that we actually met at one of Zach's gigs in Sydney in 2007. We wanted to throw a few cakes into the mix too, as I own Black Cherry Bakery, where we specialise in Rock n Roll inspired cakes!"
"As much as I love all things vintage," she continued, "we do prefer a darker palette so hence the gothic tea party idea was born.  We literally packed up our dining table complete with candelabra, black candles, antique silverware, black ostrich and peacock feathers on the day of the shoot and set up a home from home in the studio.  I wore my Slash-esque top hat in a nod to the Mad Hatter from Alice in Wonderland.  Yorick, the skull – who I use as a model when I'm making cakes for Metal Hammer Magazine and the like, came along for the ride too – adding a beautifully, macabre element to the setting.  Then we threw in a little leopard print, black velvet and vintage leather upping the Rock n Roll ante."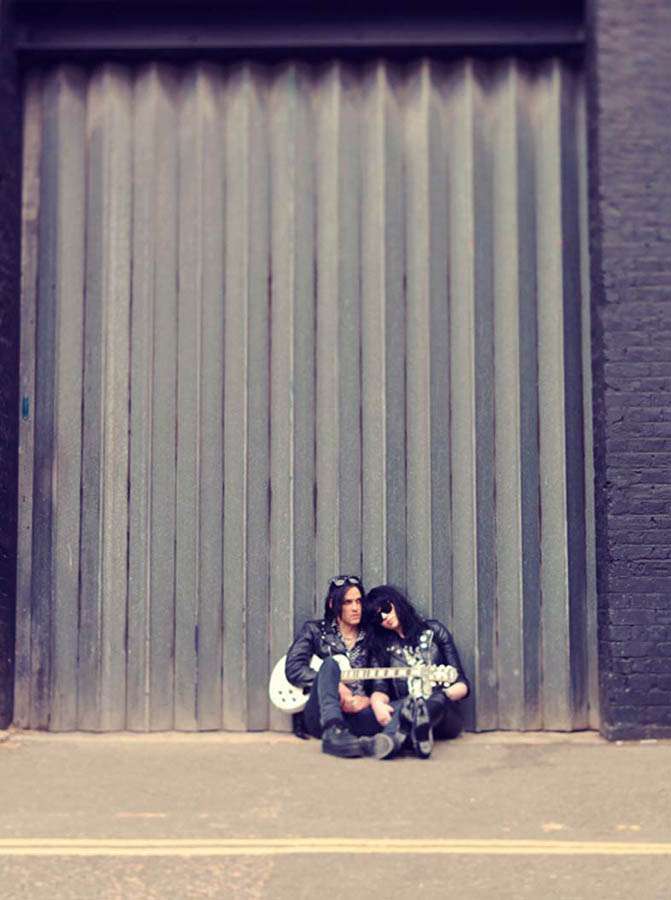 "We love the iconic images of rock couples such as Sid and Nancy, Johnny Thunders and Sable Star, so wanted to incorporate this vibe too. We got inspiration from bands like the Kills, who as a male/female duo have some great looks for engagement shoots it turns out!  We have a whole heap of album covers from The New York Dolls to Black Sabbath and Guns N Roses engrained in our memories so that all added to the overall look too!"
"The studio was such a great place, it couldn't have been more perfect for what we had in mind-  the checkered black and white wall just happened to be there already, adding a massive punch to our black with pops of red colour schemes.  The crazy angular wall of foam which looked like sound proofing for some futuristic recording studio – was a great find too."
"It was such a fabulous experience to have the opportunity to do our shoot at the studio with the awesome Hasselblad equipment.  It was a great day and we are so, amazingly over the moon with the results of the shoot."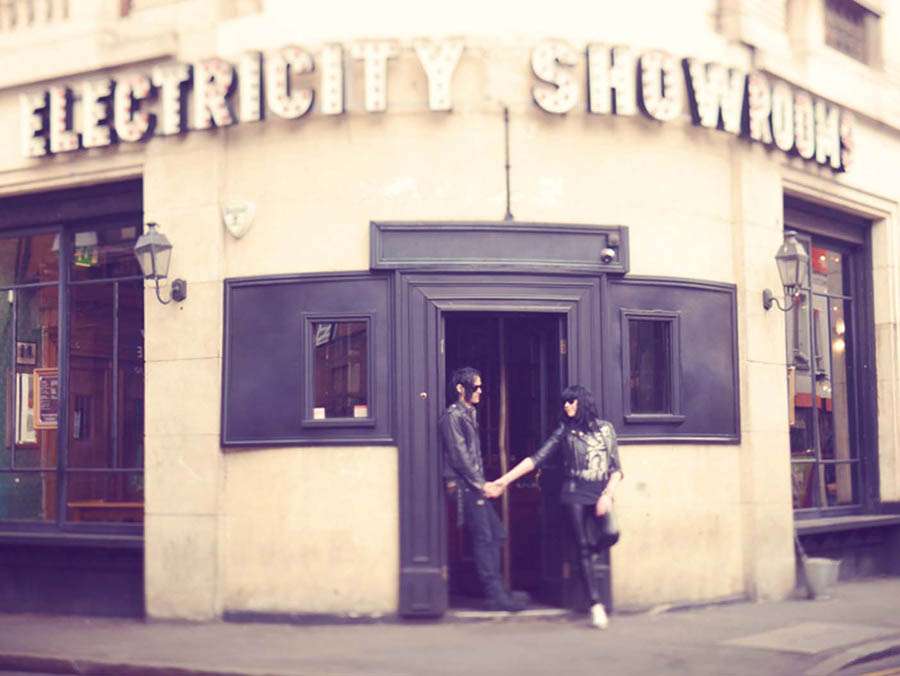 Love these guys! They also found photographer Lisa Devlin through Rock n Roll Bride which makes them instantly bad ass in my book. I can't wait to see the wedding already!
Huge thanks to Alix & Zack and of course the awesome Lisa Devlin for sharing these today.
Photography Credit: Devlin Photos