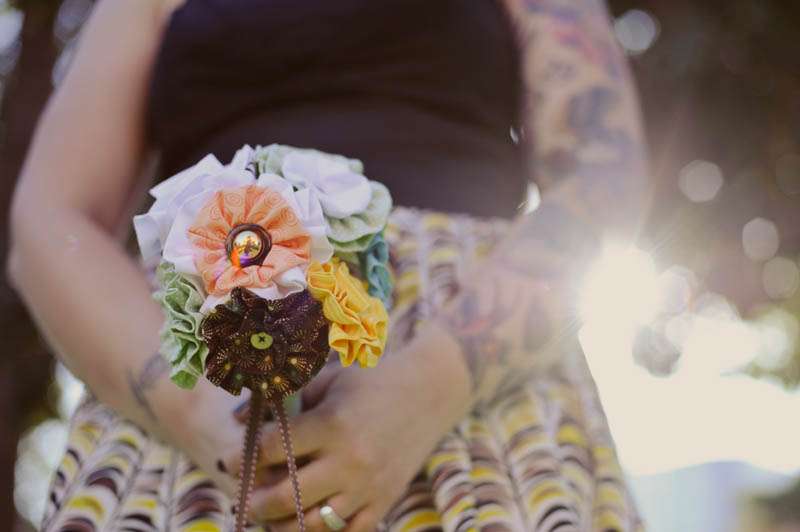 Photography Credit: Kristin Rogers Photography
The eagle-eyed amongst you may recognise the above image from Nicole & Aaron's 'Just Married' Session that I blogged back in February. As I was blogging it, I fell a little bit in love with Nicole's handmade fabric flower bouquet so I thought I'd try my luck and ask her if she'd be willing to share how to made it with my readers. Luckily for me (and you!) Nicole was more than happy and excited to share her tutorial with us. Enjoy this guys and as always, if you make this yourself I want to see pictures!
Nicole has her own blog, Knitcole, so if you are interested in seeing more of her work then be sure to go check it out. The bouquet she made especially for this tutorial is even for sale through her blog (along with others) for the less crafty among you (ahem…like me!)
♥   ♥   ♥
I am so excited to share this sweet little bouquet tutorial with all of you! When my husband and I decided to have our wedding photos taken I knew I wanted to have a special element in the photos and my handmade bouquet turned out to be just what I was looking for! I was so happy that I spent the extra time and effort to make something so special that I can look at every day and remember our special moment.
First, get all of your supplies ready. You may not need everything here, but I've found that there are all nice to have. Here's what you'll need:
1. Fabric
2. Tools: Scissors, Rotary Cutter, Self-Healing Mat, Ruler, Compass, Glue gun with lots of glue.
3. Notions: Felt, Embroidery Thread or Regular Thread, Green Cloth Floral Wire, Buttons, Embellishments.
For this tutorial I decided to make my bouquet nautical themed so I choose a lot of red, blue, white and yellow fabrics and found buttons and some gold rope that made perfect embellishments.
First thing you need to do is create your flowers. I like to use two types of flowers, (Yo Yo Flowers and Ruffle Flowers,) but you can also add any other kinds of flowers; crocheted or knitted flowers, felt flowers, etc.
1. To make Yo Yo Flowers you will need to cut out circles in varying sizes. I like to use a compass so I can make many different sized circles without having to cut out different templates. I recommend circles that are no smaller than 3" in diameter.
2. Using a needle and thread sew around the edge of the circle. You don't have to be too careful here, just try to stay close to the edge.
3. Continue sewing around the circle, the fabric will gather as you go.
4. Once you get all the way around knot your thread and you're finished!
1. To make Ruffle Flowers cut out strips of fabric. I recommend strips 2.5" – 5" wide and about 26" long.
2. Fold your strips in half with the good side facing out and iron.
3. Using a long stitch, (I set my sewing machine on the longest stitch possible,) sew along the open edge of the fabric leaving long thread ends on one end.  Leaving one thread long will help you when you gather the fabric.
4. Pull one thread and gather the fabric along the edge. Be very careful here because it's very easy to break the thread. The long stitch should help prevent this but if you try to go too fast you'll break the thread and have to start over.
5. Continue to gather until all of the fabric has been gathered. The fabric will curl up as you go but that's ok, you can shape it into a flower once you're done.
Once you have all of your Yo Yo and Ruffle Flowers ready you can assemble them. Using a hot glue gun or thread attach the buttons and then use the hot glue gun to attach the flowers to one another.
Now it's time to get the bouquet assembled.
1. Bend one end of the green floral wire.
2. Cut off any remaining loose threads.
3. Using the hot glue gun attach the wire to the back of the flower.
4. Cover the area with a piece of felt.
5. Bend the wire in half and repeat steps 1 – 4 with the other side.
6. Repeat until all of the flowers are attached to stems.
Arrange the flowers until you get them situated in a way that makes a bouquet shape. You can always arrange the flowers later if you need to.
Using fabric and the hot glue gun, wrap the fabric around the exposed stems until you have covered everything sufficiently. I added the gold rope on top of the fabric for a nice finish, there is also a gold button in the end of the stem for a little something extra special!
There you have it! A perfect bouquet for your special day!