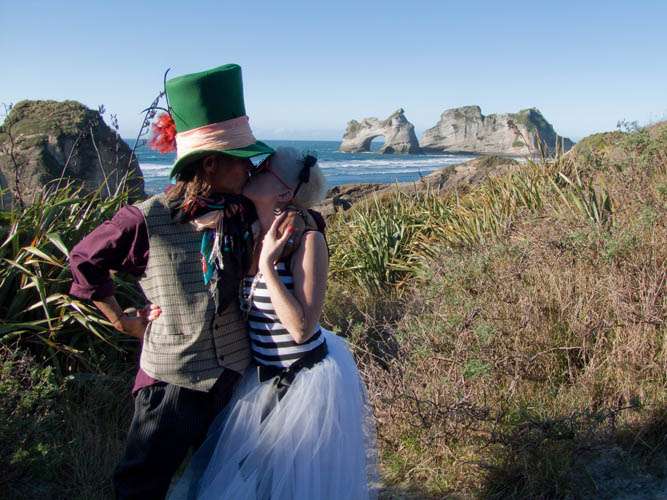 Hannah & Carlos' full moon/supermoon/autumn equinox/fancy dress/movie themed wedding rocks my world. I'm kind of blown away by the whole thing! The couple put so much love and attention in creating their perfect wedding that I didn't want to miss one detail…so, over to the bride…
"We had a fancy dress wedding, the theme being movies. A big part of Carlos and my time together has been spent watching movies…we love them! We've shared many hours snuggled up together, going on journeys through film."
The ceremony took place on Wharariki Beach, Golden Bay, New Zealand (spectacular!) and the reception afterwards was held at Wharariki Beach Holiday Park which was owned by one of their friends. Carlos went dressed as the Mad Hatter and Hannah wore a beautiful tutu style dress, made for her by her sister.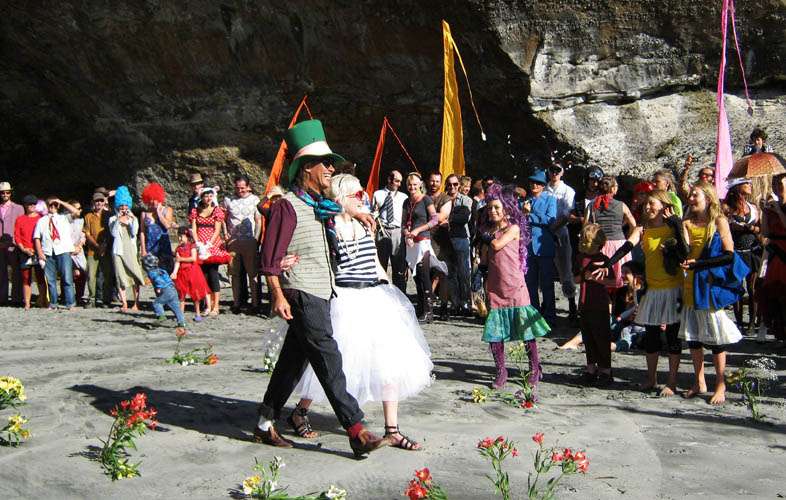 "Our friends Jade, Dion and their daughter Willow helped make the whole wedding possible. On the day, when we were all ready, they transported us down to the far end of the beach in their jeep, all dolled up just for us. We clambered down onto the beach after a short jaunt through the bush, and then I got into my tutu there. Then we had a short journey through rocks and tidal pools from the sea, onto the big stretch of beach. We arrived together, with our Best Man, Bridesmaid and Flowergirl, all coming down the beach from the opposite end to everyone else. All our guests were waiting at the entrance to one of the beach caves, with an aisle made of flowers and surrounded by colourful flags on bamboo poles. When we got there, Carlos and I walked up the aisle together, totally together, ready to meet our Fairy Celebrant."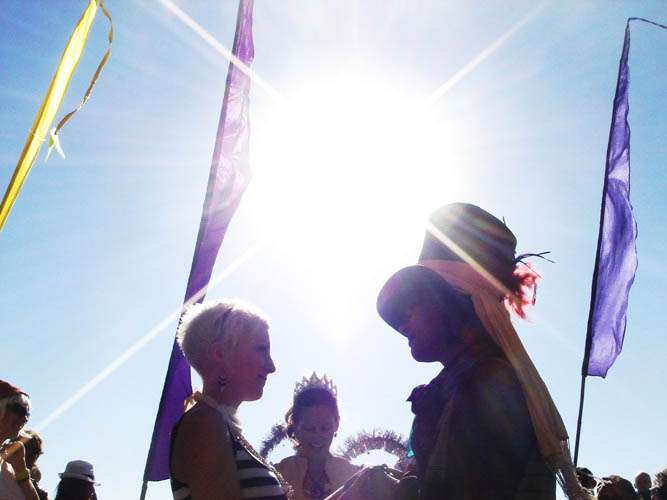 "We wrote the whole ceremony ourselves, with help from our Celebrant and dear friend, Lolly Dadley-Moore. We wrote our own vows, which we each repeated after Lolly. However we both started with a little message, written on a paper heart. That was a surprise to each other. Both of us totally bawled as soon as I started speaking, as did most of the guests. Sigh. How emotional! We were completely connected, eyes blazing hard into each other, with everyone else falling away, disappearing…all I could see was Carlos. All he could see was me. But how amazing to be surrounded, so close, by all our friends and family! I love that everyone was right up close and personal, throughout the ceremony."
"Afterward, the bubbly was popped and we proceeded to be hugged and squeezed by everyone that was there on the beach, all kitted out in costume, surrounded by colourful flags. It was quite surreal to see all these characters on the beach, like a different world. Like a movie. Perfect."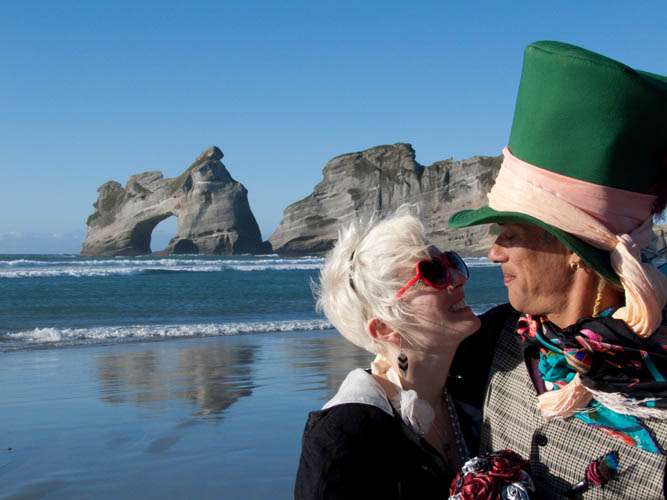 "The guests then headed up the beach, carrying the flowers and flags back up to our friend's campground. Carlos and I headed back down the beach for a few photos with our friend Pete, then Dion and Willow drove us back to the camp. We were trailing cans, rattling around, announcing our arrival. The campground had been totally decorated by our friends in the days leading up to this…Anand set up his Moroccan Tent, friends brought out tables and chairs from the local High School, Ricki let us borrow his huge sound system, Natalia made a dreamcatcher that hung above the dance floor, as well as setting up all the white lycra decorations, the gold hanging stars, the lights…there were fairy lights and black lights and spotlights, borrowed from a range of friends. There were psychedelic wall hangings surrounding the DJ booth. There were drum fires dotted around the place. The place looked so incredible…and it was only to get better as the sun went down."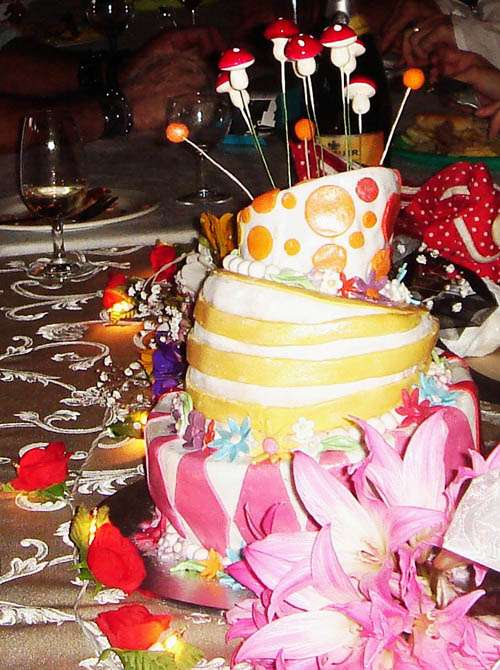 "We had a huge potluck meal, provided by everyone. There was a cleaning crew already at work that night, and all the next day. We retreated back to the Moroccan Tent to eat and drink, there were toasts and we were sung to…I cried. Again. And then the moon came up, full and huge and blazing a light so clear and bright all night long…"
"Our first dance was to Nina Simone's 'My Baby Just Cares'. It rocked. Then we were treated to a stunning bellydance performance by my big sister and two dear friends – more tears flowed. Then the dancing continued, as we all hit the dance floor for a trance party…our friends DJ'd for hours, we had such a blast! Somewhere in there we cut the cake, but I totally forgot to throw the bouquet…it was such a crazy event, so much going on that I completely forgot!"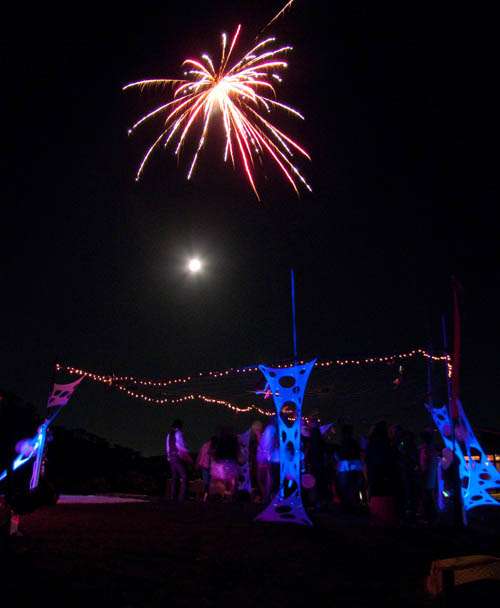 "Carlos and I crashed out late late in the night, exhausted and spent. Our little caravan had been set up with gold hanging heart decorations and rose petals were flung everywhere…it was so beautiful. The following day, once the entire thing was packed down and cleaned up, we drove away to spend the night at another beach…staying awake just long enough to open all our gifts, cry some more, then watch the moon rise over the ocean. Waking just in time to see the sun rising in the same spot, we were back to the real world, but married now…united…totally, gloriously, magically happy."
"My Mum had bought us a beautiful little handmade journal/book and left it on the main table at the reception, by the cake for the whole night. We invited people to write us messages…when we read the book the following night, we were in tears because of all the beautiful heartfelt messages our friends left for us. We will treasure that book forever."
"Our wedding was so much fun – it was light and colourful, there was much laughter and tears…it was so heartfelt and powerful, everyone noticed that and was moved by that. Neither of us are mainstream conservative people…we are unique, we love to have fun, and we love to dress up. We didn't have much to spend, so we did everything as cheaply as possible, but that took nothing away from this event – it was AMAZING! I was shocked by how much power we weilded just in being open and expressing our deep love for one another, in front of everyone else that we love. So many friends pitched in to help create this wedding, I am still blown away by that. All of that, for US. For LOVE. Far out."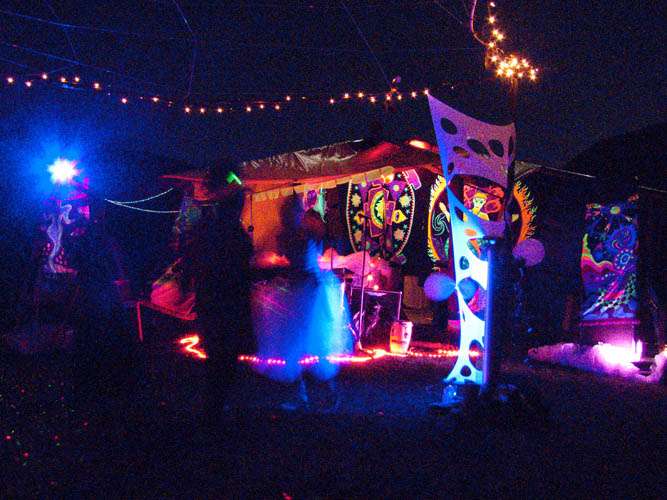 I DIE! How incredible are you guys? Thanks so much Hannah & Carlos for sharing your wonderful story and fabulous wedding with us today.
Photography Credit: Virtual Bay
Ceremony Venue: Wharariki Beach, Golden Bay, New Zealand
Reception Venue: Wharariki Beach Holiday Park, Golden Bay, New Zealand
Bride's Tutu Dress: DIY (Sister of the bride)
Bride's Shoes: No. 1 Shoe Warehouse
Bride's Headband: DIY (Mother of the bride)
Bride's Bouquet: DIY
Groom's Outfit: Hired from Just Costumes in Nelson, NZ
Rings: Handmade in Takaka, Golden Bay, by Pam Nelson (friend)
Cake: DIY (friend)
Flowers: DIY