A little bit of retro and punk glamour was in order when blogger Adelle Frejus of Peonies and Pearls got together with photographer Anneli Marinovich for a photo shoot in Camden, London.
"My inspiration for the shoot was a 1950's retro glamour – big hair, red lips and vintage wedding dresses,l" explained Anneli. "I had been wanting to do a bridal shoot 'with a twist' in Camden since the start of the year and the 1950's theme seemed perfect for the setting."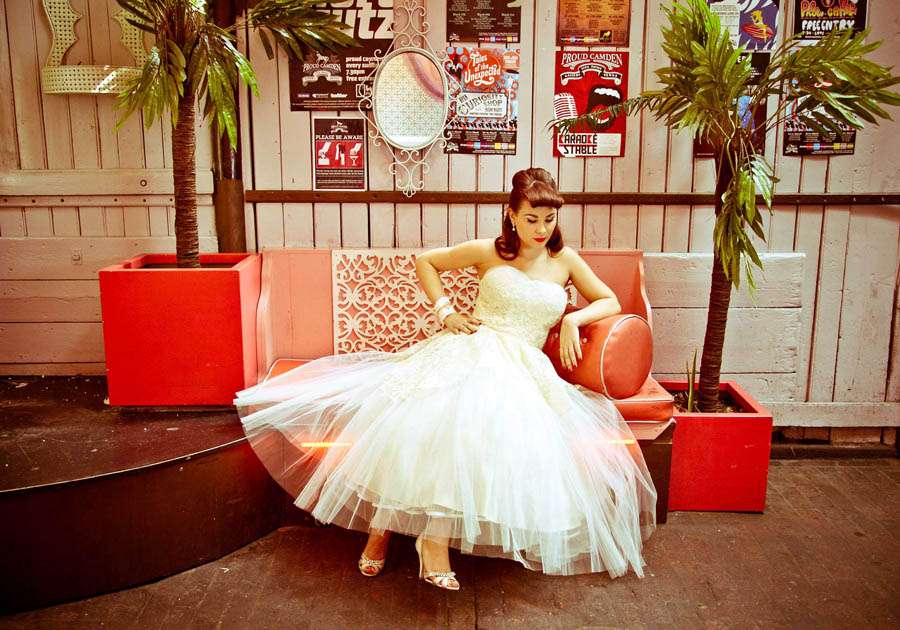 "I was very excited to get Elizabeth Avey involved – her original 1950s vintage wedding dresses are exquisite and literally "made" the shoot. Proud Camden & Stables Market were the perfect settings to give the shoot a sense of fun and the staff at Proud Camden were amazing for letting us use the stables as our "catwalk" before heading out onto the streets of Camden Town. Each stable at Proud has a different theme as well, which ended up fitting in perfectly with our 3 different looks – vintage, leopard and punk."
Thanks to Anneli, Adelle and the whole team involved in this shoot for sharing these images with us today.
You can see more of Camden on Rock n Roll Bride here.
Photography Credit: Anneli Marinovich Photography
Venue: Proud Camden & Camden Town, London
Model & stylist: Adelle Frejus from Peonies and Pearls
Dresses: Elizabeth Avey
Bouquet: DC Bouquets
Accessories & hairpieces: Liberty in Love
Hair & Make Up: Rebecca Jones