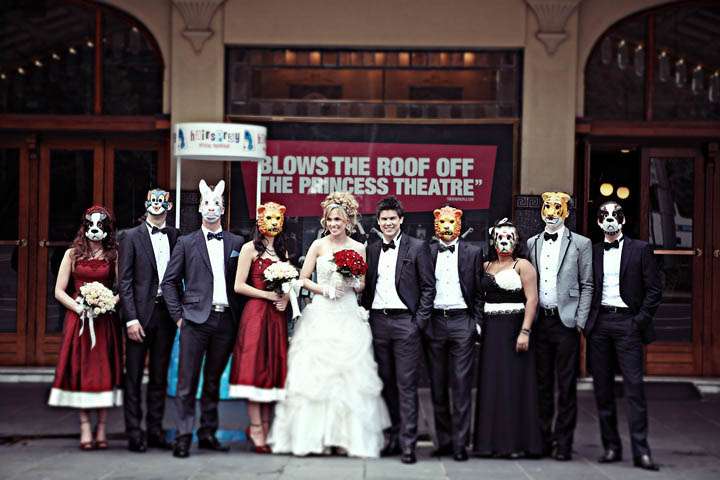 A bride in lace gloves and two bulldogs dressed up for the occasion? Oh yes, Jodie & Virginien's wedding makes my heart sing! Photographer Britt said she wasn't 100% sure I'd think their wedding was Rock n Roll enough for a feature when she sent it over, however I had to disagree straight away. I am loving the cute, quirky touches through out in this day – it's not all about tattoos and pink hair on this blog!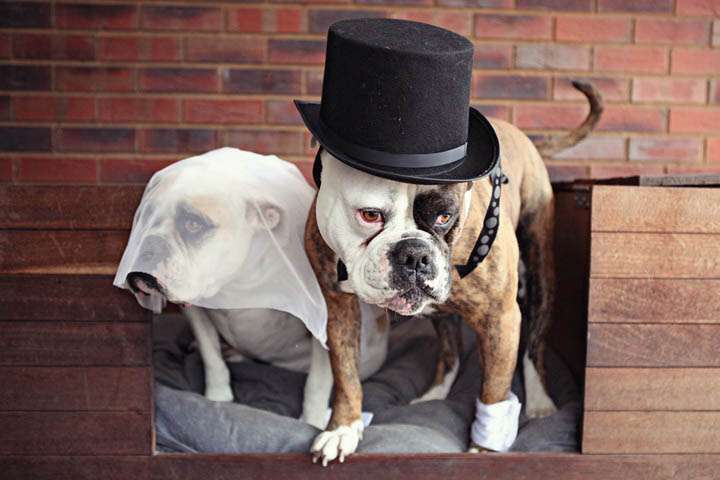 The wedding was held at Overnewton Castle in Keilor, Australia. "Our inspiration was what we love and who we love!" explained the bride. "We wanted everything to be exactly as we imagined which meant having to make most things our self. We wanted things to be different, unique, but still whimsical and fairytale like. We love Alannah Hill, Disney (yes I know its Corny..but we're obsessed), diy tutorials, The House of Frankie Stuart fabric shop, Ralph Lauren, and all things French."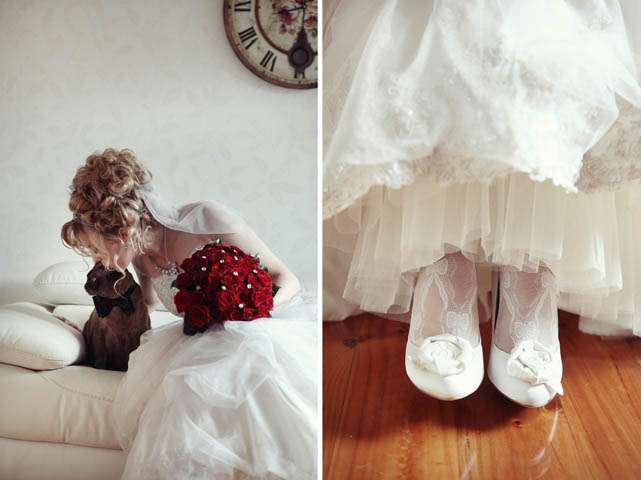 "Virginien and I met at a party in Australia after Virginien arrived for a working holiday only 5 days prior",  Jodie continued. "We instantly feel in love…Virginien didnt  speak English..but that didnt matter, he still managed to woo me with his French accent…that was two years ago. We were separated for a total of 4 months when Virginien had to go back to France to get a visa to marry me…that was really hard…but we made it through in the end. 20 of Virignien's family and friends were able to travel to Australia to share in our marriage. Thank you we love them all!! Virginien proposed to me one year ago. I came home opened my room and there were like three big Alannah Hill bags and boxes and flowers. I was so overwhelmed. He had brought me an entire outfit, right down to matching stockings and a hat from my absolute favorite store! I opened the card and it said be ready in your new clothes in one hour. A limo arrived and took us a beautiful restaurant where he later proposed to me with my ring on our soufflé! It was a big surprise!"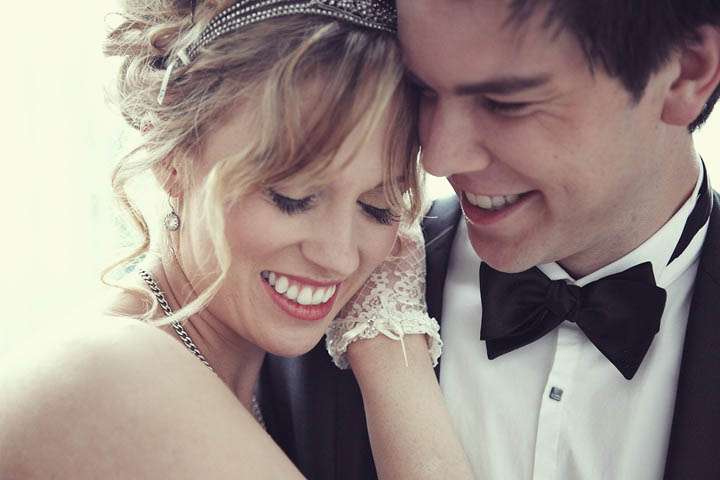 "Our gorgeous little animal friends are our beloved pets who we wanted to have a share in our special day. My burmese kitty cat is called 'Neelix' and the American bulldogs are 'Bicardi' (girl) and 'Texas' (boy). My sister and I made their little outfits."
To match their stylish pets, the couple went all out with their wedding day attire. The bride wore a Swarovski crystal encrusted gown from Bernadette Pimenta Bridal Couture which she altered herself to make it perfect for her. "I made the corset and underskirt – I pulled it apart changed the dress, added tulle, lace, Swarovski crystals, redesigned the skirt and upper bust and all the rosettes the week before the wedding. I changed the dress because  the dress didnt turn out as I had imagined it and it was the wrong colour (fabric stores mistake.) I changed it to make it bigger and lace-ier and make me happier! All the lace and flash tulle was from Tylers Fabrics and The House of Frankie Stuart – these fabric shops are simply amazing!"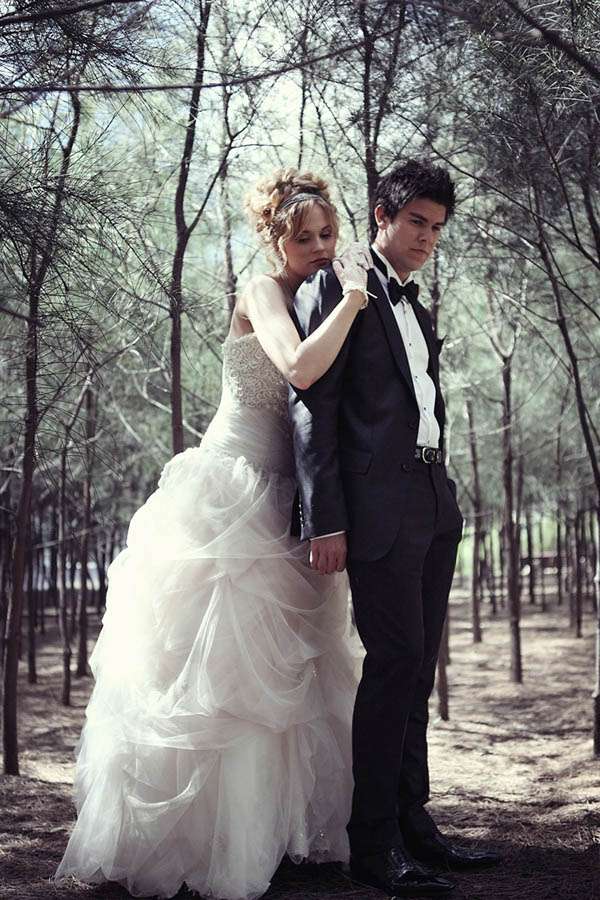 Huge thanks to Jodie & Virginien for sharing their wonderful wedding with us today and to photographer Britt for sending over the photographs.
Photography Credit: Britt Spring Photography
Venue: Overnewton Castle,  Keilor, Australia
Bride's Dress: Bernadette Pimenta Bridal Couture
Bride's Shoes: Cinderella Bella
Bride's Headpiece: Alannah Hill
Bride's Veil & Gloves: DIY
Bride's Jewellery: Alannah Hill
Groom's Suit: Zara
Groom's Bow Tie: DIY
Cake: DIY
Reception Décor: DIY
Stationery: DIY
Flowers: Whoops a Daisy, Cranbourne
Bridesmaid Dresses: Bernadette Pimenta
Bridesmaid Shoes: Alannah Hill
Hair: Gosh Hair, Berwick
Make Up: Melinda Lava, Pola