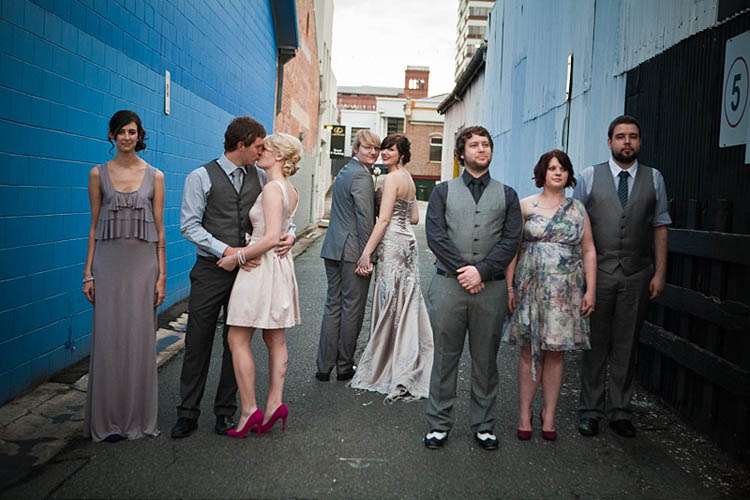 Jo & Johan and we were married on the 25th of September in Brisbane, Australia. Their wedding was an eclectic mix of their own personal styling ideas.
"The wedding planning for me was a process of questioning absolutely everything that was the 'norm' when it comes to weddings," Jo told me. "We kept the traditions that had value to us, but completely reinvented or simply discarded those that we felt were unnecessary. One of the very first decisions I made was that I knew I didn't want to have a traditional bridal party. Instead, we asked all our guests to wear black and white, then our bridal party and immediate family members wore colour – that way they stood out as important, without having to be matchy-matchy. I'm so glad we did it, it was one of my favourite things about our wedding."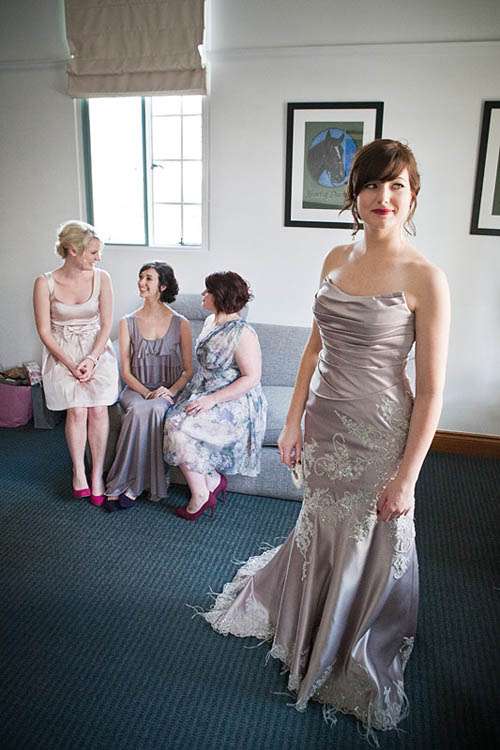 The couple wanted an intimate and special chapel ceremony and so chose Broadway Chapel. Their criteria for their reception was to have a rockin' cocktail party – not in anyway a traditional wedding reception – but finding their perfect venue was quite difficult, "We knew we wanted to have a cocktail style reception, because we wanted it to be casual and social. We finally found a converted warehouse called Lightspace which we fell in love with – and we were their first ever wedding!"
Jo's dress came from Bridal on James and it was the very first dress she tried on. "The dress originally came in standard white and ivory, but the ladies there were brilliant and helped me source the perfect colour fabric," the bride continued. "I've known pretty much all my life that I wouldn't get married in a white dress, and I couldn't be happier with what I ended up with! In fact, I tried on two other dresses that day, but that was it – I didn't even bother looking elsewhere. It was quite liberating!"
Jo asked her bridesmaids to wear different dresses (I love this look!) and she tied their styling together with shoes from Novo (same style, different colours) and those awesome Chanel temporary tattoos. This idea RULES!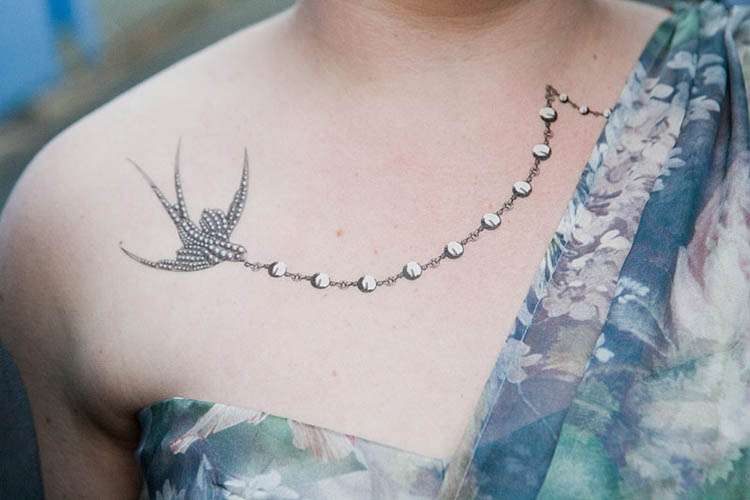 The couple wanted to make sure their reception décor and styling was perfect and so did a lot of the work themselves. "Decorating and event coordinating, I knew I had to put people I trusted in charge or I would just lose my mind with stress. Fortunately I have wonderfully creative, and generous friends who were there with me every step of the way. We had decided that I was going to walk down the aisle to "The Crane Wife 1 & 2″ by The Decemberists, so we decided that we wanted to use origami cranes as a bit of a motif for the whole wedding. Some friends and I all got together and made the origami cranes that hung from the ceiling at the reception, and from the pews at the ceremony, and one girlfriend made the beautiful origami flowers which adorned the reception venue. Our beautiful cake was also made by these girls at the last minute when my cake maker bailed on me. I also bought a lot of my diy decorating bits from Etsy. We didn't have any flowers at the wedding (yet another tradition which felt pretty pointless to me), but I did carry a white rose (my mum's favourite flower.)"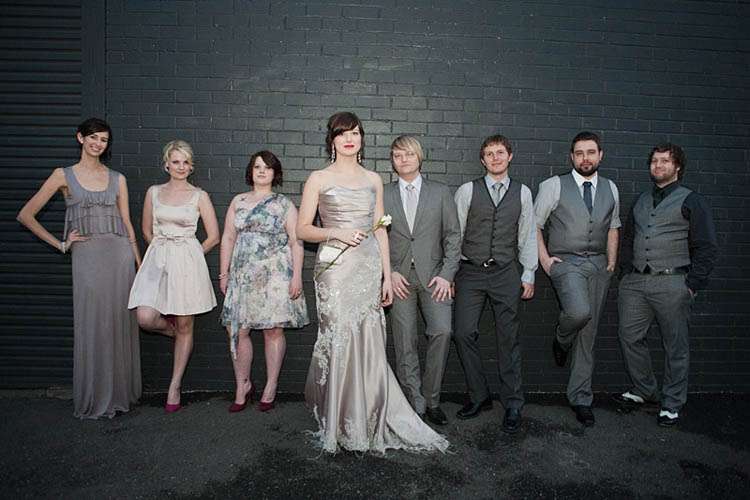 "One of the major money saving ventures that we made was to create a wedding website instead of posting out invitations. I did all the graphic design (in fact, I did the graphics for everything – the save the date cards, the order of service etc) and Johan did all the coding to make the website work. It was a really great way for us to combine our skills, and it meant we could have more contact with our guests, and were able to make the website really personal. A lot of both sides of our families live overseas, so we had sections on "getting to know" us, our family, and our bridal party – as well as all the important wedding details, and an RSVP section (which we loved, because nearly everyone RSVP'd within the first week!). The website was definitely another of our favourite things from the wedding."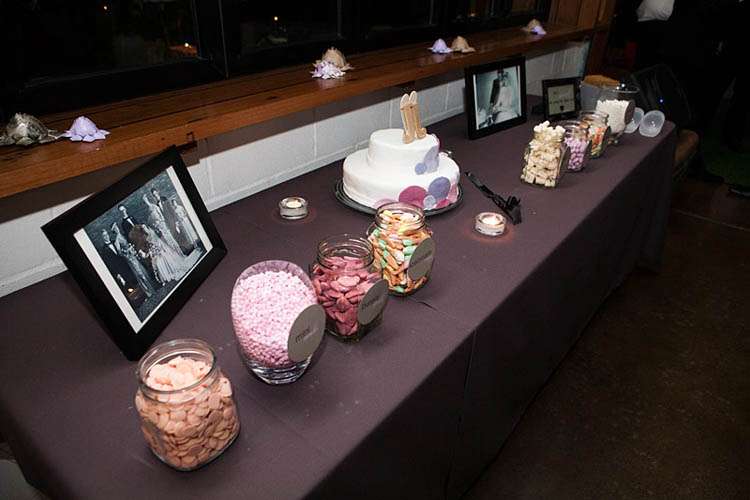 "Johan and I both have musical backgrounds, so when it came to the idea of a first dance, we decided instead to do a 'first song'. We did our own version of Angus & Julia Stone's 'The Wedding Song', and kept it a complete surprise (except to my matron of honour and her husband who we practiced in front of). It was such a special moment. Looking back on our wedding now, and I wouldn't have changed a thing – I'm so glad we didn't bow to traditions that didn't mean anything to us. We have absolutely no regrets!"
Love, thanks and huge congrats to Jo & Johan for sharing their rockin' wedding with us today
Photography Credit: Rachel Marsden
Ceremony Venue: Broadway Chapel
Reception Venue: Lightspace
Bride's Dress: Bridal on James
Bride's Hairpiece: Nyjole Jewellery on Etsy
Bride's Earrings: Ginger Kisses Vintage on Etsy
Bride's Shoes: Jigsaw
Bridesmaid Dresses: Forever New & Mother Maria
Bridesmaid Shoes: Novo
Bridesmaid Jewellery: Diva
Bridesmaid Temporary Tattoos: Chanel
Groom's Cuff Links: Silvermade Studio on Etsy
Make Up: Gemma from Embellished Makeup
Hair: Chris Lawless