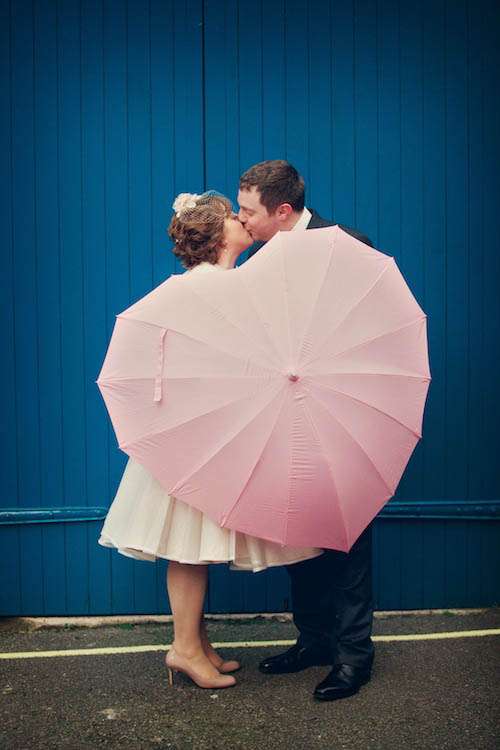 Leslie & Ben's rowing club wedding shows perfectly why I adore my readers! Such utter gorgeousness without conforming to anybody else's idea of what makes a wedding…plus the whole thing was DIY. I approve!
"We called in a lot of favours to make the day; partially because we had a limited budget, but also because by using friends the day would be more special.  Luckily we have a lot of talented friends who include a graphic designer (who did our invitations), a chef (catering), a musician (band), ex-florist and so forth.  The favours, peanut butter fudge, I made myself 4 days before. It was all gone before the main course at the sit down dinner, so I'm guessing no one minded it was made by the bride!"
"The venue decorating was DIY by a friend…we found out on the Thursday that we weren't allowed into the venue on the Friday to decorate as they had another booking.  I had been worried about that the whole time, so had minimal decorations in mind, just flowers, and a few other bits and pieces.  So late Thursday night, I called my friend Gary who happens to be my event assistant at work and bribed him with a Gaucho in exchange for decorating.  So he cancelled his plans on Saturday and went and did some diy decorating for us.  And it was all perfect."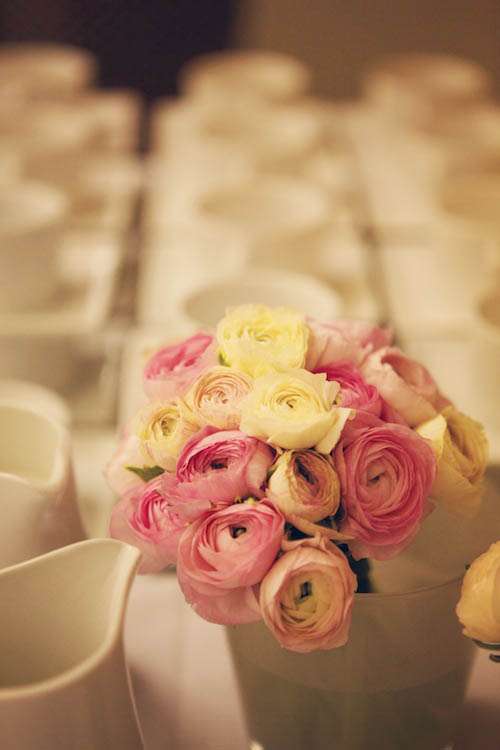 "Ben also joined the wine society and we had months of wedding wine tasting before we decided on what to get and brought it all in ourselves (the venue has very reasonable corkage for a London venue). We take our wine very seriously and wouldn't settle on a wine list, so it was very important to find somewhere we could choose our own wine. And god it was good.  We bought way too much, Ben fully expected to bring some home.  I expected to run out.  Our friends and family did not disappoint on the drinking front; it was just the right amount to see us through the day without a drop to bring home."
When I asked the bride why the felt their wedding was Rock n Roll, her answer just made me love them even more! It's all so true. "I didn't plan a wedding.  I planned a party that we happened to get married just before and dressed up for.  I never wanted a wedding in the "traditional" sense.  We wanted a wedding, followed by a slap up meal and a big party in the evening.  I had family come from all over the world – The States, Australia, Kuwait – to be with us, so we kept the wedding and meal (4 course feast) as family only, with a couple of friends thrown in: mine who had delayed their honeymoon following their August wedding so that they could come from The States, as well as a few of Ben's close friends as I have an enormous family and he has a tiny one."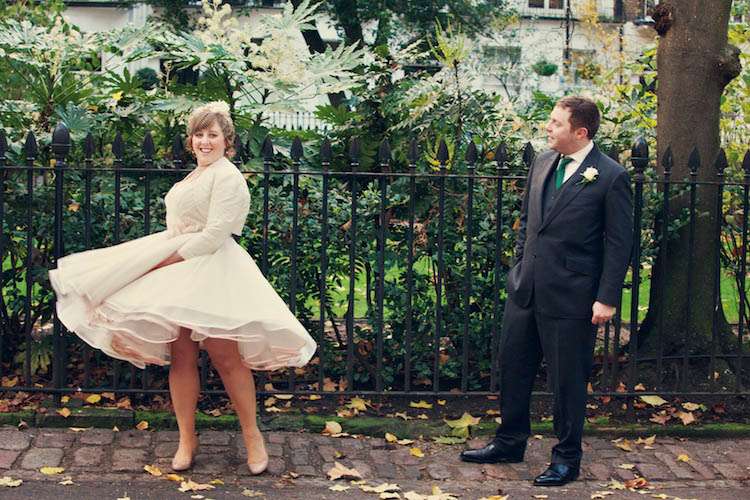 "We wanted a wedding where everyone could have fun, and wasn't just a spectator on the sidelines.  The Father of the bride speech happened when it was only family which was great as he knew everyone, everyone
there knew what a tough year we had so no explanation was needed and so forth.  So no speech that alienates a lot of people, or bores them as they have no idea what's happening.  The evening guests had the groom and best man's speech, it was all friends, so was perfect.  They were short and sweet."
"I think this sums it up.  We have had so many people tell us it was the best wedding they had ever been to, because at the end of the day it was fun.  Within half an hour of the evening guests arriving, we had everyone on the dancefloor, and they didn't leave it until the venue made us stop well after midnight!"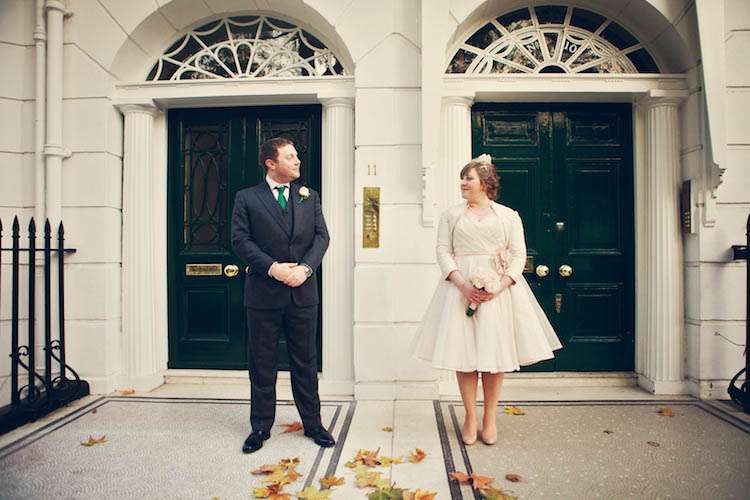 "The best piece of advice I was given, sadly not sure who from…don't try to please anyone else when wedding planning.  Stay true to yourself and plan the best day for you.  We did and we had an utter blast.  And people won't like what you do.  My mother HATES our wedding invitations – they're based on steampunk – but we thought they were the coolest thing ever.  So what!  We love it and that is all that matters.  Don't be swayed by others opinions.  Or by the whole bridal machine.  And ENJOY it all.  I do event organising for work, so approached it all in a functional way as it is what I do.  I wish I had had more fun with it, rather than make spreadsheet after spreadsheet after spreadsheet."
Good advice Leslie!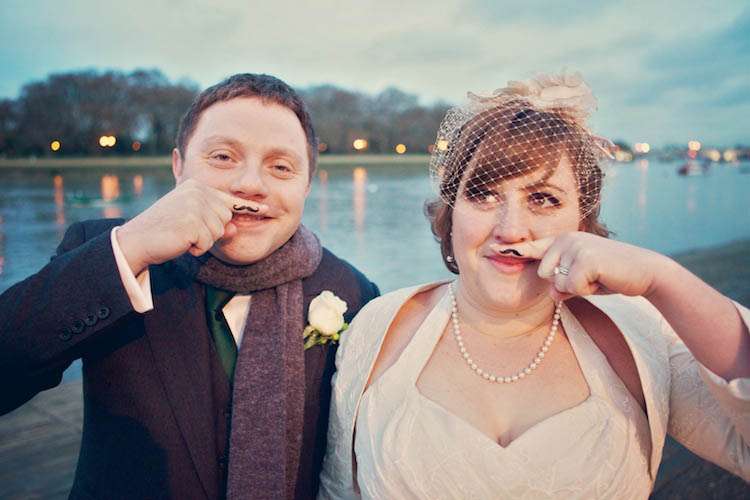 Huge love and thanks to Leslie & Ben, and of course their fabulous photographer Lisa for sharing this wedding today.
Photography Credit: Devlin Photos
Ceremony Venue: The Old Marylebone Town Hall
Reception Venue: Thames Rowing Club, Putney
Bride's Dress: Joanne Fleming Design
Bride's Veil: Kiss Curl on etsy
Bride's Bracelet: Swarovski
Bride's Shoes: Simple 70 Nude Louboutins and Converse
Groom's Suit: Cad & The Dandy
Bridesmaid's Dress: Dress Barn
Bridesmaid's Shoes: Office
Bridesmaid's Petticoat: Beyond Retro
Cheese Cake: Neals Yard Dairy
Flowers: DIY
Band: Purple Cobras