In this month's Photo Pro article I featured one of my favourite bloggers, The Bowie Bride, and her killer wedding shot by Nicole Polk. The magazine is available in shops now!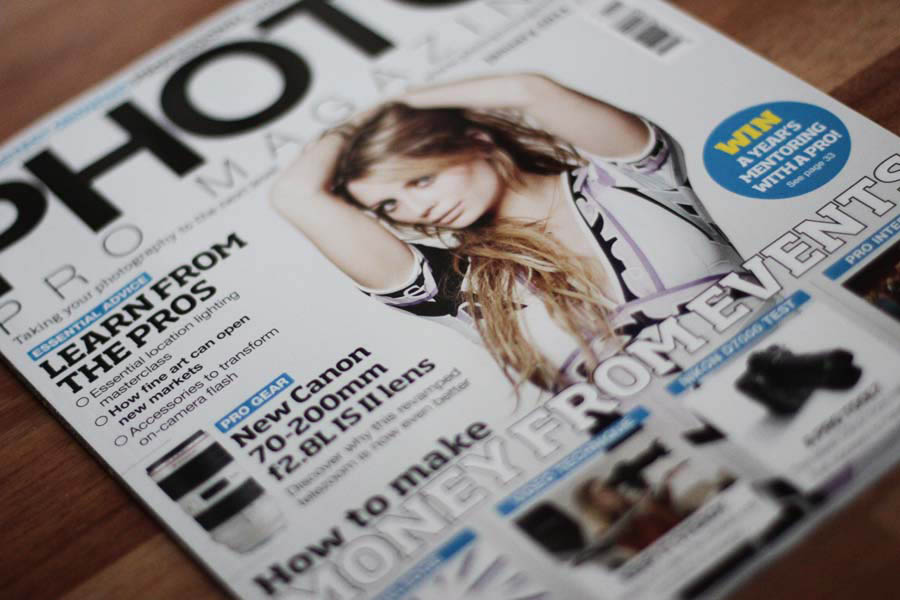 When I sat down to write this month's article, I pondered for a good few hours about what you might want to read from me next. Then it hit me – what is the number one question photographers always ask me? "How do I get Rock n Roll clients?" The answer to this question is as complicated as it is simple – basically, you need to show these allusive "Rock n Roll clients" what you've got – show them, not just tell them, why you're perfect to shoot their style of wedding. As I touched upon last month with Jasmine Star, the type of clients you shoot will generally determine the next set of clients you get – a "self fulfilling prophecy" so to speak.
One tried and tested method that I know has been successful for many a newbie photographer is to run free wedding photography contests – pick a deserving couple who match the criteria of the type of weddings you want to be shooing, shoot their wedding for free (brownie points and karma a go-go) and voilà! – a perfect example wedding in your portfolio!
Photographer Nicole Polk based in Philadelphia wanted to do just this – to raise her profile as an alternative wedding photographer and to give free wedding photography to a deserving couple who might not have the budget for professional photography.  In order to do these the contest idea seemed like the answer. She used blogs for inspiration as well as promotion.
She explained, "Over the last few years, I've come across some amazingly personalized weddings on the wedding blogs.  The Philadelphia market has been a little bit slower to adapt this trend in the industry.  I had couples that were infusing small things into their weddings that reflected their personality, such as favors, or holding the event outside.  Largely though, these weddings held a lot of traditional elements.  I wanted a way to show my clients what is possible.  The old saying is "show what you want to sell" so I decided the best way to get it out in front of my clients and potential clients was for them to see me photograph a very stylized event – the kind I wanted to be shooting.."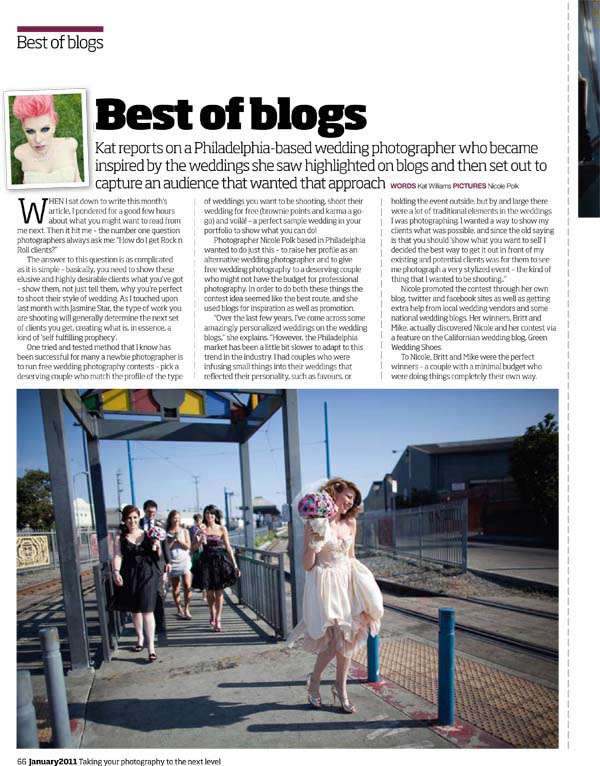 Nicole promoted the contest through her own blog, twitter and facebook as well as getting some extra help from local wedding vendors and some national wedding blogs. Her winners, Britt & Mike actually discovered Nicole and her contest via a feature on the Californian wedding blog, Green Wedding Shoes.
To Nicole, Britt & Mike were the perfect winners – a couple with a minimal budget were doing things completely their own way. The majority of their wedding was DIY and the attention to detail they put into their wedding was totally personal to them – think spray painted fake flowers, beer bottle chandeliers and a massive David Bowie art instillation as a photo booth backdrop. These guys were exactly the kind of couple could who completely deserved to have all the hard work they'd put into their wedding immortalised forever in fabulous photographs, however also the kind of couple who might not be able to afford professional photography to begin with.
Not only did Nicole find her winners through a blog feature, but the results of the contest and their final wedding photographs were showcased online to hundreds of thousands of potential new clients. The bride happened to have her own blog too, The Bowie Bride. At the time of booking, Britt's blog was pretty much still under the radar but through links with other bloggers (mainly myself – I'm a huge fan of Britt and actually featured her wedding on Rock n Roll Bride – and The Broke Ass Bride www.brokeassbride.com – who Britt now guest writes for) The Bowie Bride has sky-rocketed – thus introducing Nicole and her photography to a much larger audience.
"It's a little early to say long term effect, but I've certainly gotten more comments on facebook from this wedding from both strangers and colleagues than any other wedding," Nicole agreed. "I have actually shot some more weddings this season that I'm slowly blogging that show more of the couple's interests.  So, while this wedding, itself, may not be the sole reason someone inquires or books me, I think it is adding to a larger body of work that I'm putting together.  The longer I'm in this business, the more I'm able to put out who I am as a person and photographer, and this wedding is one large piece of the puzzle that is definitely attracting more people like myself.  Life is too short to not love what you are doing, so I've been busy building a personal and business life where I can surround myself with like minded people who exemplify love and passion."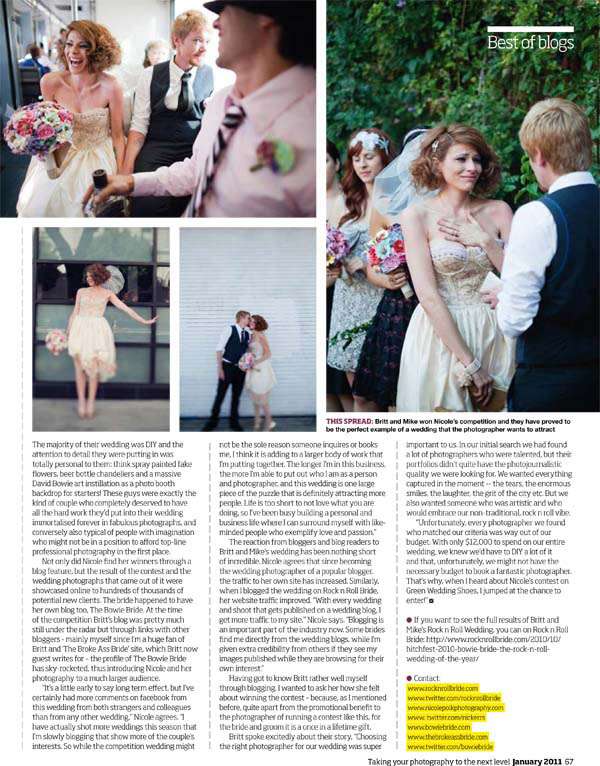 The results and reaction from bloggers and blog readers to Britt & Mike's wedding has been nothing short of incredible. Nicole agrees that since becoming the wedding photographer of a popular blogger, the traffic to her own site has increased. Similarly, when I blogged the wedding on Rock n Roll Bride, her website traffic improved. "With every wedding and shoot that gets published on a wedding blog, I get more traffic to my site," Nicole says. "Blogging is an important part of the industry now.  Some brides find me directly from the wedding blogs, and some have already found me, but find added credibility from seeing my images published while they are browsing for their own interest."   
Having gotten to know Britt rather well myself through blogging, I also wanted to ask her how she felt about winning the contest – because, as I mentioned before, quite apart from the promotional benefits of running a contest like this, to the winners, it is a once in a lifetime gift. Britt spoke excitedly about their story, "Choosing the right photographer for our wedding was super important to us.  In our initial search, we had found a lot of photographers that were talented, but their portfolios didn't quite have the photojournalistic quality we were looking for. We wanted everything captured in the moment — the tears, the enormous smiles, the laughter, the grit of the city etc. But we also wanted someone who was artistic and who would embrace our non-traditional, rock n roll vibe. And unfortunately, every photographer we found that matched those criteria was way out of our budget. With only $12,000 to spend on our entire wedding, we knew we'd have to DIY a lot of it and that unfortunately we might not have the necessary budget to book a fantastic photographer. That's why, when I heard about Nicole's contest on Green Wedding Shoes, I jumped at the chance to enter!"
If you want to see the full results of Britt & Mike's Rock n Roll Wedding, you can on Rock n Roll Bride here: http://www.rocknrollbride.com/2010/10/hitchfest-2010-bowie-bride-the-rock-n-roll-wedding-of-the-year/
♥  ♥  ♥
I also had a very nice surprise last weekend, when some of my Twitter friends (thanks guys!) spotted that Rock n Roll Bride was featured in The Guardian newspaper, in an article about the royal wedding. Eeeek! Great quote huh?
"…blogs about budget weddings and alternative takes on the industry like www.rocknrollbride.com, provide healthy alternatives to all the diamonds and debt."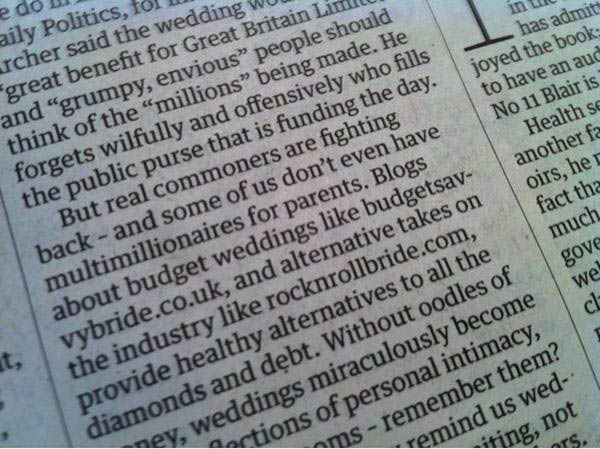 I knew my public distaste for the media circus surrounding the royal wedding would pay off! You can read the full piece on the Guardian website here.