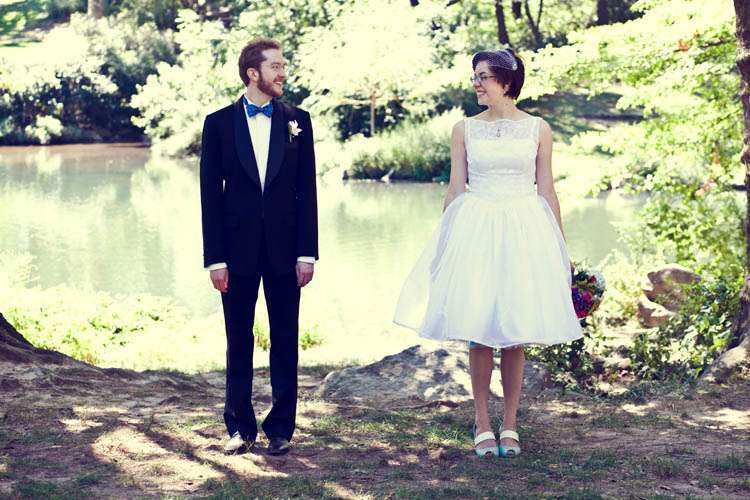 Adrienne & Christian were married in Central Park in a simple but perfect ceremony, "Central Park allows the rental of any place (except for the Conservatory Gardens) for just $25," explained the bride. "The challenge is that they do not allow you to bring in anything, including chairs, so we all had to stand. It worked out perfectly, though, since we were in a beautiful location that did not need decoration, and we had two friends organize everyone upon their arrival into neat rows with an aisle. Another friend handed out whistles and ribbon wands on the path leading to the ceremony location, so everyone could arrive while making their own music with a smile. Our assortment of slide whistles, kazoos, and siren whistles were from Century Novelty."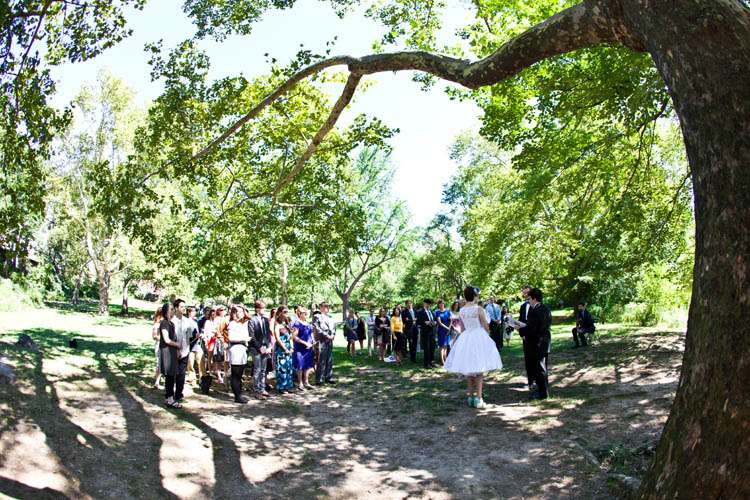 Adrienne wore a 1950's style dress made for her by her Mum. Originally she had wanted a vintage dress, however after much research she discovered that most vintage dresses were teeny tiny! "I wanted a 1950's tea-length dress, and scoured the web for weeks only to learn that girls in the 1950's were TINY!" Adrienne continued. "My budget was under $200, and I found that all of the "XL" dresses were going for closer to $500 on eBay. Knowing that my mom is an amazing sewer, I changed my plans to find a vintage pattern, and found the perfect one for $20. We picked out most of the fabric at a JoAnne's Fabric upstate, then I picked out some nicer lace at B&J Fabrics in NYC. My mom spent many hours sewing and did a beautiful job, including hand sewn beading across the neckline and subtle hand sewn lace and sequin accents on the skirt. The final touch came from a costumer designer friend in New York, Jess Trejos, who tailored everything to a perfect fit." The bride also made her own veil.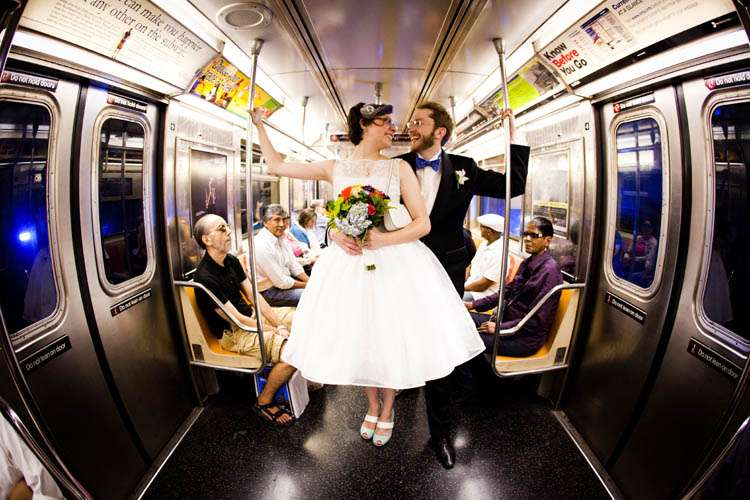 Can we just stop one moment and share some love for Adrienne's shoes?! They were the Mono Jane design by United Nude. "I had bought them the previous summer just to wear with everything-they are made from rubber and come in a rainbow of colors. When deciding what to wear for the wedding, I wanted something from my closet so I wouldn't have to spend any additional money; the United Nude store in NYC seems to be closed now, so I was lucky to have them already! In talks before the wedding, my dad said, "you can't wear blue shoes with a wedding dress!" and I said, "Sure I can!"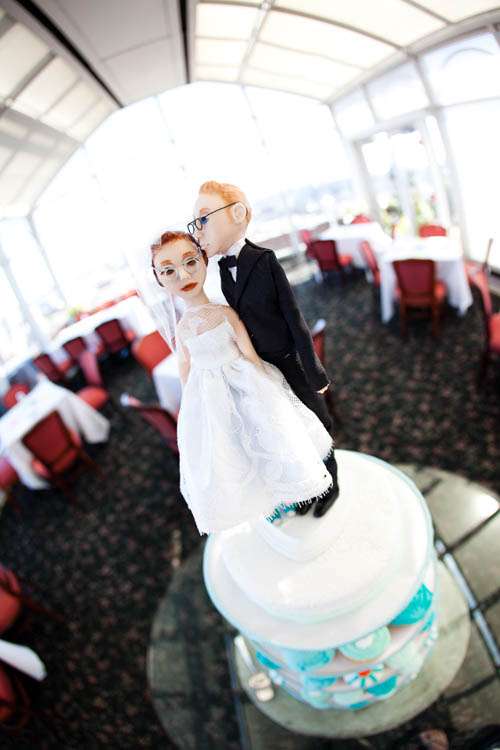 The reception was held at NYC Terrace in the Sky, NYC. The couple kept the decor simple but added personal touches here and there. The cupcakes (coloured to match Adrienne's shoes) were made by a friend and their awesome personalised cake topper was made by the bride's brother's partner who runs a business ususally making creepy dolls called Strange Dolls.
With all of this, we wanted to avoid as much wedding commercialism as possible, and have friends and family contribute wherever they could as their gifts to us (luckily, we have some pretty talented friends)" concluded the bride. "It was cheaper, and much nicer, since everyone felt a part of the day. I was very inspired by the book One Perfect Day: The Selling of the American Wedding early on, and did not want to have a lot of wedding "stuff" just because that's how weddings are done. Even with very hip parents and friends, throughout the process I heard a lot of "you can't do that at a wedding!" types of comments. I'd like to tell anyone who is dealing with pressure from outside that we had a successful day after making a pre-nup, wearing glasses and blue shoes, not having paper invitations, not having bridesmaids or groomsmen, not having any chairs at the ceremony, and not serving food at the reception. None of that stuff matters, and it's all about just having everyone you love together for the best party ever. They'll get over it; it's all up to what the two of you want."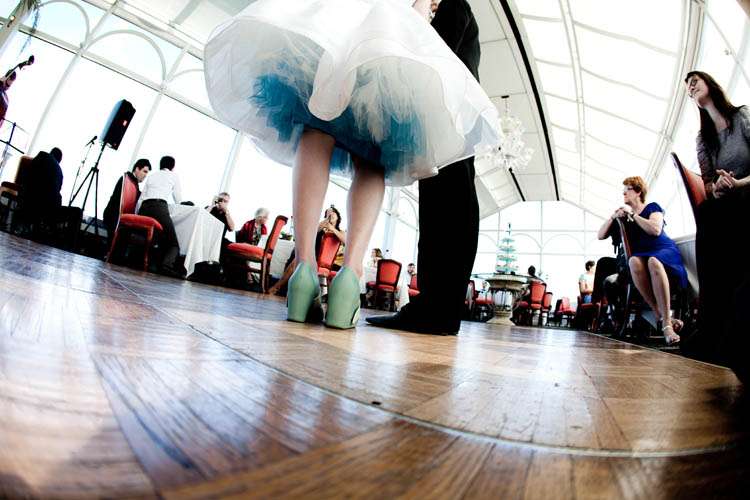 Massive thanks to Adrienne & Christian for sharing their incredibly inspiring wedding with us today
Adrienne is planning on selling her wedding dress, so if you are interested in buying it be sure to get in touch and I will pass your info on. The dress is a US size 10.
Photography Credit: Lauren Farmer Photo
Ceremony Venue: Central Park Pool Lawns (100th and Central Park West)
Reception Venue: NYC Terrace in the Sky, NYC
Bride's Dress: DIY
Bride's Shoes: Mono Jane by United Nude
Bride's Veil: DIY
Bride's Necklace: Vintage
Groom's Suit: Custom Made
Cake: DIY (friend)
Cake Topper: Strange Dolls
Ceremony whistles etc: Century Novelty
Flowers: DIY
Officiant: Kevin Mauro
Engagement Ring: Michael Alexander
Ribbon Wands: DIY (tutorial here)