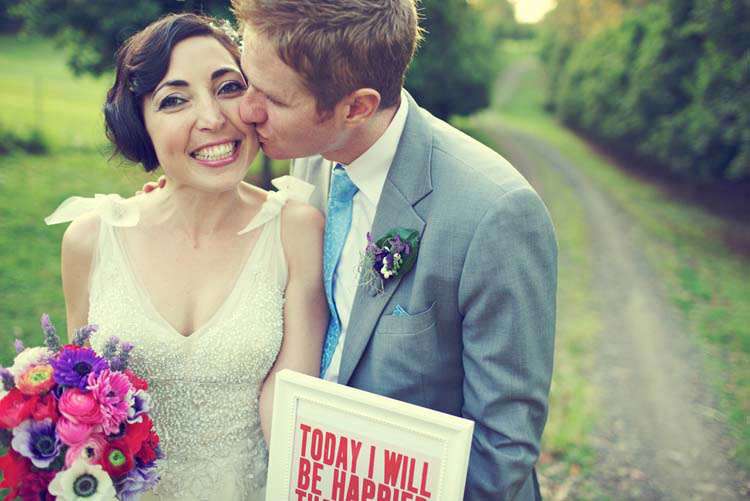 Sean & Carrie's Brisbane wedding has really brightened up this cold November afternoon for me (and it's my second aussie wedding of the day – I really must be feeling the cold!) I am grinning from ear to ear over the sunny and mis-matched colour palate. 
Inspired by the wedding blogs they read throughout their planning, the couple scoured etsy for a lot of the gorgeous details you see here. Carrie explained, "Prior to getting engaged I had no idea about the HUGE world of weddings out there on wedding blogs. Etsy.com was also an endless inspiration and a principal contributor to our wedding."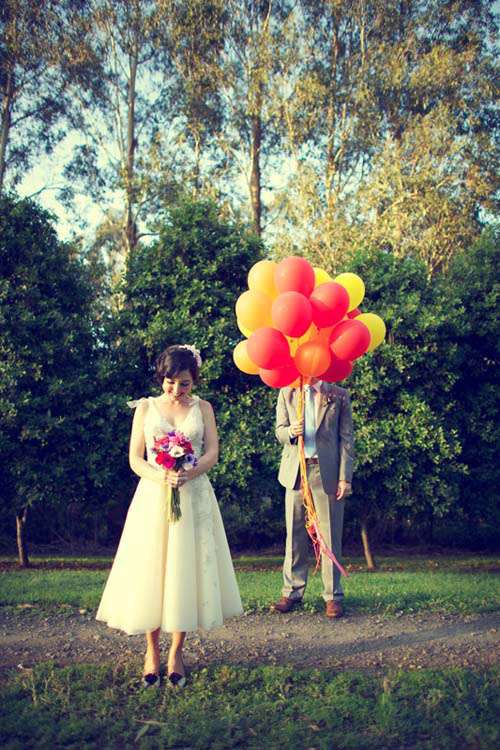 "Our table decorations were made up of:
Pinwheels from Crossroads Cottage on Etsy.com, the pinwheels sat in ceramic jugs I bought from Ikea for next to nothing.
Jars of all shapes and sizes collected by family and friends, where I wrapped the most incredible lace, from my now mother-in-law Sue's vintage lace collection, around the top of the bottle and we used these as the vases for the flowers.
Our favours were little paper lolly bags from Pulp Creative Paper and we filled them with Pastel coloured Sugarcoated Almonds and Candy handmade with Sean loves Carrie from Candy Addictions in Montville, QLD.
We also had a bunting handmade with "JUST MARRIED" from littlekittenhomemade from etsy, it was delightful."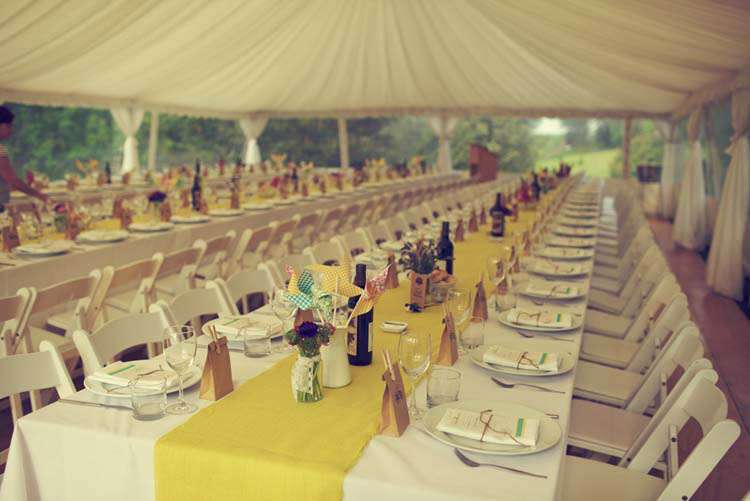 "We used hay bales from the local farm produce store and laid quilts over them for guests to sit on. I used some quilts of my mother-in-laws and had some made bysewfunbymonique from etsy. The fabrics Monique uses are just gorgeous and they looked so nice and homey on the day. Fantastic idea as it is cheap and effective and I will now have the quilts forever.
I also bought 2 prints from Dazeychic on etsy. Both delightful – "All you need is Love" and "Today I am happier than a bird with a French Fry". I bought frames from Ikea and we used them as decoration on the day and props for our photos. Again, something I will now have forever.
We didn't have a cake, however I was inspired by what I'd seen on blogs and we had an Ice Cream Parlour! We had too many people for ice cream, so my dear friend and bridesmaid and family all got on board to help design the desert parlour and bake the goodies for the day. It was so much fun, we had old fashioned jam sponges with real strawberries and cream, meringues, wonderful Australian lollies which reminded us or our childhood – Strawberries and Cream/Chicos/Teeth/Freckles, we had plates of macaroons, coconut ice, apricot balls, honey joys and chocolate crackle (both traditional Aussie goodies) were wrapped in cupcake holders from The Cupcake Wrapper Co. which I found on Etsy.com. Every one absolutely loved it, it was a major hit and let me tell you EVERYTHING was devoured."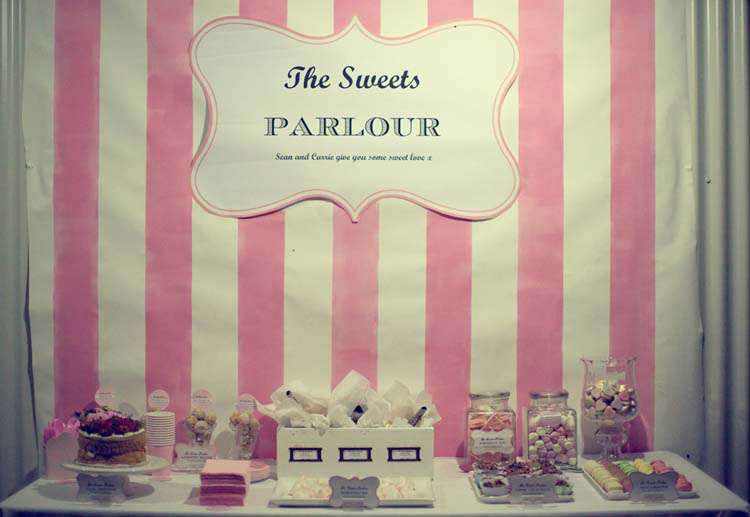 "Dear friends of ours also created our wedding sign, which we hung up at the entrance to the property and the hanging monograms which we hung in the garden. So blessed to have so many gifted friends and all so willing to help.
We also had a homemade photo booth. We wanted as many photos of guests as possible, completely inspired by numerous wedding blogs we decided to hang fabric in the garden and supplied disposable camera's for our guests. We also had the cutest props ever – moustaches on a stick, pink lips on a stick, some silly sunglasses,also inspired by the numerous wedding blogs I trawled before the wedding, we bought these from pertyfultings, also found on the wonderful etsy. Fab DIY idea."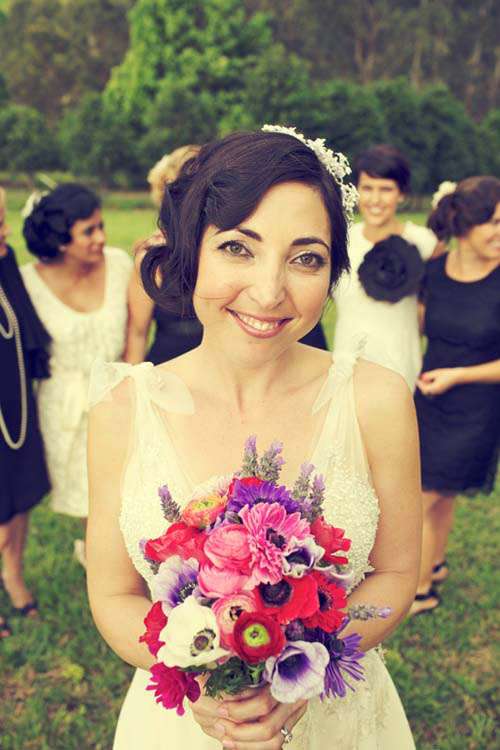 "Last but certainly not least, I could not recommend more Anna from Missprintdesign in New Zealand, also found on etsy. Anna did all of our Save the Dates, Wedding Invitations, our seating cards and our thank you cards to each guest on the table. Another truly talented lady, so very helpful and accommodating to all of my ideas. The remarkable comments about all of the above were endless from our guests. Anna was an amazing find for me."
Awsome huh!? I am just so in love with the creativity of this wedding it's unreal! Be sure to check out the full vendor list below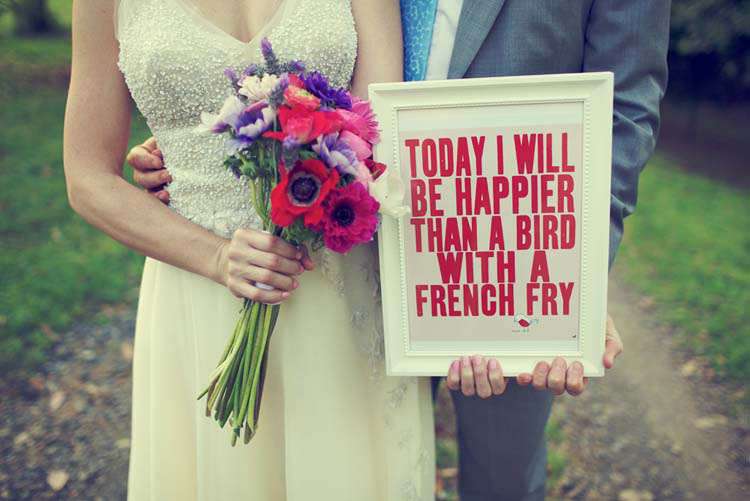 Huge thanks to Sean & Carrie and their awesome photographer's Andrew & Hailey for sharing this wedding with us today
ps yes I posted a lot of photos for this wedding. I couldn't help it.
Photography Credit: You Can't Be Serious
Venue:  Gurragawee, Creative Workshops + Artstay
Bride's Dress: Designed and Handmade by Paul Clowley of Trio Designs
Bride's Shoes: /Bride's Headpiece: Vintage – the same her Mum wore for her wedding. Reconstructed by Ann-Maree Willett
Bridesmaids/Groomsmen: Chose their own outfits
Decor/Details: All Listed above
Flowers: Dazza Woodward from Floral Fusion in Newybar
Catering: Butlers
Co-ordination: Jane Magnus of Byron Bay Weddings and Events
DJ: DJ Beaver
Hair: Christian Alexander