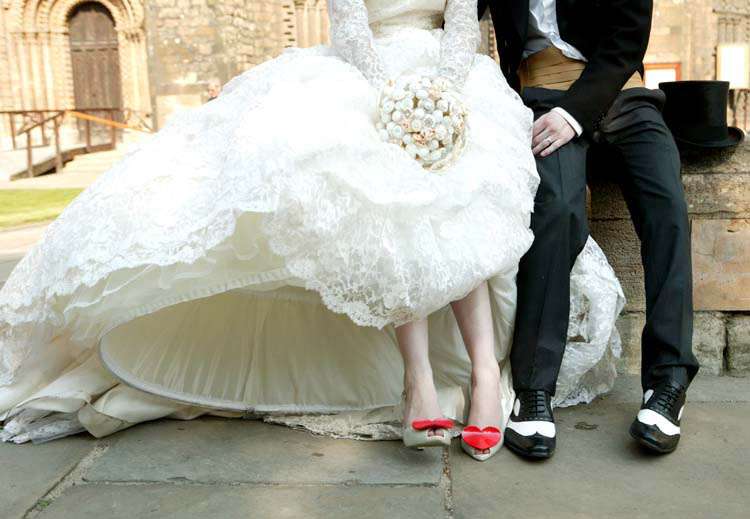 I am a little bit over excited about featuring Danielle & Carl's vintage wedding today. As soon as I laid eyes on her amazing dress I knew this wedding was going to be incredible… and you know what? I was right!
The couple, who met at school, got married in June at St Peter's Church in Doddington, Lincolnshire. A 1950's vintage theme was really important to the couple as it really reflected their everyday style. "Having been to a few 'traditional' weddings, as soon as we started to plan our wedding, we knew that we wanted to do things differently," Danielle told me. "We wanted every part of our wedding to be personal to us, and be able to show our personalities.  We didn't just want to do something because it was the way people usually do things at weddings, we wanted to put our stamp on it.  We both love all things vintage, particularly the era of the 50's and 60's, after all, our first car was a 1969 Volkswagen Beetle.  For this reason, having a vintage rock 'n' roll 50's style wedding just seemed to come naturally to us.  Our inspiration came out of our love not only for the 50's fashion, but the music and the whole lifestyle.  Having a dancing vicar was not something we planned but that was an added bonus!"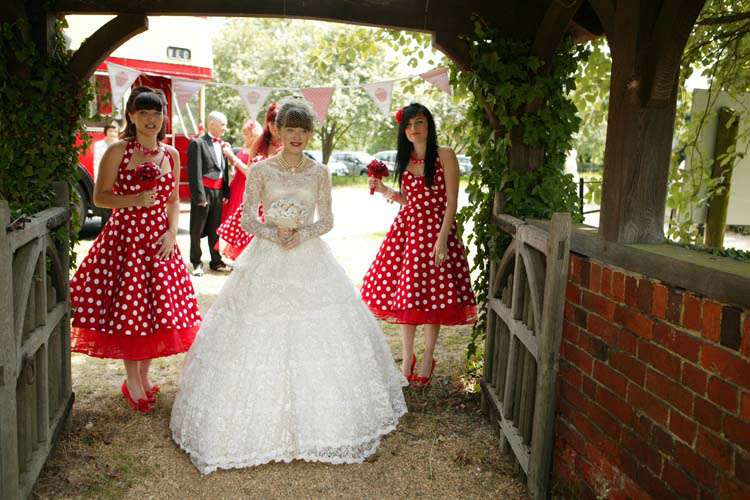 Danielle found her ridiculously gorgeous 1950's dress at Love Miss Daisy and it was actually the only dress she tried on! "Searching for dresses was about the first thing that I did – I knew I wanted a 1950's style dress, and so I started searching the internet" she told me. "The minute I saw this dress on Love Miss Daisy's website, I fell in love with it.  I wasn't sure I was going to be able to squeeze into it, but I just had to go and see it to find out! March 1st 2009, 15 months before our wedding day, I  got my mum and my two sisters, and we took a trip to Love Miss Daisy to find out if the dress would fit.  It was the first dress that I tried on, and it fitted as though it was just meant to be. I couldn't believe it, I just fell in love with it, it was perfect!" She accessories with Vivienne Westwood shoes (bought for her by Carl) and jewellery and a birdcage veil made especially to match her dress by Kiss Curl.
Carl made just as much effort in a ruffled Vivienne Westwood shirt and a 1930's tailcoat that he found on eBay. With this he wore black & white brogues and a vintage top hat.
The reception took place at Lincoln County Assembly Rooms, an Eighteenth Century building, in the historic Bailgate area of Lincoln. The couple DIY'ed as much as they could including the save the dates, invitations, church decor, confetti cones, all the reception decor and centrepieces, place names and table names. They chose not to have too many real flowers and only had a small selection as part of the centrepieces.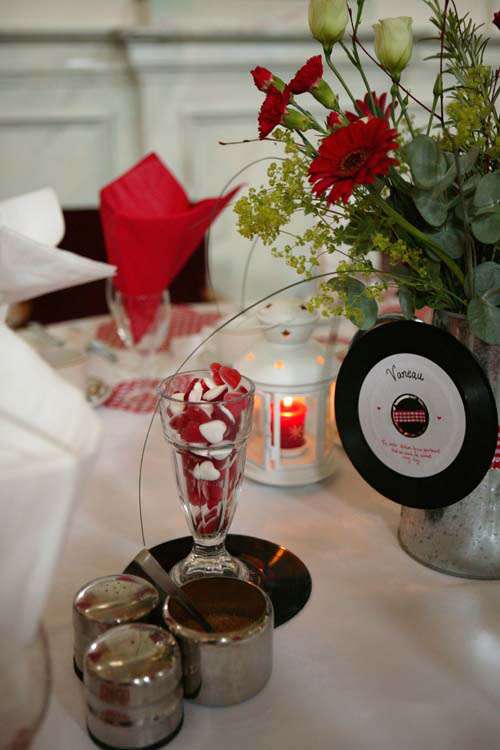 Rather than carry real flowers, Danielle and her bridesmaids had button bouquets made by Liza at Letters4Lilly. "She's based in Australia and I happened to find her on etsy," said Danielle. "I thought button bouquets were the perfect alternative to real flowers, because it meant that we each got to keep something special from the wedding day that can hopefully be passed throughout our families in years to come.  Each of the bouquets were completely unique with the bridesmaids initial in a diamante letter on each bouquet.  The best part of the bouquets was the fact that we could add something personal to them if we wanted to, and one of our bridesmaids chose to have her grannies thimble attached the bouquet, and I was able to have my grannies hatpin placed right next to the "I do" button."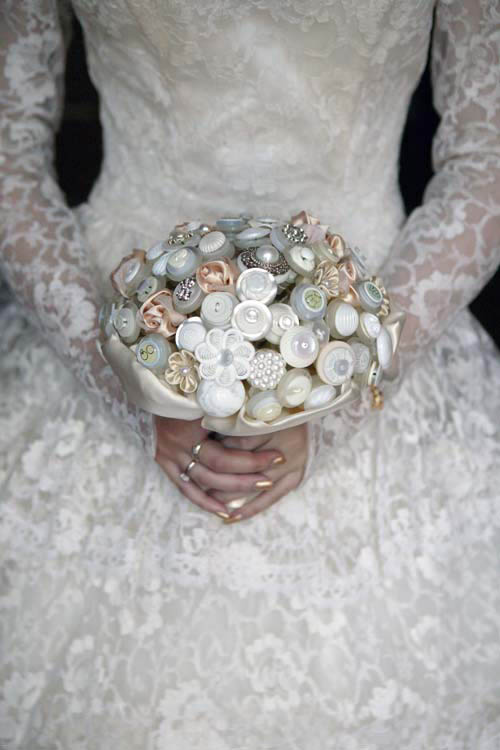 You can see more of Danielle & Carl's wedding including some of their DIY stories on their blog This Charming Wedding
HUGE thanks to Danielle & Carl and their awesome photographers Bethan & Syriol for sharing this wedding with us today
Photography Credit: Haywood Jones Photography
Ceremony Venue: St Peter's Church in Doddington, Lincolnshire
Reception Venue: Lincoln County Assembly Rooms
Bride's Dress: Love Miss Daisy
Bride's Shoes & Jewellery: Vivienne Westwood
Bride's Birdcage Veil: Kiss Curl
Bride & Bridesmaid's Bouquets: Letters4Lillyon etsy
Groom's Shirt: Vivienne Westwood 
Groom's Suit: eBay
Groom's Top Hat: vintage
Bridesmaid's Dresses: Dollydagger
Decor: DIY
Band: The Hicksville Bombers
Hair/Make Up: Brushes of Lincoln
Bus: Yorkshire Heritage Bus Company