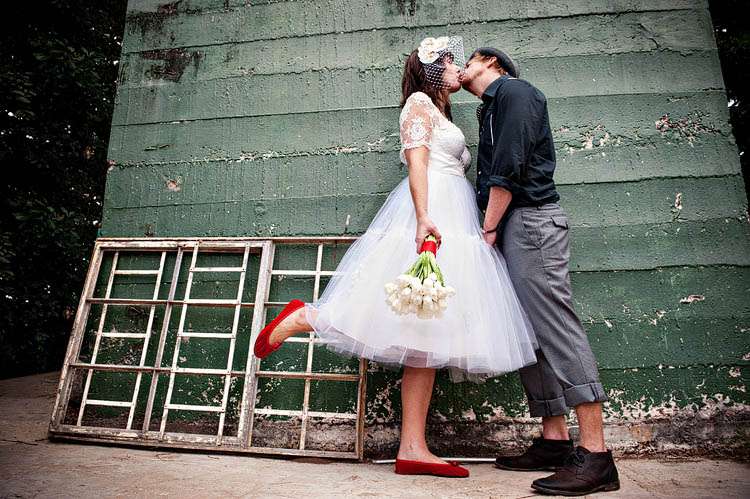 Lisa & Tyrone got married on the South Coast of Kwa Zulu Natal in South Africa. Their bridesmaid and photographer, Jacki Bruniquel, told me the whole story. "Their wedding was a day of such love and celebration. Lis not just my sister she is one of my best friends and Ty is not just my brother in law he has been in the best friend category for long time now. Tyrone happens to be a really good photographer as well! I love them both to absolute bits and pieces and really wish i could just do their whole day all over again."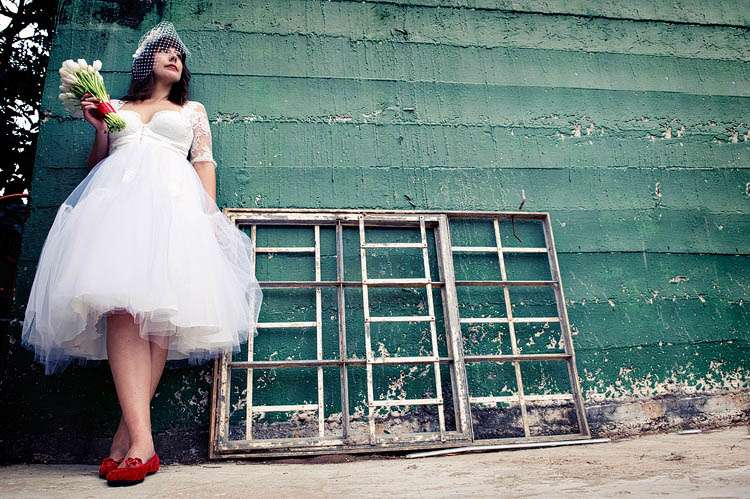 Lisa had her little velvet red pump shoes made especially for her as she is a strict vegetarian. Her cute fifties inspired dress and gorgeous orchid bird cage veil were made by Katherine Kidger, a very funky designer based in Durban.
The ceremony tool place on the beach but as Jacki was a bridesmaid she didn't photograph this part of the day. "Ty & Lis had very specific ideas for the reception," Jacki continued. "We collected tins and slipped plants forever to make the succulent pot plants which were given away to guests as gifts! Ty's Mom made what seemed like a gazillion origami birds. Ty is a great graphic designer as well as a photographer and he designed all the menus, seating plans, invites etc. My Mom needs a huge pat on the back for all her hard work as she made all the table runners and so on."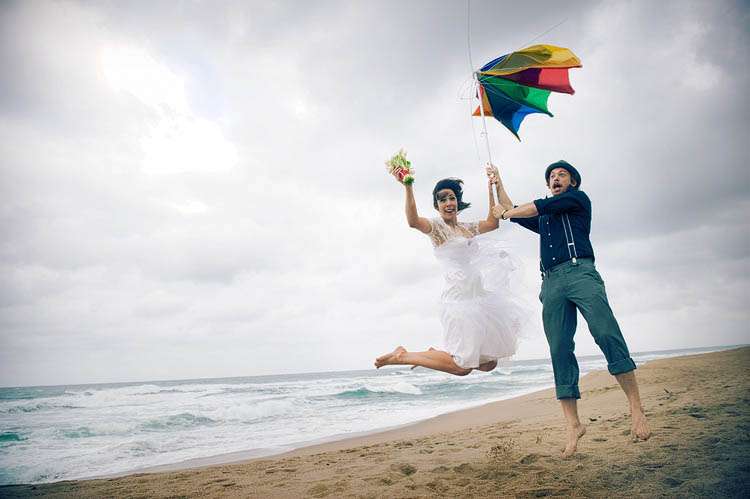 Finally, the couple and Jacki headed out for some funky wedding day portraits (these are my favourite shots of the day!) "For their creative shoot we had originally planned to do a vintage beach shoot with funky beach umbrella, beach ball and deckchairs but with the wind Lis wanted to get straight off the beach because it was so windy. I convinced them to do a few shots with the umbrella as i just knew it would get absolutely bashed by the wind. These pics really do capture the reality of the day! From the beach we went back to the reception venue and i found this green wall at the back of the establishment which was wind free and really made Lisa's shoes and red lippy!"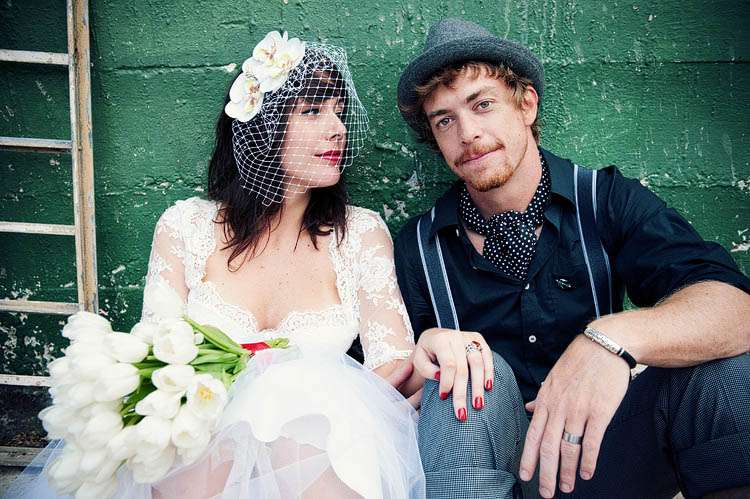 Thank you to Jacki for sharing Lisa & Tyrone's cool wedding with us today!
Photography Credit: Jacki Bruniquel
Bride's Dress & Veil: Katherine Kidger
Bride's Shoes: Custom Made
Groom's Hat: Brixton ltd number
Groom's Trousers: Ben Sherman
Groom's Shoes: Aldo
Groom's Shirt: Kingsley Heath
Groom/Groomsmen's Brooch: Holmes Brothers