When I realised this month's issue of Photo Pro Magazine would be the twelfth featuring little old me I got all contemplative. Wow, I've been writing for this awesome photography magazine for over a year – not only where has the time gone, but seriously how much has changed in that time!? Lots I tell you!
I wanted to make this article sort of a 'round up' style feature – i.e. what have I learnt over this past 12 months and how have I put it into practice. One of the things I've totally loved (and I think most of you have enjoyed seeing) are my photo shoots. I also wanted to give an almighty shout out to the girls involved in this epic shoot with the article too.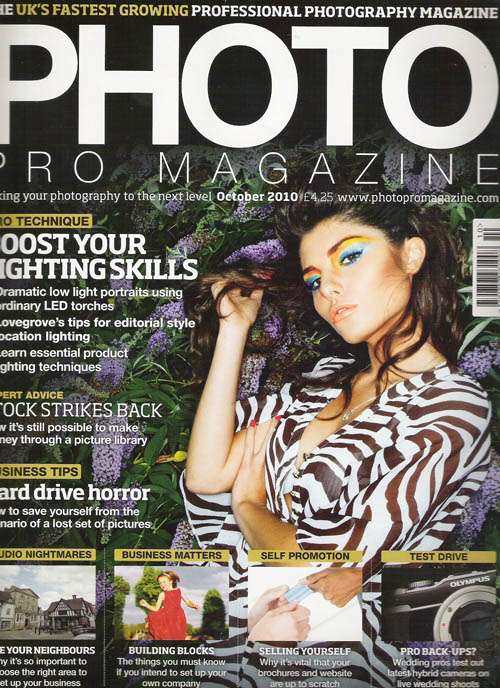 I wanted to take a slightly different approach to this month's best of blogs article. I've been thinking recently, that is all very well and good to look at these blogging heavy-weights and feel inspired by their achievements and the number of people who are reading their mightily successful blogs. However there is something even more inspiring about taking your blog and your business that one step further and thinking outside the box about how you can make the format work for you. Through the connections you've made through blogging and social networking, it really is possible to keep ahead of the game. Let's think of this month's article as more how to put what you've learnt over the past year of 'Best of Blogs' articles into practice shall we?
In July, I was asked to speak at a photography conference that was sponsored by Wedding Magazine and Hasselblad (yeah, no pressure right?!) I was asked to talk about some blogging and social networking basics as well as about 'how to be more alternative.' Problem number 1 – how do you tell someone how to be alternativeor how to be 'different?' After a few nights lying awake mulling this over, I had a revelation. Being alternativeis really just about being yourself right? So surely being an alternative photographer (or blogger) is just about letting that become your brand. Unknowingly that is actually what I've been doing this past 3 years and it seems to have worked for me.
When it came to giving examples of what I've done with my 'alternativeness' the first thing that came to mind was the photo shoots I've planned and taken part in over the last few years. I've used them to not only hone and further my brand but as promotional vehicles for everyone involved.
Confession: I've always been a big poser. As a teenager my friends and I would buy disposable cameras and play 'models' in our living rooms. Why, I still don't know…maybe we thought we'd someday be spotted and whisked off to marry Taylor Hanson. Oh the shame.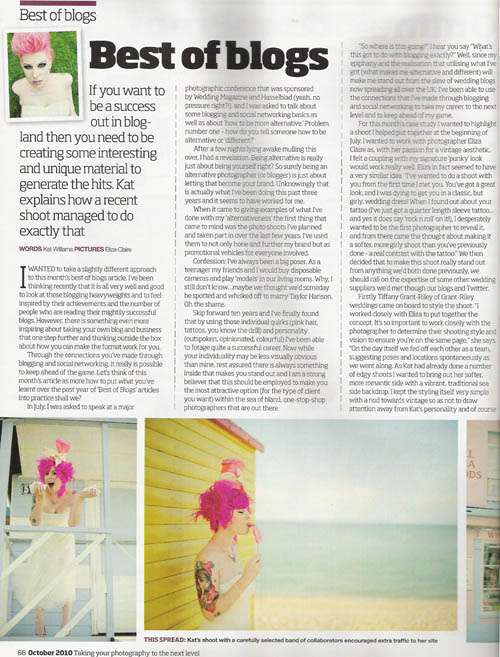 Skip forward ten years and I've finally found that by using those individual quirks (pink hair, tattoos, you know the drill) and personality (outspoken, opinionated, colourful) I've been able to forage quite a successful career. Now while your individuality maybe less visually obvious than mine, rest assured there is always something inside that makes you stand out and I am a strong believer that this should be employed to make you the most attractive option (for the type of client you want) within the sea of bland, one-stop-shop photographers that are out there.
"So where is this going?" I hear you say "What's this got to do with blogging exactly?" Well, since my epiphany and the realisation that utilising what I've got (what makes me alternative and different) will make me stand out from the slew of wedding blogs now spreading all over the UK. I've been able to use the connections that I've made through blogging and social networking to take my career to the next level and to keep ahead of my game.
For this month's case study I wanted to highlight a shoot I helped put together at the beginning of July. I wanted to work with photographer Eliza Claire as with her passion for a vintage aesthetic, I felt a coupling with my signature 'punky' look would work really well. Eliza in fact seemed to have a very similar idea. "I've wanted to do a shoot with you from the first time I met you. You've got a great look, and I was dying to get you in a classic, but girly, wedding dress! When I found out about your tattoo (I've just got a ¼ length sleeve tattoo…and yes it does say 'rock n roll' on it!), I desperately wanted to be the first photographer to reveal it, and from there came the thought about making it a softer, more girly shoot than you've previously done – a real contrast with the tattoo." We then decided that to make this shoot really stand out from anything we'd both done previously, we should call on the expertise of some other wedding suppliers we'd met though our blogs and Twitter.
Firstly Tiffany Grant-Riley of Grant-Riley Weddings came on board to style the shoot. "I worked closely with Eliza to put together the concept. It's so important to work closely with the photographer to determine their shooting style and vision to ensure you're on the same page" she says. !On the day itself we fed off each other as a team, suggesting poses and locations spontaneously as we went along. As Kat had already done a number of edgy shoots I wanted to bring out her softer, more romantic side with a vibrant traditional sea side backdrop. I kept the styling itself very simple with a nod towards vintage so as not to draw attention away from Kat's personality and of course provide a platform to show off her new tattoo."  
When I was tasked with finding a hair and makeup artist who could create the visual feast we were after the first person that came to mind was Elbie Van Eeden. I had never met or even spoken to her in 'real life', yet I knew her work well after seeing and admiring it on blogs and on her photographer friend Kirsty Mitchell's Flickr (http://www.flickr.com/people/kirsty841/) Elbie had created an amazing dramatic wonderland look for some of Kirsty's projects and this was something we really wanted to emulate for our shoot. I knew, without ever speaking to her, that she would be perfect. After the shoot I asked Elbie about how she came up with her ideas "I wanted to show brides how to be true to themselves, to not necessarily feel like they haveto choose 'bridal' hair and makeup," she told me. "Not everyone wants to be a carbon copy of everyone else and a lot of brides just want to feel like the most beautiful 'her' that she can be!  As well as bring responsible for the hair and makeup, I created the little hat (a 3am brainwave.)  I wanted to create a look that was not contrived, something feminine, but with a playful edge." Elbie's vision worked perfectly with the British seaside theme and gave a completely different look and feel to what we could haveplanned or even expected. The 'Mad Hatter' theme certainly wasn't premeditated but surprisingly worked really well with the slightly vintage vibe. The collaborative nature of the shoot meant that everyone was able to add their own little bit of expertise to create this melting pot of goodness.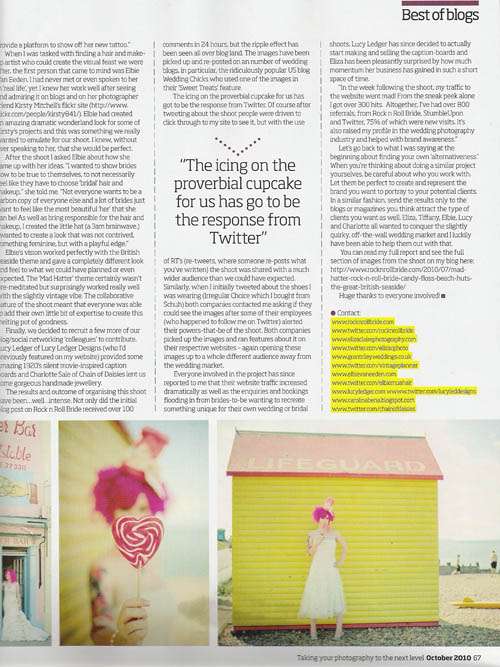 Finally, we decided to recruit a few more of our blog/social networking 'colleagues' to contribute. Lucy Ledger of Lucy Ledger Designs (who I'd previously featured on my website) provided some amazing 1920's silent movie-inspired caption boards and Caroline Sale of Chain of Daisies lent us some gorgeous handmade jewellery.
The results and outcome of organising this shoot have been…well…intense. Not only did the initial blog post on Rock n Roll Bride received over 100 comments in 24 hours, but the ripple effect has been seen all over blog-land. The images have been picked up and re-posted on an number of wedding blogs, in particular, the ridiculously popular US blog Wedding Chicks who used one of the images in their 'Sweet Treats' feature.
The icing on the proverbial cupcake for us has got to be the response from Twitter. Of course after tweeting about the shoot people were driven to click through to my site to see it, but with the use of RT's (re-tweets, where someone re-posts what you've written) the shoot was shared with a much wider audience than we could have expected. Similarly, when I initially tweeted about the shoes I was wearing (Irregular Choice which I bought from Schuh) both companies contacted me asking if they could see the images after some of their employees (who happened to follow me on Twitter) alerted their powers-that-be of the shoot. Both companies picked up the images and ran features about it on their respective websites – again opening these images up to a whole different audience away from the wedding market.
Wedding Chicks blog link
Schuh blog link
Irregular Choice blog link
Everyone involved in the project has since reported to me that their website traffic increased dramatically as well as the enquiries and bookings flooding in from brides-to-be wanted to recreate something unique for their own wedding or bridal shoots. Lucy Ledger has since decided to actually start making and selling the caption-boards and Eliza has been pleasantly surprised by how much momentum her business has gained in such a short space of time "In the week following the shoot, my traffic to the website went mad! From the sneak peek alone, I got over 300 hits on my site.  Altogether, I've had over 800 referrals, from Rock n Roll Bride, StumbleUpon and Twitter, 75% of which were new visits. It's also raised my profile within the wedding photography industry, and helped with brand awareness. I've had quite a flood of enquiries since Kat first talked about our photo shoot on Twitter and I'm really looking forward to meeting the brides that have contacted me through Rock n Roll Bride as, based on my previous experience of Rock n Roll Bride readers, they're brides that really do think outside of the norm with their wedding planning, which I love!"
Let's go back to what I was saying at the begining about finiding your own 'alternativeness'. When you're thinking about doing a similar project yourselves, be careful who you work with. Let them be perfect to create and represent the brand you want to portray to your potential clients. In a similar fashion, send the results only to the blogs or magazines you think attract the type of clients you want as well.  Eliza, Tiffany, Elbie, Lucy and Caroline all wanted to conquer the slightly quirky, off-the-wall wedding market and I luckily have been able to help them out with that.
You can read my full report and see the full selection of images from this shoot right here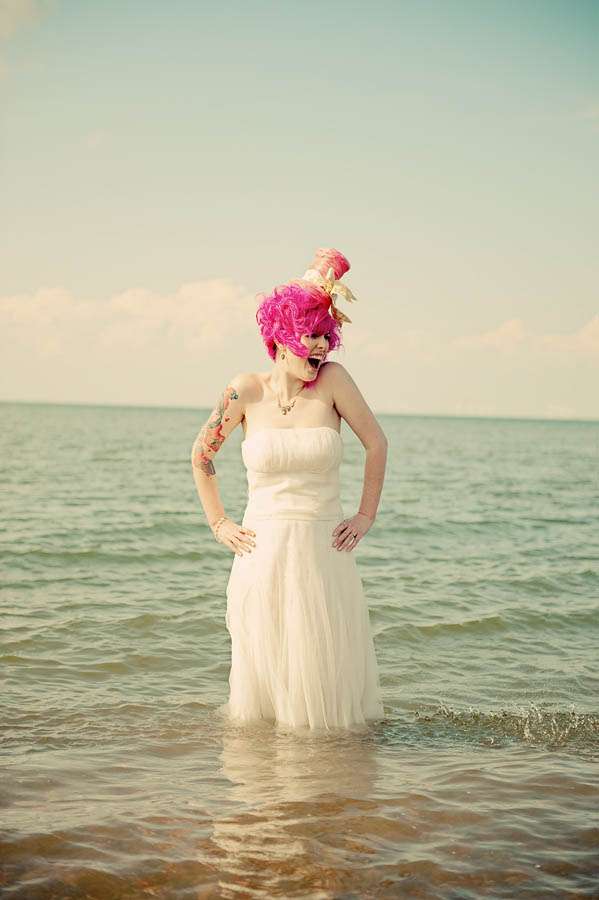 Huge thanks to everyone involved!
www.elizaclairephotography.com
www.twitter.com/elizacphoto
www.grantrileyweddings.co.uk
www.twitter.com/vintageplanner
www.elbievaneeden.com
www.twitter.com/elbiemuahair
www.lucyledger.com
www.twitter.com/lucyleddesigns
www.carolinabena.blogspot.com
www.twitter.com/chainofdaisies