You might recognise the utterly gorgeous singer and actress Kestrin Pantera from her 'Three Dresses & The Wedding of the Century' (part 2 here) wedding which exploded all over blog land a in May. Well how lucky am I? It turns out she's a Rock n Roll Bride fan and so sent me this totally awesome and slightly crazy photo shoot that she did recently.
"Andreanna (the photographer) and I had both always wanted to shoot at the Salton Sea, which is out in the middle of the southern California desert" she told me. "Once she suggested it, I remembered a national treasure right next door: Salvation Mountain, a 50 foot high and 150 foot wide mountain, made totally of local adobe clay and donated paint."
"The artist/creator of the mountain (who lives on-site, alone, in his truck), is a 79 year old man named Leonard, who has worked on it for the last 20+ years and continues to today. He invited us to take as many pictures as we liked and to stay as long as we wanted, giving us a tour mid-shoot, and bottles of water. We conceived of a Wizard-of-Oz-esque scene (with all of Leonard's vibrant colors and existing yellow brick road), and since my dog, Batgirl was with us, she played the part of Toto. The dresses were designed by the talented Giuliana Mayo who made the pink dress specifically for my MTV Canada debut in June 2010. Giuliana is kind and brilliant, and has worked with Johnny Depp, Prince, Stephen Tyler, Britney Spears, The Red Hot Chili Peppers, among many other legends. It was an honor to wear her gorgeous designs."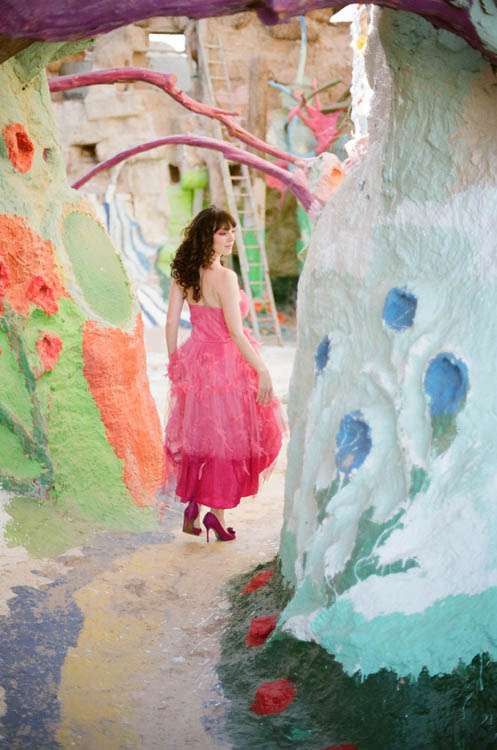 She continued "the second location, the Salton Sea, was just west of Salvation Mountain. In the 1920s, the Salton Sea developed into a tourist attraction, but the water became over-salinated in the 1960's, which killed all of the fish and turned it into a desolate, salty wasteland.  I picked up a small branch, encrusted in salt, with a dead fish stuck in it and smiled–which Andreanna promptly snapped. We were inspired by the ghosts of 1950's housewives and a vision for the future that never happened: buildings collapsed into salty sand. When we moved to the "beach tea party scene", the make-up (by Ashley Myers) was inspired by the fantasy/dream sequence from Tim Burton's "Sweeney Todd", in which Helena Bonham Carter fantasizes about a love that never comes true for her."
Wow. How awesome are these!? Thanks to the fantastic Kestrin and her photographer Andreanna for sharing these fabulous images and story with us today.
Credit: Milk & Honey Studio
Dresses:  Giuliana Mayo 
Make Up: Ashley Myers