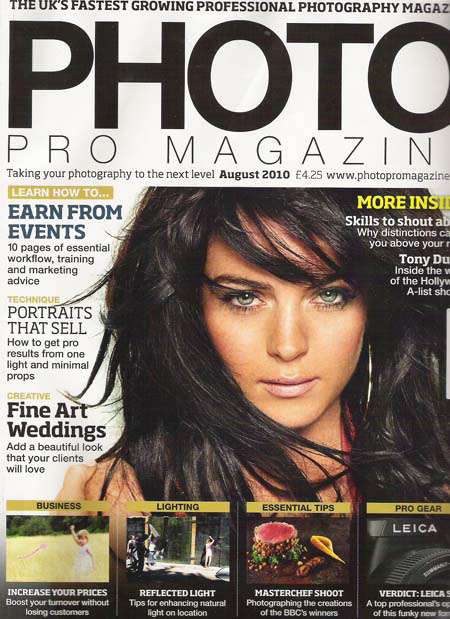 OK confession/apology time again. I'm forgoing this week's Sunday Kind of Love post. Eeek…don't be mad. Thing is, wedding season is nuts and I have so much awesomeness to blog that I only flippin' forgot to blog this month's Photo Pro Magazine article. Deary me. Bad Kat.
So I'm sacrificing today SKOL (heheh) to share this with you instead. It ain't that the love has ended – far from that. In fact I've got so much love for so many of you at the moment that I couldn't narrow it down to one person ANYWAY…so win win. There, I now feel justified in my decision!
This month, I got to talking about the amazing photography blog, The Photography Parlour (remember the shoot out I featured that they organised?) with owner, photographer Rosie Parsons. Here's how it went…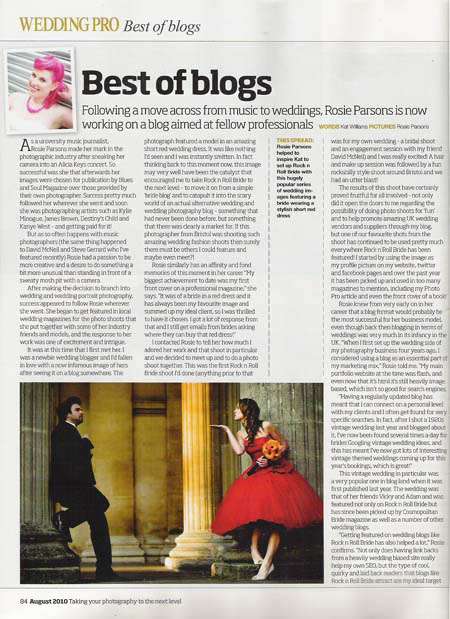 As a university music journalist, Rosie Parsons made her mark in the photography industry after sneaking her camera into an Alicia Keys concert – her first ever in the UK, and afterwards the images were chosen for publication by Blues and Soul Magazine over those provided by their own photographer. Success pretty much followed her wherever she went and soon enough she was photographing artists such as Kylie Minogue, James Brown, Destiny's Child and Kanye West – and getting paid for it! But as the story often goes with music photographers (the same thing happened to David McNeil and Steve Gerrard who I've featured in these articles recently) Rosie had a passion to be more creative and a desire to do something a bit more unusual than standing in front of a sweaty mosh pit with a camera.
After making the decision to branch into wedding and wedding portrait photography, success appeared to follow Rosie wherever she went. She began to get featured in local wedding magazines for her photo shoots that she put together with some of her industry friends and models and the overall response to her work was one of excitement and intrigue. It was at this time that I first met her. I was a newbie wedding blogger and I'd fallen in love with a now infamous image of hers after seeing it on a blog somewhere. The photograph featured a model in an amazing short red wedding dress. It was like nothing I'd seen and I was instantly smitten. In fact thinking back to this moment now, this image may very well have been the catalyst that encouraged me to take Rock n Roll Bride to the next level – to move it on from a simple 'bride blog' and to catapult it into the scary world of an actual alternative wedding and wedding photography blog – something that had never been done before, but something that there was clearly a market for.  If this photographer from Bristol was shooting such amazing wedding fashion shoots then surely there must be others I could feature and maybe even meet?!
Rosie similarly has an affinity and fond memories towards for this moment in her career "My biggest achievement to date was my first front cover, for Professional Photographer Magazine. It was of a bride in a red dress and it was used for their "Weddings with a Difference" feature. It has always been my favourite image and summed up my ideal client, so I was thrilled to have it chosen for the cover. I got a lot of response from other photographers from that issue, and I still get emails from brides asking where they can buy that red dress!"
I contacted Rosie to tell her how much I adored her work and that shoot in particular and we decided to meet up and do a photo shoot together. This was the first Rock n Roll Bride shoot I'd done (anything previous was for my actual wedding – a bridal shoot and an engagement session with my friend David McNeil) and I was really excited! A Hair and make up session was followed by a fun rockabilly style shoot around Bristol and we had utter blast! The results of this shoot have certainly proved fruitful for all involved – not only did it open the doors to me for the possibility of doing photo shoots for 'fun' and to help promote amazing UK wedding vendors and suppliers through my blog, but one of our favourite shots from the shoot has continued to be used pretty much everywhere Rock n Roll Bride has been featured! I started by using the image as my profile picture on my website, twitter and facebook and over the past year it has been picked up and used in too many magazines to mention including my Photo Pro article and has even been used on the front cover of a book!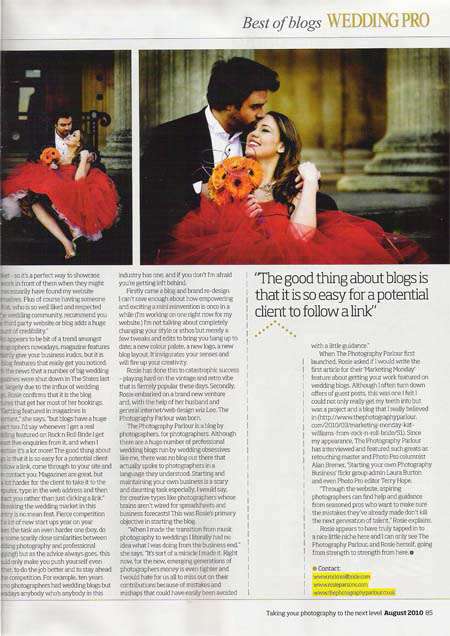 Rosie knew from very early on in her career that a blog format would probably be the most successful for her business model, even though back then blogging in terms of weddings was very much in its infancy in the UK. "When I first set up the wedding side of my photography business four years ago, I considered getting a blog as being an essential part of my marketing mix" Rosie told me. "My main portfolio website at the time was flash, and even now that it's html it's still very heavily image based, which isn't so good for search engines."
"Having a regularly updated blog has meant that I can connect on a personal level with my clients and I often get found for very specific searches. In fact after I shot a 1920s vintage wedding last year and blogged about it, I've now been found several times a day for brides googling vintage wedding ideas – and this has meant I've now got lots of interesting vintage themed weddings coming up for this year's bookings which is great!" This vintage wedding in particular was a very popular one in blog land when it was first published last year. The wedding was that of her friends Vicky & Adam and was featured not only on Rock n Roll Bride but has since been picked up by Cosmopolitan Bride magazine as well as a number of other wedding blogs. This story is an awesome testimonial to the power of blogging and social networking – Vicky and Adam's wedding has gone viral! "Getting featured on wedding blogs like Rock n Roll Bride has also helped a lot" Rosie confirmed. "Not only does having link backs from a heavily wedding based site really help my own SEO, but the type of cool, quirky and laid back readers that blogs like Rock n Roll Bride have are my ideal target market – so it's a perfect way to showcase my work in front of them when they might not necessarily have found my website themselves. Plus of course having someone like Kat who is so well liked and respected in the wedding community recommend you on a third party website or blog adds a huge amount of credibility."
As appears to be bit of a trend amongst photographers nowadays, magazine features certainly give your business kudos, but it is the blog features that really get you noticed. With the news that a number of big wedding magazines were shut down in The States last year, largely due to the influx of wedding blogs, Rosie confirms that it is the blog features that get her the majority of her bookings. "Getting featured in magazines is important, but blogs have a huge impact too. I'd say whenever I get a real wedding featured on Rock n Roll Bride I get at least five enquiries from it, and when I advertise it's a lot more! The good thing about blogs is that it is so easy for a potential client to follow a link, come through to your site and then contact you. Magazines are great, but it's a lot harder for the client to then take it to the computer, type in the web address and then contact you rather than just clicking on a link when they are online already."
Breaking the wedding market in this country is no mean feat. Fierce competition and a lot of new start ups year on year makes the task an even harder one (boy, do I see some scarily close similarities between wedding photography and professional blogging!) but as the advice always goes, this should only make you push yourself even further, to do the job better and do stay ahead of the competition. For example, ten years ago no photographers had wedding blogs but nowadays anybody who's anybody in this industry has one, and if you don't I'm afraid you're getting left behind. Competition pushes us to better ourselves and Rosie knew that even though she was at the top of her game she had to make some changes to stay a cut above the rest.
Firstly came a blog and brand re-design. I can't rave enough about how empowering and exciting a mini reinvention is once in a while (I'm working on one right now for my website.) I'm not talking about completely changing your style or ethos but merely a few tweaks and edits to bring you brand up to date, a new colour palate, a new logo, a new blog layout. It invigorates your senses and fires up your creativity – not to mention the lovely comment you'll end up getting from admiring blog fans! Rosie has done this to catastrophic success – playing hard on the vintage and retro vibe that is fiercely popular these days. Secondly, Rosie embarked on a brand new venture and with the help of her husband and general internet/web design wiz Lee, The Photography Parlour was born.
The Photography Parlour is a blog by photographers, for photographers. Although there are a huge number of professional wedding blogs run by wedding obsessive's like me, there was no blog out there that actually spoke to photographers in a language they understood. Starting and maintaining your own business is a scary and daunting task, especially I would say for creative types like photographers whose brains aren't wired for spreadsheets and business forecasts! This was Rosie's primary objective to starting the blog. "When I made the transition from music photography to weddings I literally had no idea what I was doing from the business end. It's sort of a miracle I made it. Right now, for the new, emerging generations of photographers, money is even tighter and I would hate for us all to miss out on their contributions because of mistakes and missteps that could have easily been avoided with a little guidance. I believe it's critical right now that all of us in this industry put aside whatever small differences we have and pull together to make sure that the profession of photography continues to thrive and grow in the right direction."
When The Photography Parlour first launched, Rosie asked me if I would write the first article for their 'Marketing Monday' feature about getting your work featured on wedding blogs. Although I often tend to turn down offers of guest posts, this was one I felt I could not only really get my teeth into but was a project and a blog that I really believed in (http://www.thephotographyparlour.com/2010/03/marketing-monday-kat-williams-from-rock-n-roll-bride/51). Since my appearance, The photography Parlour has interviewed and featured such greats as retouching master and Photo Pro columnist Alan Bremer, 'Starting your own Photography Business' flickr group admin Laura Burton and even our very own Photo Pro editor Terry Hope.
"Through the website, aspiring photographers can find help and guidance from seasoned and celebrated pros who want to make sure the mistakes they've already made don't kill the next generation of talent" Rosie explains. Rosie appears to have truly tapped in to a nice little niche here and I can only see The Photography Parlour and Rosie herself, going from strength to strength.
www.rocknrollbride.com
www.rosieparsons.com
www.thephotographyparlour.co.uk