I always wonder, when a photographer gets married, how the hell do they decide who to shoot their own wedding? Well Laura & Dave of Blissed Photo had just this conundrum when they got married recently, but chose the amazing One Love Photo as they knew Heather & Jon would capture it perfectly. Being surrounded by all things wedding in their day to day lives, the couple had seen loads of brilliant ideas (and knew some to avoid!) in their own planning.
However they still knew what was important to them, music and poetry, and wanted to make sure this was brought into their day. "Dave plays sax in a few bands, so a trio of his best friends played during cocktail hour, and we hired an amazing funk band, Emerald City Throwdown, that had everybody dancing" Laura told me. " We also wanted everyone to mingle, so we skipped the seating assignment and also had couches (from Bella Rugosa) to make the vibe more casual and open. I'm not really a poet, but I LOVE spoken word poetry, so I asked my 3 favorite poets if they would read at our reception.  Everyone went nuts because these poets are some of the best in the world (truly- they constantly travel and compete internationally).  I surprised Dave with a poem I wrote, and then he surprised me by having a good friend of his perform a new Pearl Jam song, Just Breathe, for our first dance. "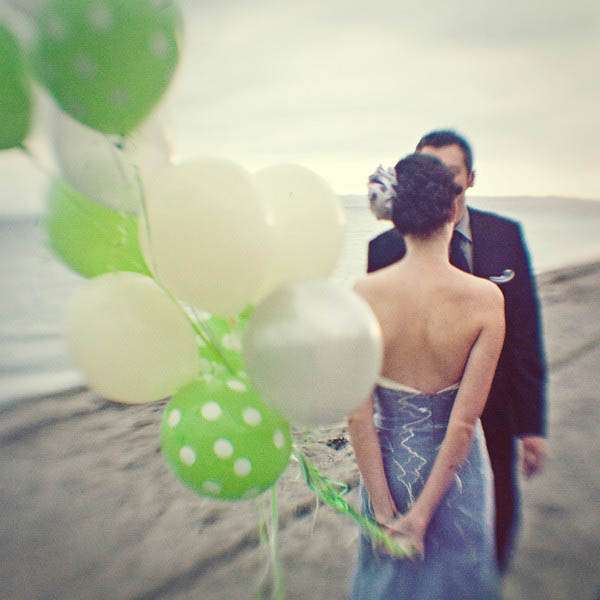 Dave is a carpenter by trade so he made driftwood candle holders for their guests' gifts as well as building the amazing ceremony arch, also out of driftwood. The ceremony was really special to them and took place on the beach. "Our dear friend Chad married us and our ceremony was a fusion of Native American, Buddhist, Christian and Indian elements that flowed together beautifully and truly represented us" Laura continued. "I made a garland from pages of Rumi poetry to add to the decor, and my sister and I made some paper flowers our of pages of poetry too.  Instead of a flower bouquet, I had a big bunch of balloons that we played with at sunset.  We really tried to make as many elements as we could hand-made and personal. We both feel our celebration was better than we imagined it.  It feels great to hear so many people say they have never met so many unique people, danced so hard, or been so inspired by a wedding.  Eight of my friends have since gone to a poetry slam, and a teacher friend of mine incorporated poetry into her lesson the week after our wedding."
A huge thank you to Laura & Dave and Heather & John for sharing this incredible wedding with us today
Edit: Be sure to check out their awesome video after the images…
Credit: One Love Photo
Venue: Golden Gardens Bathhouse
Video: Edit 1 Media
Planner: Married with Michelle
Flowers:  Bella Rugosa
Cake: 9 individual desserts made by a friend
Catering: Pyramid Catering
Bride's bridesmaid dresses: Chrissy Wai-Ching
Shoes: Steve Madden
Hair flower, earrings, and bracelet: Anthropologie
Silver birdcage veil: He Knows my Name on Etsy
Grooms suit: Men's Warehouse
Band: Emerald City Throwdown
Laura & Dave – Golden Gardens – An Outdoor Wedding in Seattle on the Beach from Edit 1 Media on Vimeo.