It's such an honour that someone would send me a session to post only the day after they shot it! Photographer Ben Godkin  was so convinced that Mandy & Braxton's engagement session was perfect for Rock n Roll Bride that he didn't hesitate to email me some images – even before the whole set was complete!
"The couple , who are fierce backgammon players, were so fun and wanted to get some unique shots for their engagement photos! Ben wrote. "They were staying at a cozy little Bed and Breakfast called Settlers Crossing in Fredericksburg to finalize the details of their small wedding at Beckers wine vineyard in Sept. Mandy and Braxton had many tattoos but two that were particularly meaningful. They both had "Soul Mates" tattooed on both hands so when they joined hands they would always be reminded of their love. There was an abundance of farm animals on the property including horses, sheep, and donkeys, so we couldn't resist using them in the shoot. Then we headed to a local land mark called Enchanted Rock and made the 20min hike up just in time to watch the sunset, and the full moon rise… It was magical!"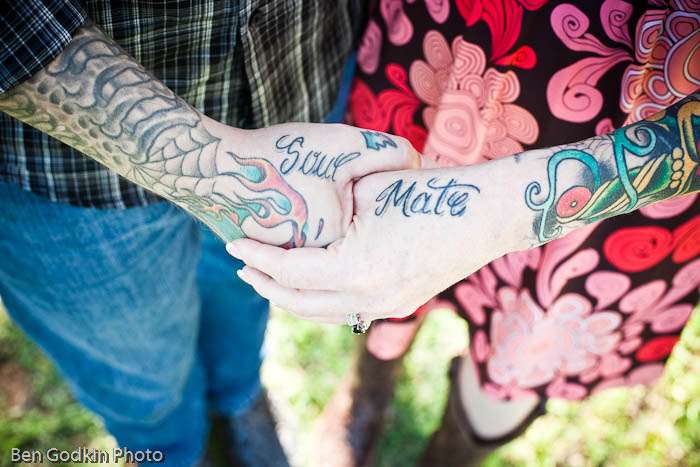 Can I just say that the 'soul mates' tattoo is quite possibly the cutest thing ever. Damn my husband for not having tattoos…I want one like that too! Oh..and hello sunset! Have you ever seen sunset shots so damn epic?!
Thanks to Ben for sharing these. Much love
Credit: Ben Godkin Photo