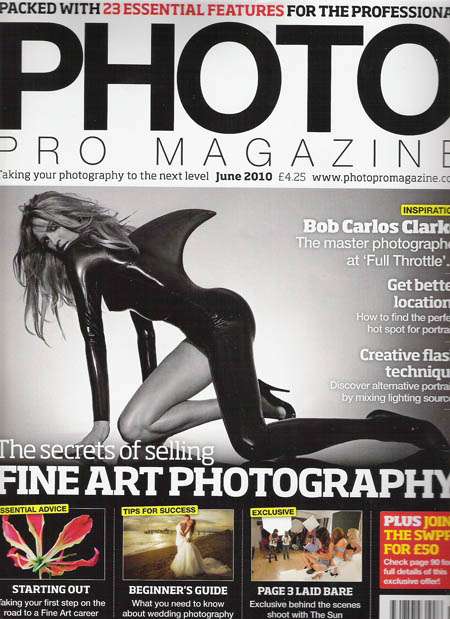 For this month's article in Photo Pro magazine I wanted to highlight the work of one of my good blog-friends, Steve Gerrard. The Birmingham-based photographer is making huge waves in both the music and wedding photography world as his amazing cross-over between these two very different genres coincide as a huge benefit his couples who love his unique and innovative ideas and style.
Best of Blogs
Steve Gerrard has bolted wedding photography on to a successful careers shooting for music mags and, as Kat explains, his blog is designed to win him clients who love his quirky style
I first discovered Steve Gerrard when he emailed me a little over a year ago to let me know about his newest venture, a wedding blog called Bridal Soup. He set it up with the intention of diversifying his audience, to be able to share his photography and personal stuff on his photography blog (www.stevegerrardphotography.com) and to share UK wedding ideas, inspiration and vendors. Over the past 12 months I've really got to know him a great deal. I briefly acted as a contributor to Bridal Soup (until things got a little crazy at my end!) and I've loved featuring his Rock n Roll weddings on Rock n Roll Bride over the past year.
The Birmingham-based photographer began his career five years ago shooting bands and working for NME and many of the big rock magazines, a passion that he still continues to follow to this day. It didn't take long for Steve to branch into weddings after he saw how the industry was changing. He realised that many couples were looking for something a bit 'different' in their wedding photography and he hoped to be able to fill that role. "I loved the more relaxed, creative side of wedding photography and haven't looked back" Steve told me.
With a rock music background and a no preconceived concepts of how weddings 'should' be shot, Steve began experimenting with unusual and fun techniques, one of his most popular of which being 'painting with light'. Inspired by the great Jeff Newsom (www.jeffnewsom.com) Steve began bringing various kinds of lights to his engagement sessions and weddings to experiment with.  "The technique basically involves sticking a camera on a tripod and exposing the shutter for 20 or 30 seconds while my assistant and I run around with lights, torches, sparklers or whatever else we feel like playing with that day. It takes a little trial and error but couples love it because it's so different to your normal wedding photograph."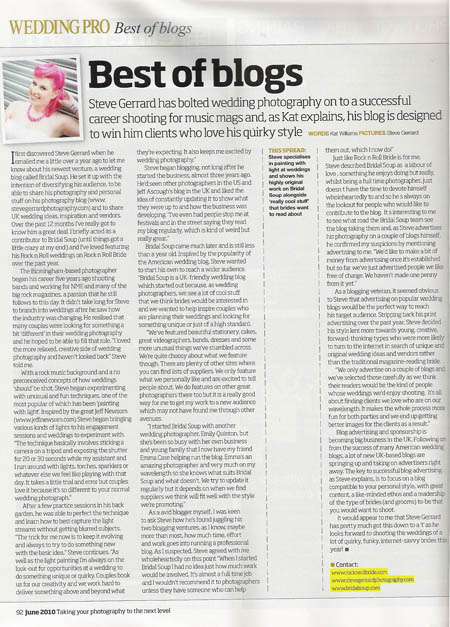 After a few practice sessions in his back garden, he was able to perfect the technique and learn how to best capture the light streams without getting blurred subjects. "The trick for me now is to keep it evolving and always try to do something new with the basic idea." Steve continued "As well as the light painting I'm always on the look-out for opportunities at a wedding to do something unique or quirky. Couples book us for our creativity and we work hard to deliver something above and beyond what they're expecting. It also keeps me excited by wedding photography."
Steve began blogging, not long after he started the business, almost 3 years ago. He'd seen other photographers in the US and Jeff Ascough's blog in the UK and liked the idea of constantly updating it to show what they were up to and how the business was developing. "I've even had people stop me at festivals and in the street saying they read my blog regularly which is kind of weird but really great."
Bridal Soup came much later and is still less than a year old. Inspired by the popularity of the American wedding blog, Steve wanted to start his own to reach a wider audience.  "Bridal Soup is a UK-friendly wedding blog which started out because, as wedding photographers, we see a lot of cool stuff that we think brides would be interested in and we wanted to help inspire couples who are planning their weddings and looking for something unique or just of a high standard. We've featured beautiful stationery, cakes, great videographers, bands, dresses and some more unusual things we've stumbled across. We're quite choosy about what we feature though. There are plenty of other sites where you can find lists of suppliers. We only feature what we personally like and are excited to tell people about. We do features on other great photographers there too but it is a great way for me to get my work to a new audience which may not have found me through other avenues.
I started Bridal Soup with another wedding photographer, Emily Quinton, but she's been so busy with her own business and young family that I now have my friend Emma Case helping run the blog. Emma's an amazing photographer and very much on my wavelength so she knows what suits Bridal Soup and what doesn't. We try to update it regularly but it depends on when we find suppliers we think will fit well with the style we're promoting."
As a avid blogger myself, I was keen to ask Steve how he's found juggling his two blogging ventures, as I know, maybe more than most, how much time, effort and work goes into running a professional blog. As I suspected, Steve agreed with me wholeheartedly on this point "When I started Bridal Soup I had no idea just how much work would be involved. It's almost a full time job and I wouldn't recommend it to photographers unless they have someone who can help them out, which I now do!" Just like Rock n Roll Bride is for me, Steve described Bridal Soup as 'a labour of love', something he enjoys doing but really, whilst being a full time photographer, just doesn't have the time to devote himself wholeheartedly to and so he's always on the lookout for people who would like to contribute to the blog.  It's interesting to me to see what road the Bridal Soup team see the blog taking them, and as Steve advertises his photography on a couple of blogs himself, he confirmed my suspicions by mentioning advertising to me "We'd like to make a bit of money from advertising once it's established but so far we've just advertised people we like free of charge. We haven't made one penny from it yet."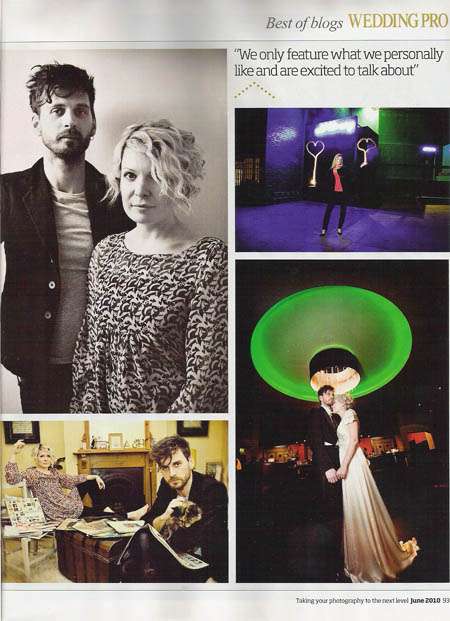 As a blogging veteran, it seemed obvious to Steve that advertising on popular wedding blogs would be the perfect way to reach his target audience. Stripping back his print advertising over the past year, Steve decided his style lent more towards young, creative, forward thinking types who were more likely to turn to the internet in search for unique and original wedding ideas and vendors rather than the 'traditional magazine-reading bride.' "We only advertise on a couple of blogs and we've selected those carefully as we think their readers would be the kind of people whose weddings we'd enjoy shooting.  It's all about finding clients we love who are on our wavelength. It makes the whole process more fun for both parties and we end up getting better images for the clients as a result."
Blog advertising and sponsorship is becoming big business in the UK. Following on from the success of many American wedding blogs, a lot of new UK based blogs are springing up and taking on advertisers right away. The key to successful blog advertising, as Steve explains, is to focus on a blog compatible to your personal style, with great content, a like-minded ethos and a readership of the type of brides (and grooms) to be that you would want to shoot. It would appear to me that Steve Gerrard has pretty much got this down to a 't' this year, as he looks forward to shooting the weddings of a lot of quirky, funky, internet-savvy brides this year!