Jackie & John's massively colour-filled wedding makes my heart sing with joy. Any couple who can't settle on one colour scheme and go for all the colours is awesome in my book. Those bridesmaids – oh yes!
The wedding took place at 21c Museum Hotel in Louisville, Kentucky – an art gallery space that is quite minimalist so not to take away from the art on the walls. The couple let the venue do what it does best and didn't worry about adding their own decorations. "Decor was not a big priority to us because I respected the venue's integrity on it's own" Jackie told me. "I'm an art history major so it was great to find a venue that reflected that. Plus, 99% of our guests were from out of town, so it was nice to have everything – the ceremony, reception and after party – all under one roof. Everyone partied until they had to cut the band off and then simply staggered upstairs to bed. More than a few out of town guests thanked us for that. I can not speak highly enough of the staff there. We had taken our party upstairs to a couple of hotel rooms and the hotel was getting a couple noise complaints, but instead of telling us to keep it quiet and kill the party, they opened up a meeting room space down in the basement and let us bring our own food, drinks and iPod speakers in and stay as late as we want. My husband and I finally crawled away to our room at 3:30 am or so but I'm told people were in the meeting room until well past sunrise."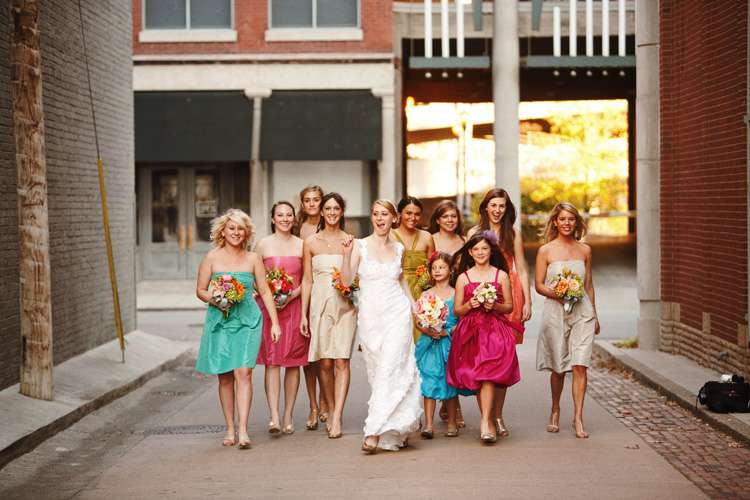 Jackie made her own centrepieces by spraypainting items like candle sticks, vases and birdcages gold before filling them with flowers, provided by a friend's mother. The venue provided all the catering and the cupcakes, which Jackie & John personalised by adding Fry and Leela Futurama cake toppers.
Thanks to photographer Scotty for sharing this wedding and to Jackie & John for sharing their wedding details with us. You can see more about their wedding on their own wedding blog here.
Credit: Think Photographics
Venue: 21c Museum Hotel
Dress: J Crew
Bridesmaid's Dresses: J Crew
Groom's suit: J Crew
Headpiece: Untamed Petals
Centrepieces: Diy
Votive wraps & table numbers: Damask Diva
Favor tags: Ashley Nicole Designs
Invitations: Wedding Paper Divas