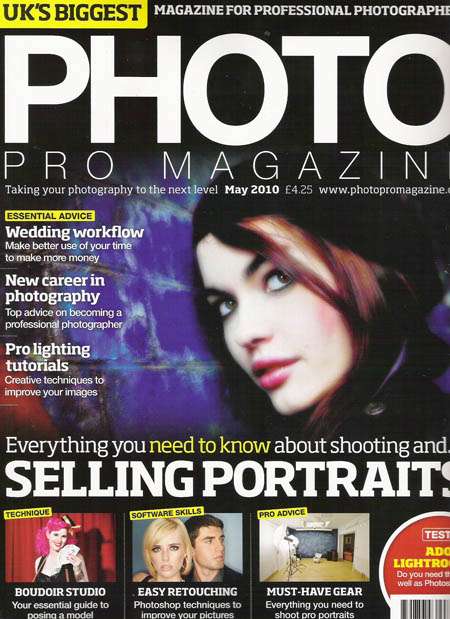 I joked about this on Twitter and Facebook yesterday, but it may actually be true you know – they might as well have called this month's Photo Pro Magazine, Rock n Roll Bride Magazine because the awesome guys over there not only ran my regular 'Best of Blogs' article, but my friend and photographer, the way-too-fabulous Julia Boggio, wrote a piece about 'the art of posing'…and guess who's Vintage Boudoir session is adoring FOUR whole pages?! That's right people…it's meee! I can't wait to share those with you (next week) but for now let's get right into learning all about another one of my favourite UK photographers (and just so happens, best friends) David McNeil!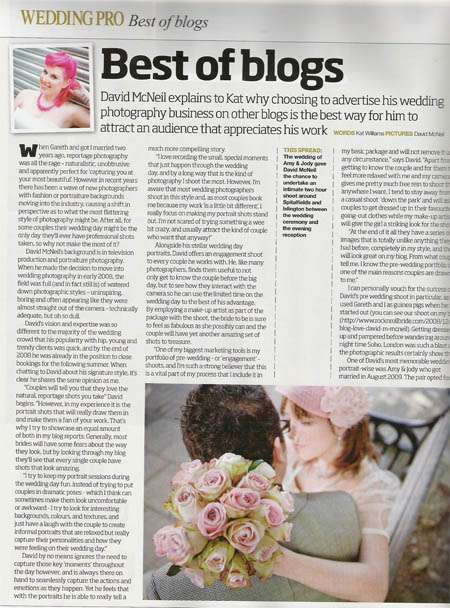 When Gareth and I married 2 years ago, reportage photography was all the rage – naturalistic, unobtrusive and apparently perfect for 'capturing you at your most beautiful'. However in recent years there has been a wave of new photographers with fashion or portraiture backgrounds moving into the industry causing a shift in perspective as what the most flattering style of photography might be. After all, for most couples, their wedding day is the only day they'll ever have professional shots taken so why not make the most of it?
David McNeil's background is in television production and portraiture photography. When he made the decision to move into wedding photography in early 2008, the field was full (and in fact still is) of watered down photographic styles – uninspiring, boring and often appearing like they were almost straight out of the camera – technically adequate but oh so dull.
David's vision and expertise was so different to the majority of the wedding crowd that his popularity with hip, young and trendy clients was quick, and by the end of 2008 he was already in the position to close bookings for the following summer. When chatting to David about his signature style, it's clear he shares the same opinion as me. "Couples will tell you that they love the natural, reportage shots you take" David begins.  "However, in my experience it is the portrait shots that will really draw them in and make them a fan of your work. That's why I try to showcase an equal amount of both in my blog reports.  Generally, most brides will have some fears about the way they look but by looking through my blog they'll see that every single couple have shots that look amazing.  I try to keep my portrait sessions during the wedding day fun.  Instead of trying to put couples in dramatic poses – which I think can sometimes make them look uncomfortable or awkward – I try to look for interesting backgrounds, colours, and textures, and just have a laugh with the couple to create informal portraits that are relaxed but really capture their personalities and how they were feeling on their wedding day."
David by no means ignores the need to capture those key 'moments' throughout the day however, and is always there on hand to seamlessly capture the actions and emotions as they happen. Yet he feels that with the portraits he is able to really tell a much more compelling story. "I love recording the small, special moments that just happen through the wedding day, and by a long way that is the kind of photography I shoot most during the day.  However, I'm aware that most wedding photographers shoot in this style and, as most couples book me because my work 'is a little bit different', I really focus on making my portrait shots stand out.  I'm not scared of trying something a wee bit crazy, and usually attract the kind of couple who want that anyway!"
Alongside his stellar wedding day portraits, David offers an engagement shoot to every couple he works with. He, like many photographers, find them useful to not only get to know the couple before the big day, but to see how they interact with the camera so he can use the limited time on the wedding day to the best of his advantage. By employing a make-up artist as part of the package with the shoot, the bride to be is sure to feel as fabulous as she possibly can and the couple will have yet another amazing set of shots to treasure."One of my biggest marketing tools is my portfolio of pre-wedding – or 'engagement' – shoots, and I'm such a strong believer that this is a vital part of my process that I include it in my basic package and will not remove it under any circumstance" says David. "Apart from getting to know the couple and for them to feel more relaxed with me and my camera – it gives me pretty much free reign to shoot them anywhere I want.  I tend to stay away from a casual shoot 'down the park' and will ask couples to get dressed up in their favourite going-out clothes while my make-up artist will give the girl a striking look for the shots.  At the end they have a series of images that is totally unlike anything they've had before, completely in my style, and will look great on my blog.  From what couples tell me, I know the pre-wedding portfolio is one of the main reasons couples are drawn to me."
I can personally vouch for the success of David's pre wedding shoot in particular, as he in fact used Gareth and I as guinea pigs when he first started out (you can see our shoot on my blog (http://www.rocknrollbride.com/2008/12/blog-love-david-m-mcneil) Getting dressed up and pampered before wondering around night time Soho, London was such a blast and the photographic results certainly show that!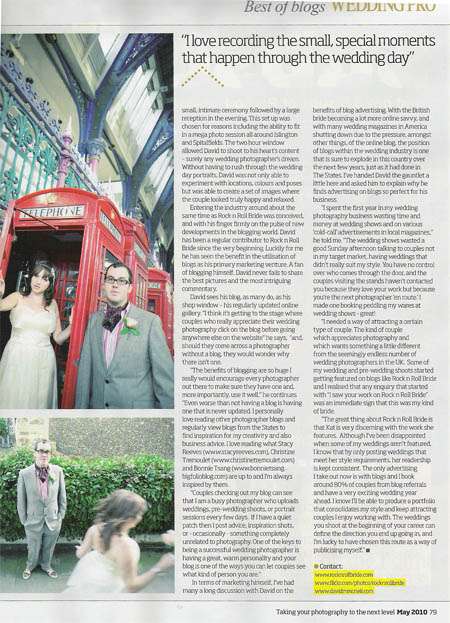 One of David's most memorable weddings portrait-wise was Amy & Jody who got married in August 2009. The pair opted for a small, intimate ceremony followed by a large reception in the evening. This set up was chosen for reasons including the ability to fit in a mega photo session all around Islington and Spittalfields. The 2 hour window allowed David to shoot to his hearts content – surely any wedding photographers dream. Without having to rush through the wedding day portraits, David was not only able to experiment with locations, colours and poses but was able to create a set of images where the couple looked truly happy and relaxed.
Entering the industry around about the same time as Rock n Roll Bride was conceived, and with his finger firmly on the pulse of new developments in the blogging world, David has been a regular contributor to Rock n Roll Bride since the very beginning. Luckily for me he has seen the benefit in the utilisation of blogs as his primary marketing venture. A fan of blogging himself, David never fails to share the best pictures and the most intriguing commentary.  
David sees his blog, as many do, as his shop window – his regularly updated online gallery. "I think it's getting to the stage where couples who really appreciate their wedding photography click on the blog before going anywhere else on the website" he says  " and, should they come across a photographer without a blog, would wonder why there isn't one."
"The benefits of blogging are so huge I really would encourage every photographer out there to make sure they have one and, more importantly, use it well "he continues "Even worse than not having a blog is having one that is never updated.  I personally love reading other photographer blogs and regularly view blogs from the States to find inspiration for my creativity and also business advice.  I love reading what Stacy Reeves (www.stacyreeves.com), Christine Tremoulet (www.christinetremoulet.com) and Bonnie Tsang (http://bonnietsang.bigfolioblog.com)  are up to and I'm always inspired by them."
"Couples checking out my blog can see that I am a busy photographer who uploads weddings, pre-wedding shoots, or portrait sessions every few days.  If I have a quiet patch then I post advice, inspiration shots, or – occasionally – something completely unrelated to photography.  One of the keys to being a successful wedding photographer is having a great, warm personality and your blog is one of the ways you can let couples see what kind of person you are. "
 
In terms of marketing himself, I've had many a long discussions with David on the benefits of blog advertising. With the British bride becoming a lot more online savvy, and with many wedding magazines in America shutting down due to the pressure, amongst other things, of the online blog; the position of blogs within the wedding industry is one that is sure to explode in this country over the next few years, just as it had done in The States.  I've handed David the gauntlet a little here and asked him to explain why he finds advertising on blogs so perfect for his business.
"I spent the first year in my wedding photography business wasting time and money at wedding shows and on various "cold-call" magazine advertising in local magazines.  The wedding shows wasted a good Sunday afternoon talking to couples not in my target market, having weddings that didn't really suit my style.  You have no control over who comes through the door, and the couples visiting the stands haven't contacted you because they love your work but because you're the next photographer "en route."  I made one booking peddling my wares at wedding shows – great!
 
I needed a way of attracting a certain type of couple.  The kind of couple who appreciate photography and who want something a little different from the seemingly endless number of wedding photographers in the UK.  Some of my wedding and pre-wedding shoots started getting featured on blogs like Rock n Roll Bride and I realised that any enquiry that started with "I saw your work on Rock n Roll Bride" was an immediate sign that this was my kind of bride.
 
The great thing about Rock n Roll Bride is that Kat is very discerning with the work she features.  Although I've been disappointed when some of my weddings aren't featured, I know that by only posting weddings that meet her style requirements, her readership is kept consistent.  The only advertising I take out now is with blogs and I book around 80% of couples from blog referrals and have a very exciting wedding year ahead.  I know I'll be able to produce a portfolio that consolidates my style and keep attracting couples I enjoy working with.  The weddings you shoot at the beginning of your career can define the direction you end up going in and I'm lucky to have chosen this route as a way of publicising myself."