I am so flippin' excited to share this wedding today. It's like looking in a wedding mirror – if I'd known about all the fabulous alternative weddingy goodness that's out there when we were getting married I reckon our wedding would certainly have shared many design elements with Karri & Ian's big day.
The pair were married in the Botanical Gardens at the St. Regis Resort in Laguna Beach, California. Karri envisioned a dark and whimsical "winter in summer" wedding, inspired by the movie Edward Scissorhands. Karri & Ian told me all about their inspirational day.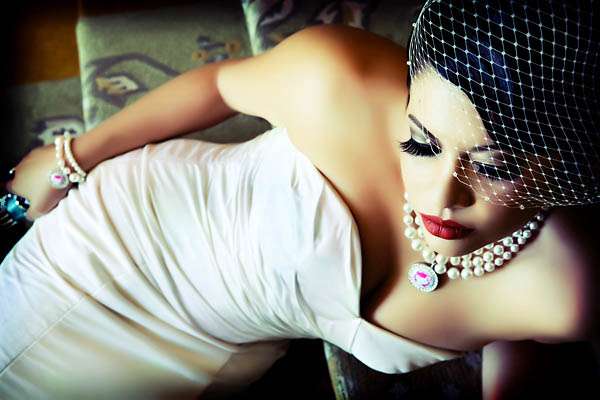 "One night I was watching my favorite romance movie, Edward Scissorhands" Karri began "and something magical occurred to me. How amazing would it be to have a winter in summer wedding! I was suddenly seeing snow, ice sculptures and ice blue colors. The love story of E.S. was dark and whimsical which is how I always saw my special day. My best friend and maid of honor eventually introduced me to the pattern, "damask" which further inspired me to incorporate the design into the "winter blue" theme I had in mind."
"My wedding planner, Kimberly Bradford introduced me to Square Root's Alex Amidi who was with me all the way in designing the decor. I wanted dead black trees, he found me manzanitas and spray painted them black, I wanted icicles, he hung crystals from the trees, I wanted damask and blue, he nailed it. Whenever people ask me to describe my wedding I always say, Edward Scissorhands meets Martha Stewart and they dance to the sound of The Beatles at sunset in a blue damask winter wonderland."
Karri walked down the aisle in a Simone Carvalli dress, a veil from Artikal Handcrafted Millinery, shoes from Betsey Johnson and Hello Kitty Jewellery by Tarina Tarantino to the theme song of E.S. Ice Dance. Her bridesmaids looks quite the goth princesses in their Stop Staring Dresses and YJ Design veils.
Karri finished by telling me all you brides need to listen to! "Not all wedding days are perfect but It didn't even matter that my cake's fondant was imploding or that my hair literally actually weighed 10 lbs, or that my boobs almost fell out of my dress, I was marrying the man I loved. And this man will always be the Edward to my Bella, the Harry to my Ginny and the Ian to my Karri."
Thanks to photographer Dina and to Karri & Ian for sharing their magical day with us
Credit: Andrena Photography