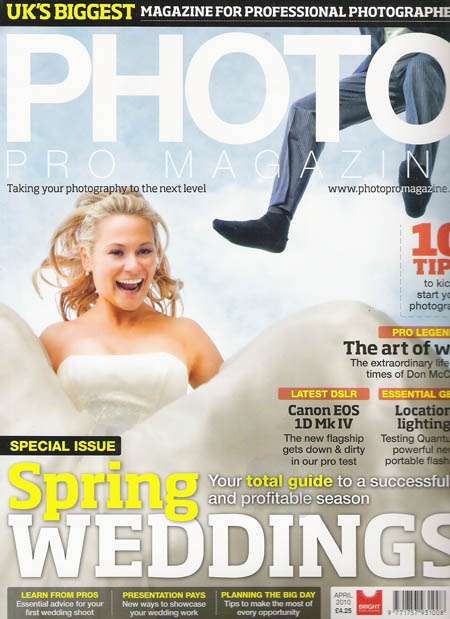 Front cover image by Julia Boggio
In my Photo Pro article this month I had the opportunity to write about one of the best known and most loved collaborations in blog land. Our Labor of Love have probably been featured on every blog out there and when you see the stellar work of Whitney, Jesse, Micheal, Max, Matt and co. it's pretty damn easy to see why. Matt's own wedding to Danielle was so popular when I featured it (part one and two can be seen here) and is such a perfect Rock n Roll wedding that it was an easy decision for me when deciding which of their weddings to feature. Enjoy!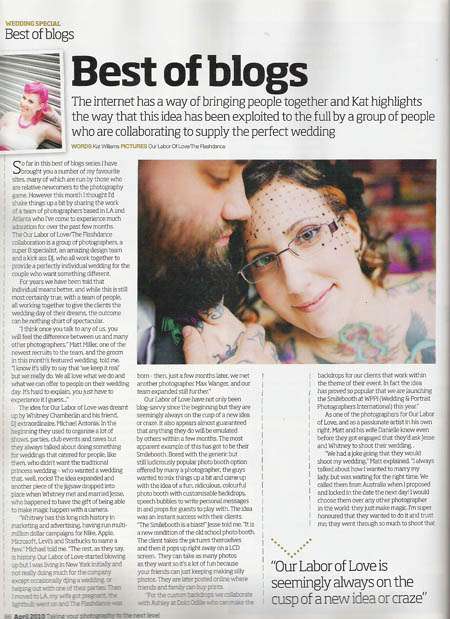 So far in this best of blogs series I have brought you a number of my favourite sites, many of which are run by those who are relative newcomers to the photography game. However this month I thought I'd shake things up a bit by sharing the work of a team of photographers who I've come to experience much adoration for over the past few months. The Our Labor of Love/The Flashdance collaboration is a group of photographers, a super 8 specialist, an amazing design team and a kick ass DJ, who all work together to provide a perfectly individual wedding for the couple who want something different to the norm.
For years we have been told that individual means better, and while this is still most certainly true, with a team of people, all working together to give the clients the wedding day of their dreams, the outcome can be nothing short of spectacular.
"I think once you talk to any of us, you will feel the difference between us and many other photographers," Matt Miller, one of the newest recruits to the team, and the groom in this month's featured wedding, told me. "I know it's silly to say that 'we keep it real' but we really do. We all love what we do and what we can offer to people on their wedding day. It's hard to explain, you just have to experience it I guess…"
The idea for Our Labor of Love was dreamt up by Whitney Chamberlin and his friend, DJ extraordinaire, Michael Antonia. In the beginning they used to organise a lot of shows, parties, club events and raves but they always talked about doing something for weddings that catered for people, like them, who didn't want the traditional princess wedding – who wanted a wedding that, well, rocks! The idea expanded and another piece of the jigsaw dropped into place when Whitney met up his wife Jesse, who could make magic happen with a camera and was promptly invited to join the collaboration.
"Whitney has this long rich history in marketing and advertising, having run multi-million dollar campaigns for Nike, Apple, Microsoft, Levi's and Starbucks to name a few," Michael told me. "The rest, as they say, is history. Our Labor of Love started blowing up but I was living in New York initially and not really doing much for the company except occasionally djing a wedding, or helping out with one of their parties. Then I moved to LA, my wife got pregnant, the lightbulb went on and The Flashdance was born – then, just a few months later, we met another photographer Max Wanger, and our team expanded still further."
Our Labor of Love have not only been blog-savvy since the beginning but they are seemingly always on the cusp of a new idea or craze. It also appears almost guaranteed that anything they do will be emulated by others within a few months. The most apparent example of this has got to be their Smilebooth. Bored with the generic but still ludicrously popular photo booth option offered by many a photographer, the guys wanted to mix things up a bit and came up with the idea of a fun, ridiculous, colourful photo booth with customisable backdrops, speech bubbles to write personal messages in and props for guests to play with. The idea was an instant success with their clients. "The Smilebooth is a blast!" Jesse told me. "It is a new rendition of the old school photo booth. The client takes the pictures themselves and then it pops up right away on a LCD screen.  They can take as many photos as they want so it's a lot of fun because your friends can just keeping making silly photos. They are later posted online where friends and family can buy prints.
"For the custom backdrops we collaborate with Ashley at Dolci Odille who can make the backdrops for our clients that work within the theme of their event. In fact the idea has proved so popular that we launching the Smilebooth at WPPi (Wedding & Portrait Photographers International) this year in Las Vegas and will be selling several versions of it to fellow photographers. Smilebooth is even starting its own website in March."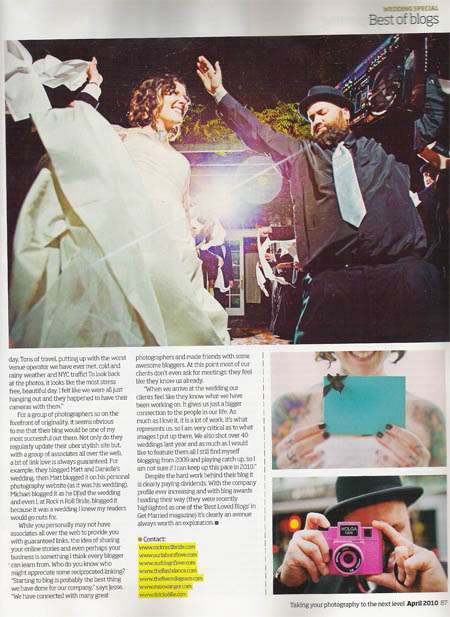 As one of the photographers for Our Labor of Love, and as a passionate artist in his own right, Matt and his wife Danielle knew even before they got engaged that they'd ask Jesse and Whitney to shoot their wedding. After all they knew the style, they knew the passion and they knew they'd give them a truly personal treatment.
"We had a joke going that they would shoot my wedding," Matt explained. "I always talked about how I wanted to marry my lady, but was waiting for the right time. We called them from Australia when I proposed and locked in the date the next day! I would choose them over any other photographer in the world: they just make magic. I'm super honoured that they wanted to do it and trust me; they went through so much to shoot that day. Tons of travel, putting up with the worst venue operator we have ever met, cold and rainy weather and NYC traffic! To look back at the photos, it looks like the most stress free, beautiful day. It was so perfect to have them there, I felt like we were all just hanging out and they happened to have their cameras with them."
For a group of photographers so on the forefront of originality, it seems obvious to me that their blog would be one of my most successful out there. Not only do they regularly update their uber stylish site, but with a group of associates all over the web a bit of link love is always guaranteed. For example, they blogged Matt and Danielle's wedding, then Matt blogged it on his personal photography website (as it was his wedding), Michael blogged it as he DJ'ed the wedding and even I, at Rock n Roll Bride, blogged it because it was a wedding I knew my readers would go nuts for. By all these other blogs sharing the same images the profile of the company (and the individual wedding) is not only established, but by everybody trackbacking (linking) to the original post it all makes Google very happy indeed.
While you personally may not have associates all over the web to provide you with guaranteed links, the idea of sharing your online stories and even perhaps your business is something I think every blogger can learn from. Who do you know who might appreciate some reciprocated linking? "Starting to blog is probably the best thing we have done for our company," says Jesse. "We have connected with many great photographers and made friends with some awesome bloggers. At this point most of our clients don't even ask for meetings: they feel like they know us already.
"When we arrive at the wedding our clients feel like they know what we have been working on. It gives us just a bigger connection to the people in our life. As much as I love it, it is a lot of work. It's what represents us, so I am very critical as to what images I put up there. We also shot over 40 weddings last year and as much as I would like them all to have a home on the blog I still find myself blogging from 2009 and playing catch up, so I am not sure if I'll be able to keep this pace in 2010."
Despite the hard work behind their blog it is clearly paying dividends. With the company profile ever increasing, both on and offline, and with blog awards heading their way (they were recently highlighted as one of the 'Best Loved Blogs' in Get Married magazine) it's clearly an avenue always worth an exploration.
www.ourlaboroflove.com
www.ourblogoflove.com
www.theflashdance.com
www.thefivemilegrace.com
www.maxwanger.com
www.dolciodille.com