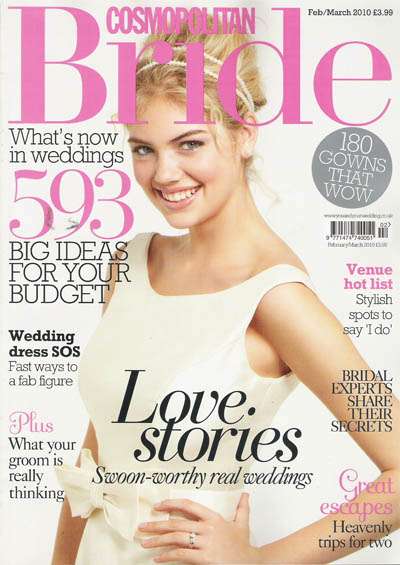 Happieeee New Year!
As you nurse your sore heads I have some very exciting news to share…and what a fantastic end to 2009/start to 2010 it is. I have been featured in what is undoubtedly the best bridal magazine in the UK – Cosmopolitan Bride! Oh the excitement. I hope you Enjoy my tidbits of advice and words of wisdom all about how to plan the perfect Rock n Roll wedding. I just have to say a huge ass thank you to Gemma & Miranda at the magazine for asking me to take part and to every single reader of my little blog for believing in me because after all without you coming here to read my incessant ramblings none of this would be possible. You are all literally making my dreams come true.
So go get a strong coffee, a diet coke, a litre of water and a fry up (or whatever so need to sort your post NYE hangover out) and have a little delve into my wedding obsessed mind.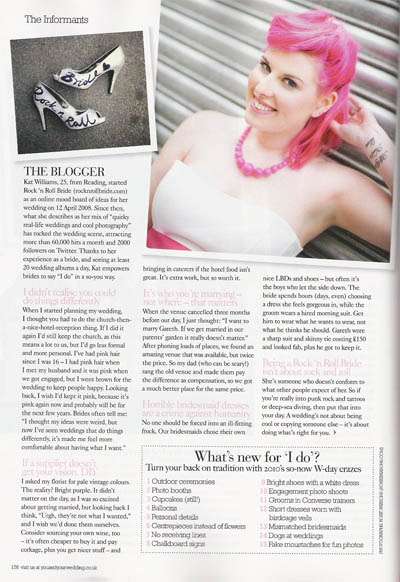 Wedding Wisdom – The Blogger
Kat Williams, 25, from Reading, started Rock n Roll Bride (rocknrollbride.com) as an online mood board of ideas for her wedding on 12 April 2008. Since then, what she describes as her mix of "quirky real-life weddings and cool photography" has rocked the wedding scene, attracting more than 60,000 visitors a month and 2000 followers on Twitter. Thanks to her experience as a bride, and seeing at least 20 wedding albums a day, Kat empowers bride to say "I do" in a so-you way.
I didn't realise you could do things differently
When I started planning my wedding I thought you had to do the church-then-a-nice-hotel-reception thing. If I did it again I'd keep the church, as this means a lot to us, but I'd go less formal and more personal. I've had pink hair since I was 16 – I had pink hair when I met my husband and it was pink when we got engaged, but I went brown for the wedding to keep people happy. Looking back, I wish I'd kept it pink, because it's pink again now and probably will be for the new few years. Brides often tell me: "I thought my ideas were weird, but now I've seen weddings that do things differently, it makes me feel more comfortable about having what I want."
If a supplier doesn't get your vision, DIY
I asked my florist for pale vintage colours. The reality? Bright Purple. It didn't matter on the day, as I was so excited about getting married, but looking back I think, "Urgh, they're not what I wanted," and I wish we'd done them ourselves. Consider sourcing your own wine, too – it's often cheaper to buy it and pay corkage, plus you get nicer stuff – and bringing in caterers if the hotel food isn't great. It's extra work, but so worth it.
It's who you're marrying – not where – that matters
When the venue cancelled three months before our day, I just thought "I want to marry Gareth. If we get married in our parents' garden it really doesn't matter." After phoning lots of places, we found an amazing venue that was available, but twice the price. So my Dad (who can be scary!) rang the old venue and made them pay the difference as compensation, so we got a much better place for the same price. 
Horrible bridesmaid dresses are a crime against humanity
No one should be forced into an ill-fitting frock. Our bridesmaids chose their own nice LBDs and shoes – but often it's the boys who let the side down. The bride spends hours (days, even) choosing a dress she feels gorgeous in, while the groom wears a hired morning suit. Get him to wear what he wants to wear, not what he thinks he should. Gareth wore a sharp custom made suit and skinny tie costing £450 and looked fab, plus he got to keep it.
Bring a Rock n Roll Bride isn't about rock and roll
She's someone who doesn't conform to what other people expect of her. So if you're really into punk rock and tattoos or deep-sea diving, then put that into your day. A wedding's not about being cool or copying someone else 0 it's about doing what's right for you.
What's new for 'I do'? – Turn your back on tradition with 2010's so-now W-day crazes
1. Outdoor ceremomies                                    
2. Photo booths                                                    
3. Cupcakes (still!)                                              
4. Balloons                                                              
5. Personal details                                            
6. Centrepieces instead of flowers              
7. No receiving line                                            
8. Chalkboard signs
9.  Bright shoes with a white dress
10. Engagement photo shoots
11. Grooms in Converse trainers
12. Short dresses worn with birdcage veils 
13. Mismatched bridesmaid dresses
14. Dogs at weddings
15. Fake moustaches for fun photos
You can check out our wedding pictures and more details here and on my flickr is you are so inclined! So, what would your tips for wannabe Rock n Roll Bride's be?