On a morning of procrastination (or could it have been an evening? I loose track) I decided to give this formspring thing a go. If you haven't heard of it, it's basically a new social networking site where you sign up and randoms (or in my case my lovely readers and fans) can ask me anything! I'm usually aghast at such self indulgence but I've actually really loved answering your burning questions – whether they be about Rock n Roll Bride, my personal life (oh yes), the potential of babies (arrgh!), blogging or about having pink hair! I
've loved the questions so much in fact that I wanted to share some of my favourites here. If you want to 'Ask Me Anything' then shoot on over to formspring and question away, I will try and answer as many as I can. and if you like I'll do another addition of my favourite questions again soon. So, what do ya wanna know?
♥ A lot of people seemed fascinated by my fuchsia locks – which is weird to me as having pink hair seems positively normal to me now. However, I aim to please…
How long have you been coloring your hair pink?
I first dyed my hair when I left school at 16 and went to college. I dabbled with a number of colours between then about 18 but I was always pink at heart and went back pink after our wedding in April 2008.
What color is your natural hair color
Very dark brown, almost black. You can see it here in our wedding photographs
What made you decide to go pink [ apart from the fact that it is so cool ] ?
Pink is my favourite colour and I've always been a bit 'weird' I don't know if anyone influenced me in particular but I think I must have seen fluro-haired lovelies in Camden Market (London) and at music festivals in my teenage years and wanted to be as cool as they! I dyed it as soon as I was able – when I left school!
Do you find you have to steer away from certain colour clothes in case of clash with your tresses??!
Certainly! I tend to wear a lot of black, grey, white etc. I can't wear red or orange! It's cool though – the pink is my favourite accessory.
I want to dye my hair fluro orange and black (bumblee style – I have dreddies) but I'm worried about my employment prospects. Do you find it hard to get work with (GORGEOUS) fluro pink hair?
When I first started looking for a job after uni my hair was still pink. I was looking for tv jobs which is a really difficult industry to get into anyway and it was taking forever to get anywhere past the first interview. I couldn't say if my hair had anything to do with it but I decided to go back to brown for a bit to see if it made a difference. I did get a tv job eventually and after about a year in the job I went back to pink which they were fine about. now, I'm very lucky and my pink hair is almost my brand or trademark so I wouldn't want to go back to 'normal' hair! I guess it just depends what kind of job you're looking for, in what industry and what kind of people you meet. I would say it might be easier on you to wait until you've got your foot in the door before you rock out the dreads with orange and black.
I would die if it did, but if pink suddenly no longer existed – what colour would replace it in your life?
Oh. my. god imagine that! My hair would still have to be a bright colour so I'd say that lovely bright teal green colour. The colour of Mac aqualine eyeliner. I love that colour!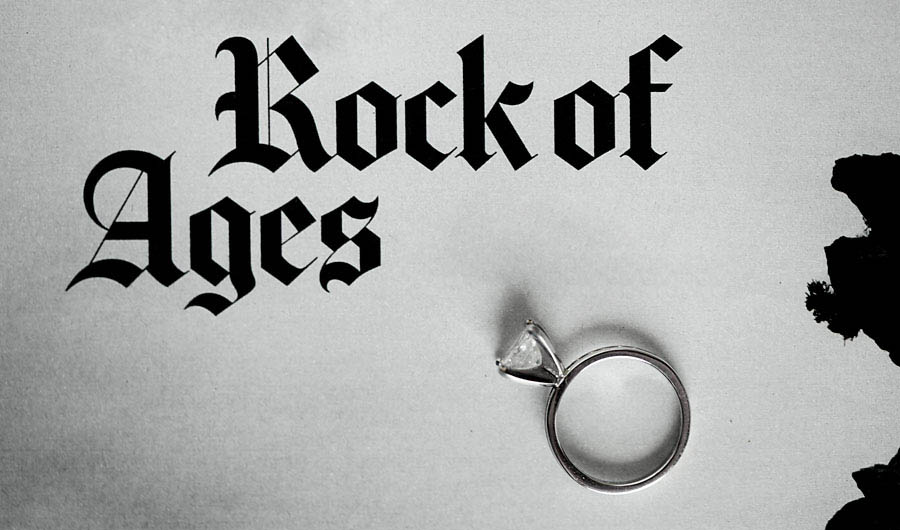 Credit: Bella Grace Studios
♥ Understandably, one of the most popular areas of questioning was about Rock n Roll Bride and blogging in general. Here are some of my favourite questions…
How on earth do you juggle job, blog, relationship and everything in between! Are you super woman?
Pure unadulterated obsession! My poor husband jokes how neglected he feels sometimes. I work long and late hours in my' day' job so I usually am able to write and blog during the day before I go to work. Me and Garethbothwork for ourselves (he does IT from home – handy!) so we both work un-officey hours but we always try to have a 'date' night once a week when we turn our computers off and go out!
What advice could you give me as the Author of the newest Australian Wedding Blog who wants to make an impact on the Aussie Wedding industry?
Network, make friends, be original and stand out.
Do you get recognized on the streets now as rock n roll bride?
I'm much more popular in the States the the UK so I've only been recognised once here in the UK. It was at the national wedding show last year and someone came up to me and said 'excuse me, are you the Rock n Roll Bride lady?!' It was kinda cool!
Did you ever think rock n roll bride would grow as much as it has in such a short time?
The short answer is no! I started the blog as a hobby, an online diary if you will and I've just been so lucky to have met so many amazing people but in real life and online that have given me help, advice and encouragement along the way. Who would have thought a punk kid with pink hair and a penchant for tattooed chicks would be so popular!
The success your Blog has brought you must be overwhelming at times. How do you stay focused & grounded, ensuring your Blog continues to truly represent you & what you love, as opposed to getting drawn away by your 'fans' & distractions (nice or otherwise!)
Ha ha I wouldn't say Iwas an overnight success at all! I've been working on Rock n Roll Bride seriously for about a year now and it seems like it's been a part of my life forever. I dunno really..I guess I never really thought about it. I just take the love and adoration as a boost to always want to do better and share things my readers will love. The writing and looking at gorgeous real weddings and photography are what I really love and the 'fans' (for lack of a better word) are just a big fat bonus! I'd still be doing this even if no one else read it…
I guess im quite a grounded person! I've worked hard and I always strive to be the best!
What are your thoughts on British Bloggers working in this, and similar genres. Do you feel they have some catching up to do with the likes of the US? Or are you getting a sense that some folk are catching up already?
The UK certainly needs to catch up to the US in terms of what's being done in blogging and in weddings as a whole. I reckon the UK is about 5 years behind so maybe soon the UK will be fit to bursting with just as many gorgeous wedding blogs as over there. It's just a matter of time.
What's your favorite wedding blog? other than yours!
My favourites are actually non wedding blogs. I love all the big wedding blogs but I like to spend time on other ones so not to be influenced by what everyone else is doing in the same niche as me. My favourite is http://www.galadarling.com/. Not only did this gal used to have pink hair (instant affinity) but she is a shining light of positivity and lurrrve
What was it like to be photographed by Julia Boggio?
Amazing! Julia is such a professional and so much fun. I had my hair & make up done by a fantastic team and then got to prance about in cool outfits! I can't say enough how much fun it was! She was totally in control and knew exactly what she wanted which made the day go really smoothly, she also showed me the photos on her camera and then up on her computer right away (pre edited of course) which a lot of photographers I've worked with won't do. All in all I don't have a bad word to say about working withJulia and her team..and of course the photographs afterwards were bloody fantastic!
What is the best way to get my photos posted on your site? What are you specifically looking for? Is there a max to how much you will post one specific photographers work?
It's just a feeling Iget really. I usually know instantly from one image if I think its suitable for my readers or not. Of course the wedding/couple have to be out-there and unique (coloured hair and/or tattoos always help!) but images with something a bit different or individual about them always get me excited.
For weddings I also like to see quirky details that help to tell the story of the wedding. There is no max of how much of someone's work i will feature. If I love it and I think my readers will dig it then I'll go ahead and post it! For more info on submitting stuff to be considered for my site check out my submissions info www.rocknrollbride.com/submissions
Where can I find awesome rock n roll clients like the ones featured on your blog?!
Advertise and get your work featured on my site! All my readers are totally RAD, awesome and individual. I am proud that they all want to come to my blog to be inspired!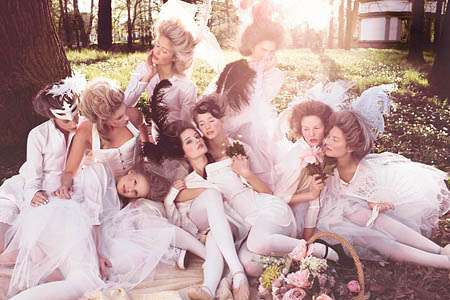 Credit: Jimmy Backius
♥ Of course, with most of my readers in the midst of wedding planning chaos themselves, there was a healthy number of wedding-drama related questions…
Do you every struggle to find weddings that give you that excited and happy feeling?
I'm very lucky that I get sent amazingly unique and gorgeous weddings by brides and photographers every day. However the reason I started rock n roll bride was because I couldn't find anything else out there that I really adored when I was planning my wedding, and that combined my two loves – gorgeous photography and totally rad weddings. They certainly were out there I just didn't know about them yet! There was no magazines or other wedding blogs sharing what I really loved…so I thought I'd just do it myself.
Did you immediately know you had found 'The One' when you tried on your dress?
Actually no! I had quite a horrific time when I first started looking for my dress. I didn't like anything and I found the sales assistants rude and unhelpful especially when I was trying to explain that I didnt want the usual kind of dress – they all made me feel fat and frumpy! The sales assistant's answer was basically 'well that's what wedding dresses look like dear…' Yeah helpful huh?! My dress was actually the first one I tried on that I didn't hate! I went back and tried the same dress on in another (much better and much more helpful!) shop and they were brilliant. When I told them I would like the sash changed in colour and other bits tweaked they were super accommodating. I narrowed it down to 2 final dresses and when the shop assistant told me 'my' dress was not a very popular style and hardly ever got sold that confirmed it to me that it was my dress!
Would you ever literally trash your wedding dress?
I've done a lot of shoots in my dress but i haven't literally trashed it. It's got very dirty on many of the shoots but nothing that couldn't be fixed afterwards -I think of my dress as almost a costume now that I can get out whenever anyone wants to do a bridal shoot with me!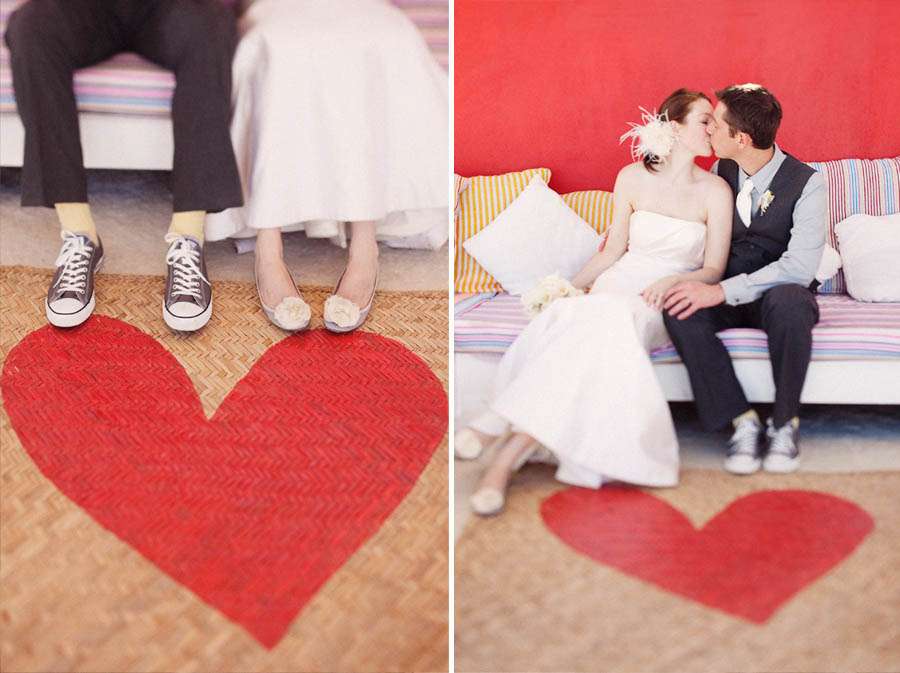 Credit: Stephanie Williams Photography
♥ And finally, the random questions – some made me laugh out loud and some made me shudder! (eek babies)…
How old are you?
25. I'll be 26 on 7th April.
If you could make one person fall in love with you who would it be?
Kiefer Sutherland…omg yes please
Do you and Gareth want babies? and if you have them do you think you will start a rock n roll family blog?
Huh Gareth does! Yeah I do want kids but right now I'm all busy with making Rock n Roll Bride a success. I do have a rather obsessive nature though and undoubtedly I will go baby-mad when we do have kids. I should start thinking about rock n roll mummy now then huh!?
If you had to give up caffeine or internet for 6 months, which would you give up?
Arrgh what an awful question! I guess it would have to be caffeine (she says as she slurps her coffee) but lets hope that never happens!
Why won't you accept my Facebook friends request?
I made the decision to keep my facebook my personal sanctuary away from Rock n Roll Bride. A place just for my friends and family. If you want to chat then you can always contact me via twitter, my fan page, flickr, formspring or email. I try to answer every email or personal message I get.
Socks, tights, holdups, stockings or bare leg?
Tights or leggings. Always.
What website is set as your homepage?
My google reader. It explodes overnight with all the blogs I follow and it's the first thing I check in the morning.
What is your favorite non-wedding activity?
Shopping! I have a current obsession with Vivienne Westwood, Mac make up (always) Topshop jewellery, biker boots, long tops and shiny leggings…and sushi. I like to go out for sushi!
I think I read that you aspire to be a full time blogger, is Rock n Roll Bride your part-time baby? and if so whats your "day job"?
I currently work as a Producer for a shopping TV channel here in the UK. Its a full time job and I usually work nights – until 10 pm or 2am…so you can see how busy/knackered I am doing basically two jobs!
♥ Thanks to everyone that's asked me questions over the last few days – it's been a blast!