It doesn't get tired seeing your name in real-life print! I am loving writing my monthly article for Photo Pro Magazine and being able to share some of my favourite photographers with the world. This month I not only shared a magazine with Katie Price who is on the front cover (she's a big deal here in the UK – unfortunately!) but I was able to write about the amazing MangoRED. Long term readers of Rock n Roll Bride will know how fanatical I am about Ryan & Randall's work. I love them! Ok…so, without further ado let's get on with this show…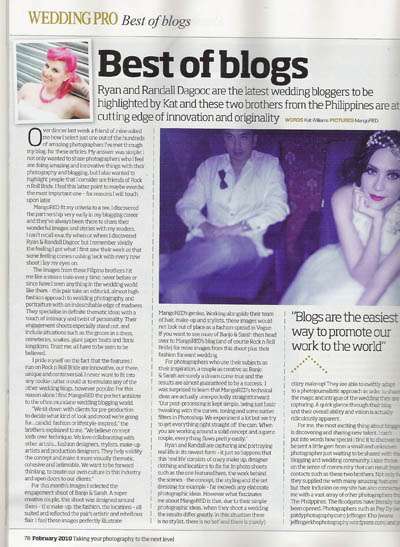 Over dinner last week a friend of mine asked me how I select just one out of the hundreds of amazing photographers I've met through my blog, for these articles. My answer was simple. I wanted not only wanted to share photographers who I feel are doing amazing and innovative things with their photography and blogging, but are people that I consider friends of Rock n Roll Bride. I feel this latter point to maybe even be the most important one – for reasons I will touch upon later.
MangoRED fit my criteria to a tee. I discovered the partnership very early in my blogging career and they've always been there to share their wonderful images and stories with my readers. I can't recall exactly when or where I discovered Ryan & Randall Dagooc but I remember vividly the feeling I got what I first saw it as that same feeling comes rushing back with every new shoot I lay my eyes on. These Filipino brothers' work literally hits me like a steam train. Never before or since had I seen anything in the wedding world like it – an editorial, almost high fashion approach to wedding photography and portraiture with an indescribable edge of madness.  A definite thematic idea with a touch of intimacy and twist of personality. Their engagement shoots especially stand out and include situations such as the groom in a dress, cemeteries, snakes, giant paper boats and floral kingdoms. Trust me; all have to be seen to be believed.  
I pride my features on Rock n Roll Bride as innovative, out there, unique and controversial. I never want to fit into any cookie cutter mould or to emulate any of the other wedding blogs out there, however popular. For this reason alone I find MangoRED the perfect antidote to the often mundane wedding blogging world; a place where everything is pretty, everything is ruffled and everything is 'eye candy.' MangoRED have certainly come to realise my distaste of everything poofy and pastel, and lucky for me have sent me many a submission that illustrates both their and my intrinsic desire to showcase photographic niches and controversial ideas.
"We sit down with clients for pre-production to decide what kind of look and mood we're going for…candid, fashion or lifestyle-inspired." The brothers explained to me." We believe concept lords over technique. We lovecollaborating with other artists…fashion designers, stylists, makeup artists and production designers. They help solidify the concept make it more visually thematic…cohesive and more believable. We want to be forward thinking, create our own culture in this industry and open doors to our clients."
For this month's images I selected the engagement shoot of Banjo & Sarah. A super creative couple, this shoot was designed around them – the makeup, the fashion, the locations – all suited and reflected the pair's artistic and rebellious flair. I feel these images perfectly illustrate MangoRED's genius. Working alongside their team of hair, makeup and stylists, these images would not look out of place as a fashion spread in Vogue. If you want to see more of Banjo & Sarah then head over to MangoRED's blog (and of course Rock n Roll Bride) for more images from this shoot plus their fashion forward wedding.
For photographers who use their subjects as their inspiration, a couple as creative as Banjo & Sarah are surely a dream come true and the results are almost a guaranteed success.  I was surprised to learn that their technical ideas are actually unexpectedly simple, "Our post-processing is kept simple…basic tweaking with the curves, toning and some native filters of Photoshop. We experiment a lot but we try to get everything right straight off the cam. When you are working around a solid concept and a game couple, everything flows pretty easily." They are capturing and portraying real life in its rawest form – it just so happens that this 'real life' consist of crazy make up, designer clothing and locations to die for. In photo shoots such as the one featured here, the work behind scenes – the concept, the styling and the set dressing for example – far exceeds any elaborate photographic ideas. However what fascinates me about MangoRED is that due to their simple photographic ideas, when they shoot a wedding the results differ greatly. In this situation there is no stylist, there is no 'set' and there is (rarely) crazy make up! They are able to swiftly adapt to a photojournalistic approach in order to share the magic and intrigue of the wedding they are capturing. A quick glance through their blog and their overall ability and vision is actually ridiculously apparent.
For me, the most exciting thing about blogging is discovering and sharing new talent. I can't put into words how exciting I find it to discover or be sent a little gem from a small and unknown photographer just waiting to be shared with the blogging and wedding community. I also thrive for the sense of community the whole thing has brought me. No clearer can this be seen than what happened between m, Ryan & Randall.  My initial contact with the brothers not only spurned many amazing features for me but has connected me with a vast array of other photographers from The Philippines. The floodgates have literally have been opened. Photographers such as Pay Dy, Jeffroger Kho and Joey Boquiren to name a few, have all found me through my initial MangoRED features, sparking a new wave of Filipino talent on my blog. Without my initial interest in MangoRED I fear this would not have been the case.
As I've mentioned in my past articles the reasons for blogging as a photographer are vastly different to the reasons as a full time blogger, yet of course with a few crossover goals – connection, community, sharing.  The reason for MangoRED's initial interest in the format was certainly a different one. An idea only really popular in America at the time they started out, the format was one that the boys knew would be beneficial for them and their business.
Being based on a remote side of the globe, blogging extends our work to a wider and global audience. It is the easiest and quickest way to promote our work to the world. For quite a time now, clients have asked, "Where's your studio?" The studio is anywhere we make it. The world is our studio. Our blog is our studio, our gallery. This is where our pieces are shown for the world to see.
The thing that's interesting about the blog versus a static site is the frequency of updates. Your life's body of work is shown as you progress as an artist and people learn and get heavy inspiration from this – in real time.
Once a particular reader stumbles upon your work from another site and finds a connection with it they'll keep coming back for more and share it over to his network. The comments they leave out are equally helpful as they give insights and enlighten from a different perspective. Ideas, trends and inspiration are reciprocated from end to end.
As the work reaches out to a broader audience, the harder will its impact be  – as they say it, art is useless if it's not seen. We're just astonished how the whole network works. It's all these like-minded individuals helping out each other and working together. All interconnected.
Right about now I'm supposed to write the part of the article where I sum up MangoRED and their photographic and blogging style to leave you with a pondering thought…an overall lesson if you will. However how do I summarise such brilliance in a few meagre words? Ryan & Randall are by far one of my favourite photographers to feature on Rock n Roll Bride. They never fail to astound me with their innovation, distinctiveness and exceptional vision in both their images and blog. When you visit their site and see this unique style in which they lay out their images and words you will see exactly what I mean. This is the hardest summary I've ever had to write so I'm simply going to leave you with this thought… Go, dear photographers, and soak up from them what you can. Just prepare to be blown away.