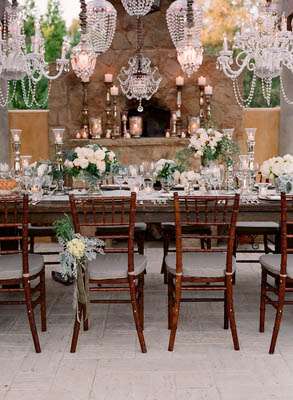 Yes, its another vintage inspired wedding but omg seriously you will forgive me when you check out these stunning photographs!
Lisa Vorce of Oh How Charming! collaborated with Elizabeth, the Bride to design the stunning table in the gorgeous outdoor space.  They used thirty chandeliers, both new and antique, which illuminated the villa-style terrace.
They also used a custom-made 40-foot velvet runner, linen-backed menus and platinum banded chargers to decorate the long table. The linen chair cushions were trimmed with delicate blue velvet piping, matching the simple yet stunning fondant decorated cake.  The whole look is so decedent yet so eclectic…that's why I love it so.  I wish my house was decorated just like this table!
Credit: Little White Dress via Project Wedding