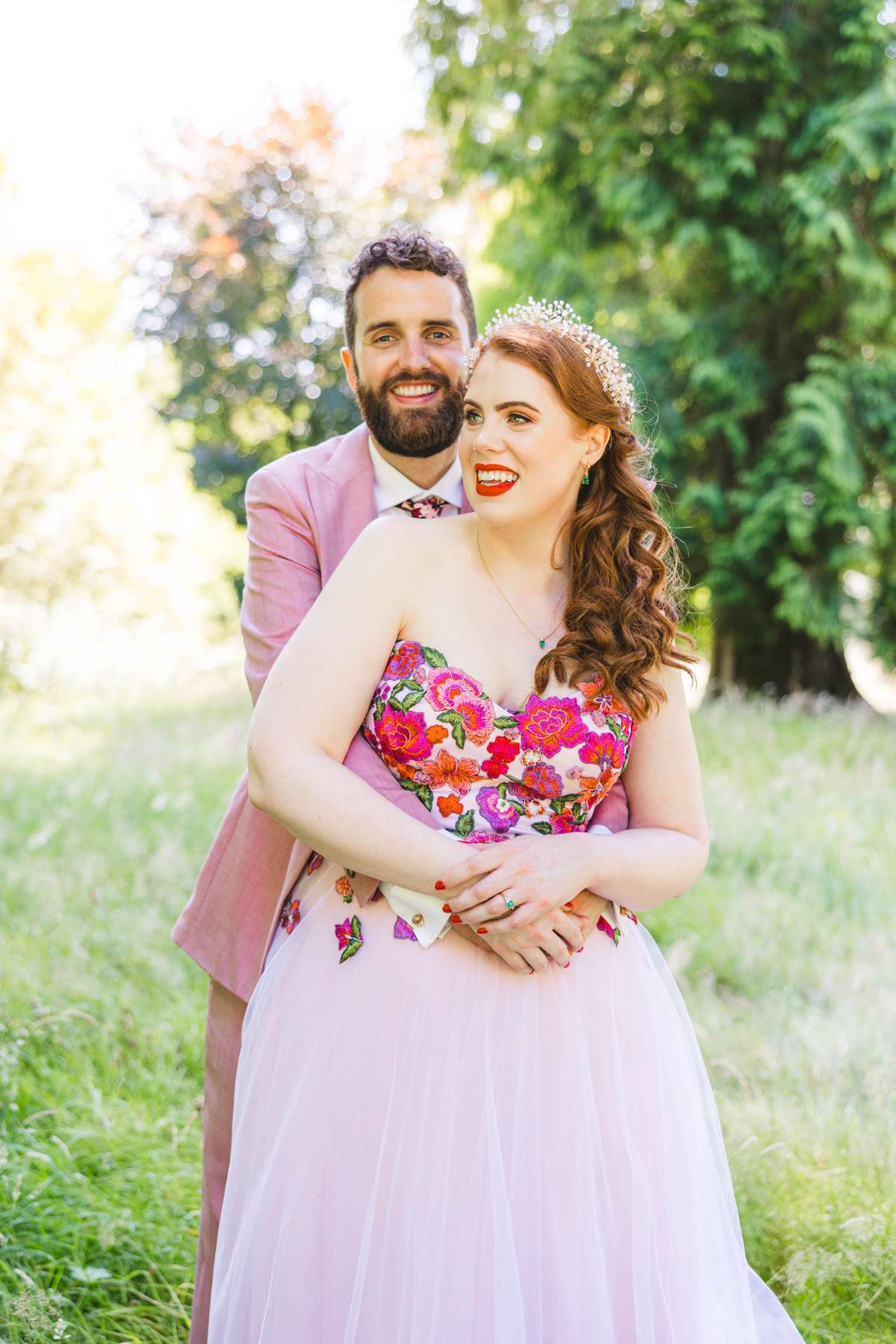 Coming out of lockdown, Niamh and Mike decided what they really wanted was a bright and joyful summer wedding. It also had to reflect their personalities, their values and their love – so that's exactly what they did! Married at Ferrycarrig Hotel in Wexford, Ireland, they rejected tradition, heteronormative stereotypes and instead planned a wedding which truly felt right for them.
From the mutual proposal (on their 6-year anniversary and the first day of Irish lockdown, they proposed to each other!) to their 50/50 split of all the responsibilities and rejection of the idea of a 'bridal party', this was a feminist wedding through and through.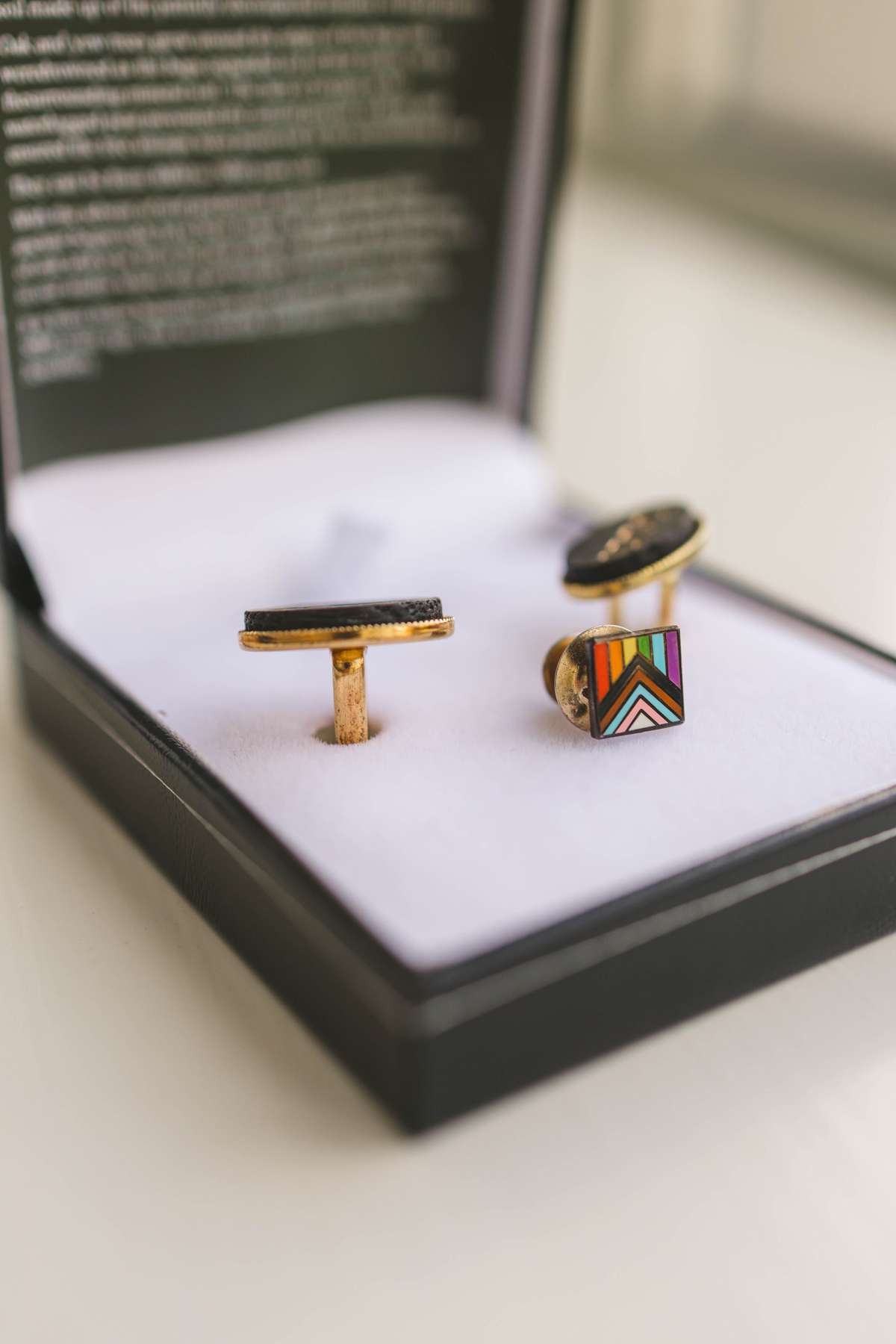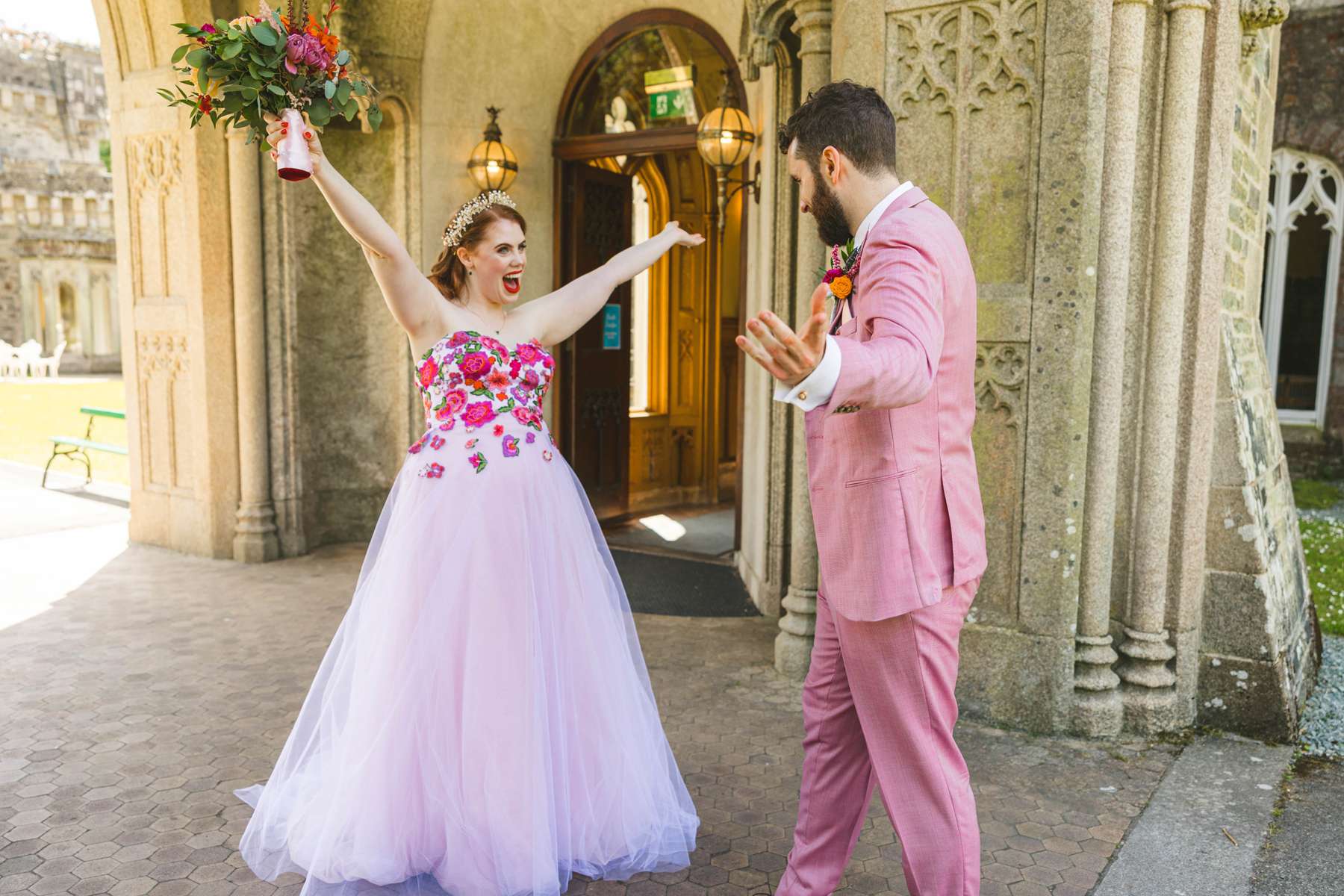 The bride wore a colourful, floral dress from Sarah Foy Couture, while the groom was in pink. He also attended all her dress appointments with her – something which is still very unusual, even in the non-traditional side of the industry,
The heart of their celebration, and both of their favourite moments, was the ceremony. Mike walked down the aisle first as a 'flower boy', throwing petals and then Niamh walked herself down. A harpist played their favourite songs and they read personalised vows.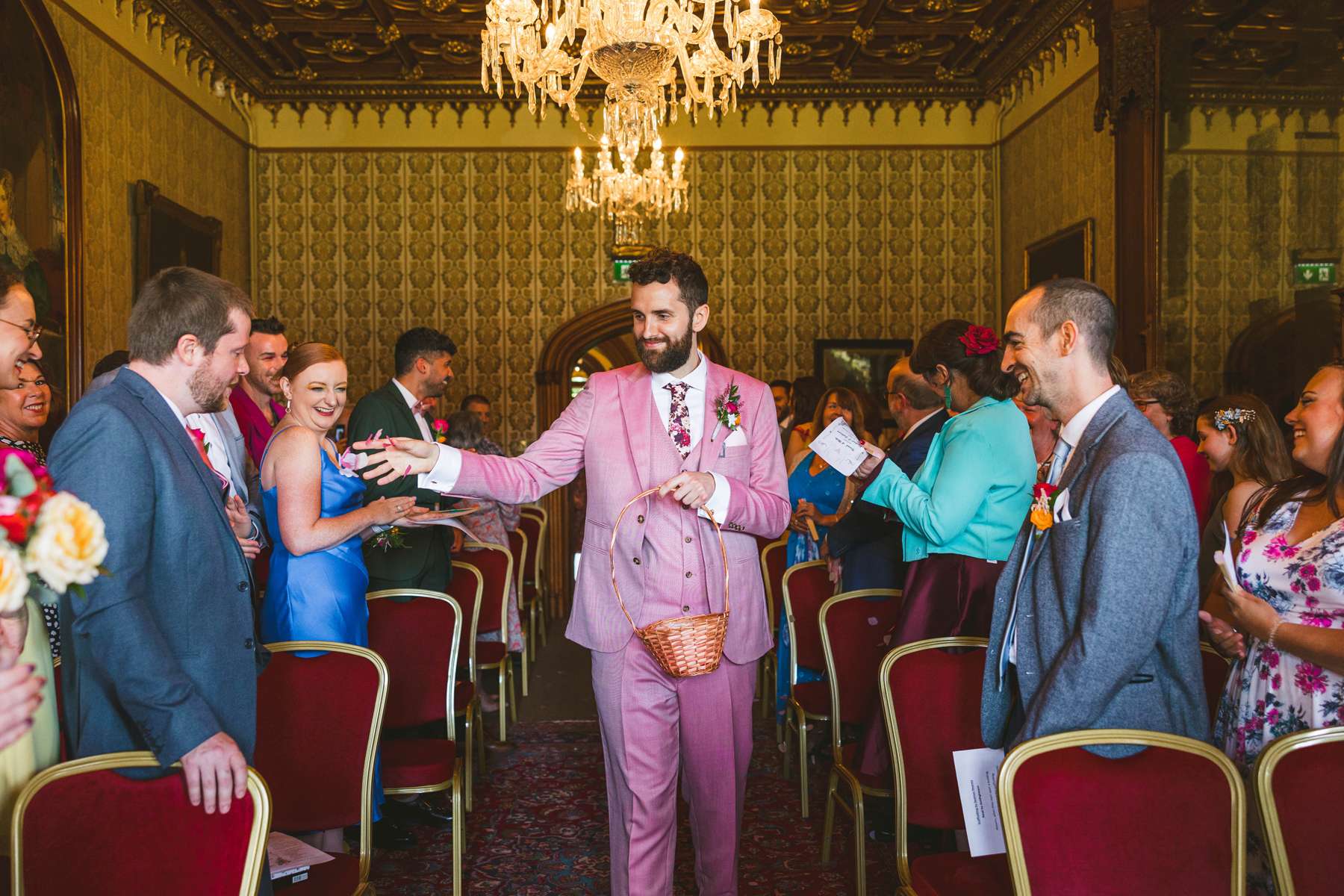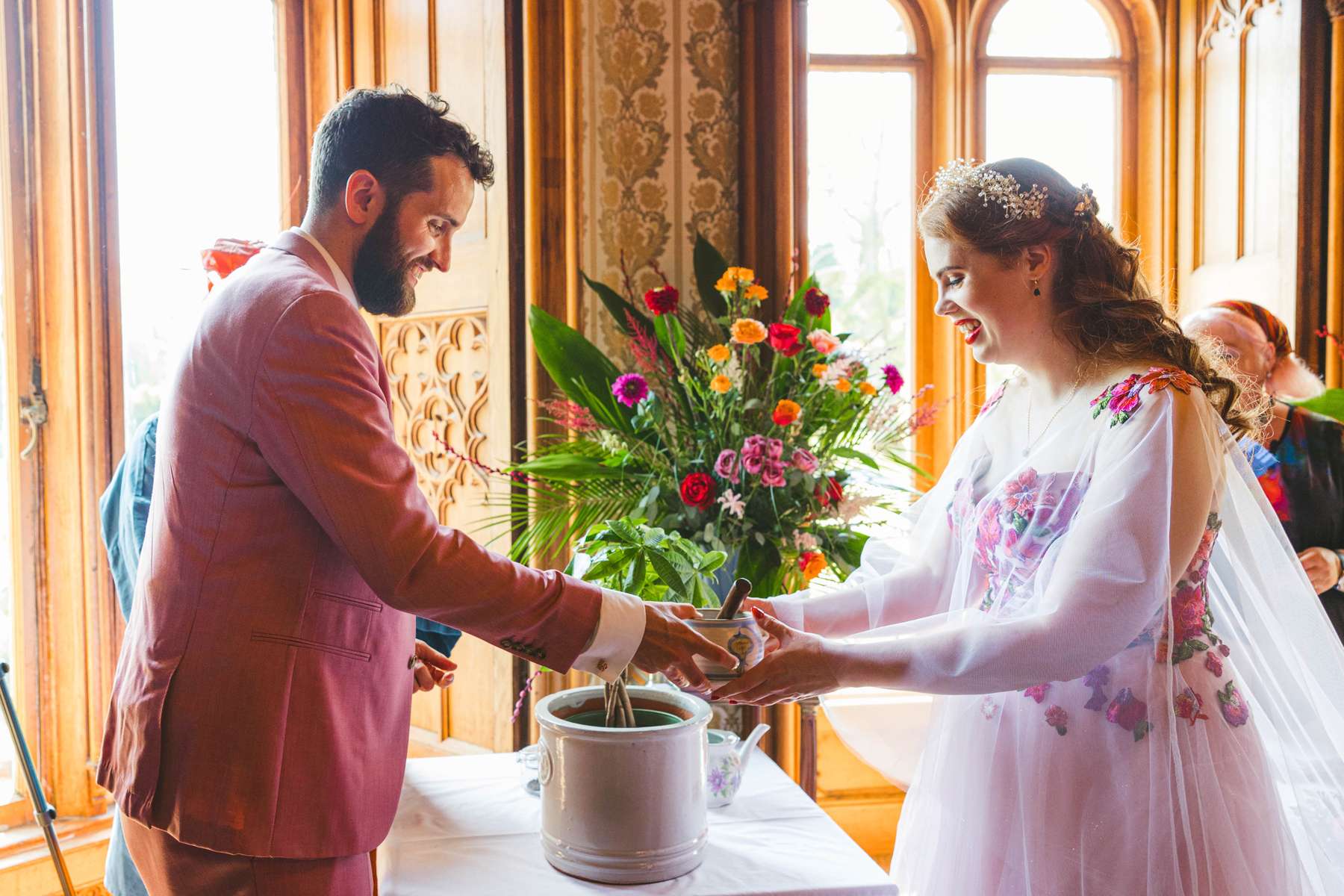 They also included a few different rituals throughout the ceremony. "We had unity candles in the colour of the bi-pride flag", Niamah said. "Following Celtic tradition, we did handfasting. My grandmother knitted six cords in the colours of the pride flag and our best friends tied them around our hands. We also did ring-warming – my brother had made a gorgeous ring holder and we passed it around our gathered guests who imbued it with well wishes."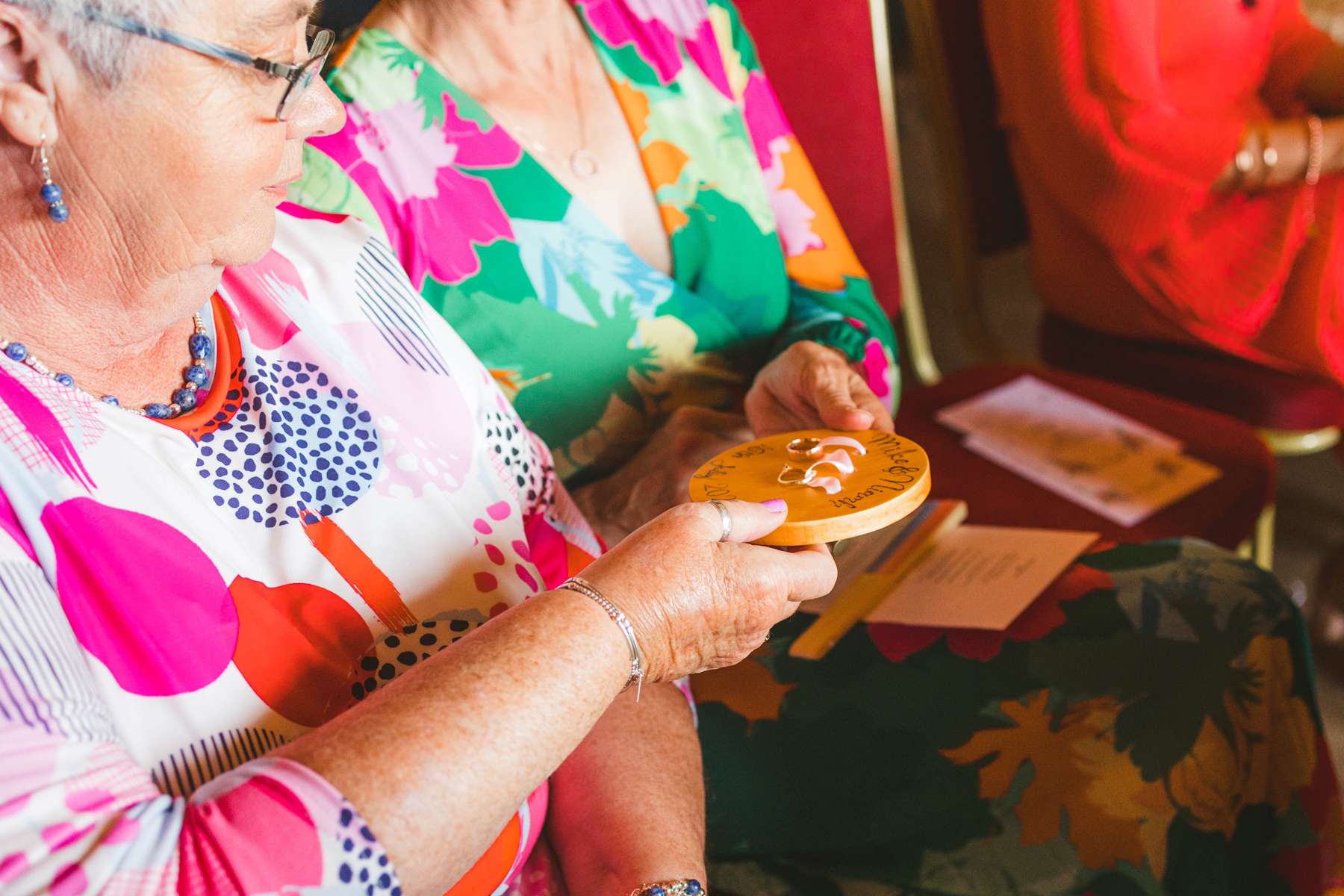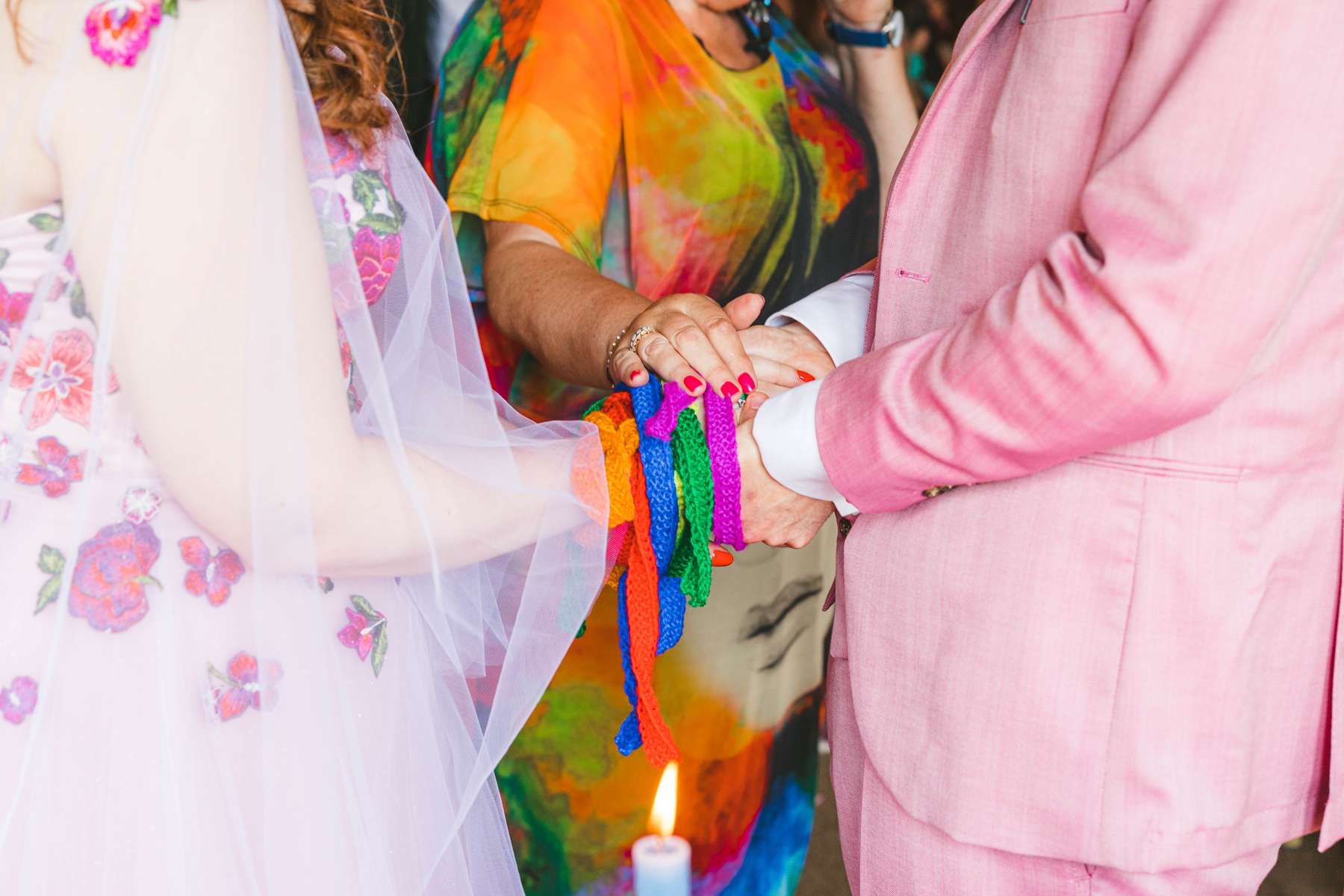 "We then had a unity tree, which was a Chinese money tree, a symbol of good fortune with overlapping trunks braided together. My dad and Mike's mum worked together to make it a beautiful moment full of special symbolism. Soil was taken from the ground of our family homes, mixed together in a dish from my grandparents to be sprinkled on the tree which was then watered with water from the lake near Mike's grandparents with a watering can from my grandfather."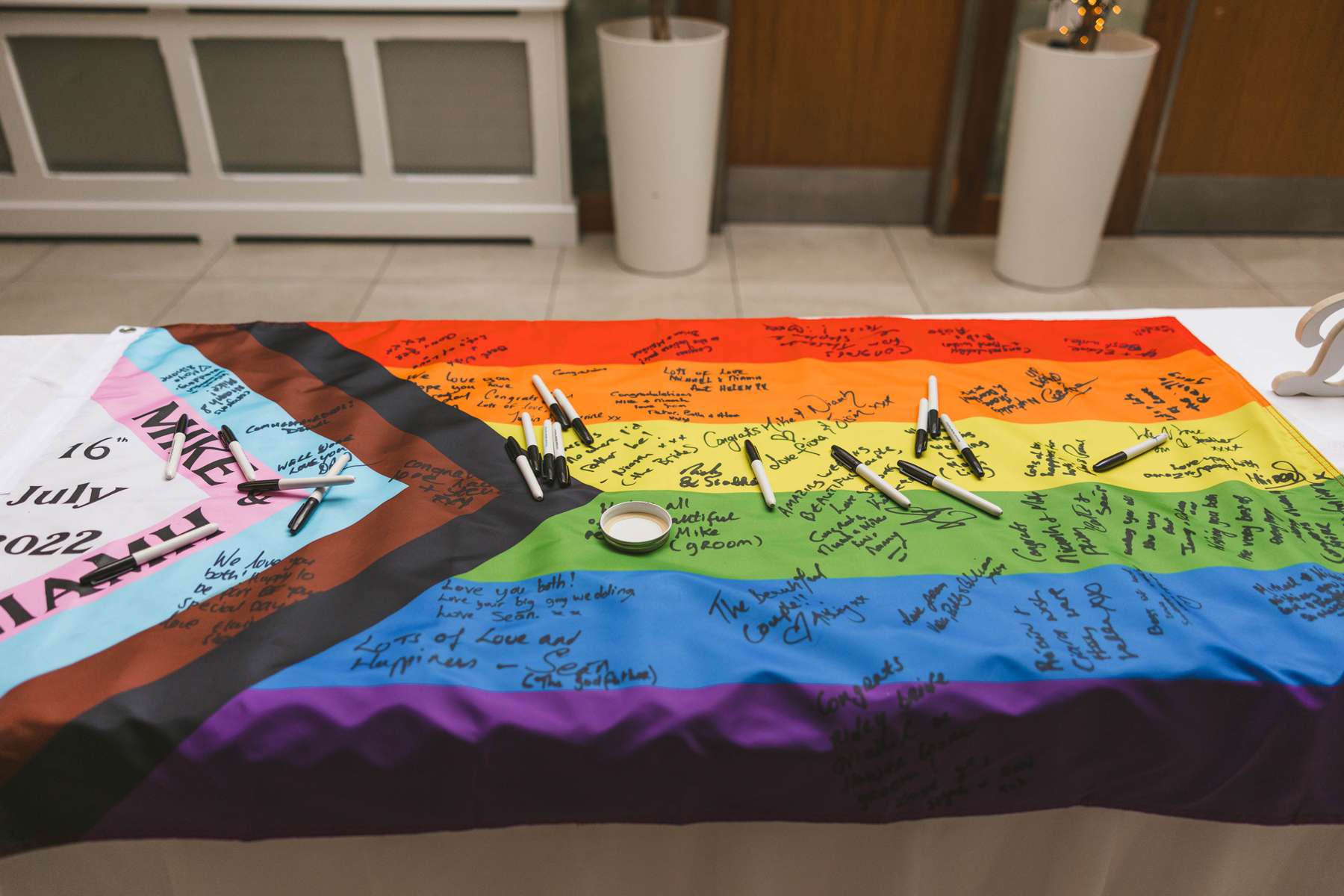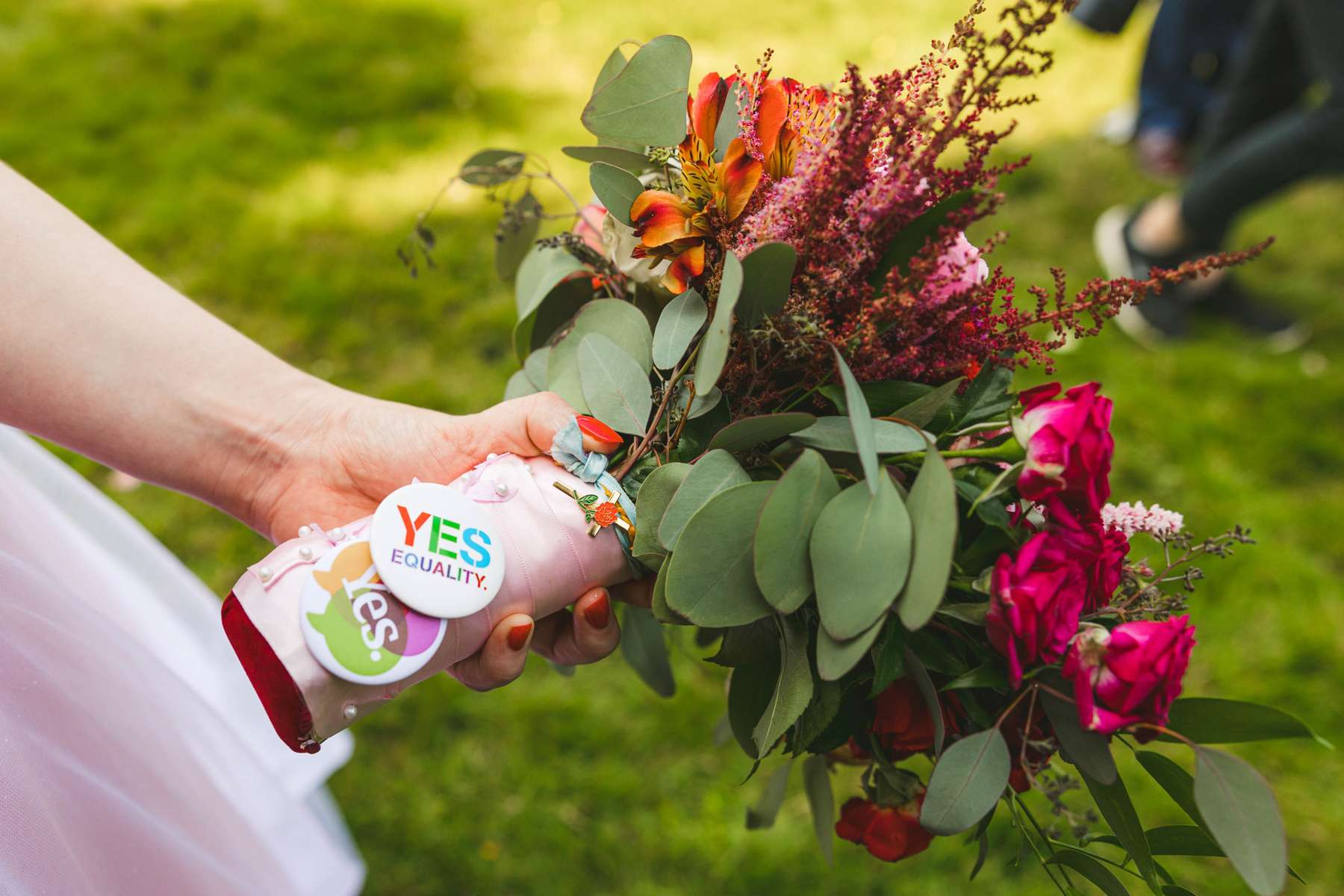 They tried to include pride where they could throughout the day. There were rainbow fans for the heatwave, a rainbow-themed photo booth and a flag for signing instead of a guest book. "Our entrance song to the dinner room was also Lady Gaga's Born This Way", she said. "It was a great way to incorporate our bi-pride into the celebration."
The cake-cutting was another one of their highlights. It had been made by the bride's sister and was a chocolate biscuit cake, a lemon drizzle cake and the top was vanilla and white chocolate rainbow cake. Niamh's dad made the cake stand and her brother and his partner made the cake toppers.
"It really was a labour of love and a huge hit on the day," Niamh said. "When we cut the top cake to reveal the rainbow inside it was just brilliant, especially after so many months of my family working hard to get it so perfect."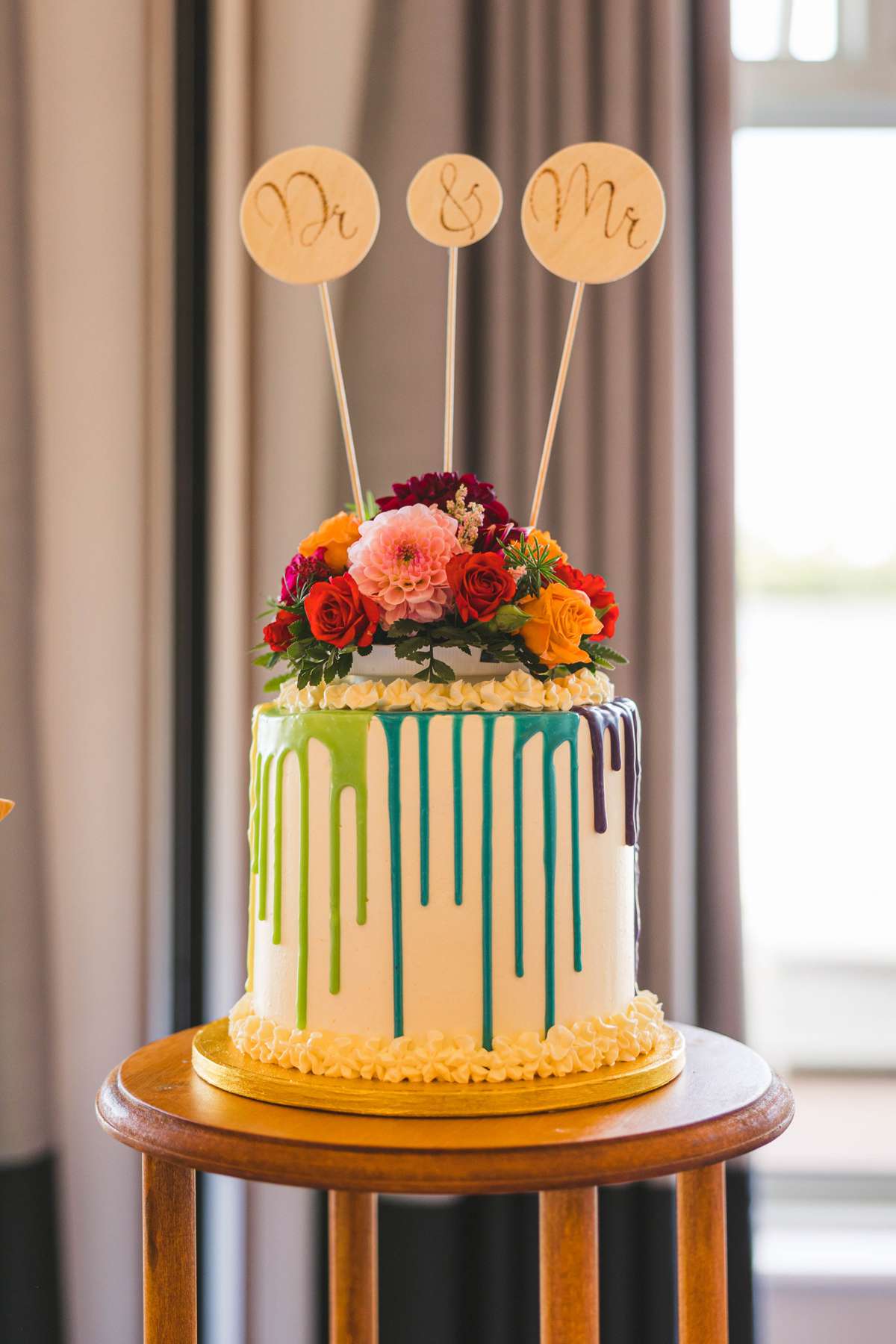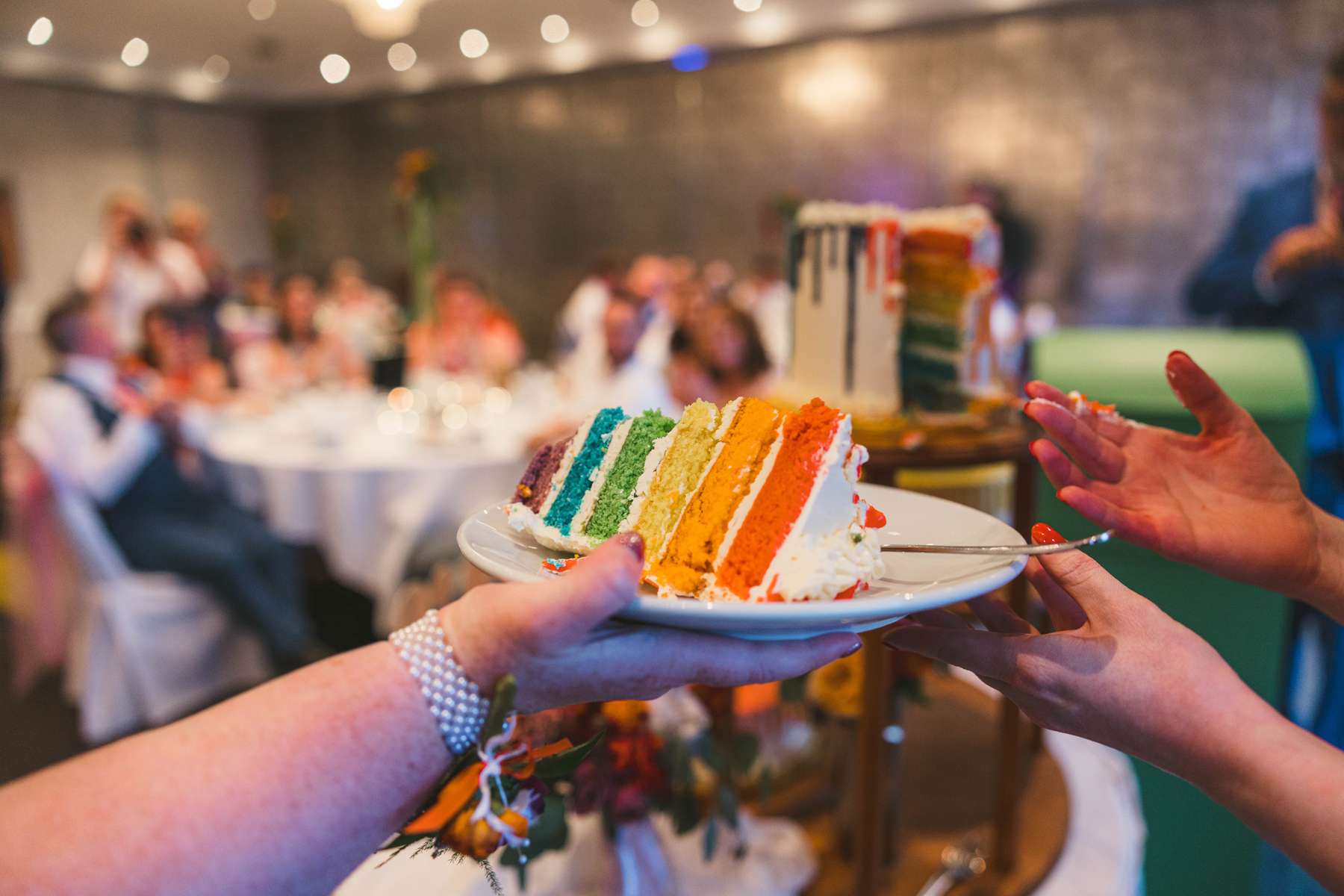 Working with vendors who understood their vision was their favourite bit of wedding planning. Although they found it difficult at times to find the right people to work with, "It was difficult to navigate the wedding industry as a queer couple, and figuring out how to honour that part of our love for each other. It can be such a heteronormative thing. we decided not to do favours and instead did donations to two LGBTQ+ charities who are dear to our hearts; Bi+Ireland and ShoutOut."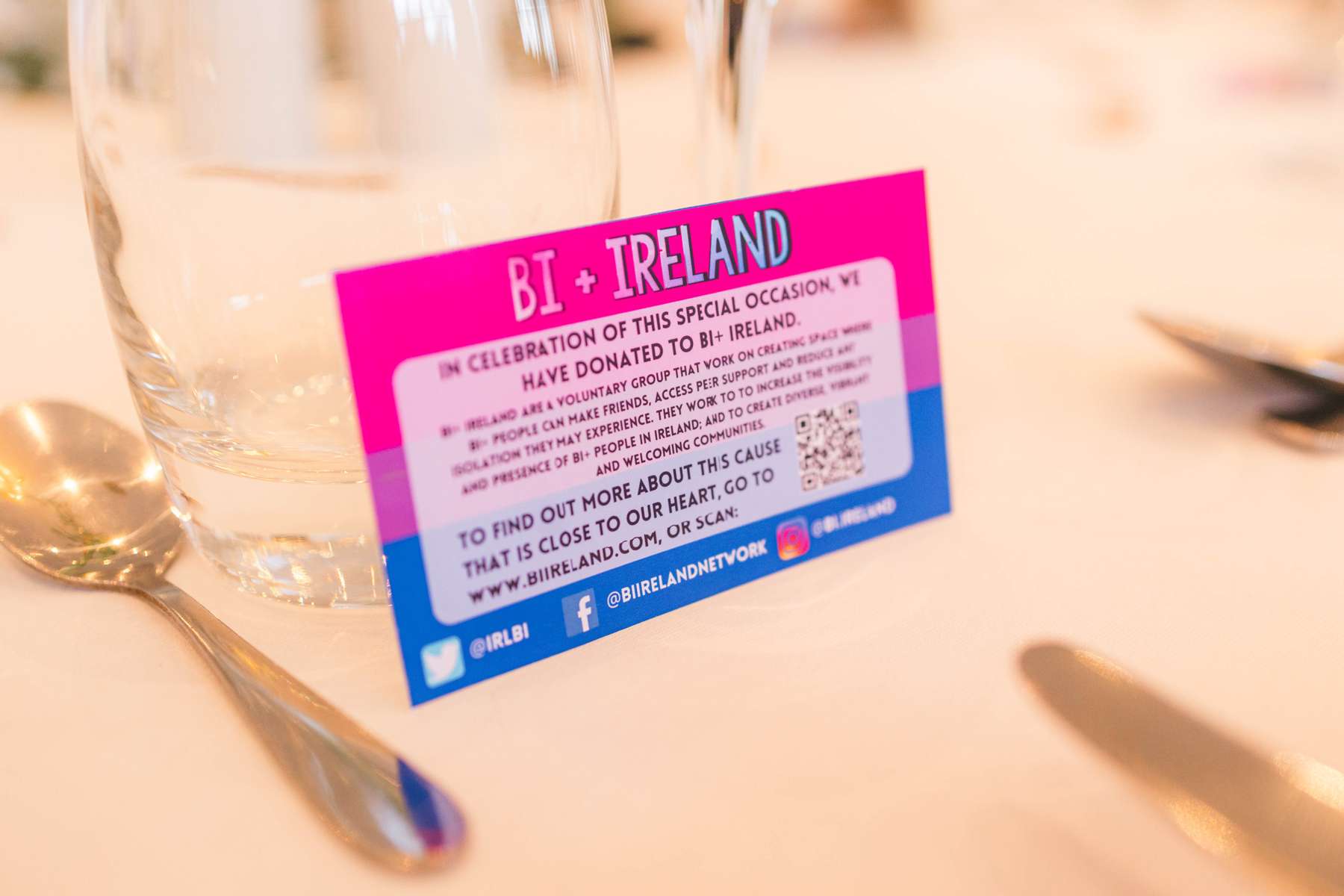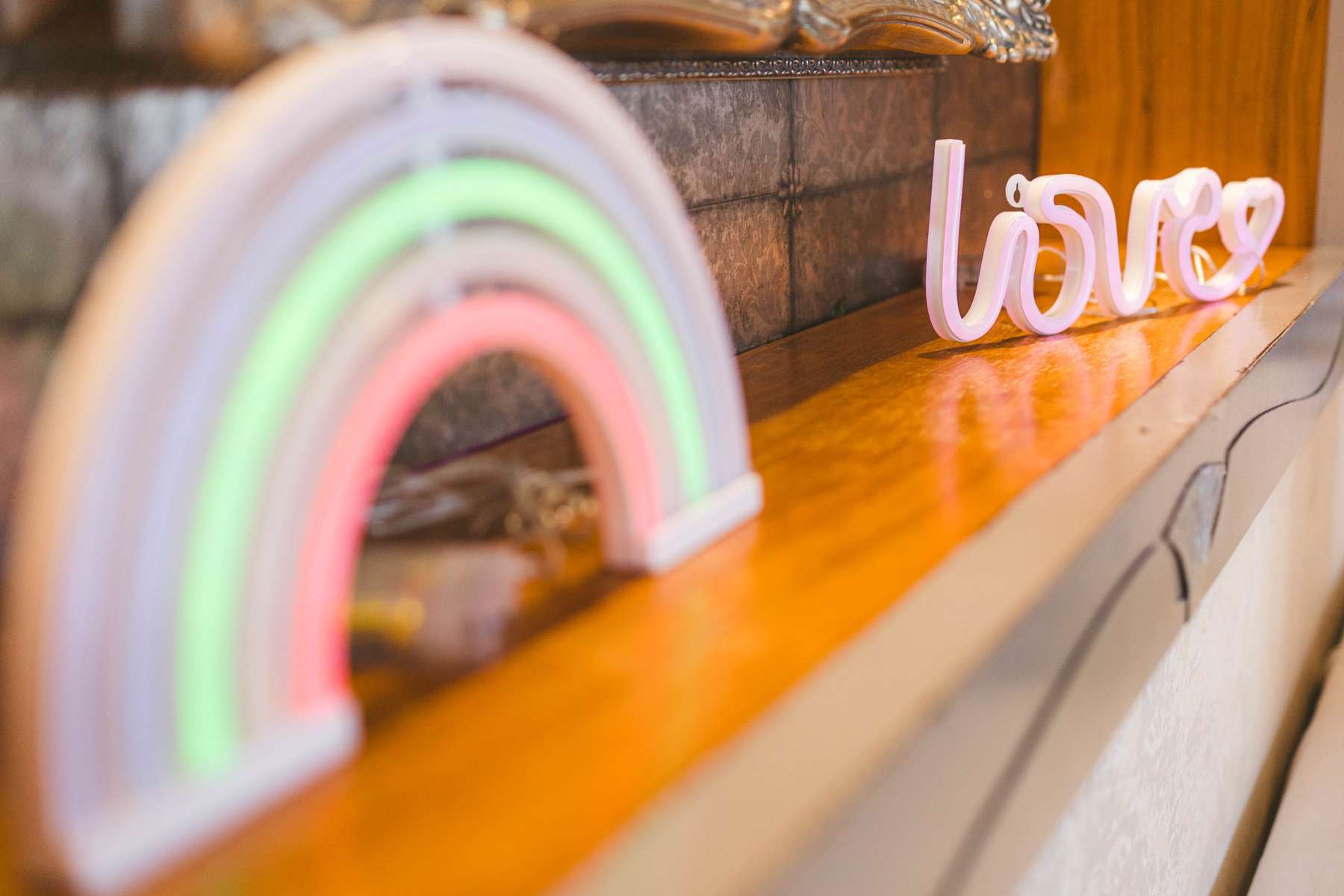 Niamh concluded with some great snippets of advice for other couples currently planning their alternative wedding days: "On the day, keep some water and non-chocolate breakfast bars in the car for the drive to the reception. It's a long day and we found ourselves really appreciating the quick snack. Also, get some of those hydration tablets from a pharmacy. Chalk will remove most stains from a dress so keep some handy. In the days coming up to the wedding, try to hand over decision-making to someone else. You could find yourself making calls on things right up until you walk the aisle if you aren't careful!"