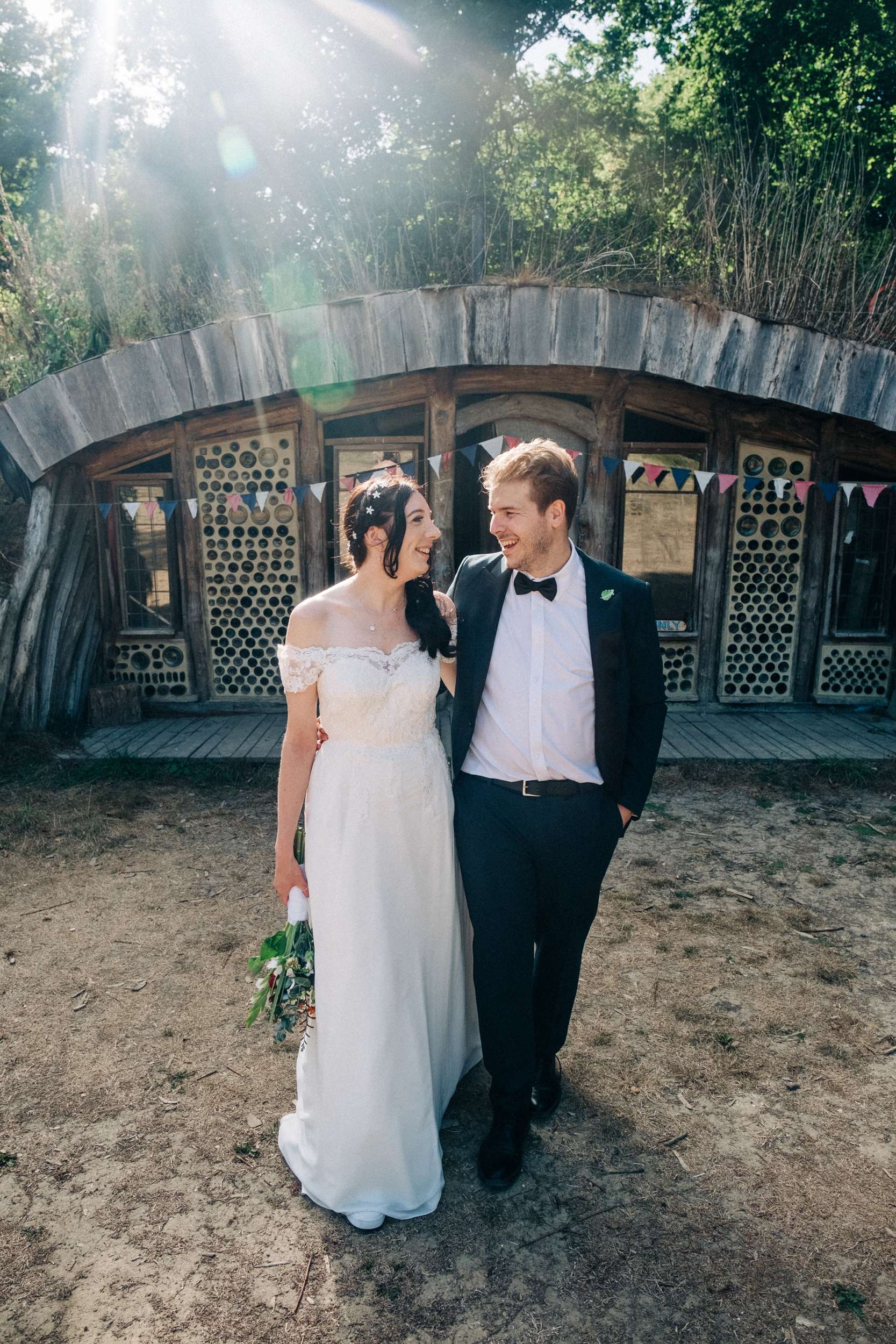 The teapots were filled with Prosecco, there were giant handcrafted wooden mushrooms instead of seats and a table of treats groaned under the weight of all the delicious goodies. Sophie and Lewis were married in an Alice in Wonderland themed celebration on a farm. The couple told us that Sophie's love for Alice in Wonderland and Lewis's madness was the inspiration!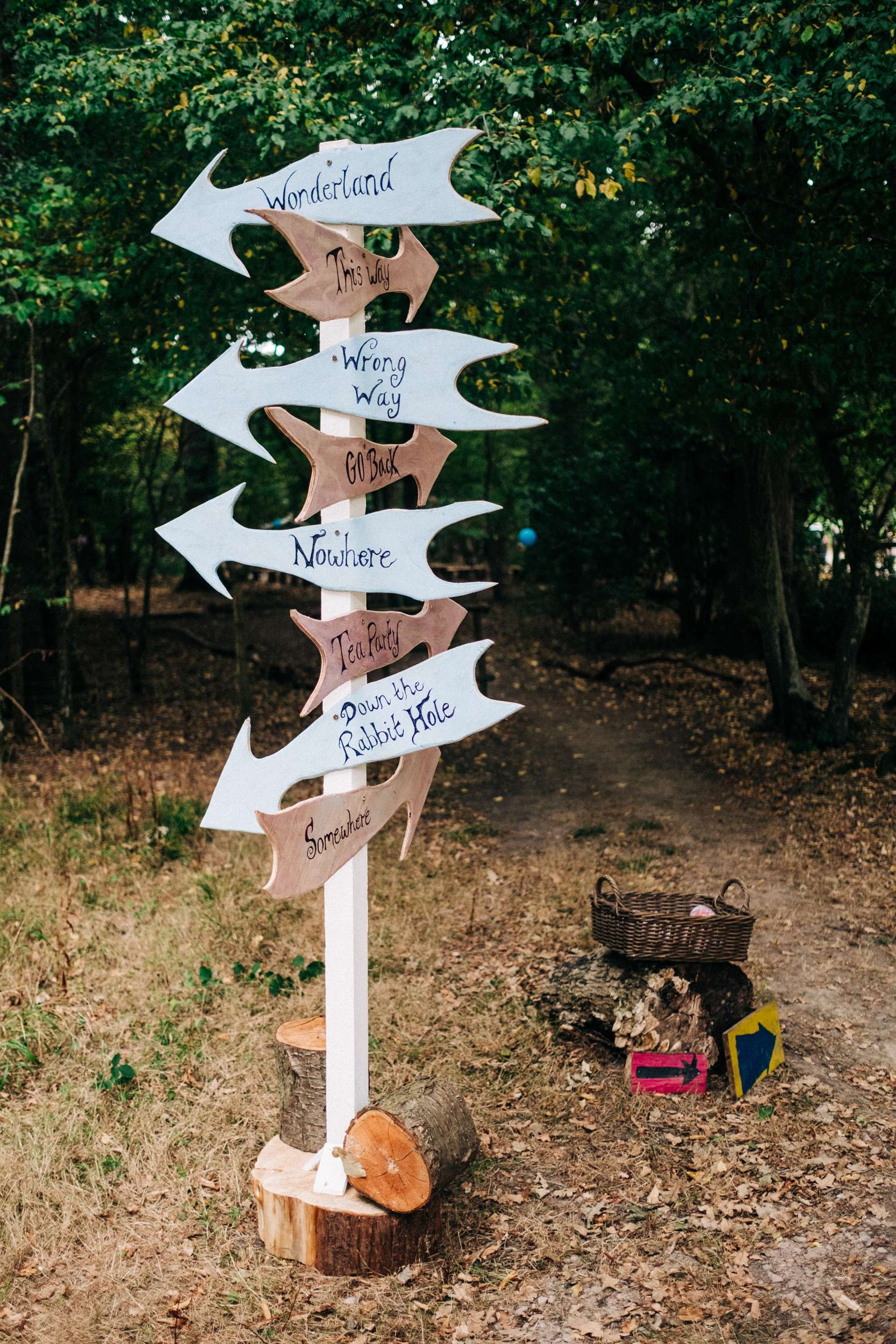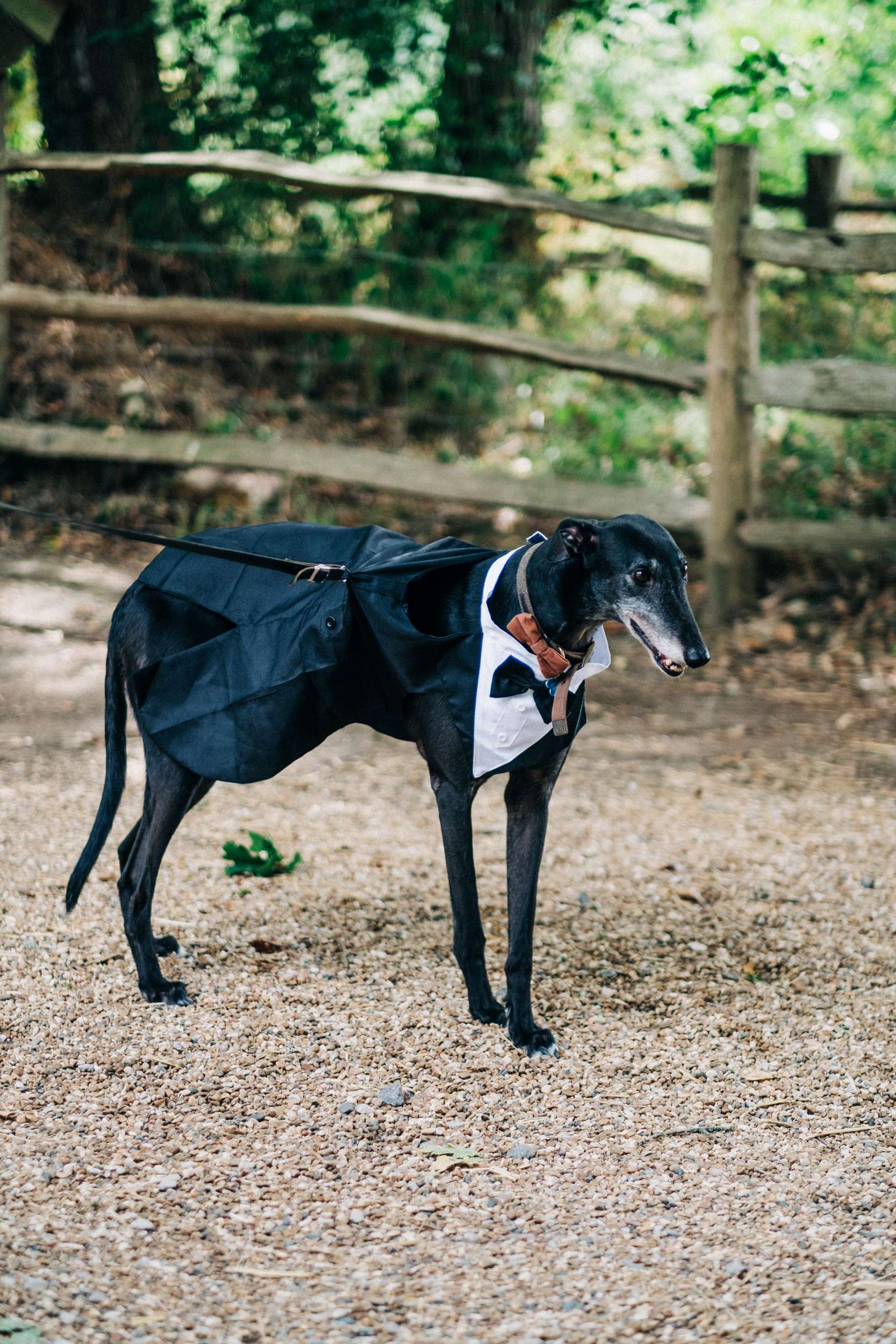 On a sunny day in August, they gathered friends and family for a quirky tea party in the woods. Simplistic in its natural form, Lewis and his family spent the day prior to the wedding clearing woodland debris and transforming the location with hay bales, wooden benches, mushrooms and an archway.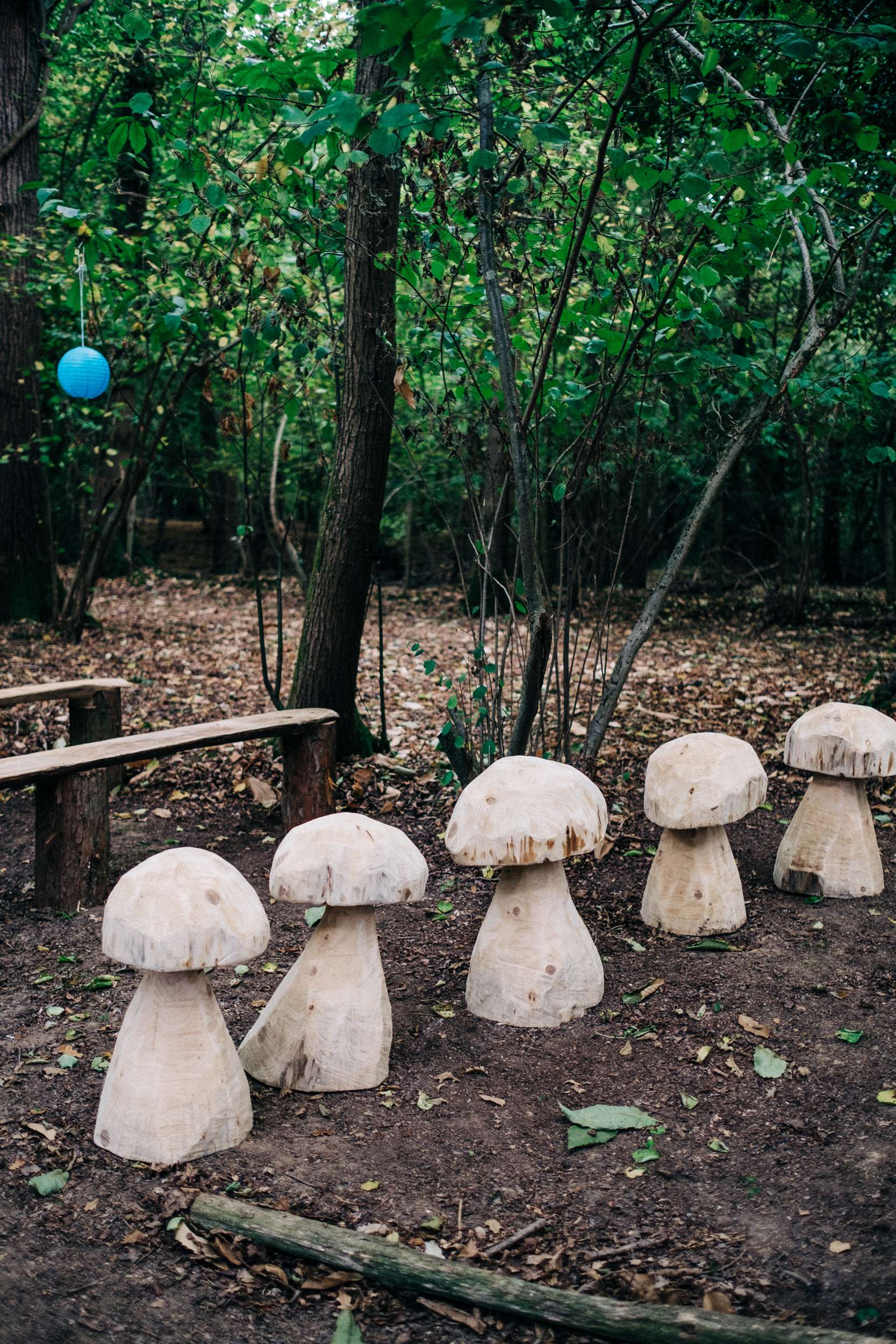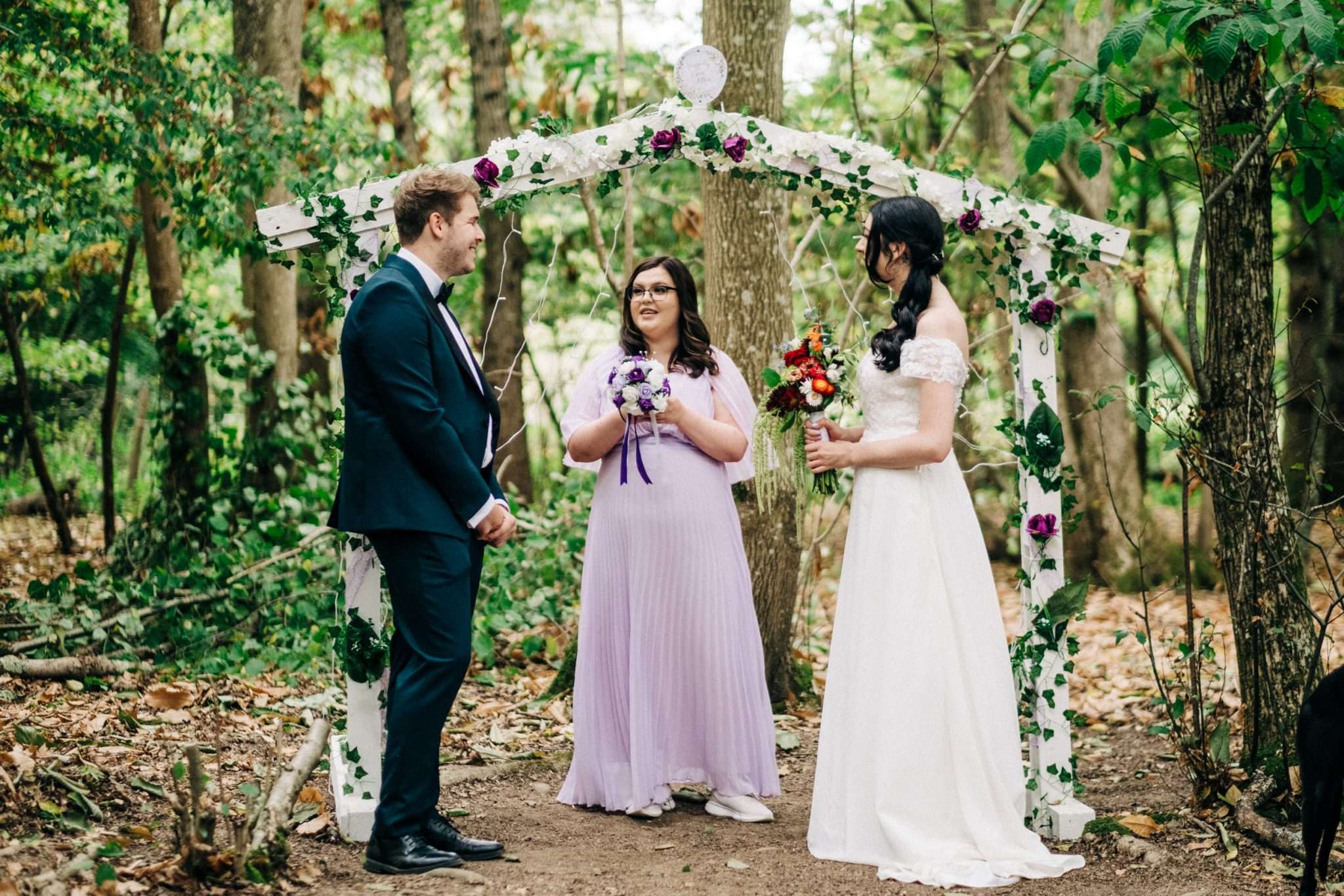 The venue, Little Gate Farm, is a charitable organisation that helps people with learning disabilities and autism find work, and this meant that the bar staff and helpers throughout the day had additional needs. They'd been able to interview and train for their roles in Sophie and Lewis' day, taking on a variety of tasks including setting up bell tents for campers. The venue was also affordable at £2000, and were friendly and flexible, letting the couple use the blank canvas of the venue for the day of their dreams. The staff also gathered flowers to create Sophie's bouquet, perfectly wild to suit the wonderland theme.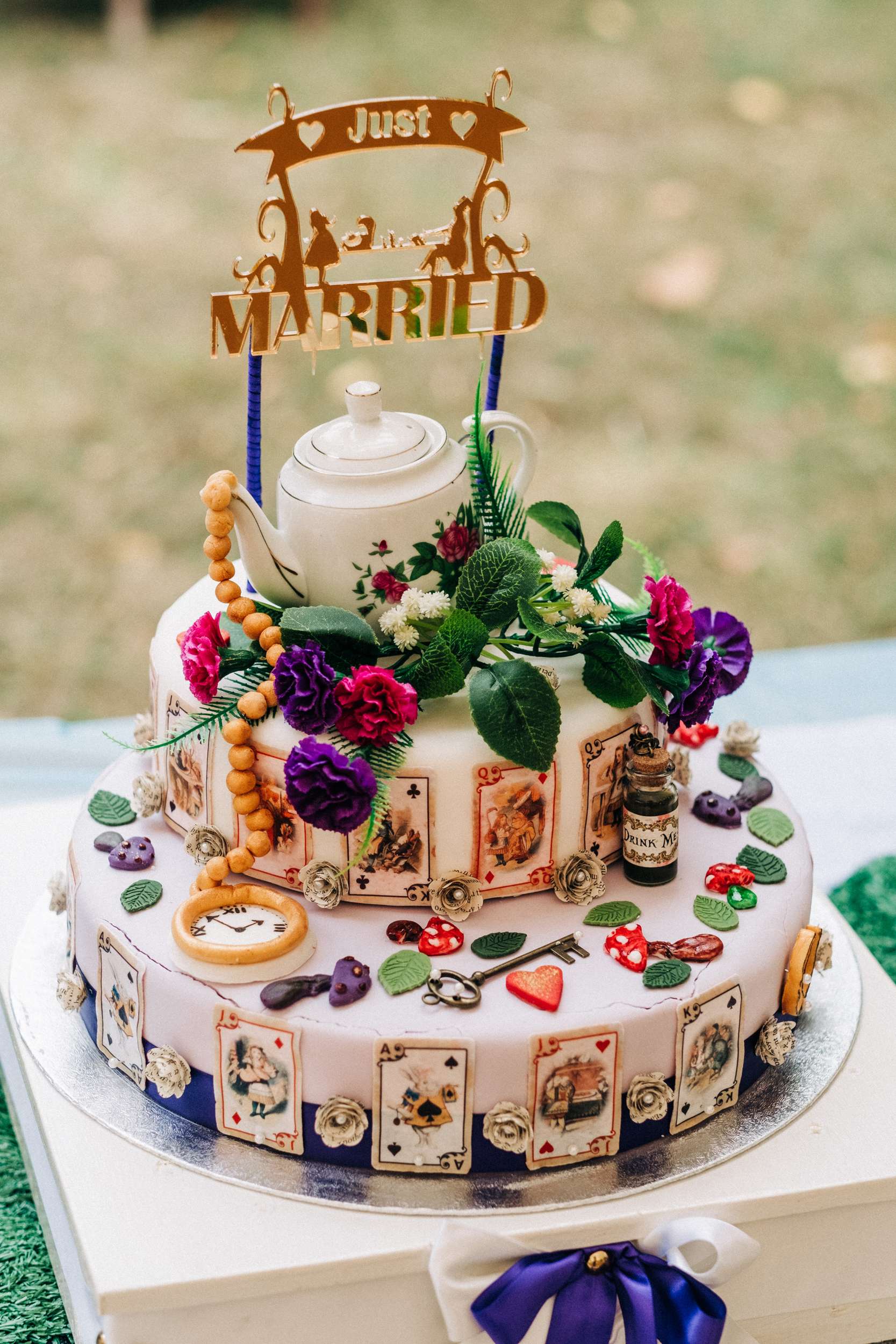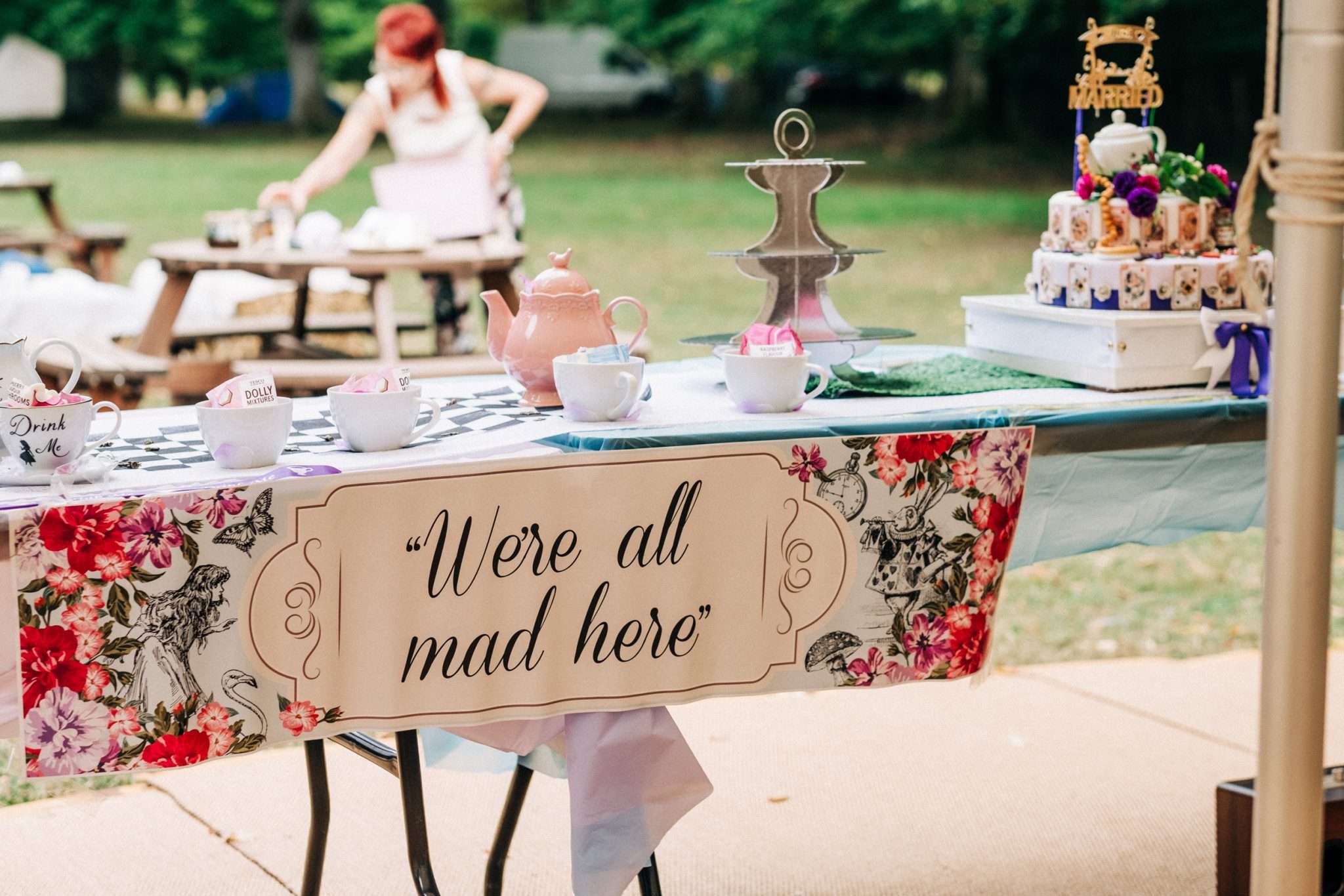 Sophie and Lewis chose to have their legal ceremony a few days before, and highly recommend doing the legal bit first. Sophie told us, "Getting married at a registry office first was amazing, if anything, we celebrated twice. It almost felt like a wedding week." They were then able to have a more informal, personal ceremony on the day itself.
"The vows were essentially personal speeches that we read to each other", she explained. The 'vicar' was our good friend, Leanne, who came from South Korea to attend the wedding as she has been living there for three years or so. The 'sermon' was also personalised by Leanne – it was amazing." She also noted that finding a licensed wedding venue is always expensive, and getting married legally first can save a lot of money.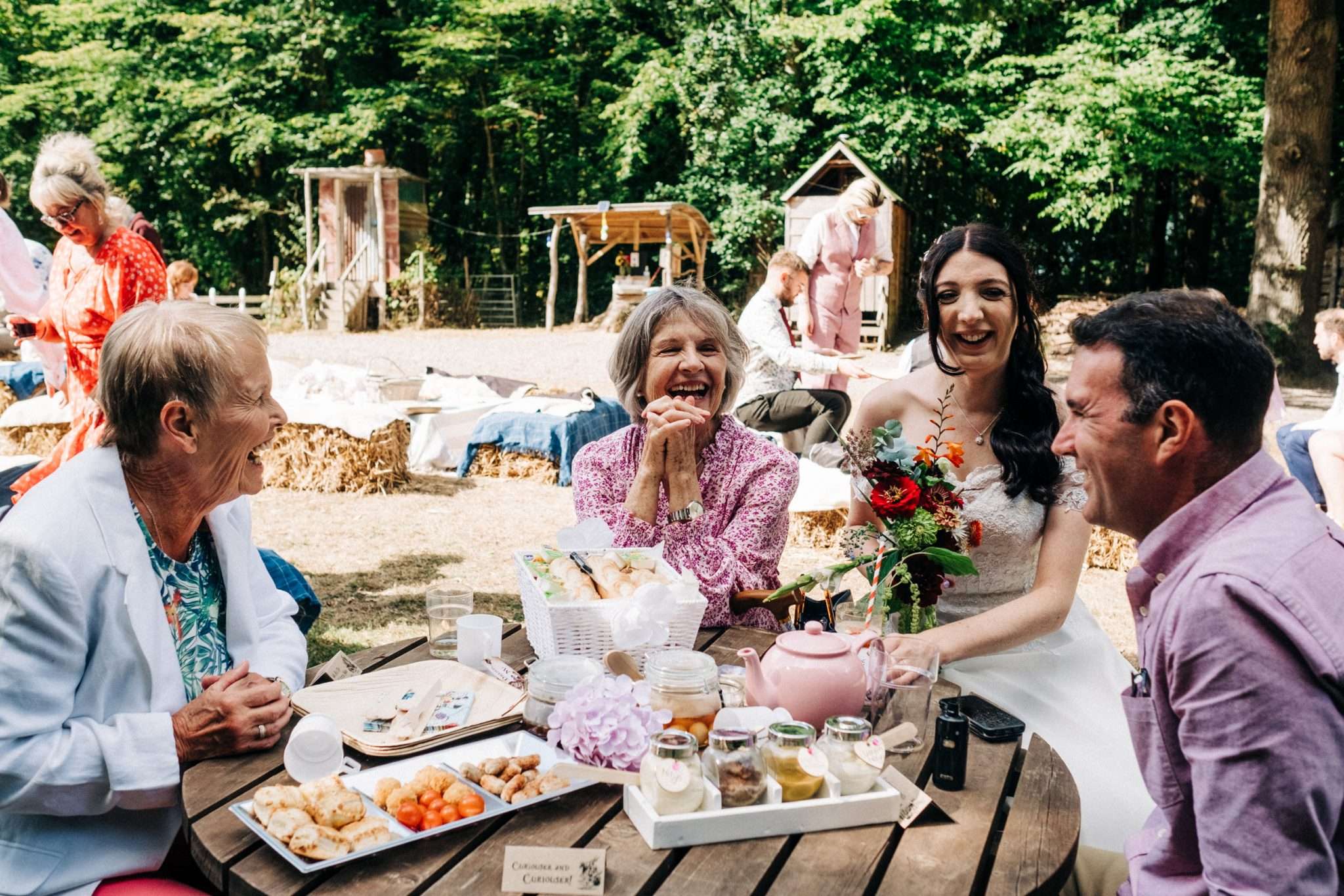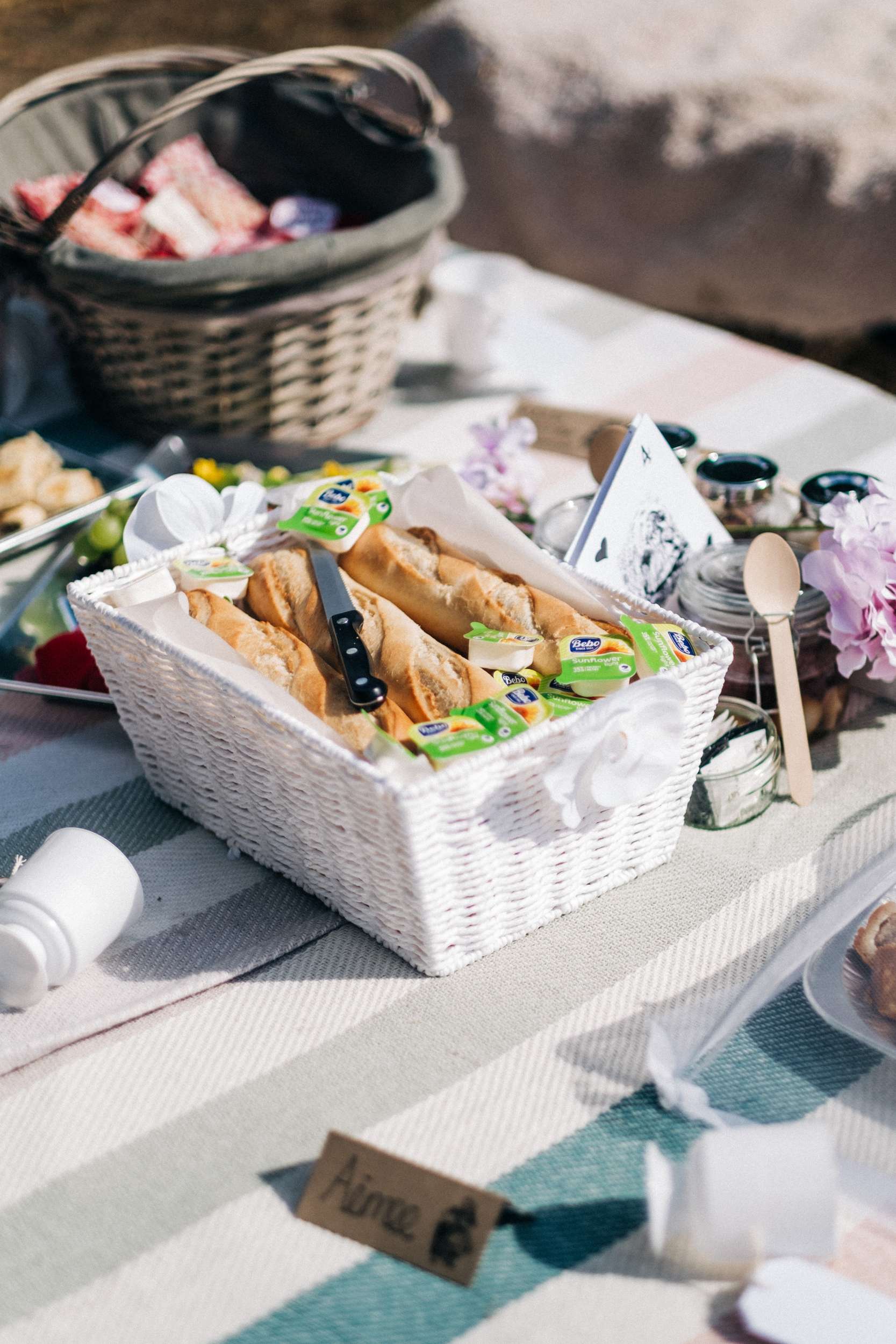 Food arrived in the form of baskets of ploughman's picnics, an ideal choice for their informal reception, casual seating arrangement and the stunning weather. Beautifully made by the groom's mother, it meant the couple avoided having to hire tables and seating, with a focus on having fun and celebrating as family. With the mushroom seating created by a brother-in-law and arch made by the groom's parents, Sophie and Lewis loved having elements of their day created by family. They also welcomed a fish and chip van later, again removing the need for formal catering.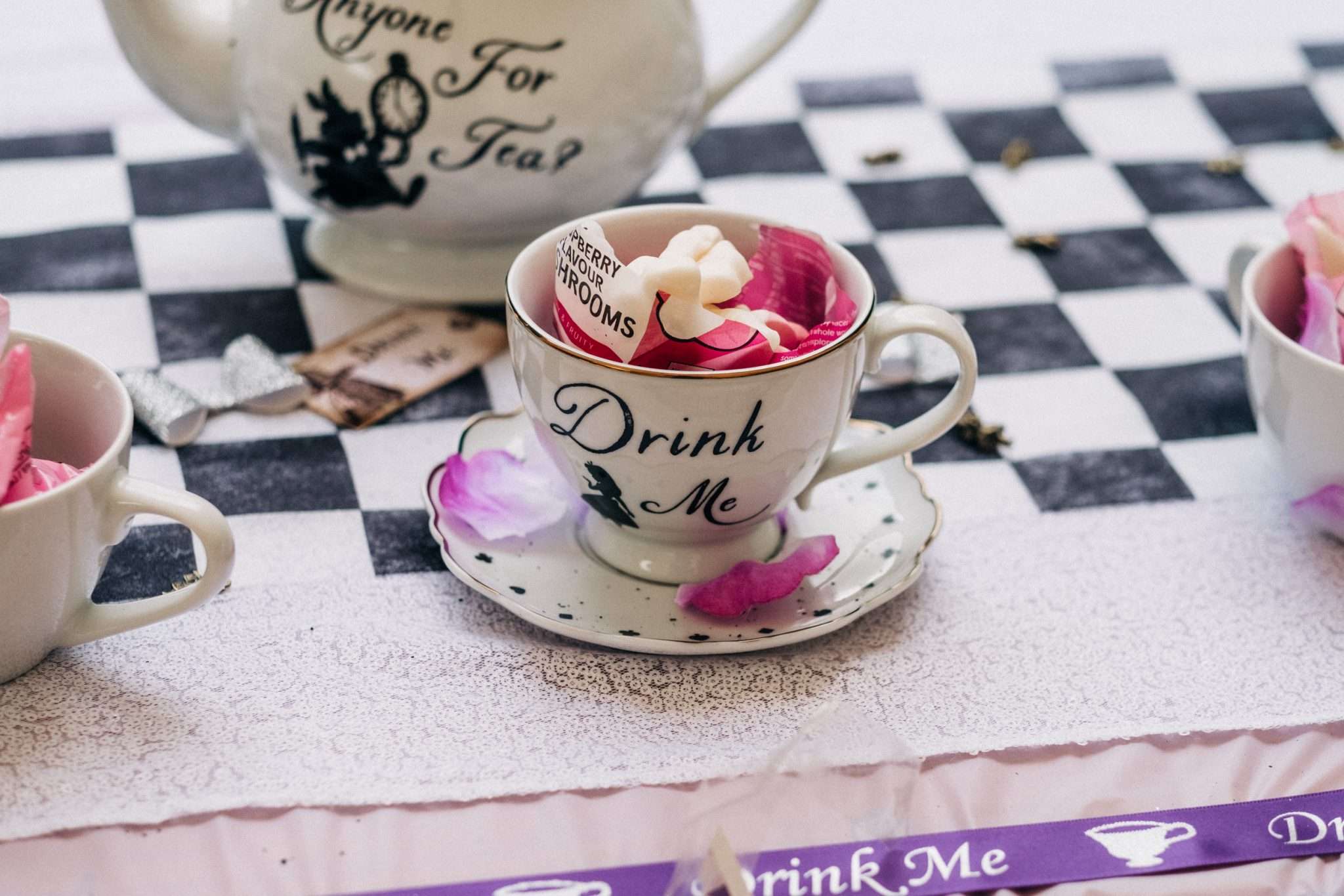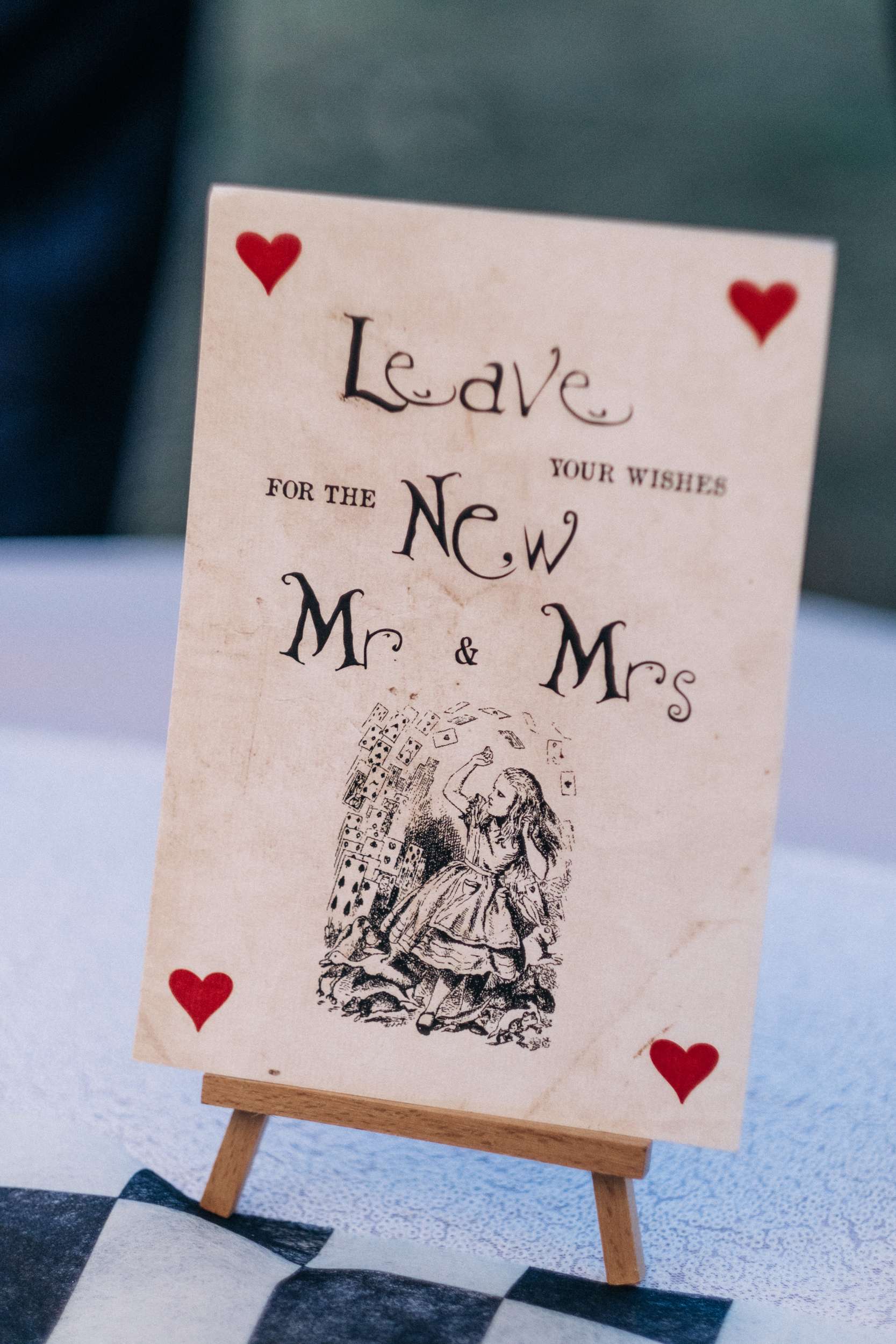 Sophie and Lewis shared the planning, with Sophie taking charge of the decorative theme and Lewis focusing on the structure of the day and invitations. They both helped to craft the 15 hour playlist! Sophie's showstopper table of treats with beautifully themed Alice in Wonderland accessories and homemade cupcakes made the ideal centrepiece, accompanied by a cake decorated by Lewis' mum.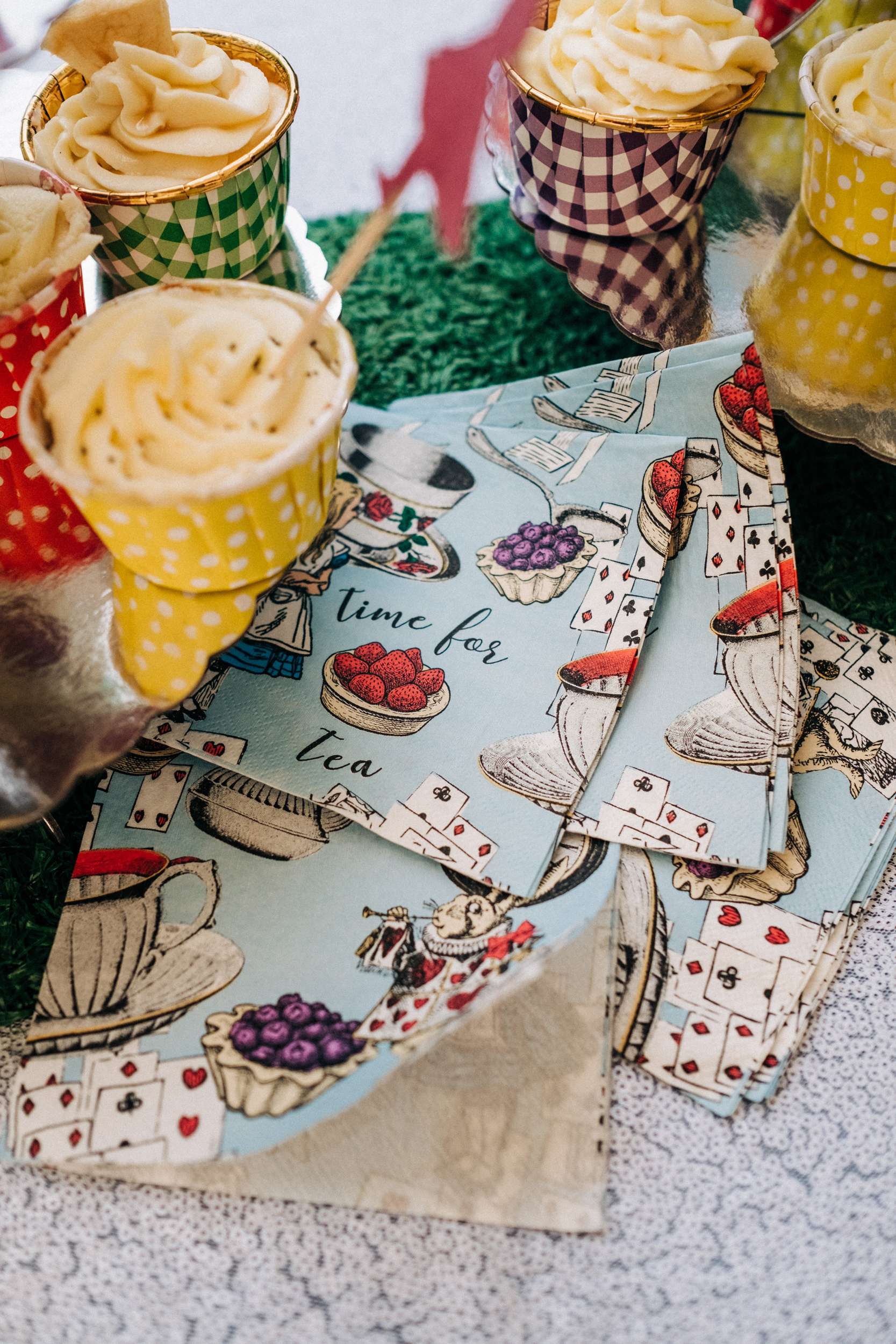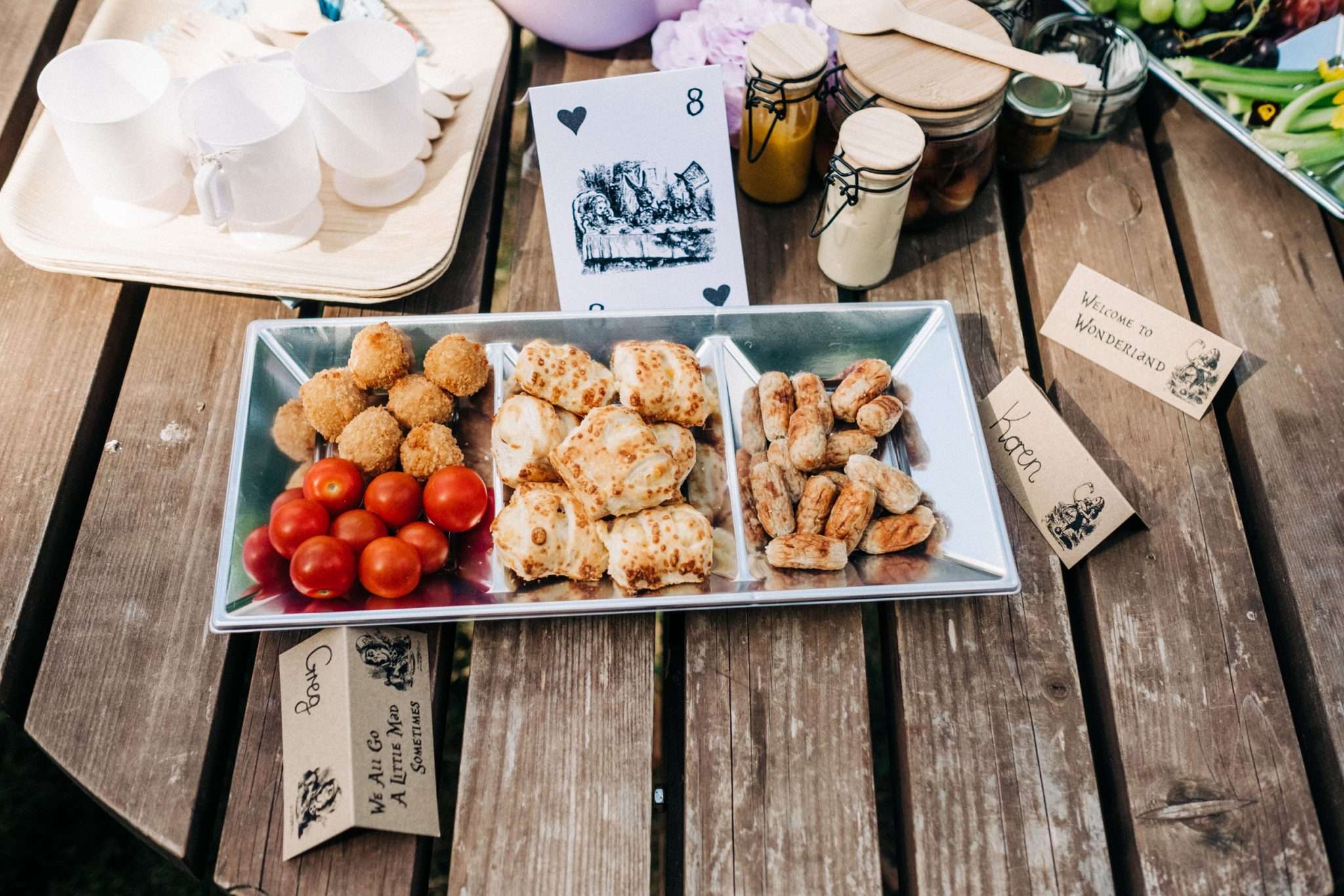 With such a unique theme, the couple had plenty of people doubting their choices, however Sophie advised future engaged couples, "Remember that you should make it clear what your expectations are and try to be communicative with people – especially if they are taking their spare time to help you craft together something from scratch. Also, if something is possible and you have your heart set on it, don't back down."