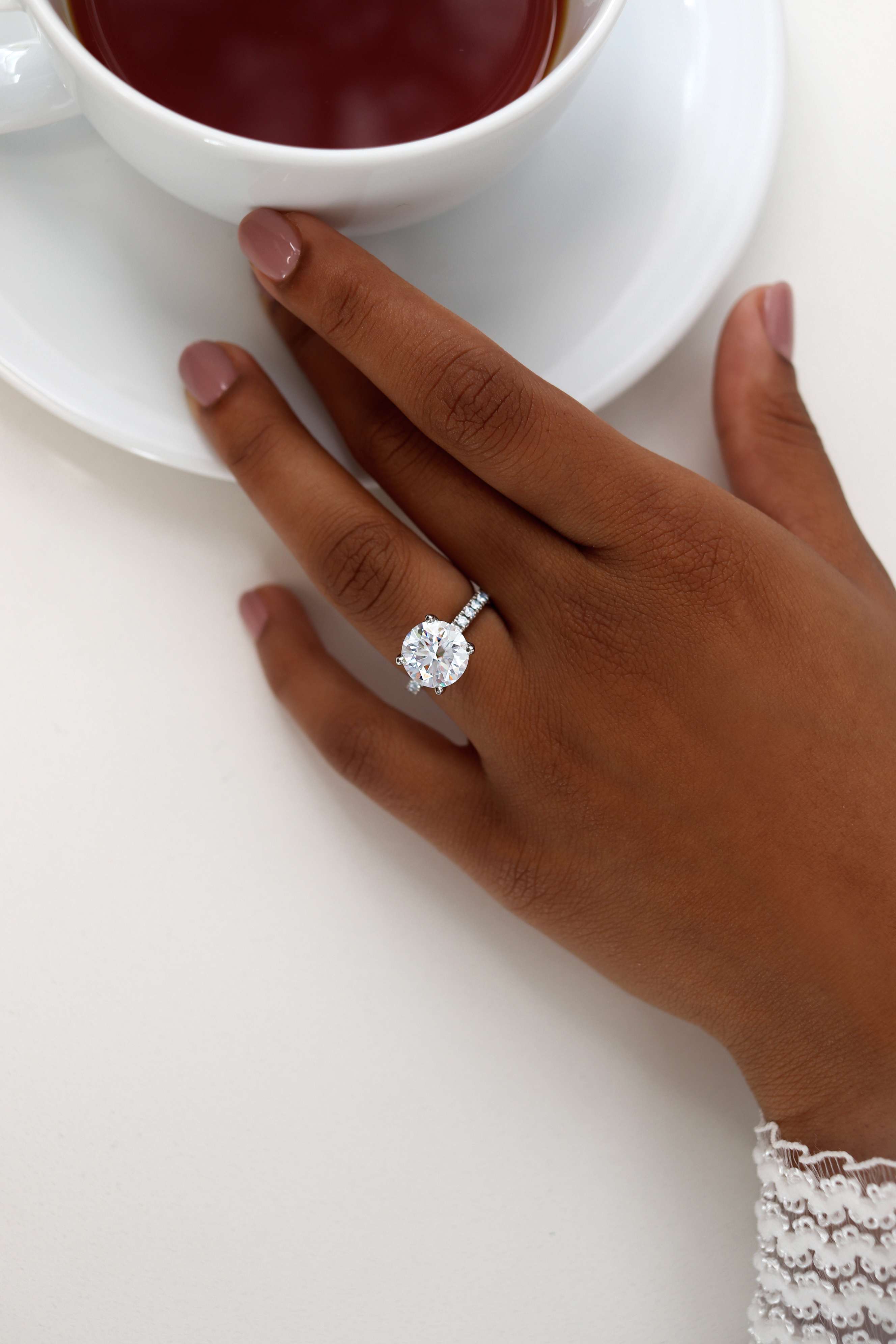 Lab created diamonds are a wonderful mined diamond alternative without the hefty price tag. Today we take a look into the world of Lily Arkwright and find out more about some of their beautiful moissanite and lab grown diamond engagement rings. Is it really possible to get the ring of your dreams up to 90% cheaper than high street retailers?
Compared To Mined Diamonds, Lab Diamonds are More Ethical and Cheaper
Lab created diamonds have the identical chemical, optical and physical properties to mined diamonds, making them the closest alternative. As the name suggests, lab diamonds are created in a laboratory through replicating the high temperatures and high-pressure conditions which occur in the Earth's crust where diamonds are formed. Lab grown diamonds are real diamonds! Displaying the identical sparkle and brilliance as mined diamonds, making it impossible to tell the difference between the two. Lab grown diamonds can be considered more desirable than natural diamonds. This is because they are free from flaws and impurities that are produced in the formation and mining of mined diamonds. They are also approximately 40% cheaper than mined diamonds with less environmental impacts.
Lily Arkwright sources and sets IGI and GIA certified lab diamonds, so you can be sure that your diamond has been expertly crafted.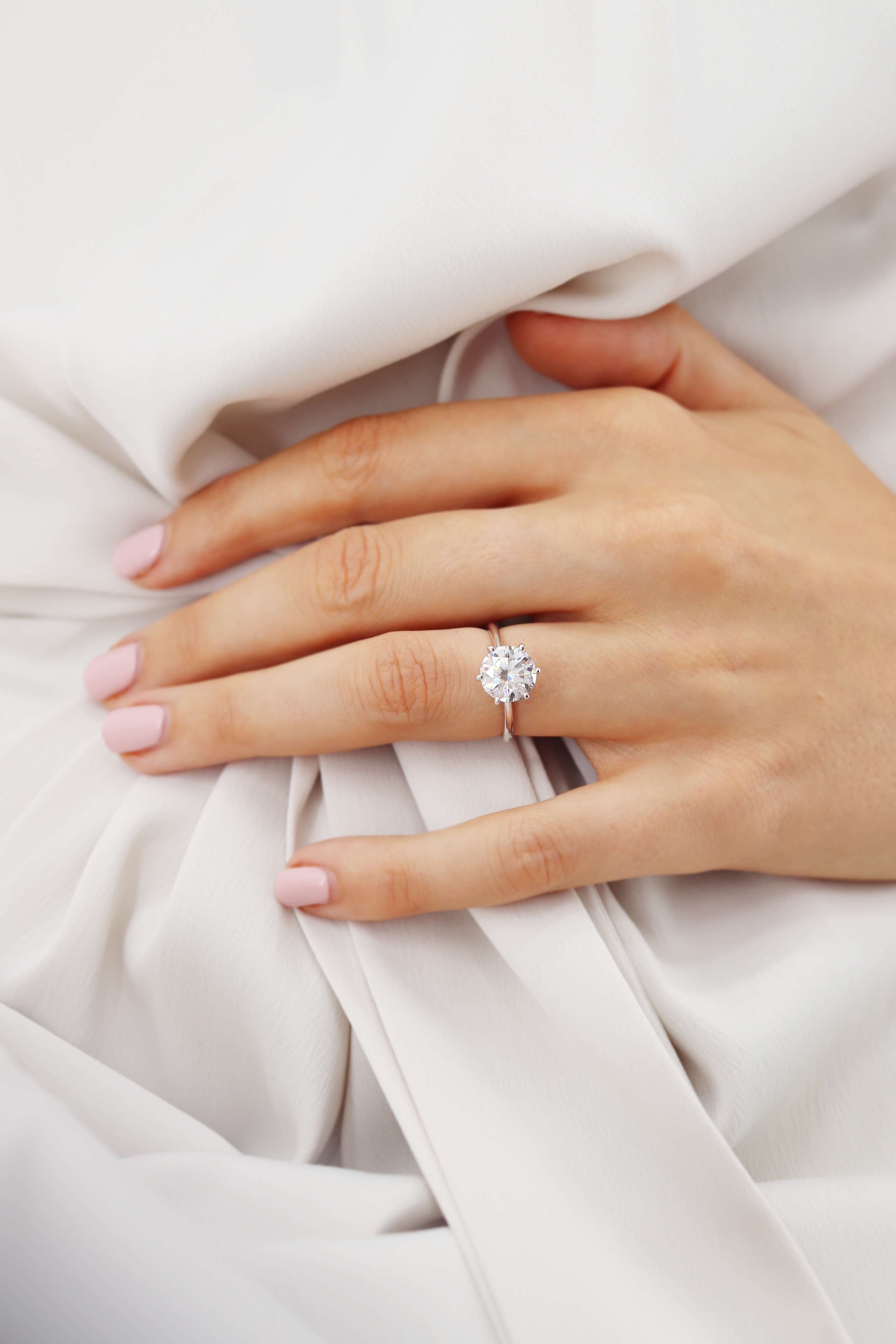 Moissanite is up to 90% Cheaper Than A Mined Diamond
A very unique gemstone with original optical properties, moissanite was originally discovered in a meteorite crater. Rare in nature (even rarer than diamonds), scientists developed an innovative growing process which takes place under strict controlled laboratory conditions, enabling the growth of moissanite for engagement rings and other fine jewellery.
Almost identical to diamonds, moissanite engagement rings are a beautiful diamond
alternative with a gorgeous visual appearance, perfect for couples desiring an
eco-friendly option offering unprecedented shimmer and sparkle. Moissanite is second of all gemstones in terms of hardness, scoring only slightly lower than a diamond at 9.25-9.5 on the Mohs scale, making it incredibly durable and a brilliant choice for engagement rings.
Lily Arkwright offers the worlds premium moissanite by Charles & Colvard Forever One. The original moissanite creator, Charles & Colvard Forever One's clarity is rated "internally flawless" to "very slightly included" range. Using a unique patented process to grow each moissanite, Charles & Colvard possesses impeccable colour – ten times whiter than standard moissanite – unrivalled cut and clarity, creating a gemstone with exceptional beauty and sparkle.
Every Charles & Colvard moissanite engagement ring comes with a limited lifetime warranty that guarantees your stone will maintain its fire and brilliance for your lifetime, guaranteeing your gemstone remains as beautiful as the day you bought it.
Looking for Something with a Pop of Colour?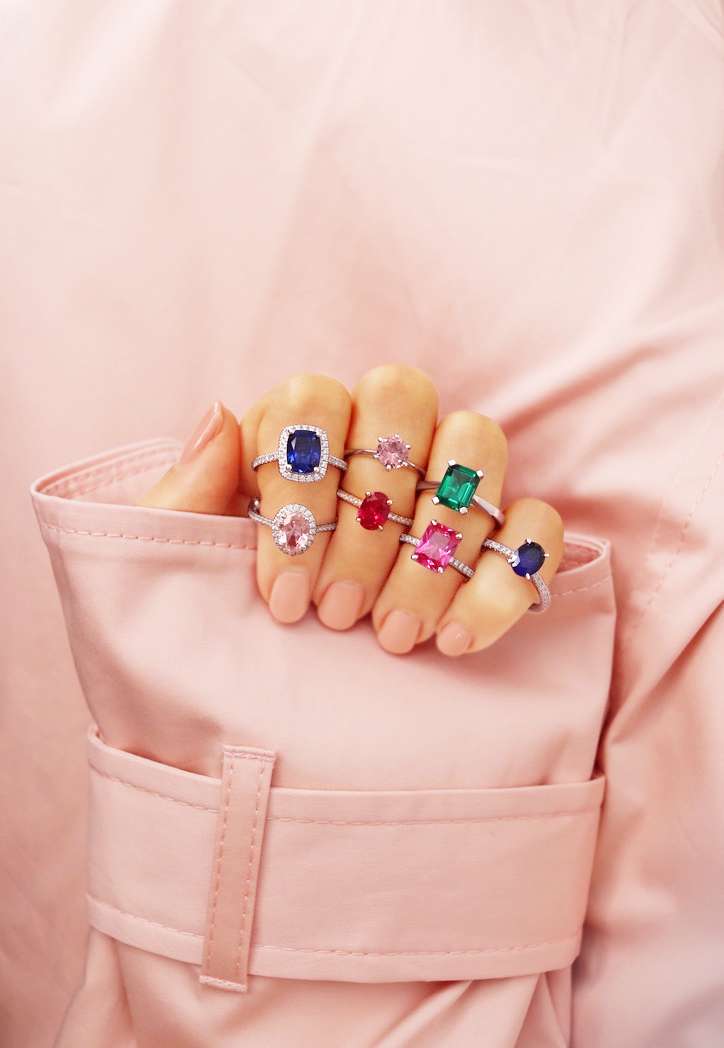 It's not just clear stones which can be lab grown; semi-precious gemstones like rubies, emeralds and sapphires can be reproduced too. Lily Arkwright's lab grown coloured engagement ring collection has grown to include stunning padparadscha, alexandrites; and yellow, pink, champagne and aquamarine sapphire. All of the gemstones featured in new collections are grown by the world's leading lab diamond coloured gemstone producer, Chatham, based in the US.
In recent years, the popularity of coloured gemstone engagement rings has increased
dramatically. Lily Arkwright are proud to be able to produce vividly colourful, ethical and
sustainable pieces without any of the harmful effects of mining on the environment.
Our Favourite Lily Arkwright Engagement Rings
Petite Lab Diamond Engagement Rings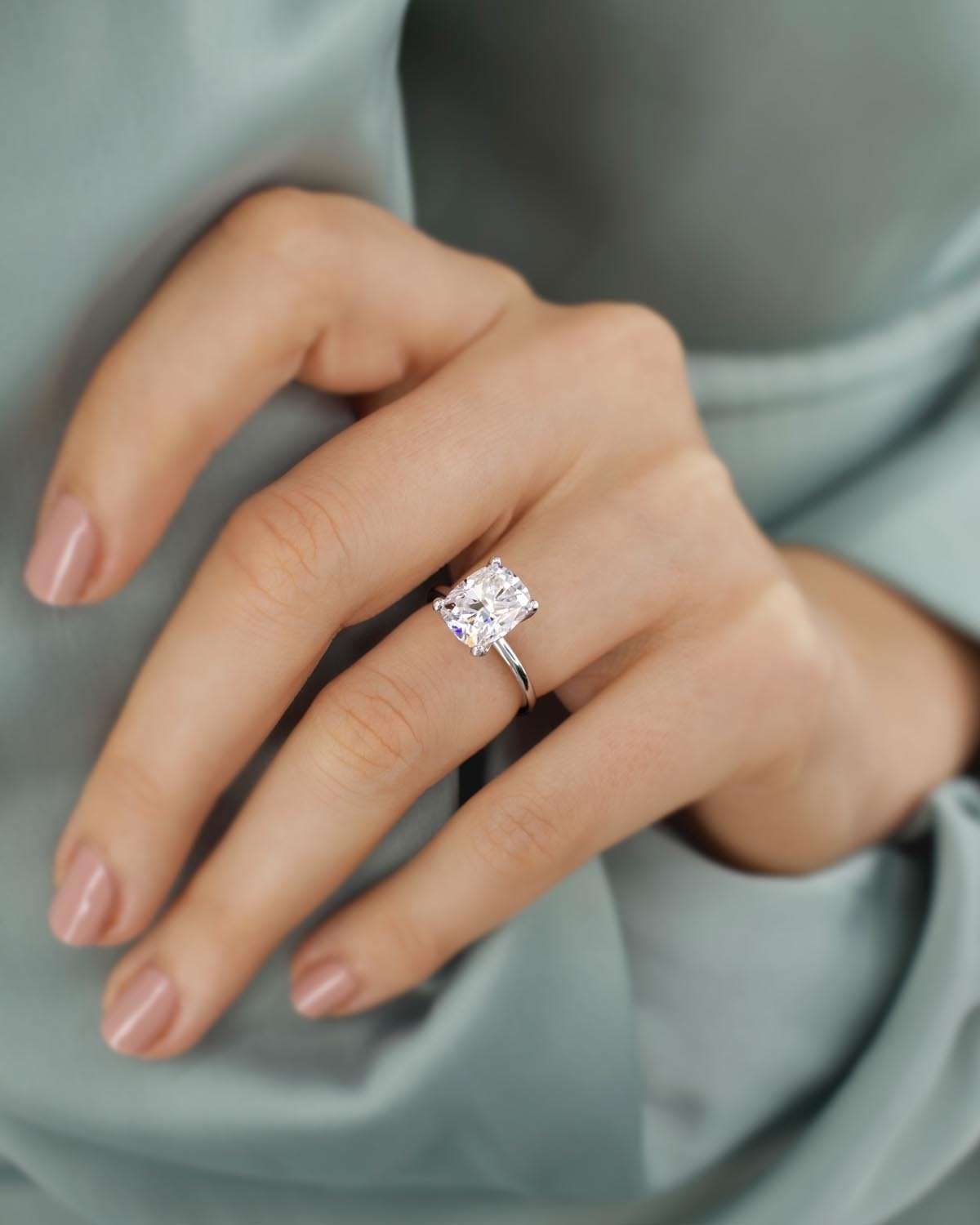 If elegant, fresh and minimalist designs are your thing then the Lily Arkwright Petite lab
diamond range is perfect for you. Petite rings all feature a narrow band that is available in a range of precious metals such as 18k White Gold, 18k Yellow Gold, 18k Rose Gold and 950 Platinum that come in micro plain, pavé and channel settings.
The gorgeous narrow band really allows your chosen centre stone to take the spotlight and always create a fresh and clean look. All petite engagement rings can be paired with either a Charles and Colvard Forever One or Lily Arkwright moissanite centre stone, a lab grown diamond, or a coloured gemstone in a wide variety of stunning cuts and sizes.
Moissanite Hidden Halo Engagement Ring Collection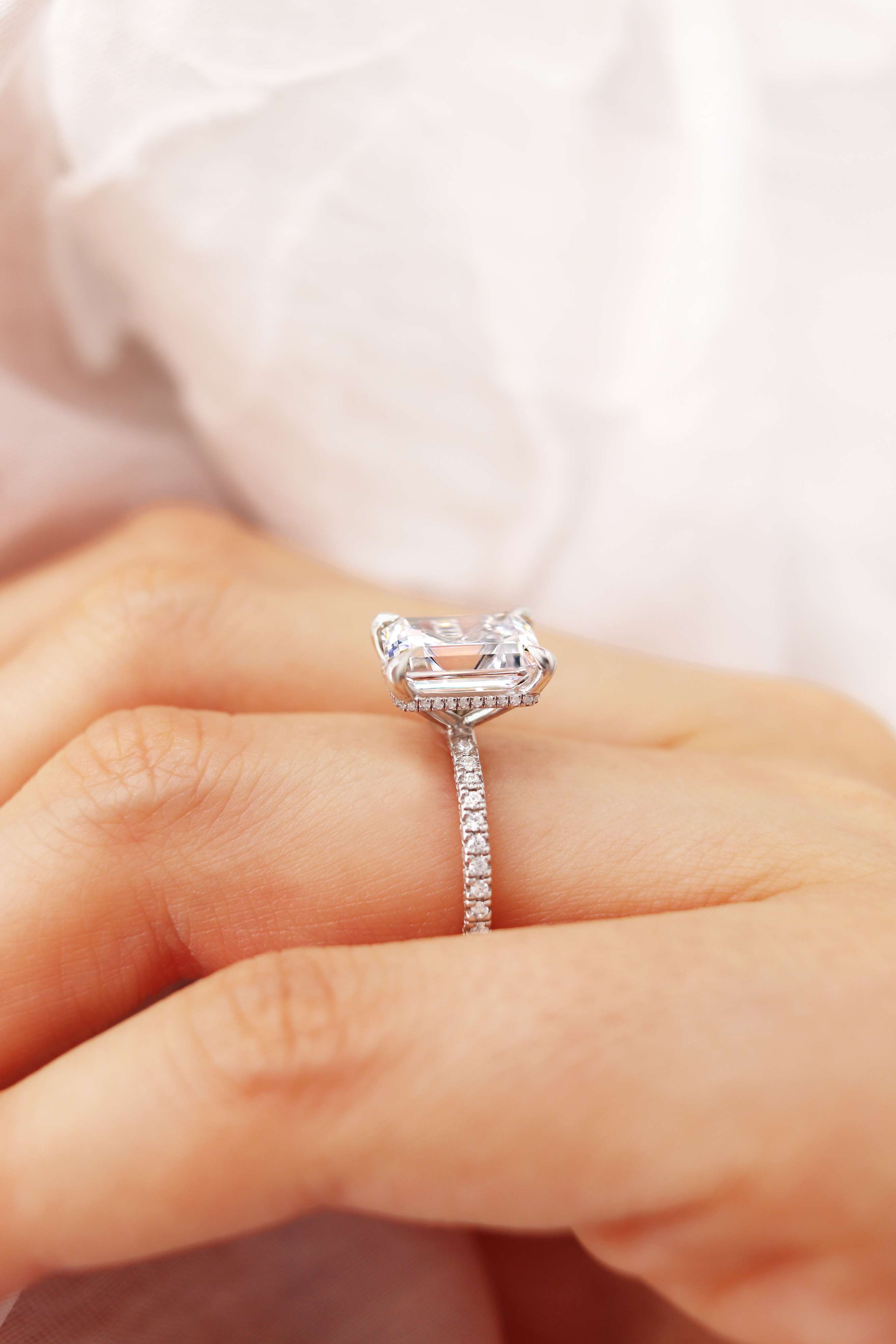 If you are on the hunt for the perfect engagement ring then check out the new hidden halo collection. Choose between the Paris, Lively and Coco engagement rings, featuring a glittering secret hidden halo that can only be seen from the side profile, adding extra sparkle to your choice of plain solitaire, pavé shoulder set setting and triple pavé.
Available in a huge variety of both cuts and metals, this is a versatile engagement ring.
Choose between either Charles & Colvard's Forever One Range or with Lily Arkwright's own branded moissanite.
The Classic Lab Diamond Solitaire Engagement Ring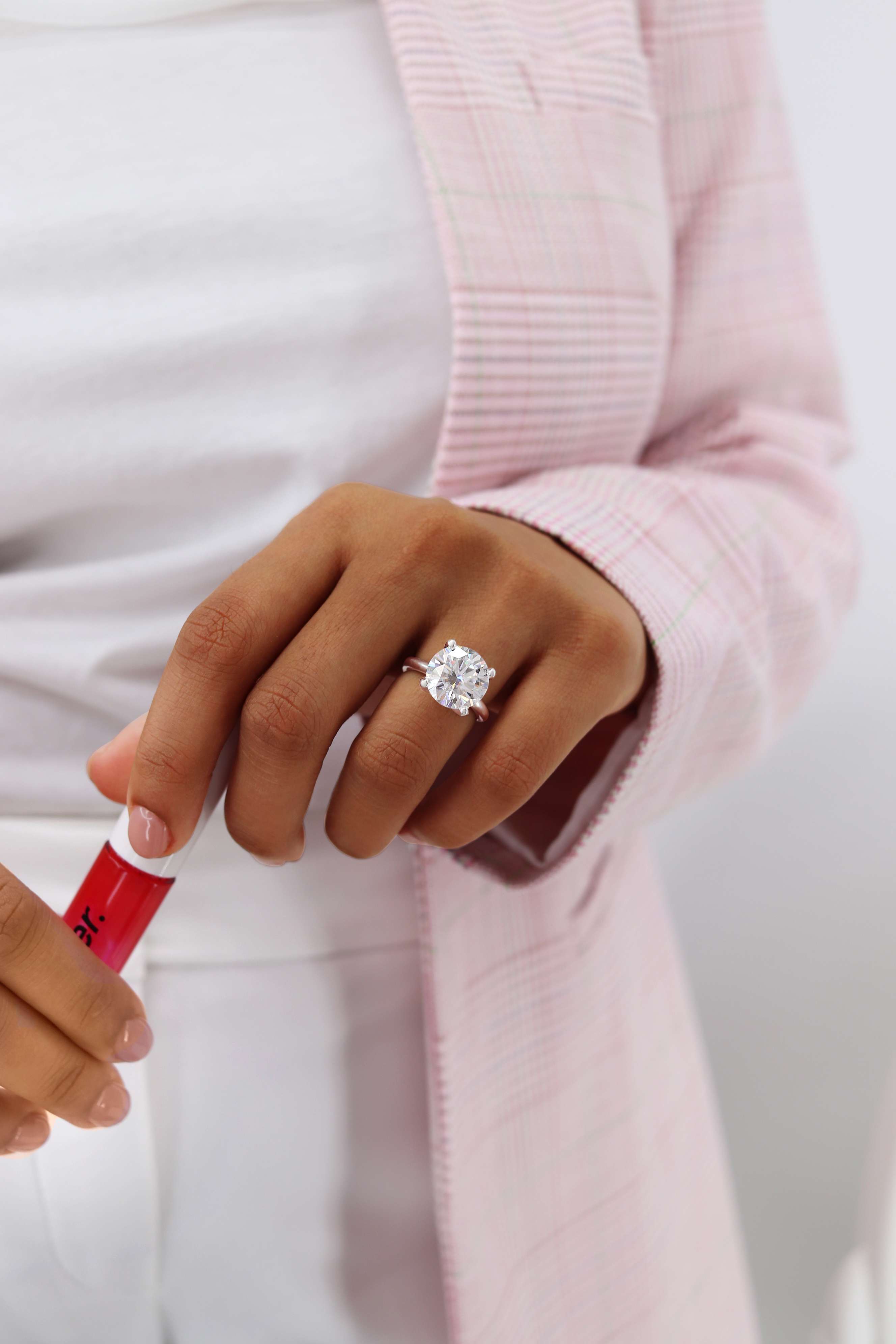 If you love to keep things classic, a simple solitaire could be the stone for you is. Lily
Arkwright's range of classic engagement rings are hard to beat. To see all of your favourite ring styles in person, you can simply book an in-person showroom or virtual WhatsApp consultation.
Why Choose an Engagement Ring from Lily Arkwright?
Lily Arkwright pride themselves on the ability to produce beautiful ethical and sustainable fine jewellery, including moissanite engagement rings, at an amazing price point, supported by unrivalled customer service. They offer the highest quality moissanite, lab grown diamonds and gemstones in the UK and Europe.
Lily Arkwright are proud Assay Assured jewellery retailers and committed members of the National Association of Jewellers based on honesty, integrity and professionalism. All precious metal jewellery offered by Assay Assured jewellery retailers carries the legally-required independent hallmark verifying the precious metal content, a protection over and above legal requirements.
Additionally, and perhaps most importantly, Lily Arkwright's commitment to excellent
customer service is evident in their glowing customer reviews on Trust Pilot. And did we mention they also offer Klarna buy now, pay later from 0% interest rates?!