Whether you think you want to wear one or not, I think every bride should try on at least one wedding veil. Like nothing else, veils have the power to completely transform your entire wedding day look and whatever kind of dress you've picked, you can totally rock one.
However there are so many different types of veils available that it can be a bit confusing and rather daunting when you start looking for one. Luckily, today we've partnered with Britten, experts in the field, who are here to demystify everything veil-related for us!
What are the different types of veil?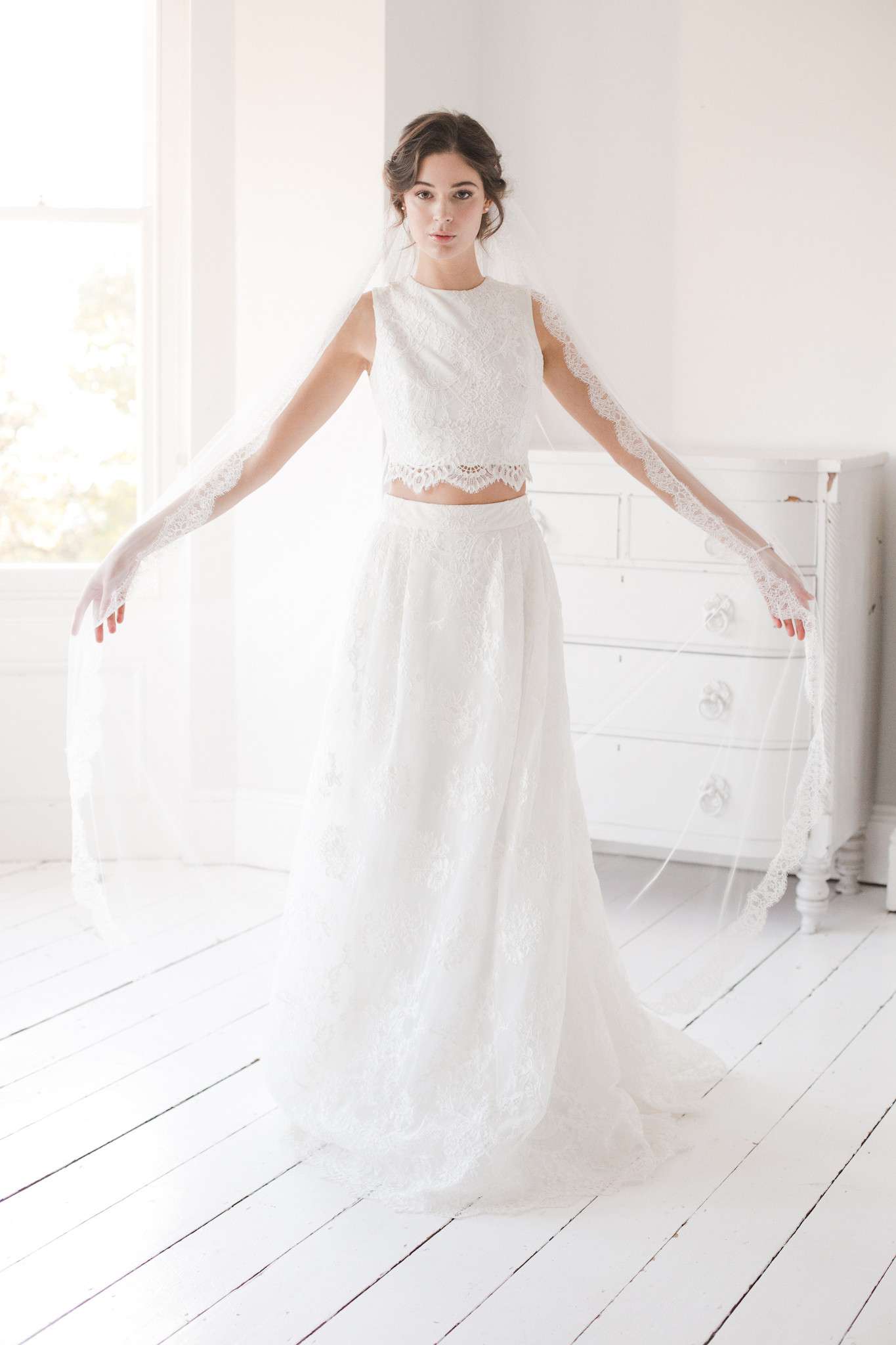 These are what most people imagine when asked to picture a veil. Single tier means that the veil flows from it's attachment point (normally a comb) down the back. There is no blusher section of veil in front of the face.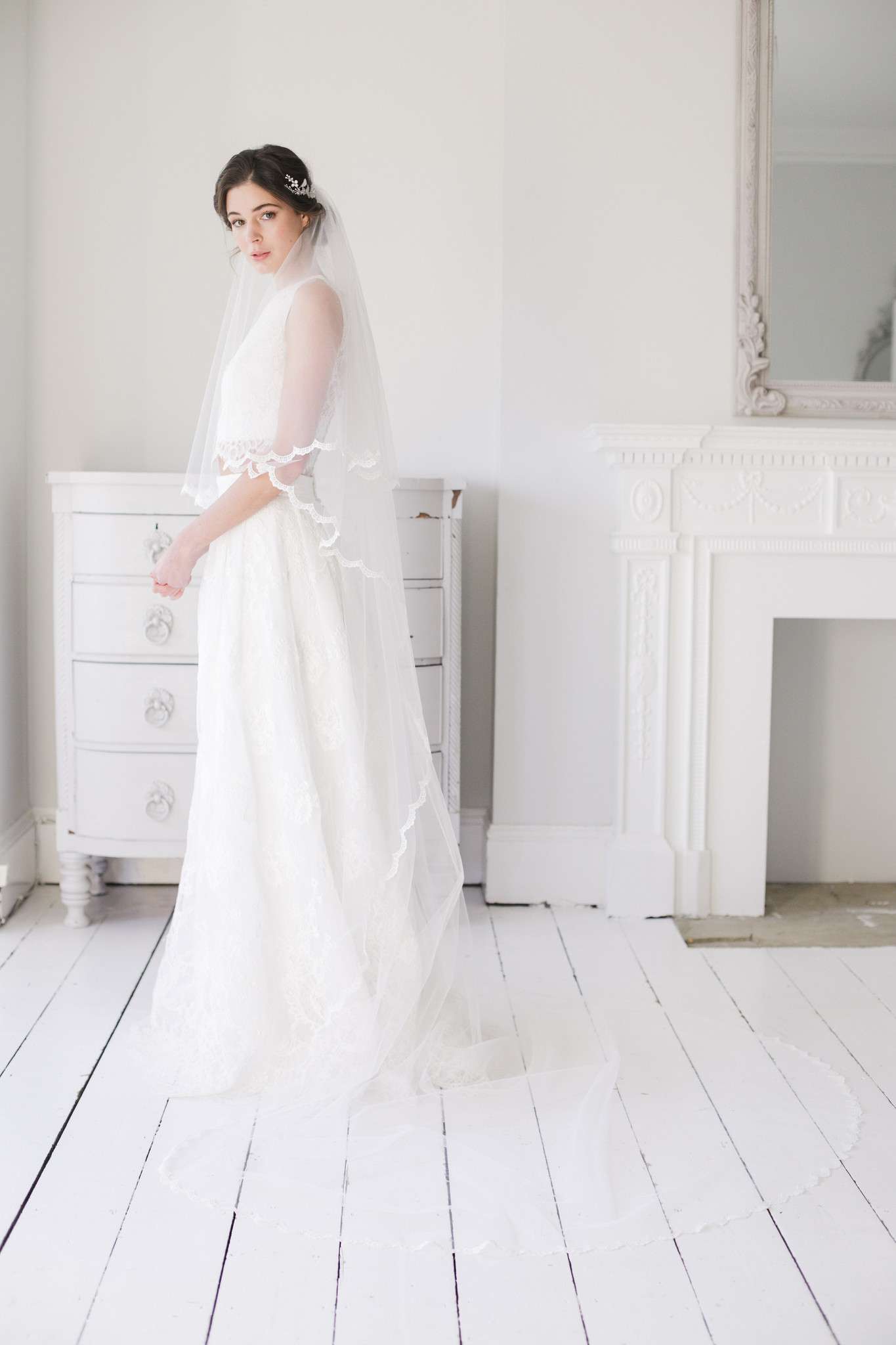 This means that the veil includes a 'blusher' which can be pulled forward over the face. This is raised during the ceremony for the first kiss or at the exact moment you are married and is then swept back over the head to form a second layer at the back of the veil. Britten make their blushers 72cm long but they can be made to any length if requested.
This is a two tier veil with no gather at the top. They are often held in place with a headband or hair pins, rather than a comb.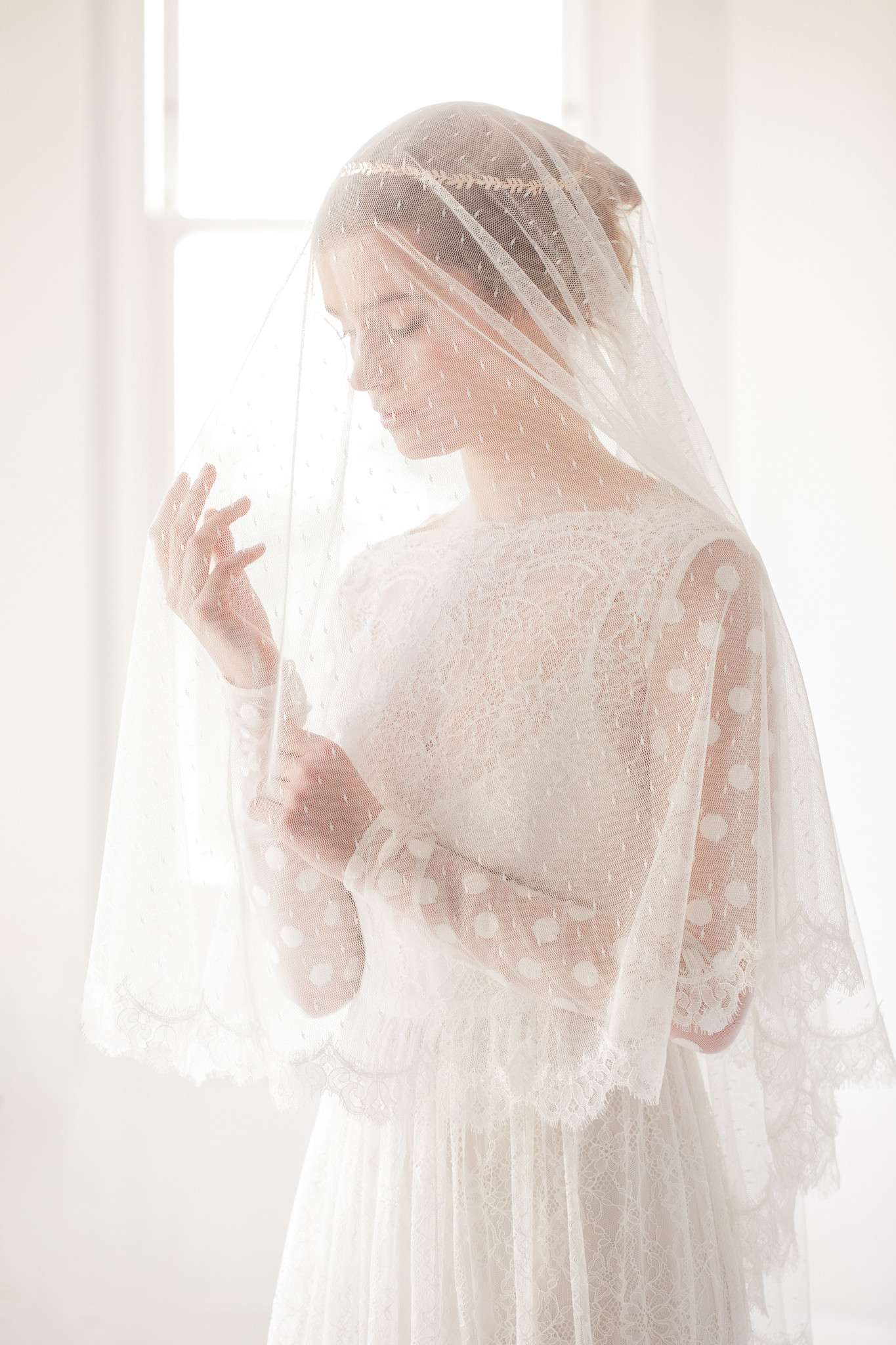 This is a single tier veil with no gather at the top. Britten sew a comb to the top of each of theirs so they can be worn at the top of the head. They are also sometimes described as Spanish veils.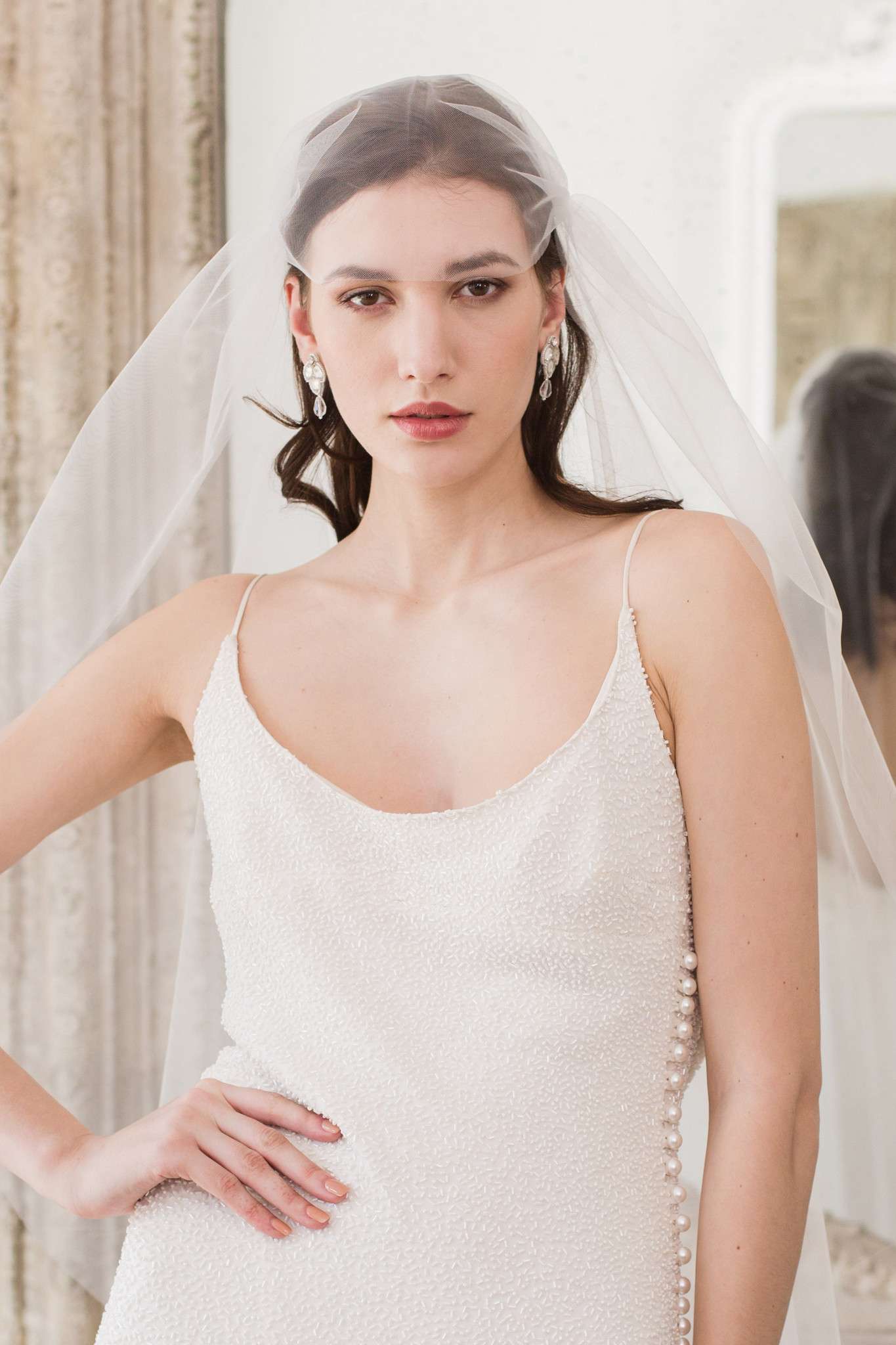 These are where a 'cap' of material holds the veil in place. This is a traditional vintage look, dating from 16th century England. It is believed the design dates to actors performing Juliet in the original performances of Shakespeare's 'Romeo & Juliet'.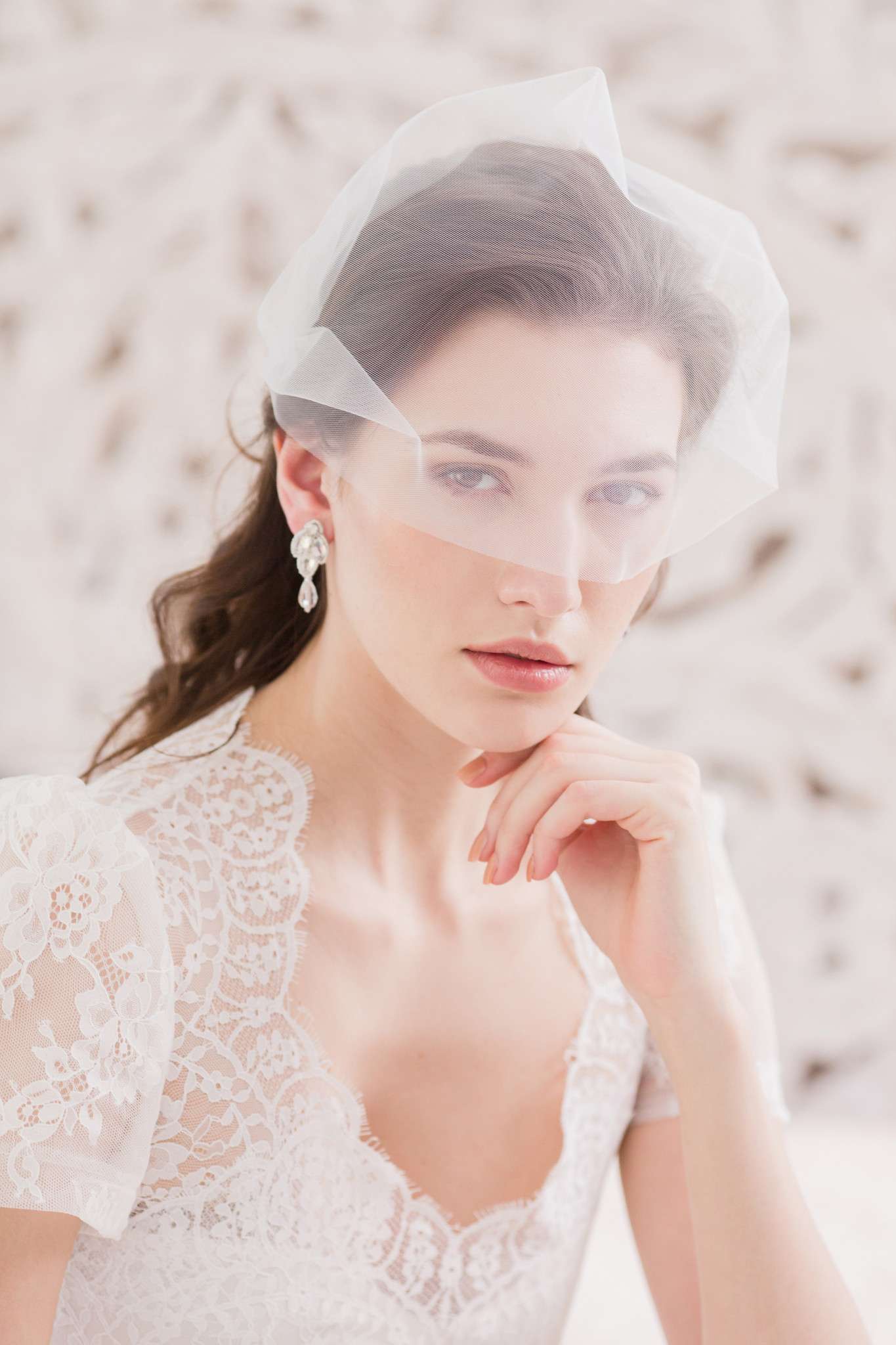 These have a more vintage feel, are attached either side of the head and sit right across the face.
What are the different lengths of veil?
As well as all these different styles, there are lots of options when it comes to choosing the length of your veil too!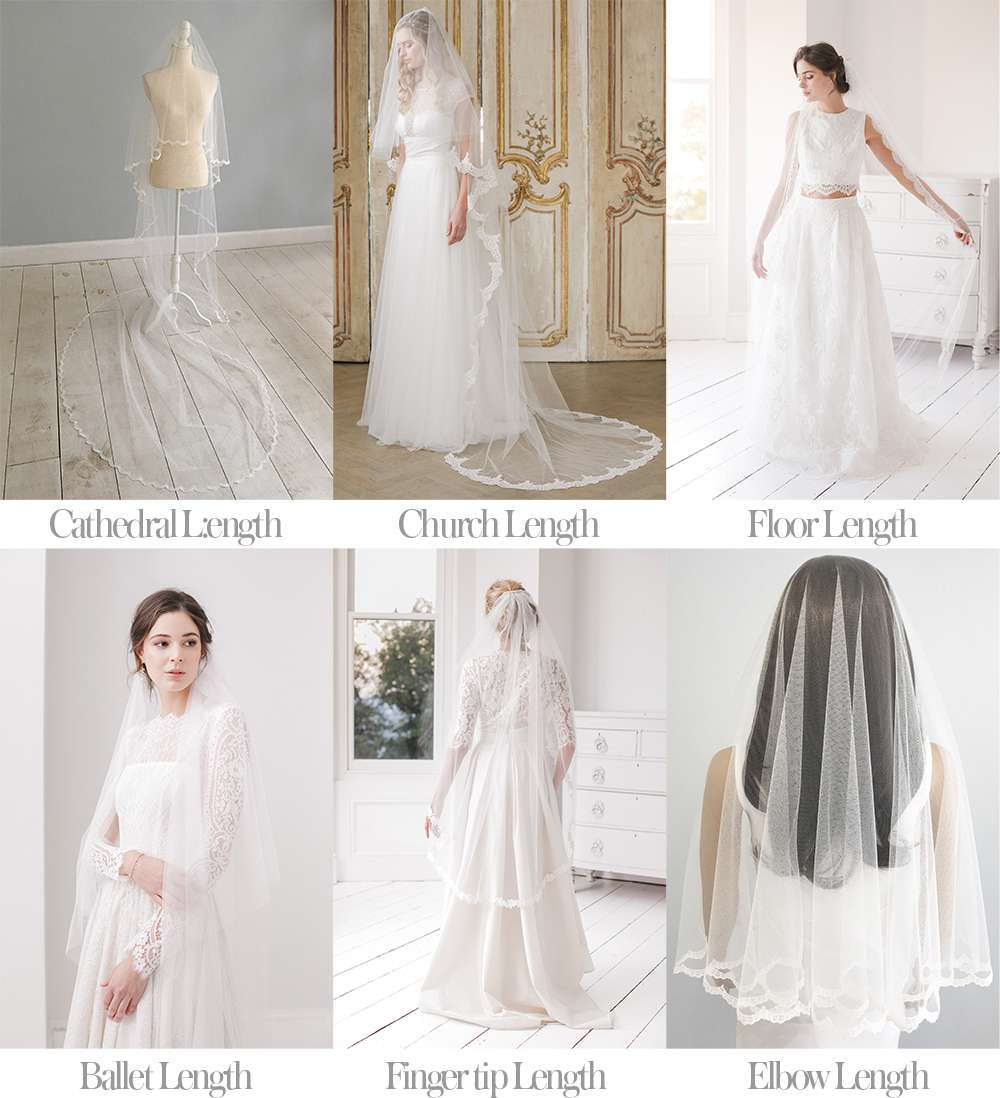 Cathedral length veils are 300cm long and trail beautifully, beyond the end of your dress. The trim option you choose will determine how the tulle moves as you walk.
Church length veils (sometimes called 'chapel') are 250cm long and trail like the cathedral version but are just a little shorter.
Floor length wedding veils are 200cm long. They should touch the floor with a small trailing edge that will vary according to your height. Without a long trail, floor length veils move more freely in any breezes and as you walk around.
Ballet length veils are 150cm long, they fall to about mid calf length and are great if you're having a tea length dress.
Fingertip veils should fall somewhere around your fingertips (as the name implies!) when your arms are at your sides. They are 122cm long there will be some natural variation depending on your height.
Elbow length veils are 72cm and generally fall around the elbows.
What are the colour options for veils?
At Britten, its pretty simple, they offer three main colours: Ivory, off white and white. Their ivory is a warm colour with a slight creaminess, off-white is a very pale ivory/ soft white and white is an optic white. They also stock champagne and blush pink in their traditional tulle veils. However there are no rules! The tulle colour does not need to match your dress exactly they just need to tone in well together. If you are unsure about which colour is right for you then Britten offer colour swatches which you can order via their website.
What are the edging options for veils?
Britten have various edging options. You can even buy their lace sample packs to compare the lace to your wedding dress. Don't worry, they don't need to match exactly either, you just want them to compliment each other.
A lace edge runs all the way around, right up to the comb. The delicate lace frames the face and gives the most dramatic effect possible. A lot of the lace that Britten uses comes from an English firm, established in 1858, and still owned by the same family. It's now run by the 8th generation of the family and it's safe to say they make some of the best lace in the world. Not only do they provide the finest quality ecclesiastical lace to the church but they also supplied the lace for the dress worn by the Duchess of Cambridge when she married to Prince William!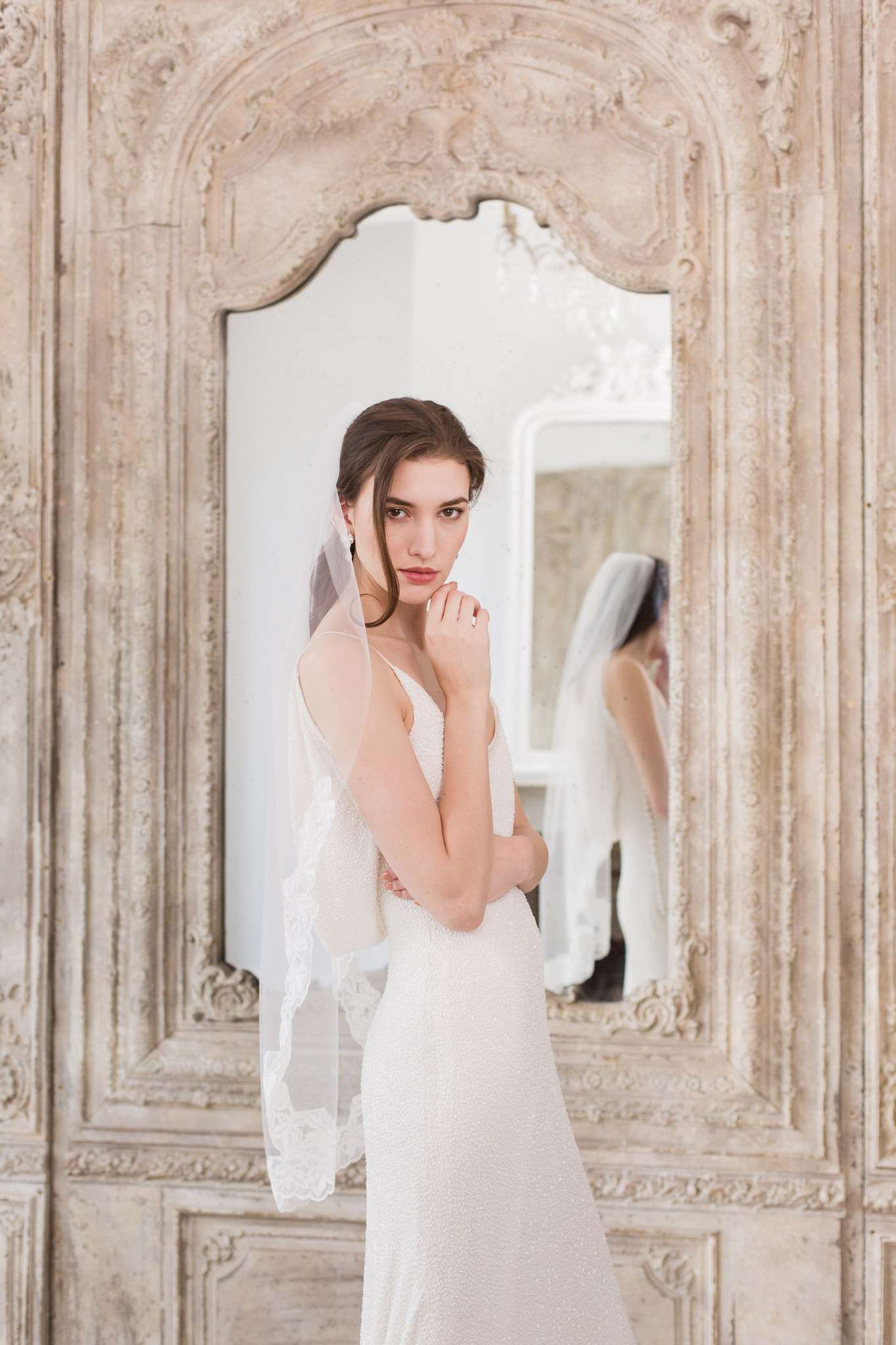 This is where the lace edge to the veil finishes around shoulder height rather than going all the way around.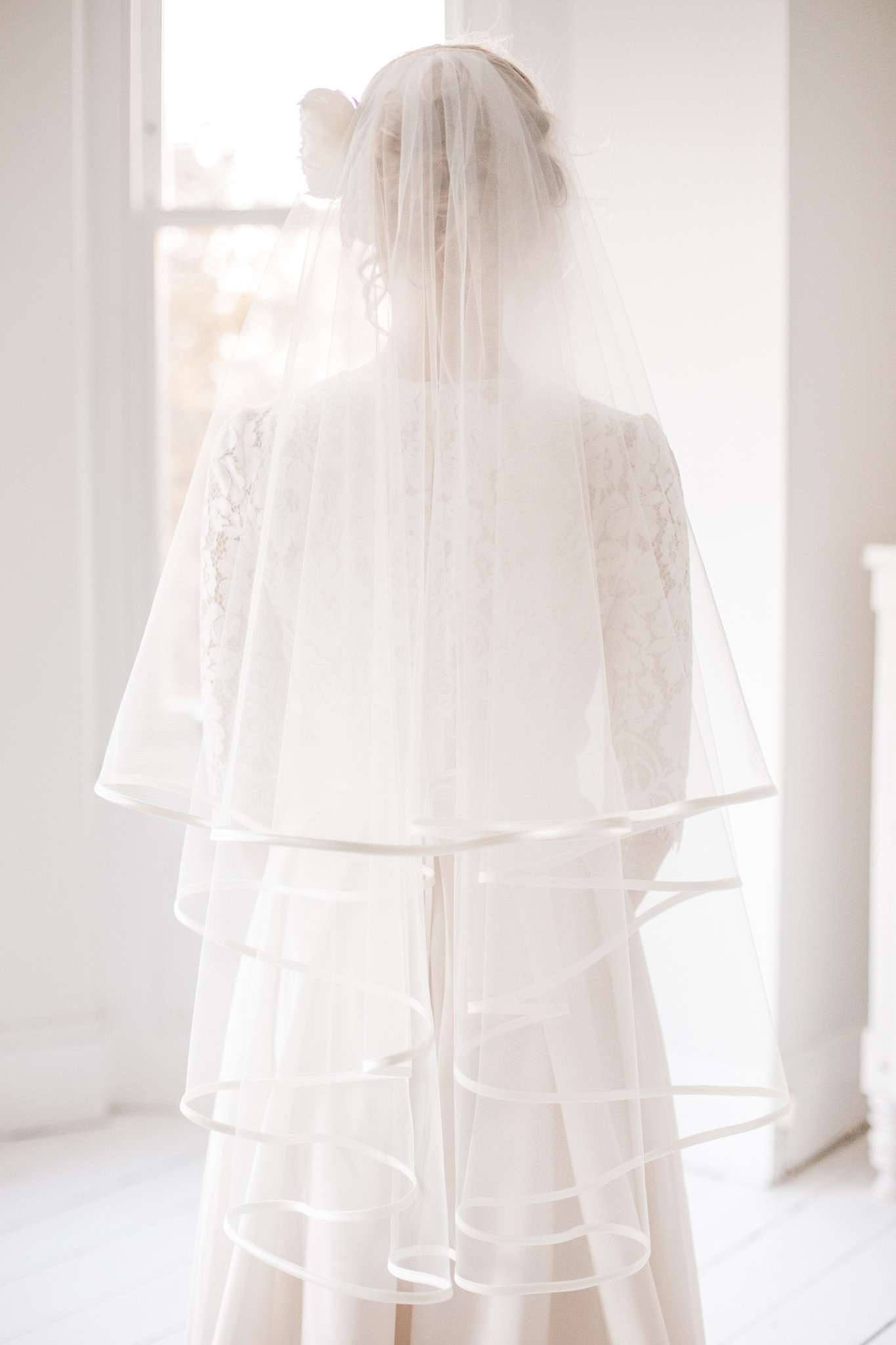 A satin edge runs all the way around the veil giving it more structure.
A very fine line of stitching runs around the whole veil. Britten can do this is any colour you like!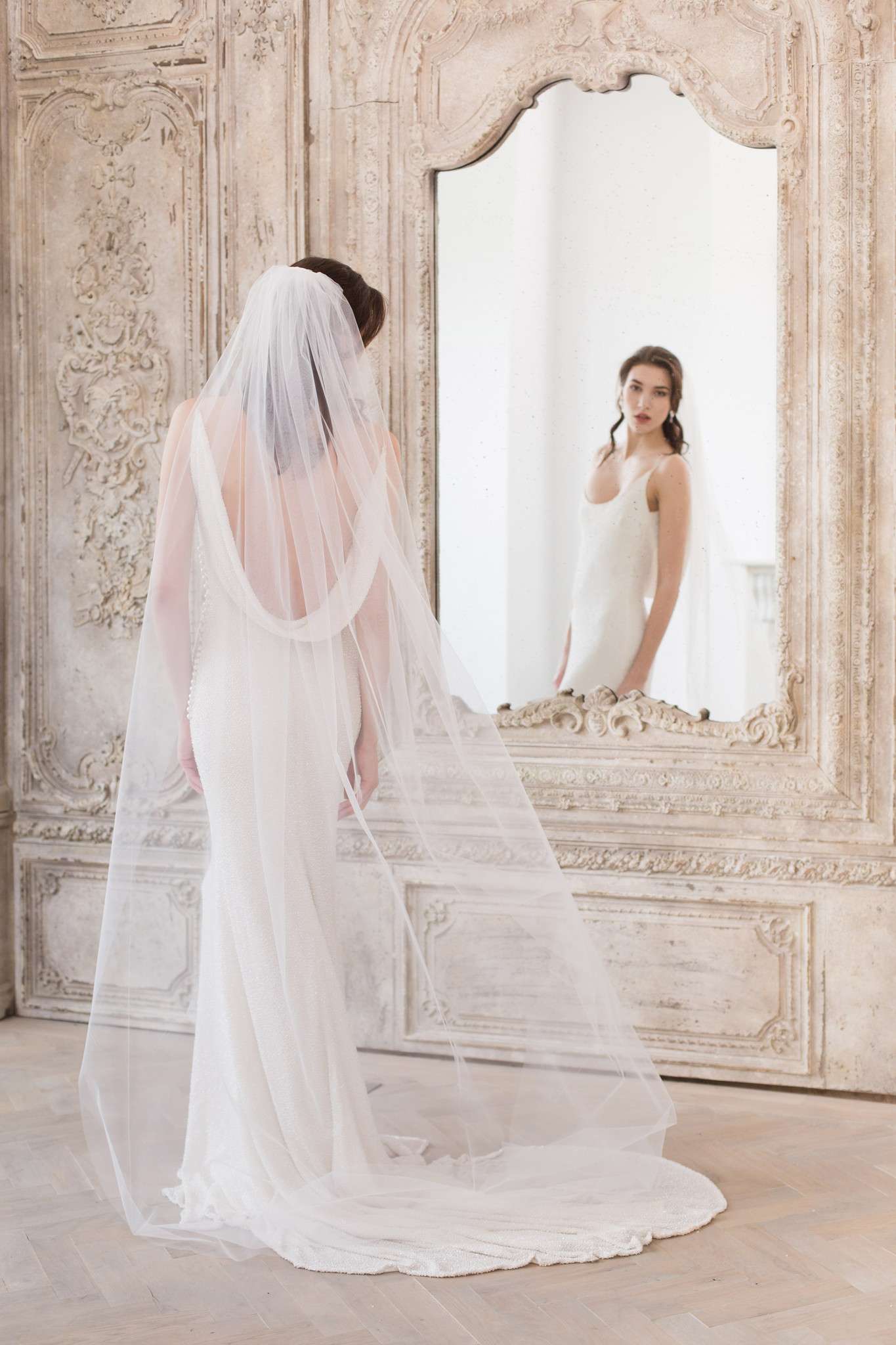 A cut edged veil is very much lighter and more delicate than lace edged versions. For this reason it allows other accessories more attention and moves much more freely in light breezes; it's a beautiful effect.
Bespoke edge
And if all of these options still aren't enough for you, Britten can edge their veils in a variety of other options such as lace motifs.
Types of tulle
Britten's traditional tulle has a little body and volume and gives you that very traditional veil look whereas their silk style tulle is a little heavier and so it drapes and falls like silk without the hefty price tag (its also great with slim fitting dresses). Britten also currently have limited edition polka dot tulle which of course I love!
Phew! Well if you weren't well versed in all the different veil options, you certainly are now! Are you planning to wear a veil for your big day? What style have you gone for?