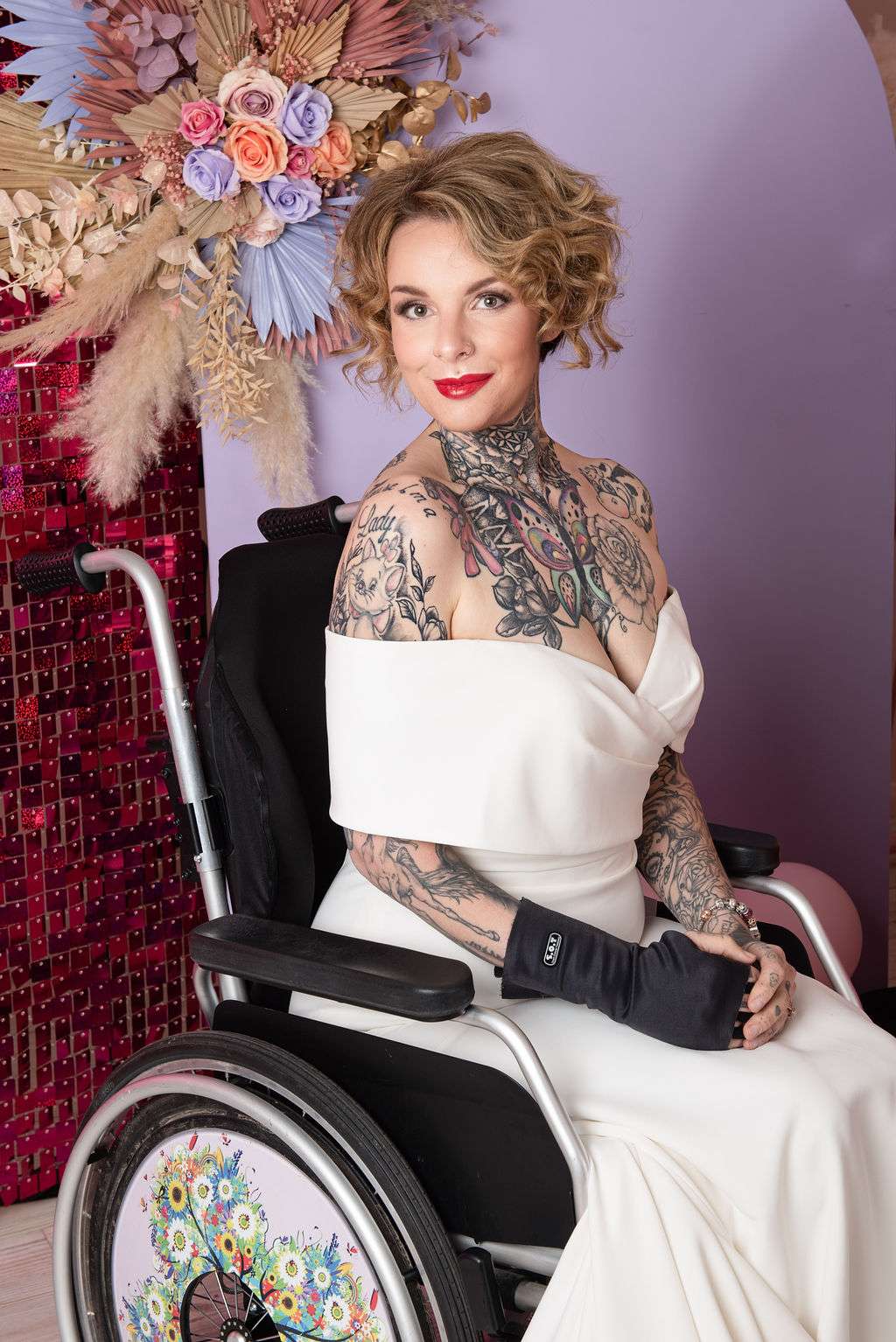 Diversity and inclusion are popular buzzwords right now in the wedding industry, but are diverse communities actually being represented enough? Black business owner Nicola Wilshire of Velvet Queen, an independent bridal shop based in Portsmouth is here to share some advice and an interview with one of her recent brides, Steph (pictured).
I know how it feels to not feel represented and I understand the importance it has on communities when they are seen, accepted and celebrated. With Velvet Queen my mission is to promote diversity and inclusion for all minority communities in the wedding industry.
After seeing how slowly changes happen in the wedding industry, we decided that it was time for us to be part of the change so we created a campaign for real people to come and model for us, including real bride, Steph, who is a wheelchair user.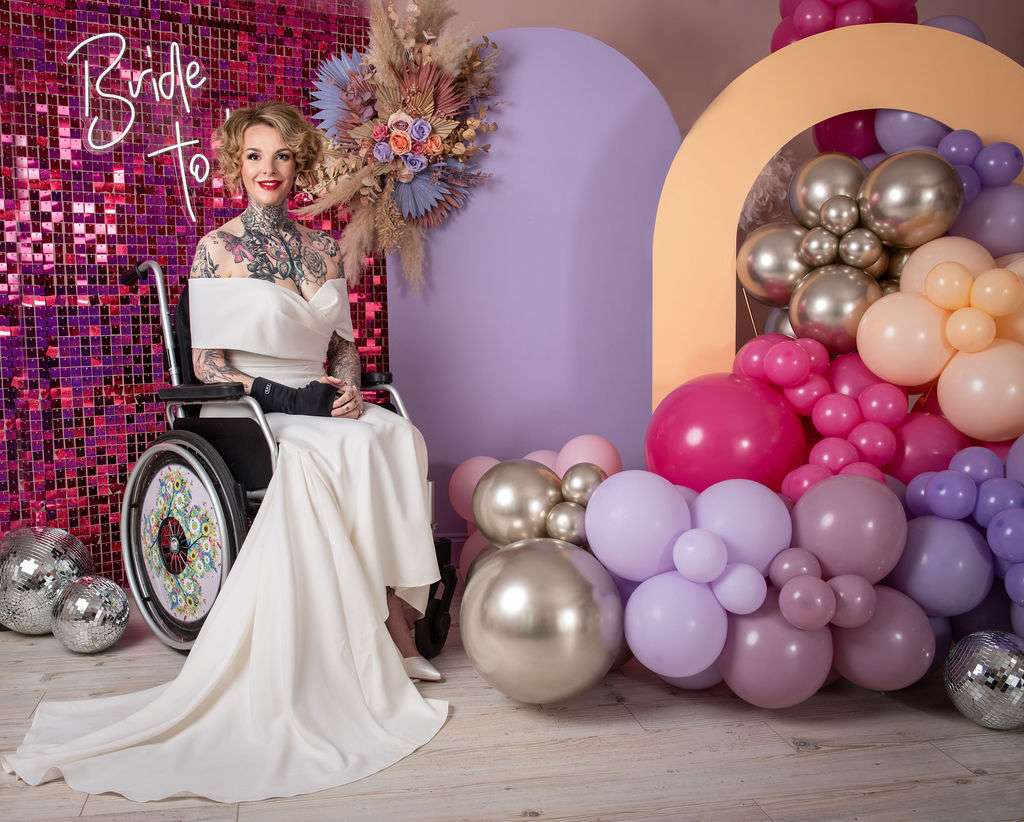 Any shopping as a wheelchair user is more challenging; a lack of changing room space and not enough suitable handrails are common issues. When it comes to wedding dress shopping as a disabled bride, in addition to the practical challenges of bigger and longer dresses and closures on the back, there are also heightened emotions to deal with all whilst juggling the lack of dignity of getting in and out of bridalwear in front of a stranger.
Contact Shops in Advance
If you are a wedding dress shop which strives to be inclusive, your shop must be fully accessible to wheelchair users!
Steph said, "I contacted many bridal shops first to check if they were wheelchair accessible. One shop that I had contacted had been assured it was, but when I arrived there were two rather large steps to gain access that the staff member had overlooked. I also found that some shops had difficulty knowing how to approach my shopping experience and lacked consideration of what styles would work with my chair."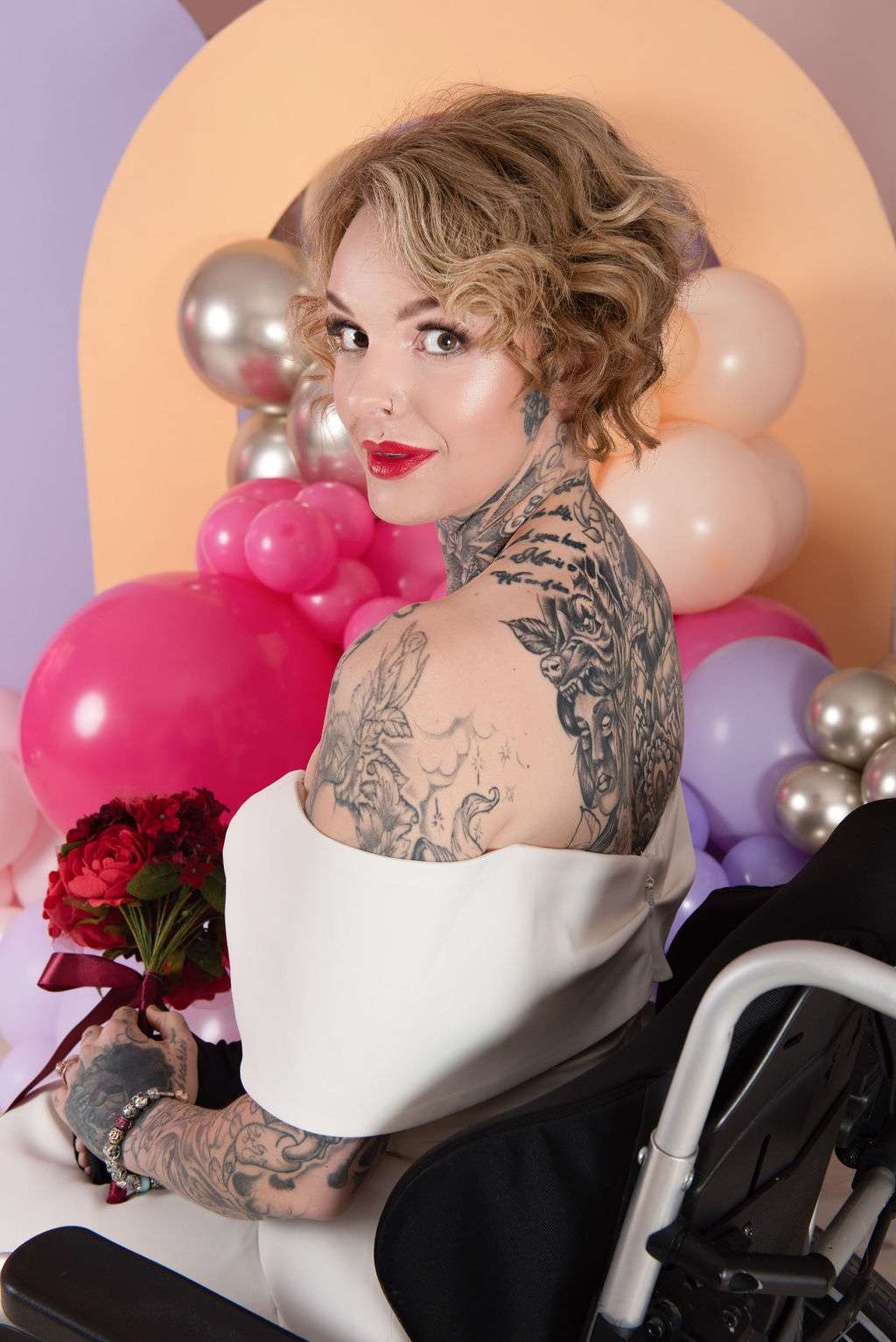 Consider Your Chair With Your Dress Choice
Steph also found that dresses which looked stunning on when stood in, didn't look as good from a sitting position. The same can be said for comfort.
"I had to take into consideration where the waistline sat; if it was too low it was potentially too tight around the tummy and hip area, and if the dress rides up at the waist you had issues of bones digging in and the bust sitting too high. You also have to consider the train length; long trains are tricky and need to be held up when moving about. The volume of a skirt can also be problematic; too many layers of skirt can quickly make you hot and piling bunches of fabric on your lap is just not a great look. Similarly, tight fitting dresses do not give enough room for movement, which when sat all the time, can increase the risk of pressure injuries."
The other issue is getting a wedding dress on if you are unable to stand at all. Shimmying into a wedding dress whilst in a wheelchair and navigating textures like lace and beading can be near impossible. An inclusive dress shop should consider all these things when presenting dress options to brides in wheelchairs!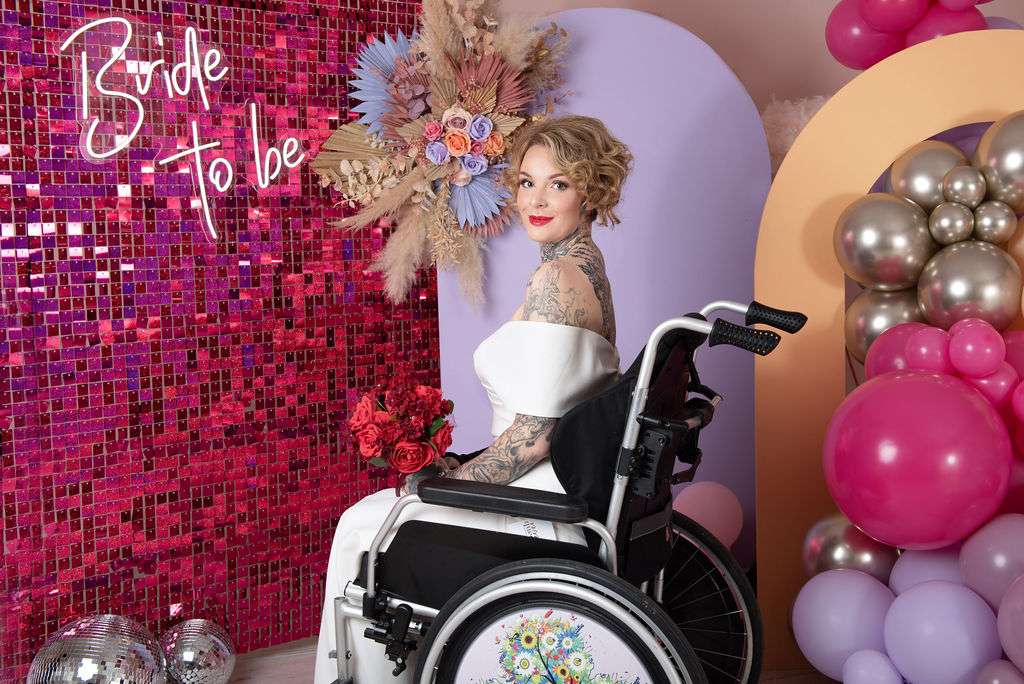 Finding 'The One'
Steph originally selected a dress that she thought was 'the one' but between ordering it and her dress being ready, her mobility had deteriorated further and her body had changed size and shape. She found this really added to her stress but a good, inclusive bridal shop should always be willing to work with people in this situation to make their dress right for them!
She continued, "My dress became incredibly uncomfortable to wear in my chair. The experience turned into a bit of a nightmare. Dealing with my increasing mobility issues was stressful enough but now being made to feel rubbish by staff that obviously had no experience of dealing with a disabled bride was just too much. I left that shop ready to call the whole wedding off. There were only five weeks till my big day, I had no dress and my self-esteem was rock bottom. My mum urged me to give it one more go, and so I made a very emotional call to Nicola from Velvet Queen."
"When I arrived, I found a whole different atmosphere and this immediately lifted my spirits. Nicola told me to put the last wedding dress experience behind me and we would start afresh to find the right dress for me. My disability was never an issue for Nicola, it was never even a challenge to find the right dress. She simply approached me as a regular bride who needed to find 'the dress', and that we did!"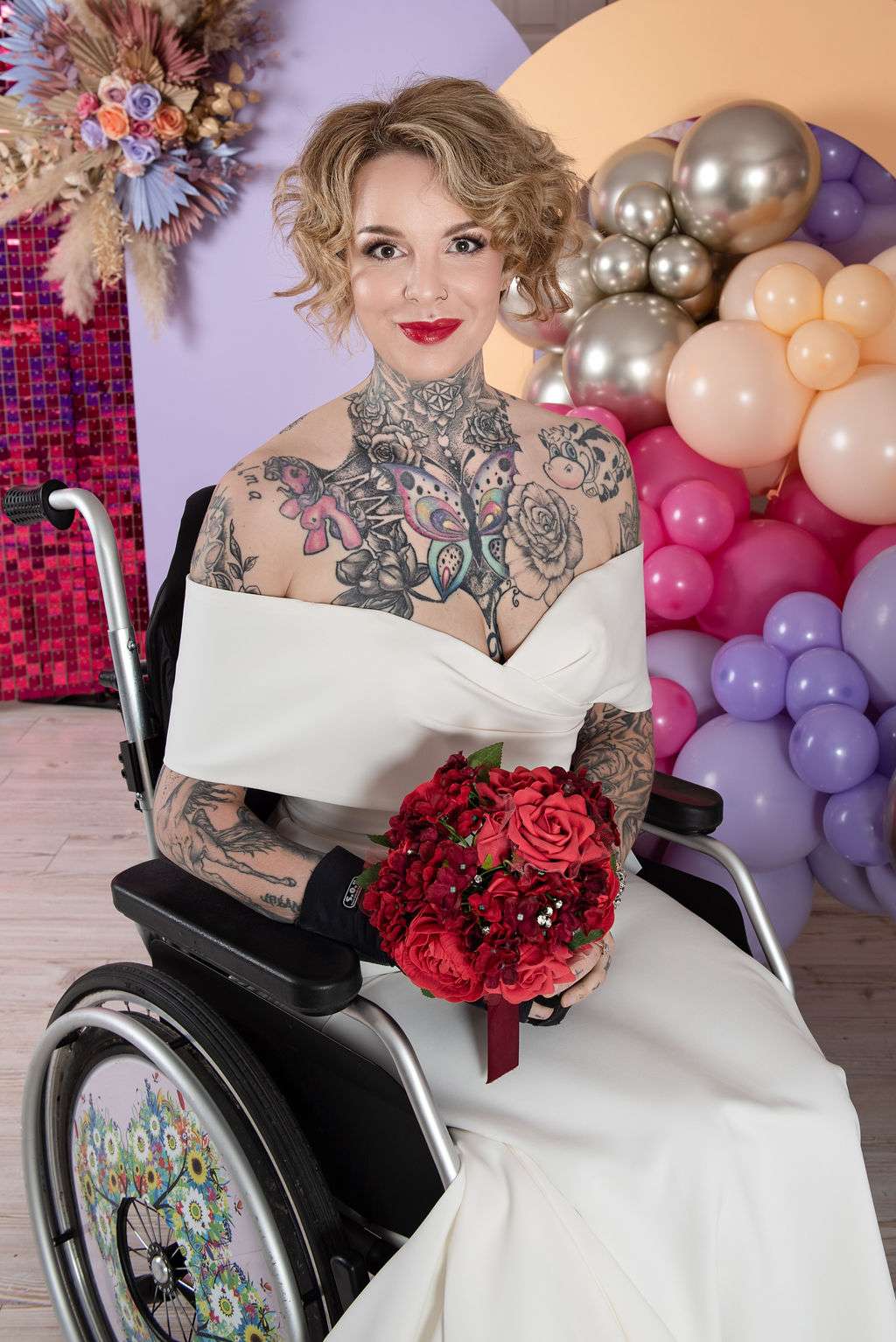 You can find more disability-friendly wedding planning advice and inspiration here!