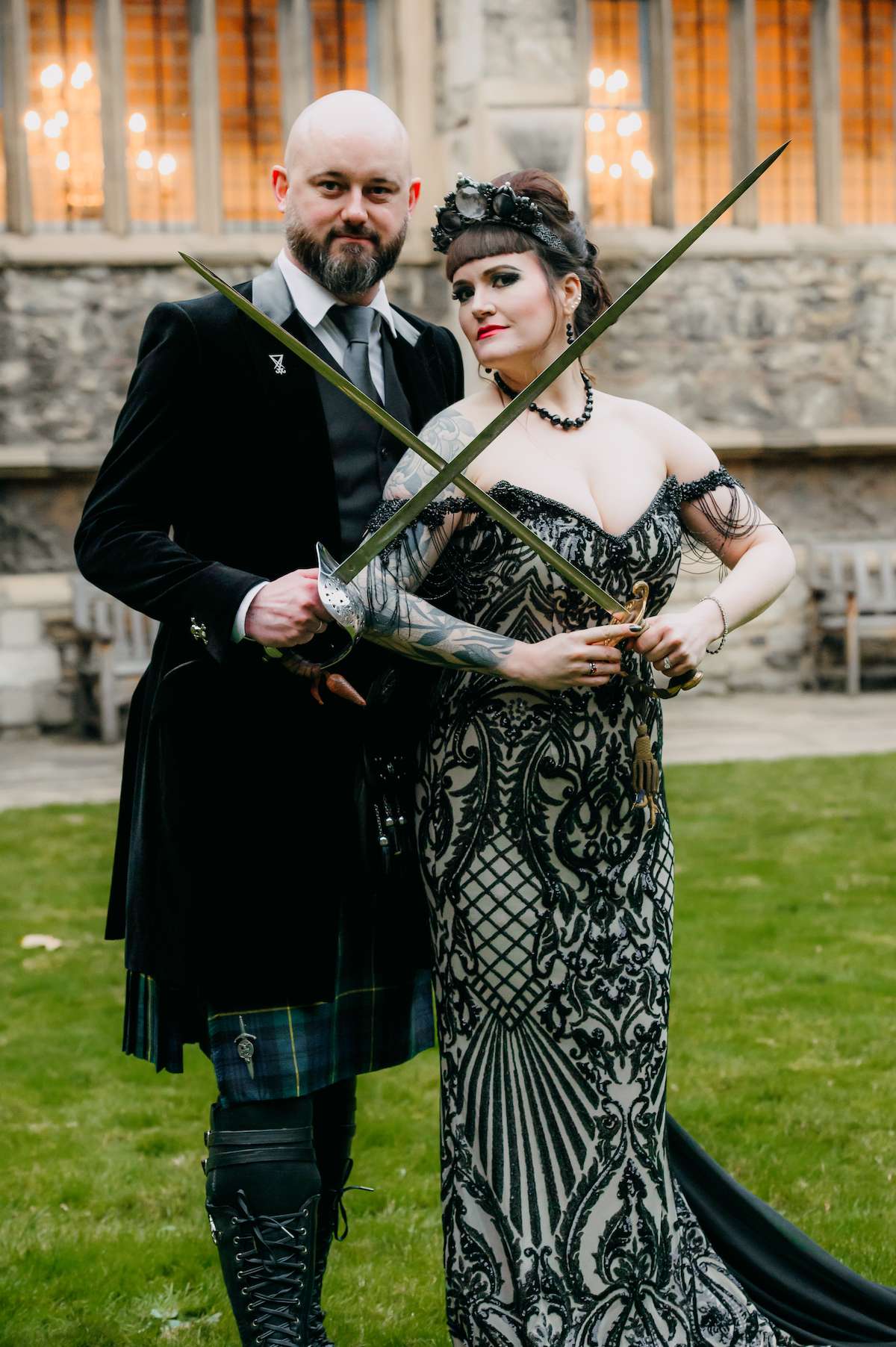 Romany found Andy under a tree on Hampstead Heath at an 'Alternative Picnic' and a year and a half later they were engaged. Their wedding concept was inspired by rich fabrics, autumnal colours and the history of their venue, The Charterhouse in London.
Romany told us, "We wanted it to feel like a step back in time – candles everywhere. We wanted everything to feel timeless and romantic, as well as warm and cosy—but OTT and lux all at the same time. Originally our concept was 'faded arcadia', inspired by Victorian garden cemeteries. Our wedding was in Autumn (our favourite season) so we wanted that feeling of evenings drawing in and being cosy as well."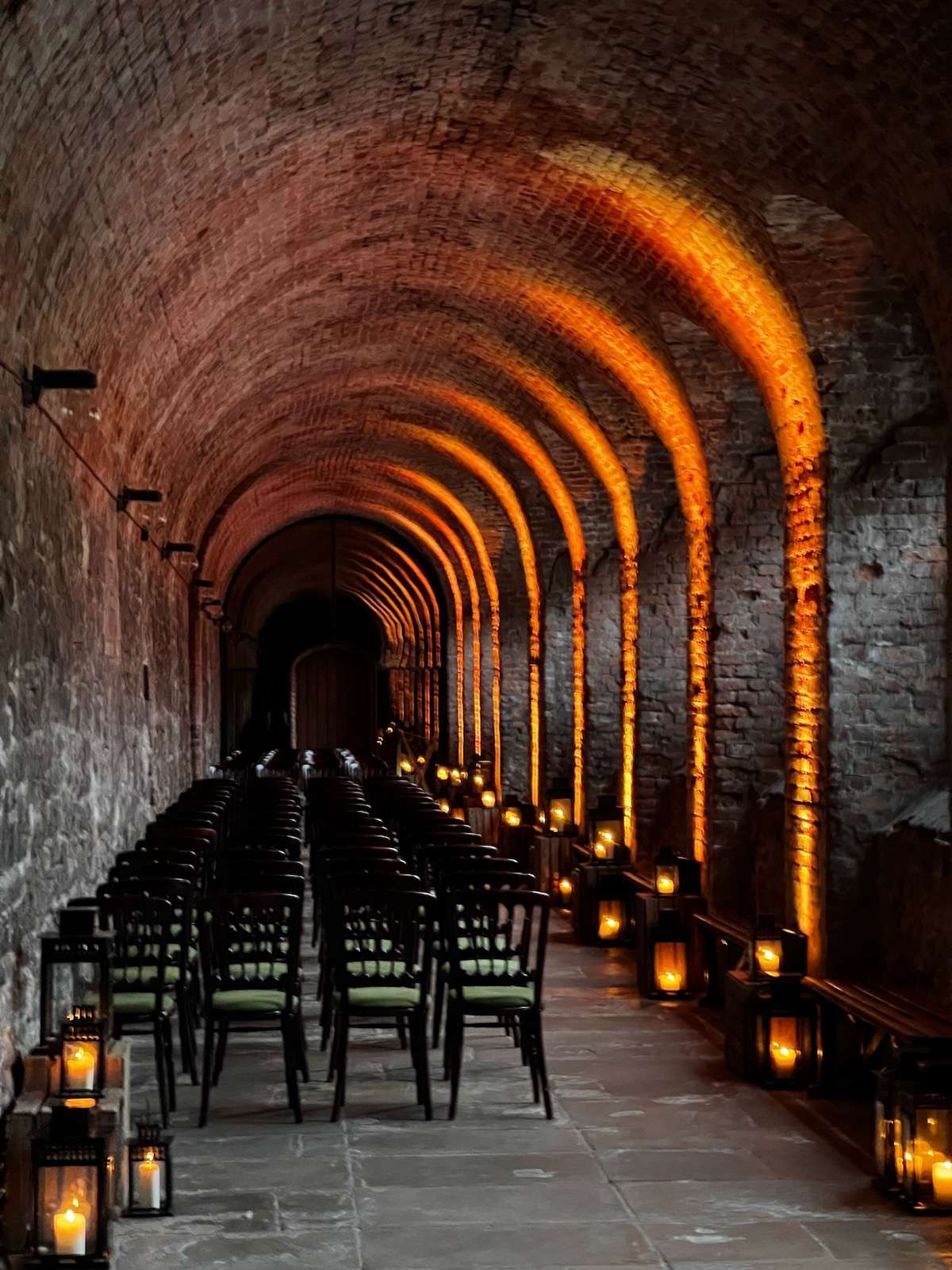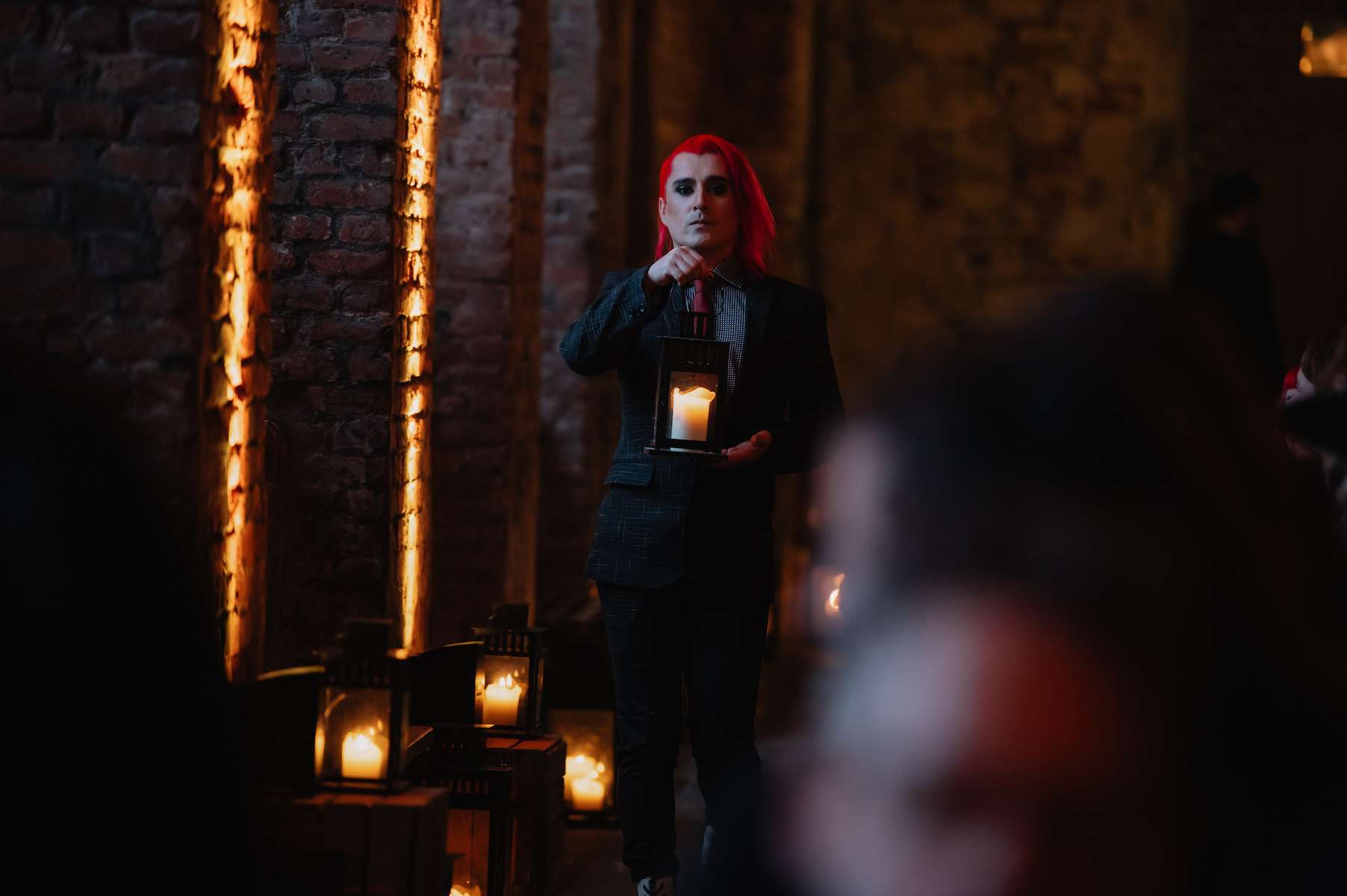 Including personal moments in their day was important to this pair, and Romany chose a special tune to walk down the aisle to. She explained, "I walked down the aisle to a recording of the music box that my mum would put on to help me fall asleep when I was a baby. It's a deeply personal music box to me, a beautiful sound I've known all my life, so walking down the aisle to that music meant a lot to me."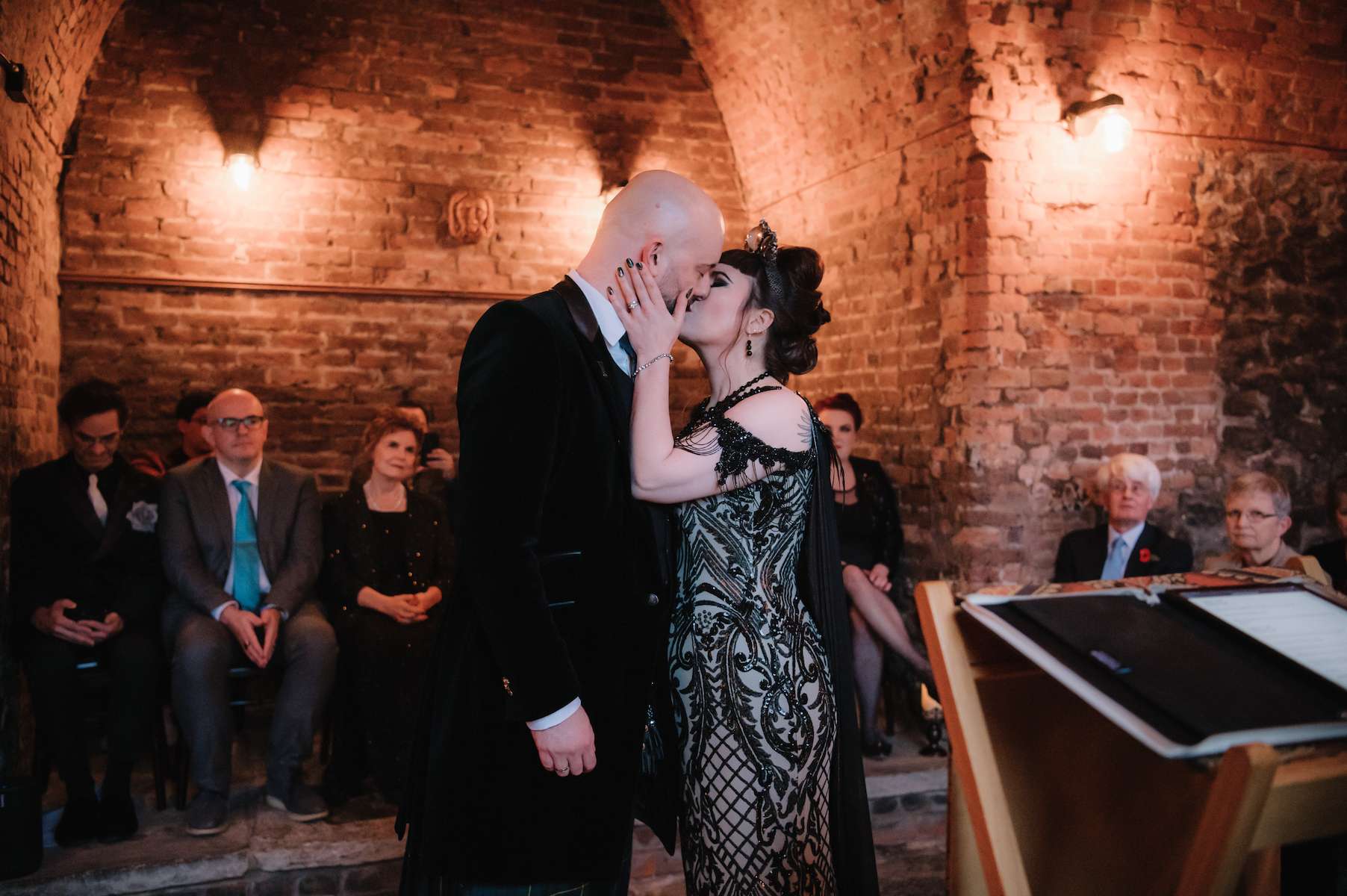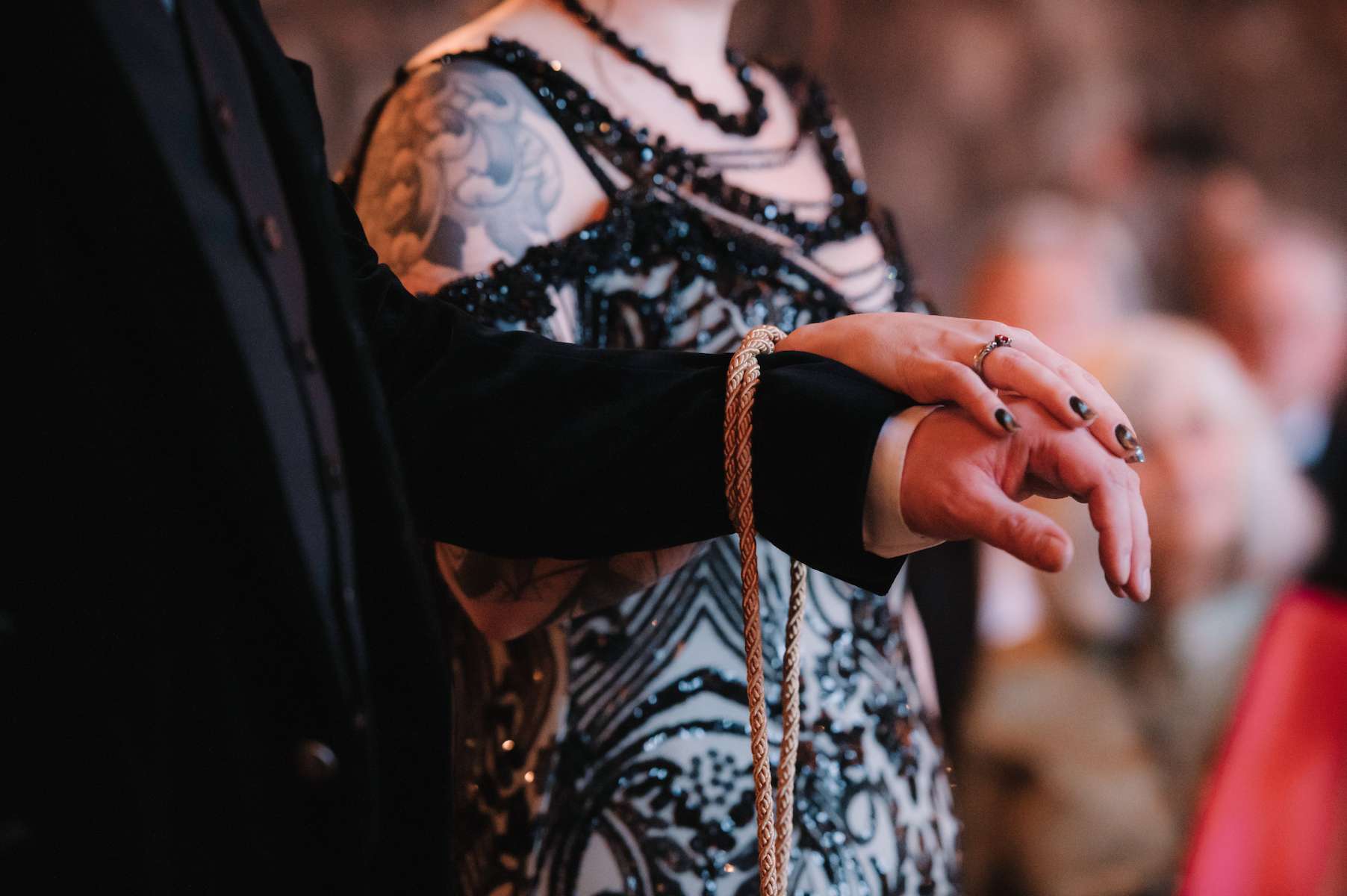 The couple included some historical 'fun facts' about the venue in their programme, as Romany explained, "The ceremony was in the Norfolk Cloister, the champagne reception in the Old Library, and the dinner was in the Great Chamber. I made a list of fun facts that happened in each space, things like the mediaeval hermit who once lived in the wall of the cloister where we held our ceremony, and Queen Elizabeth I meeting with her privy council for five days before her eventual coronation in the Great Chamber where we held our dinner. Our guests could read along to see what interesting historical things had happened in the space where they were sitting to engage with the history of the place for each part of the wedding."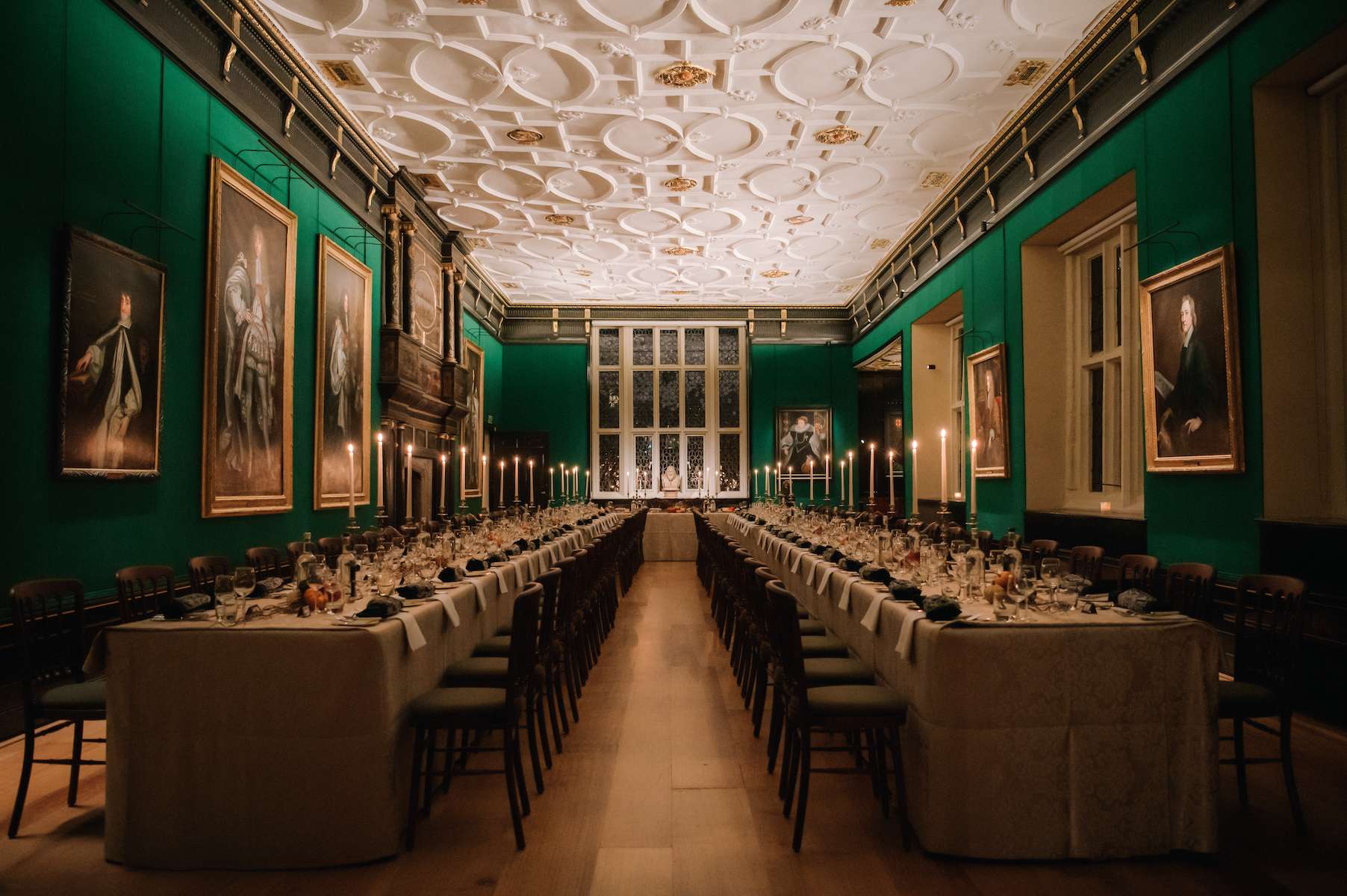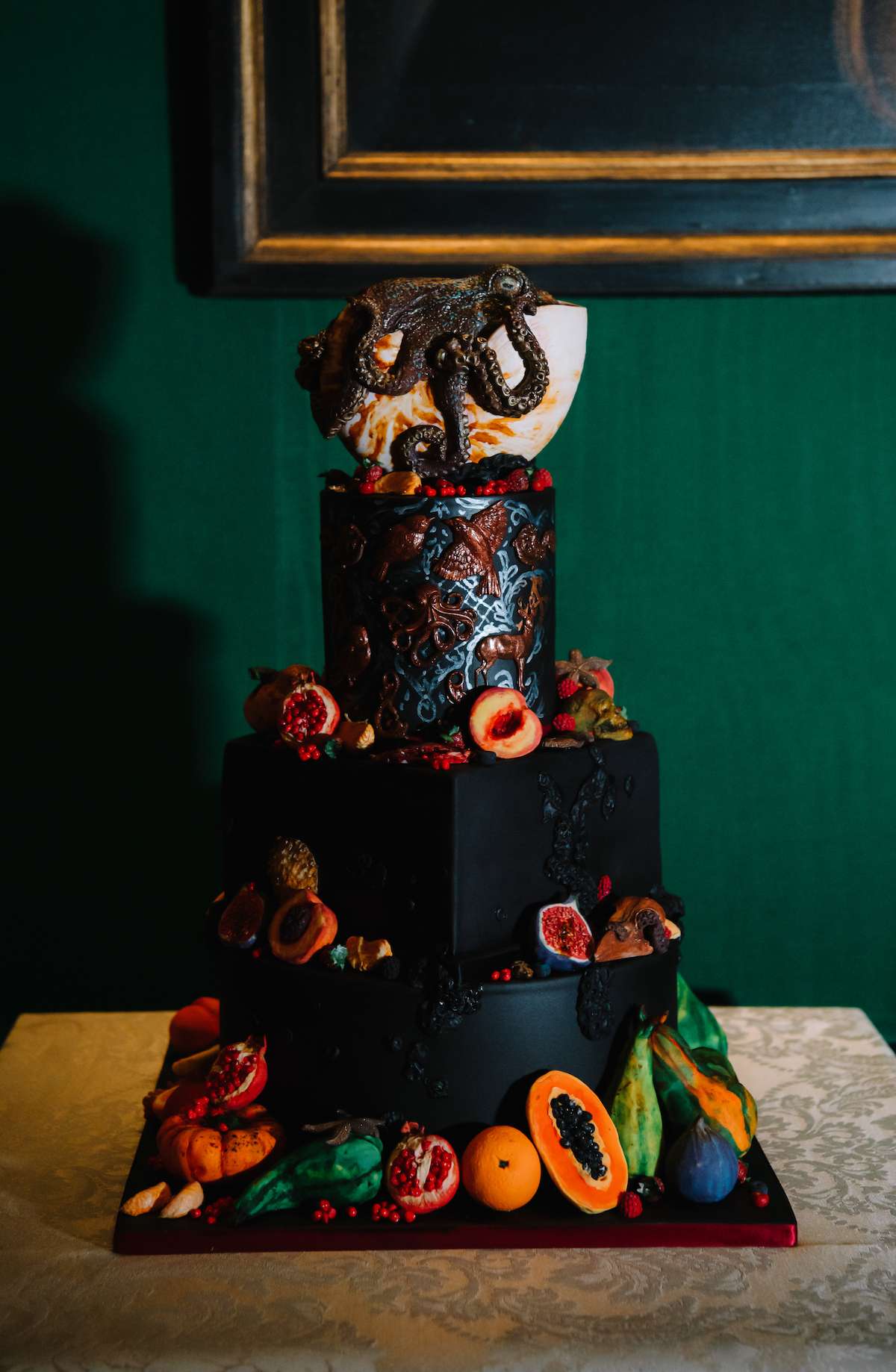 With the venue as their biggest expense, they saved money by having practically no decorations. Romany told us, "We needed to trim our budget so we decided not to have a florist. I highly recommend finding a venue that you absolutely love as it is. Then you can let the space speak for itself and only bring in the lightest of touches. We added twisted willow branches, pomegranates, and gourds, and it was job done!). The oldest parts of The Charterhouse date back to the 14th century, and many of the spaces we used were Tudor, so being able to have real candles in these spaces was an unexpected delight."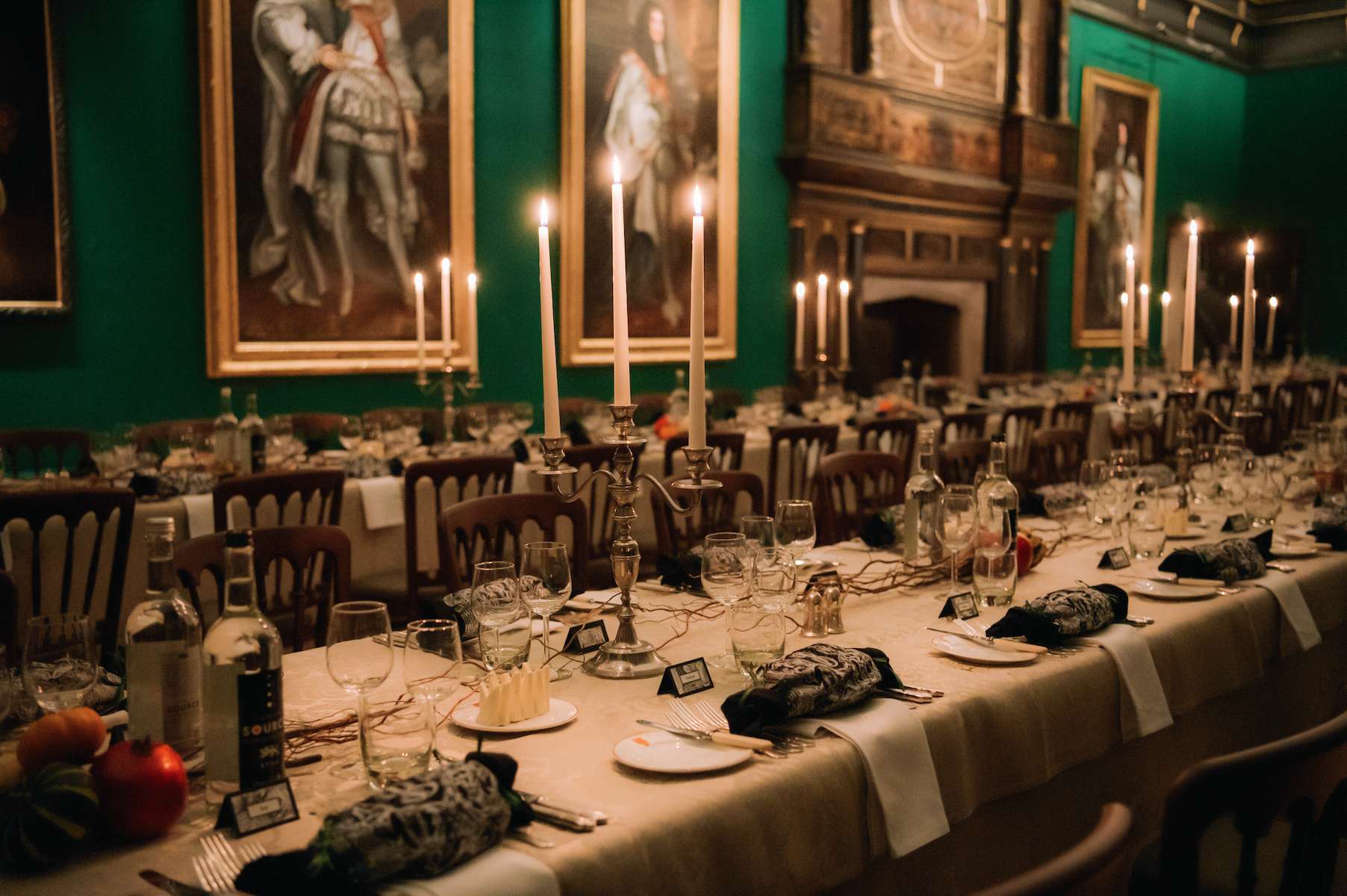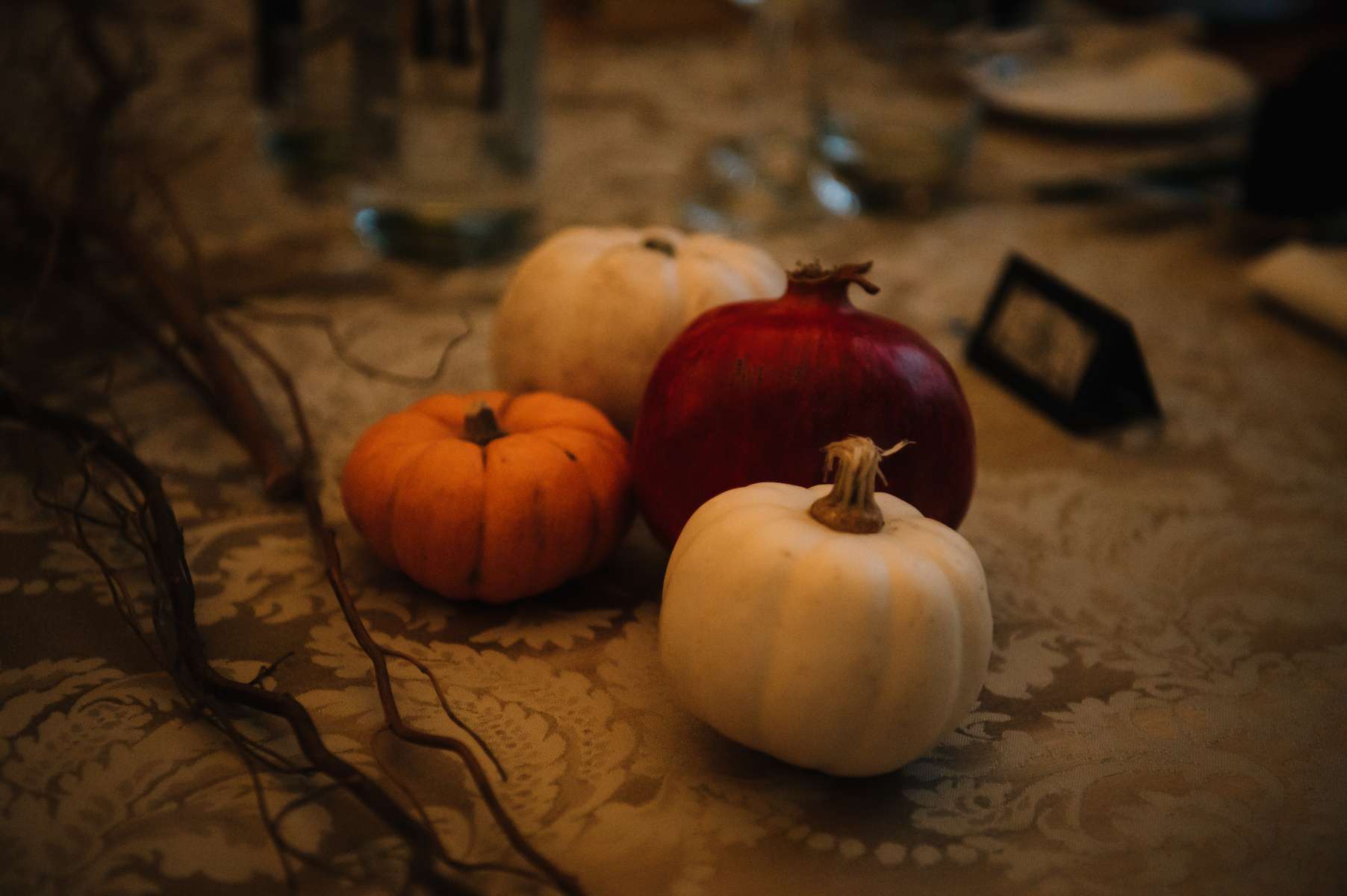 They then moved the party out to a second venue, the Butcher's Hook & Cleaver pub around the corner. Their first dance was to As the World Falls Down by David Bowie from the 80s movie Labyrinth, and they wanted to create a similar vibe.
"We wanted to give the pub the feel of the crystal ball masquerade scene from the movie. We bought 40 metres of iridescent pearl strands to drape on the chandeliers, white fans to put in the windows, a lot of embroidered masquerade masks to tie to the bannisters that I spray painted silver. I thought the masks would just be a pretty background, but several guests took up the spirit of the thing and untied them from the scenery and wore them during the evening! Which was great."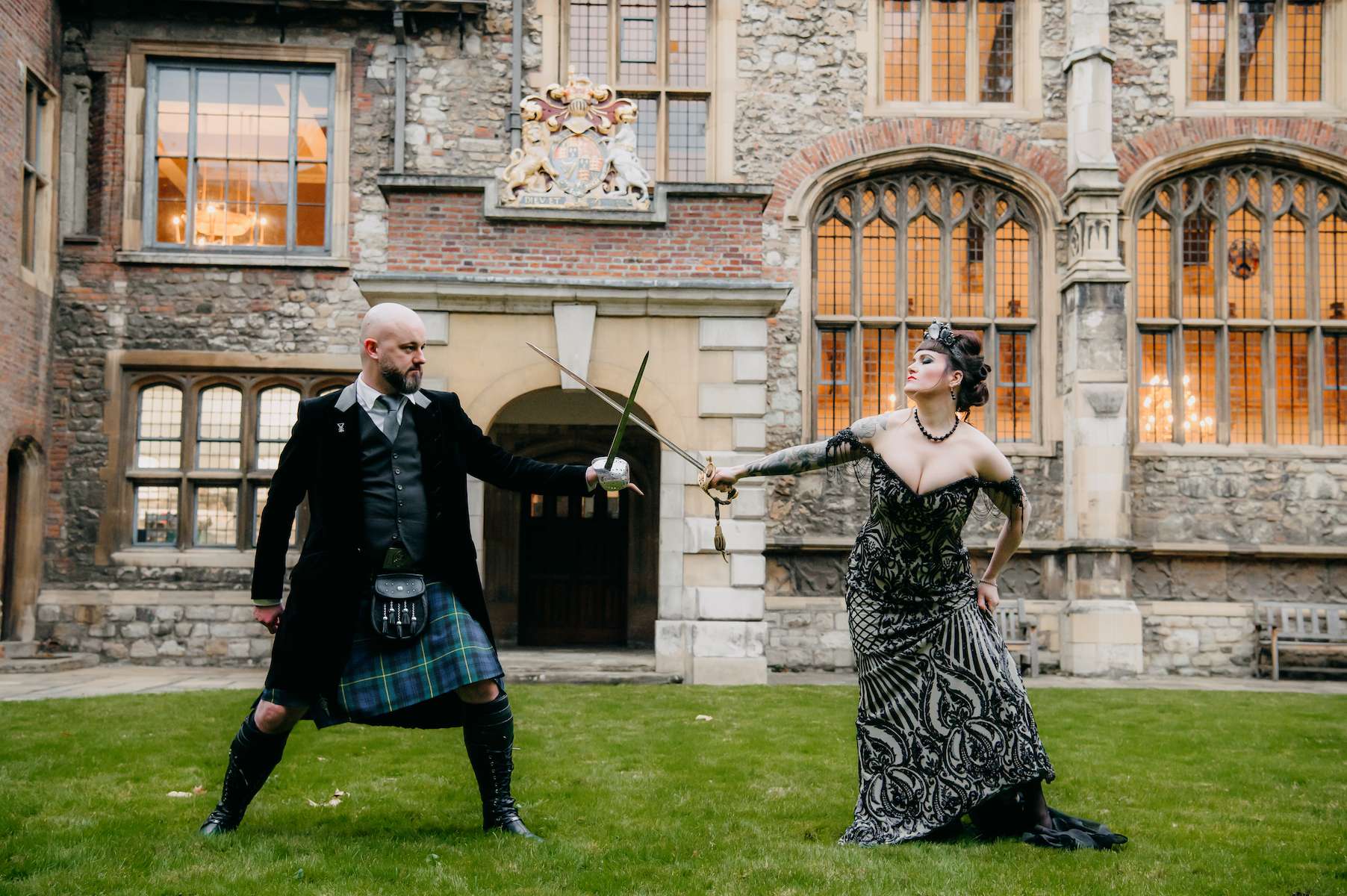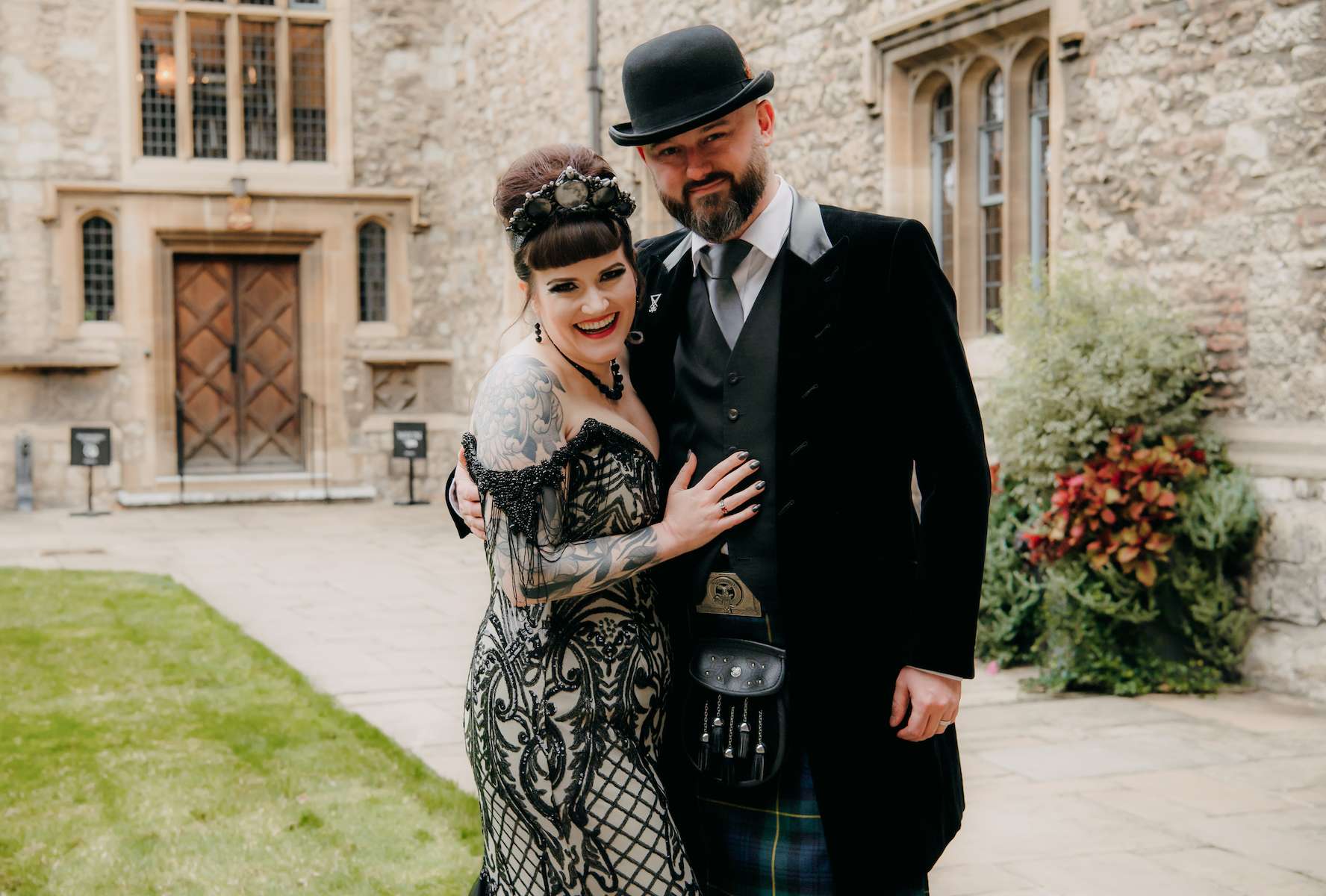 "This wedding was the culmination of such a long journey we've been on trying to be together", the bride concluded. "Like so many couples trying to plan their weddings in our crazy Covid times, we have had many different plans, plots, and versions of our wedding fall apart and need to be rescheduled over the past two years—six times in total! We also had added complications with immigration as I am from the US."
"One beautiful thing that came out of the hard journey of the past two years is how resilient our relationship is. I was glad that we were engaged when I had to leave the country and go back to California. It made being apart a bit easier knowing that we had taken this big step in our commitment to each other. And while the time apart often made us sad, it proved to us that we can withstand a lot as a couple and come out as strong as ever, so in that way it was a gift. When we (finally!) stood next to each other on our wedding day and read our vows to each other, it was without any whisper of doubt that our marriage would be built on strong foundations. We've braved the battlefield the last two years have put us through and come out the other end intact. I have complete confidence in us, we can conquer anything as long as we're together."