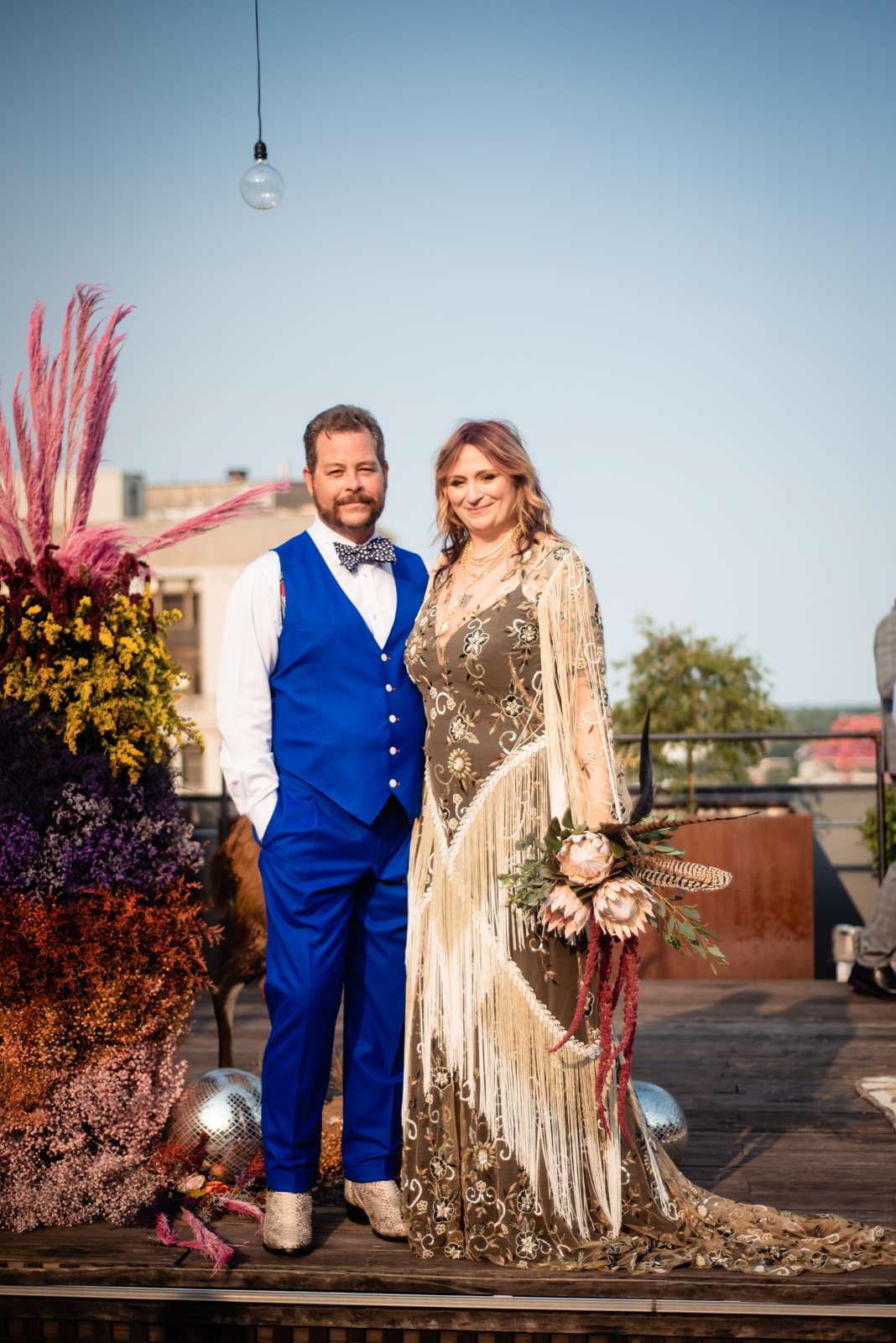 A non-traditional, quirky wedding was the ideal celebration for Michelle and Kyne, however they kept some of tradition of a wedding-day routine, just doing it in their own way. The bride is a divorce lawyer and so they had two judge friends officiate and instead of a flowergirl there was an adult 'flower babe'. The bride, who is almost 40 and had been married and divorced already, walked in with her dad to Rainbow Connection.
Having planned on getting ready in separate rooms, and seeing each other at the aisle for the first time, Michelle and Kyne decided at the last minute to shun that tradition. Michelle explained, "One room had a balcony and better lighting than the other so we both chose to prep there. On the morning of our wedding, all the details didn't seem to matter – we just were excited for the festivity. Helping each other get dressed made so much more sense ultimately. If anyone was to adjust his suspenders, it was meant to be me. When preparing for a major life event, we are supposed to be together."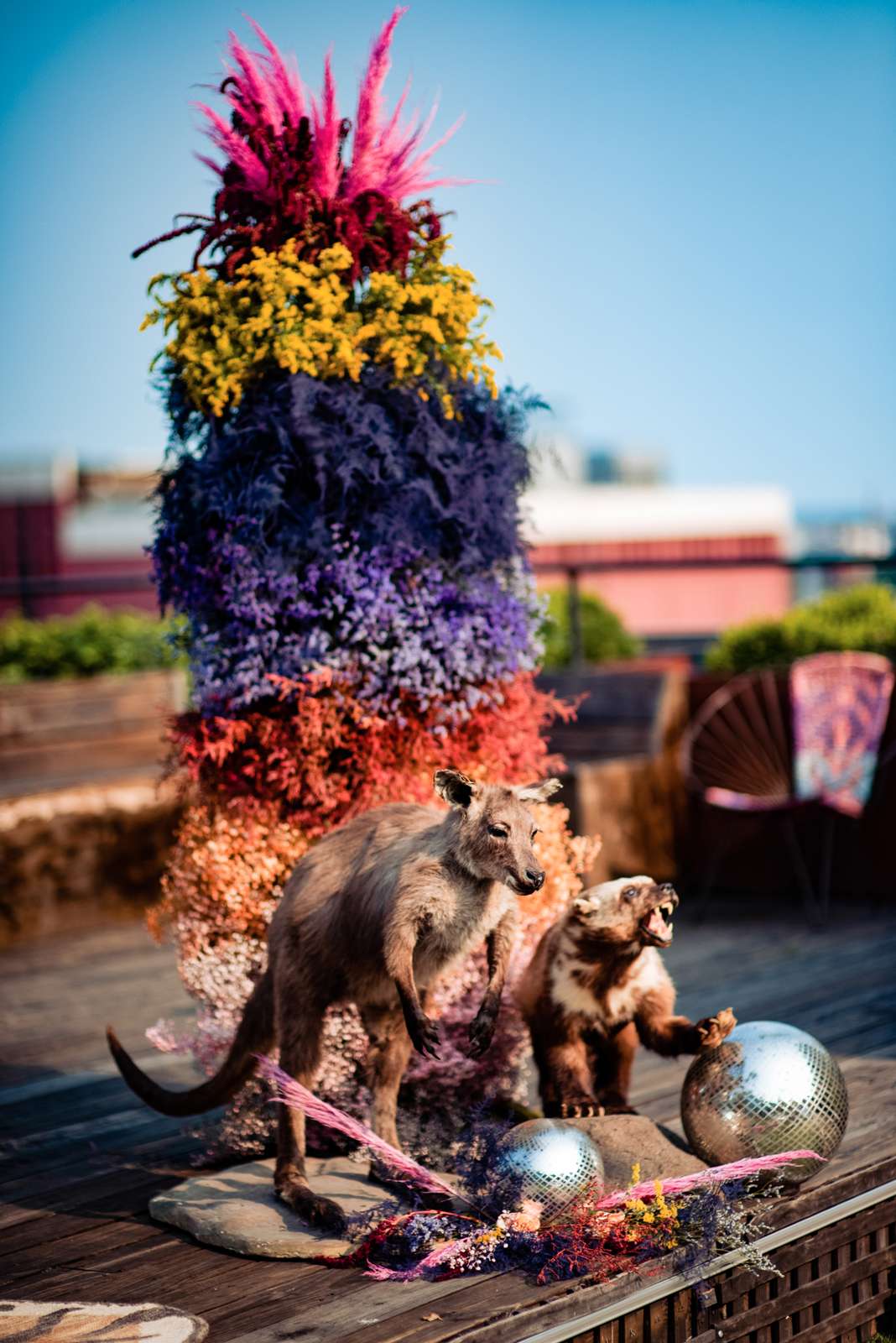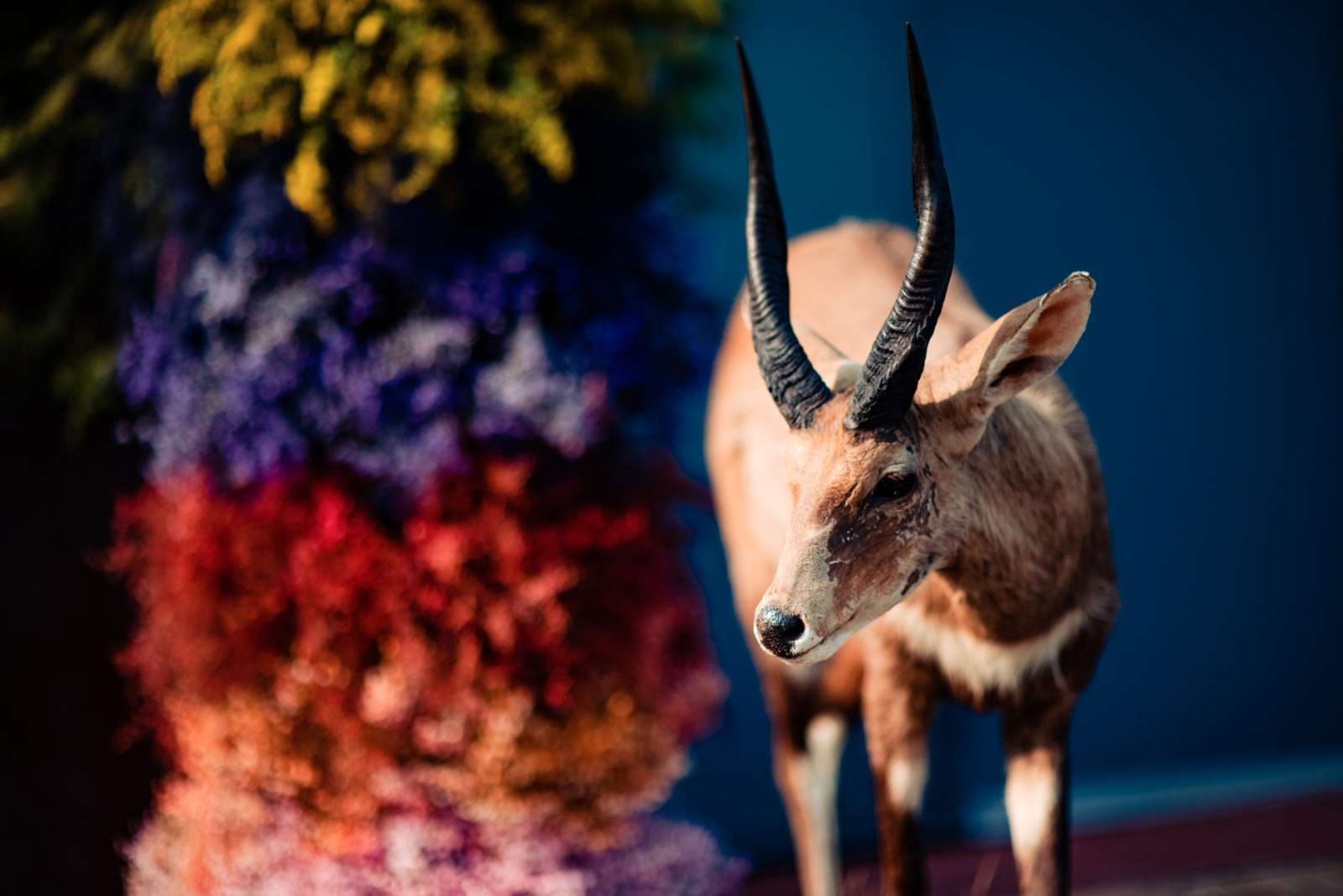 Usually a serious, reserved and shy person, Kyne surprised the guests by dancing down the aisle, dressed as Apollo Creed from Rocky IV as Living in America played. His mates ripped the tear-away robe (which he sewed himself with great care to ensure authenticity!) from him when the song concluded. That wasn't the only surprise, as Michelle told us, "The ceremony was tag-team officiated by a divorce court judge and a criminal court judge, friends and mentors who decided to surprise us by wearing white curly British barrister wigs with their black robes."
With Covid keeping Kyne's family in Australia, the couple livestreamed the ceremony so that everyone could attend virtually and witness their special day. They had only 50 guests there will them on the day.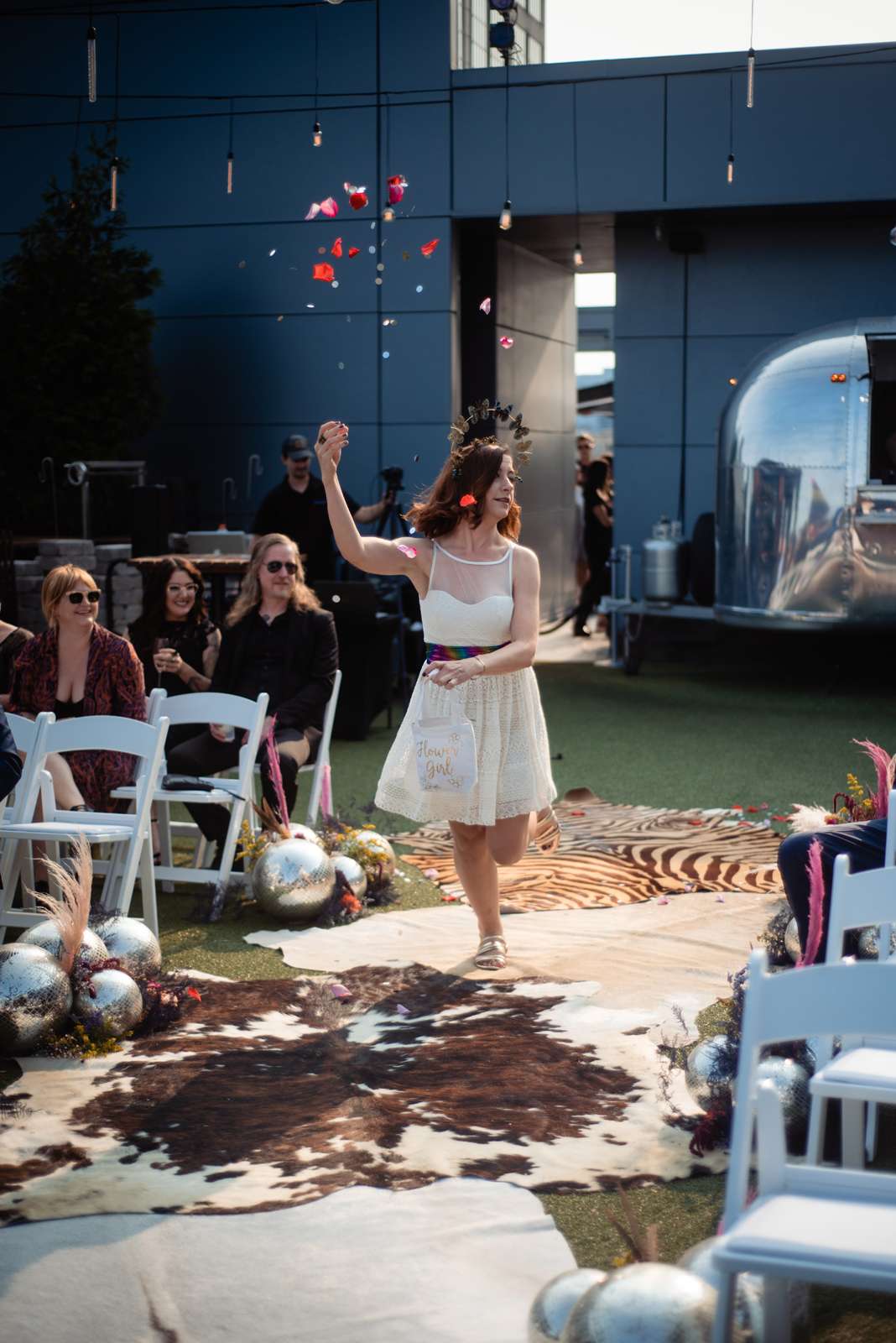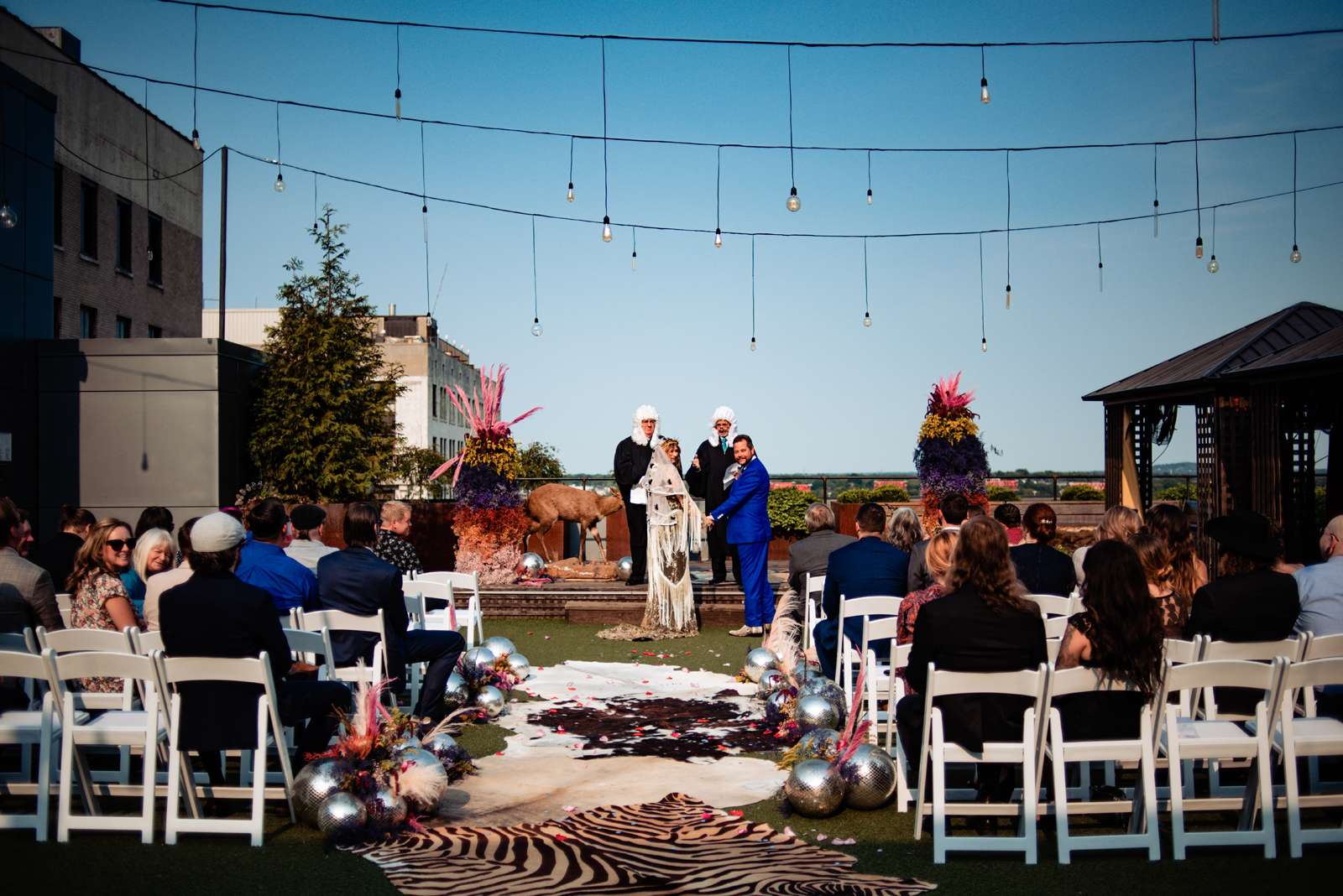 A moment of silence was taken at the beginning of their wedding as it fell on 11th September, marking the 20th anniversary of the tragedy in New York, before a short and sweet secular ceremony. Michelle told us, "We took the trauma the date holds, recognised it, and filled the day with positivity, love and fun. Romantic symbolism doesn't necessarily reflect who we are or how we communicate with each other. Judge Smith reminded everyone that a wedding ceremony is not magic; it will not create a relationship that does not already exist."
Kyne wasn't keen to read or 'parrot' vows, so they kept it to the 'I dos', with one judge then handcuffing them together with set of pink fuzzy handcuffs and sentencing them 'to life'!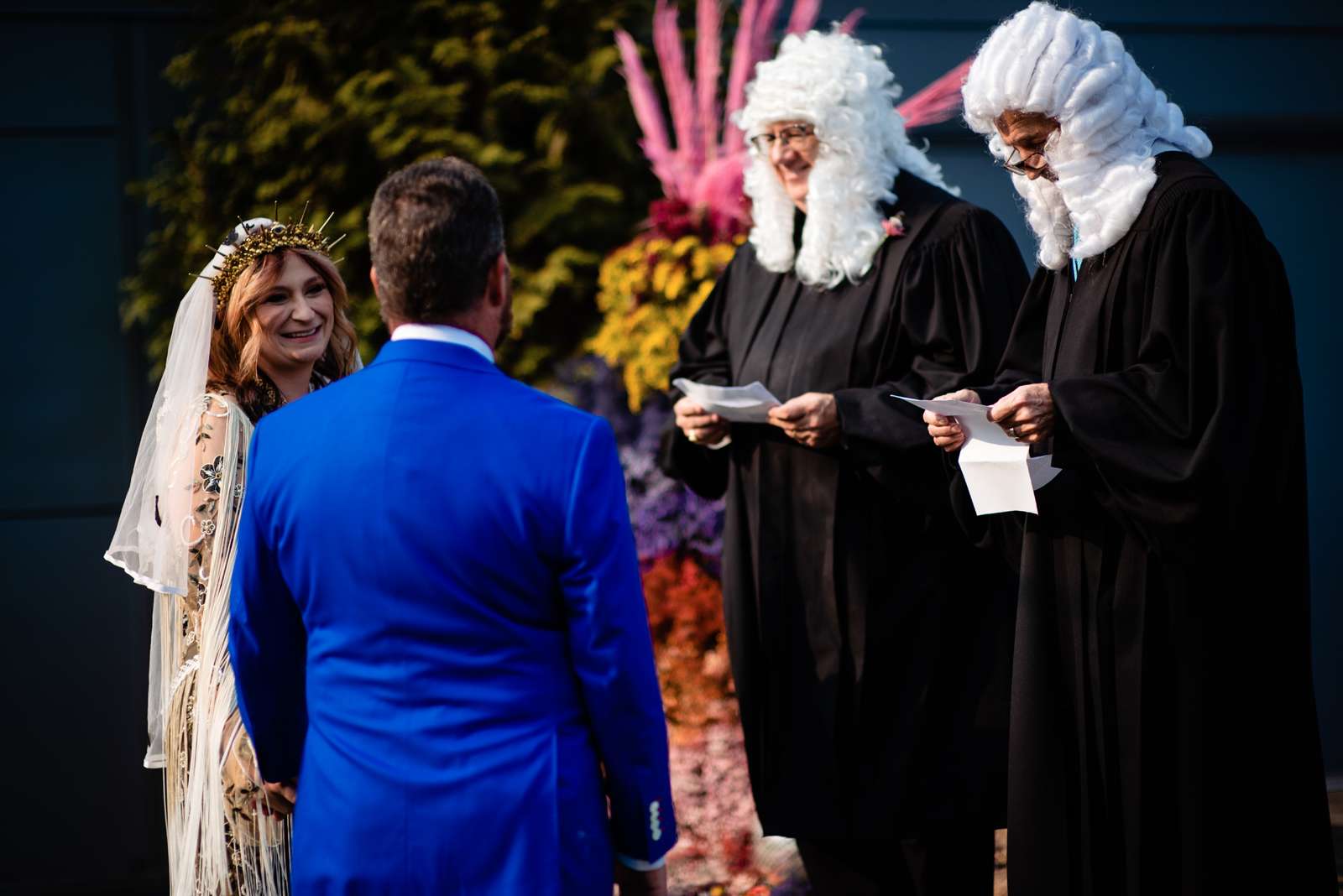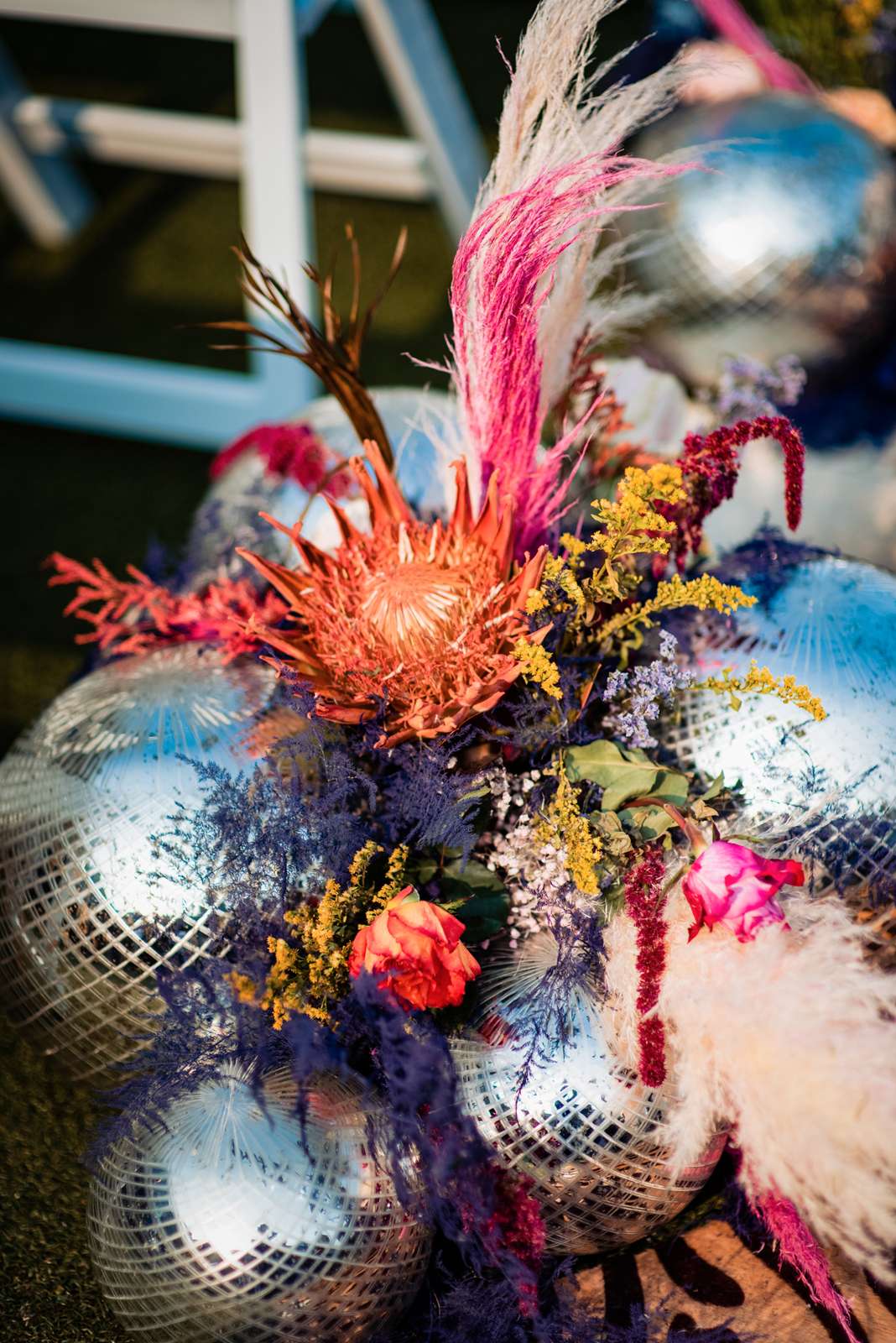 Dinner was downstairs in the hotel's restaurant, which offered an appropriate dark and moody atmosphere. Their seating chart proved to be a headache so they came up with an ingenious way to avoid going it, as Michelle told us, "I struggled with assigning seats, and decided I did not actually want to do that to people. So, to let the restaurant know who was eating what, we came up with an alternative to escort cards. A raccoon wearing a tie greeted guests to the dinner reception holding instructions to take a toy cow, rubber chicken, or toy carrot from wooden bowls in front of him, depending on which meal they RSVP'd (steak, chicken, or vegan). They were very well received!"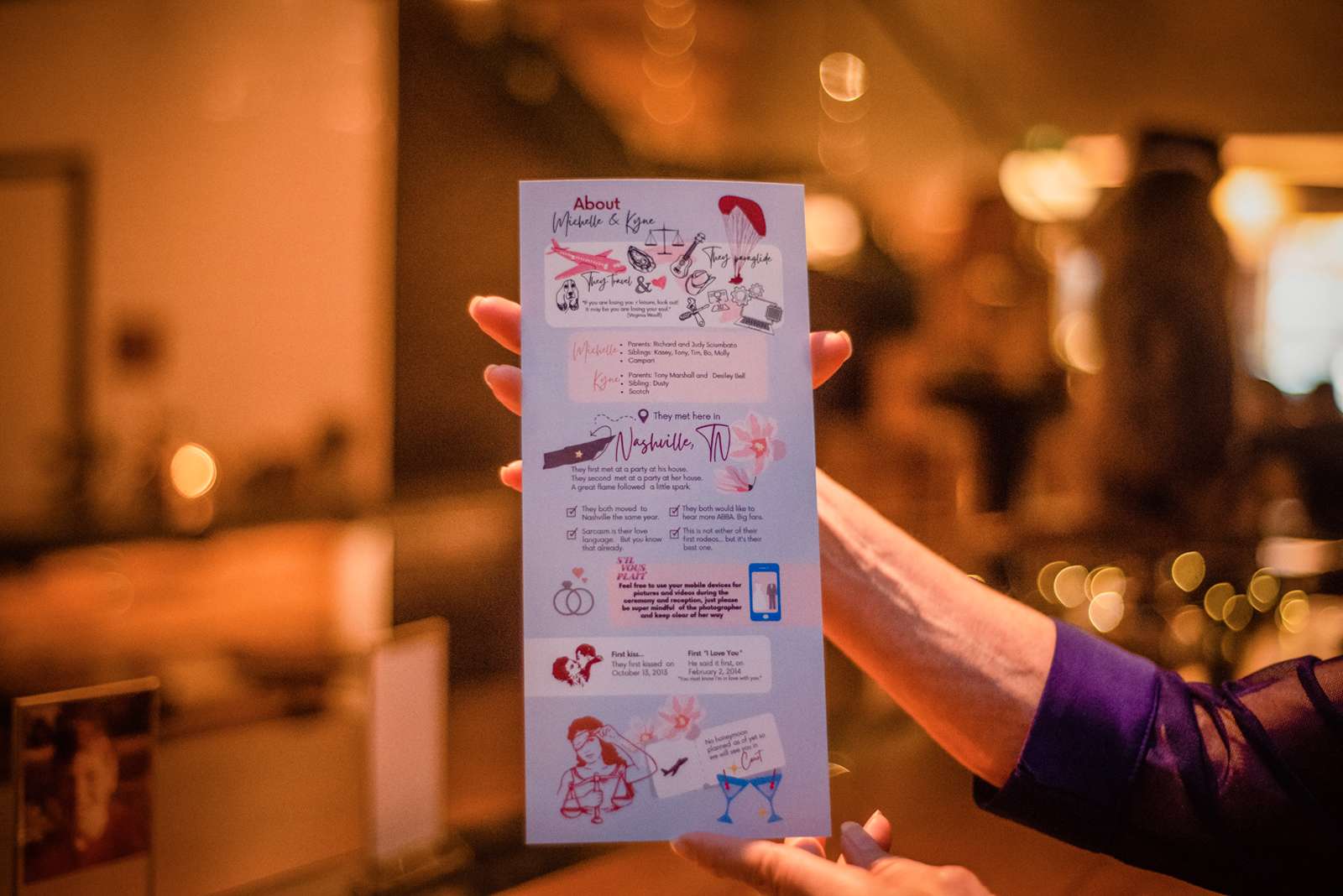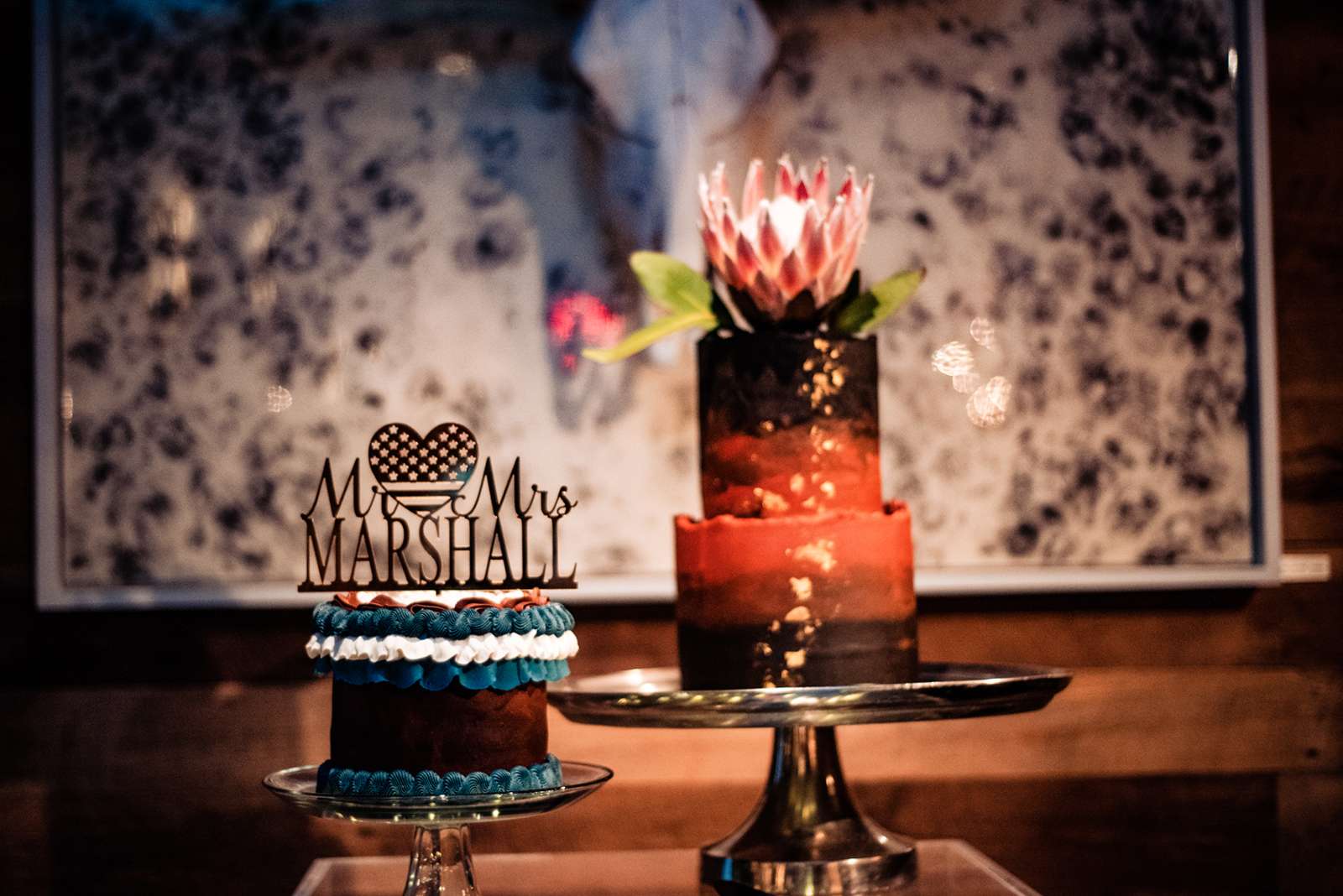 The couple didn't want any formal photos, so popped out for a few portraits, to keep it simple, whilst having a reminder of their day. They were keen to just spend time celebrating and having a good time with their loved ones.
Michelle concluded, "It felt amazing to throw a party that our guests really loved attending. All of the details were very special to us and we wish we could live in that day just a little bit longer. All of our vendors were amazing. My photographer and friend, Stephanie of La Photographie captured the day in candids and very much honed in on the vibe."