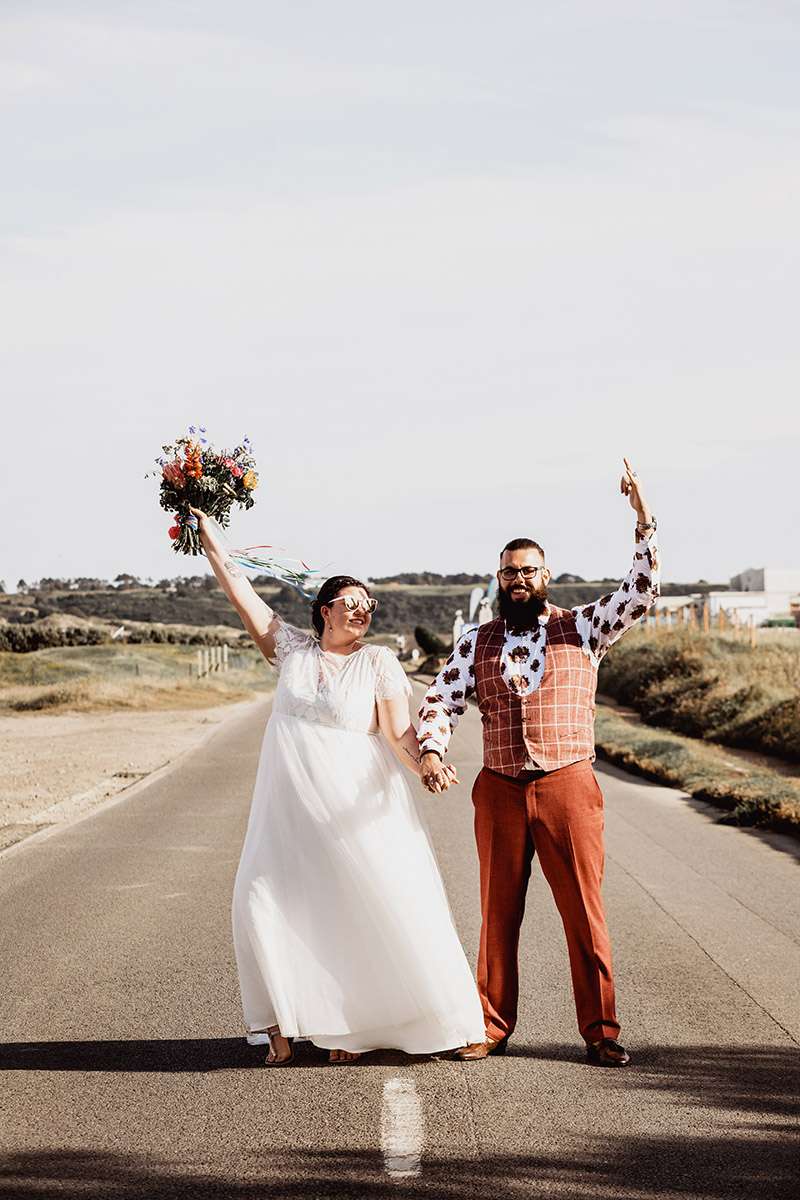 Wedding dress shopping should be fun an exciting and empowering experience, but what if you have body hang ups (so, erm, that's all of us then)?
So, you're getting married, yay! The excitement of saying yes, telling your friends and family, finding a venue and finding something fabulous to wear. It should all be so… magical… right?
Truthfully, and perhaps you're in this phase right now, wedding planning can be a bitch.
It's not unusual for equal measures of (if not more) tears of frustration to feature alongside the tears of joy in the run up to the big day. The pressure of 'the PERFECT day' is intensely, and sadly, oh so real.
Perhaps nowhere is the stress higher than on what brides 'should' look like. Grooms, you sort of got it covered in the suit department, although I recognise that this doesn't mean that you don't also feel stressed out by your wardrobe choices. There just isn't the level of expectation on masc folx as there is on femmes.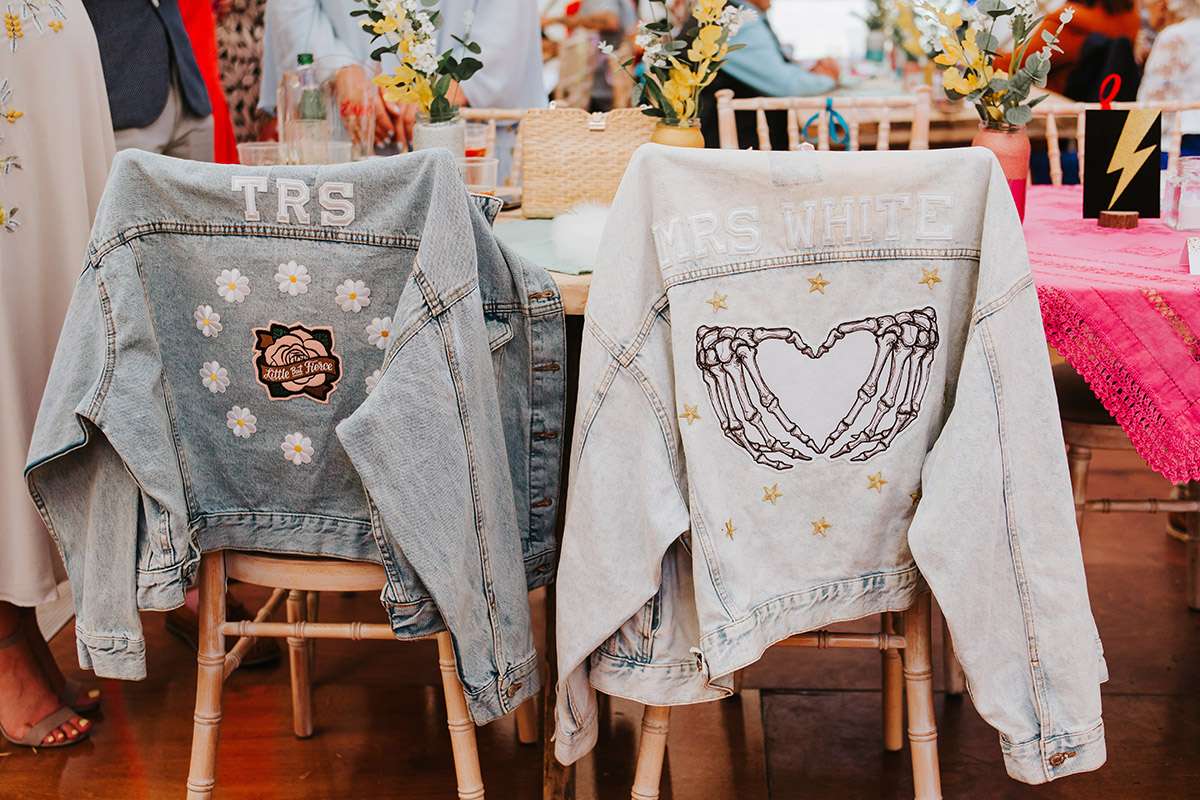 We live in a society saturated with 'diet culture', this is every message that tells you that you must look a certain way to be happy, successful and valued in this life. Currently, we have a beauty standard that is *obsessed* with thinness. We cannot move without being told that our bodies need to change. We're sold products, services and lies that we need to take up less space, be small and get our bodies in check.
Diet culture is grounded in patriarchy, ableism, healthism, colourism, colonialism, euro-centric BS beauty ideals, gender-normative stereotypes and capitalism. Diet culture is linked to Instagram 'wellness' culture, gym culture and every other sneaky sub-category around that places a certain type of body as having more value than another. Diet culture needs to die.
Sadly, it's alive and kicking and making us all feel shit about ourselves every goddamn beautiful day. While we should be #feelingblessed for simply existing as one of nature's greatest marvels, that's to say, just being here being you is a rad AF miracle. It's waaaaay too easy to compare yourself to an Instagram post by one of the Kardashians' (seen in society as the pinnacle of our current beauty standard), look in the mirror and decide that you and your body aren't measuring up.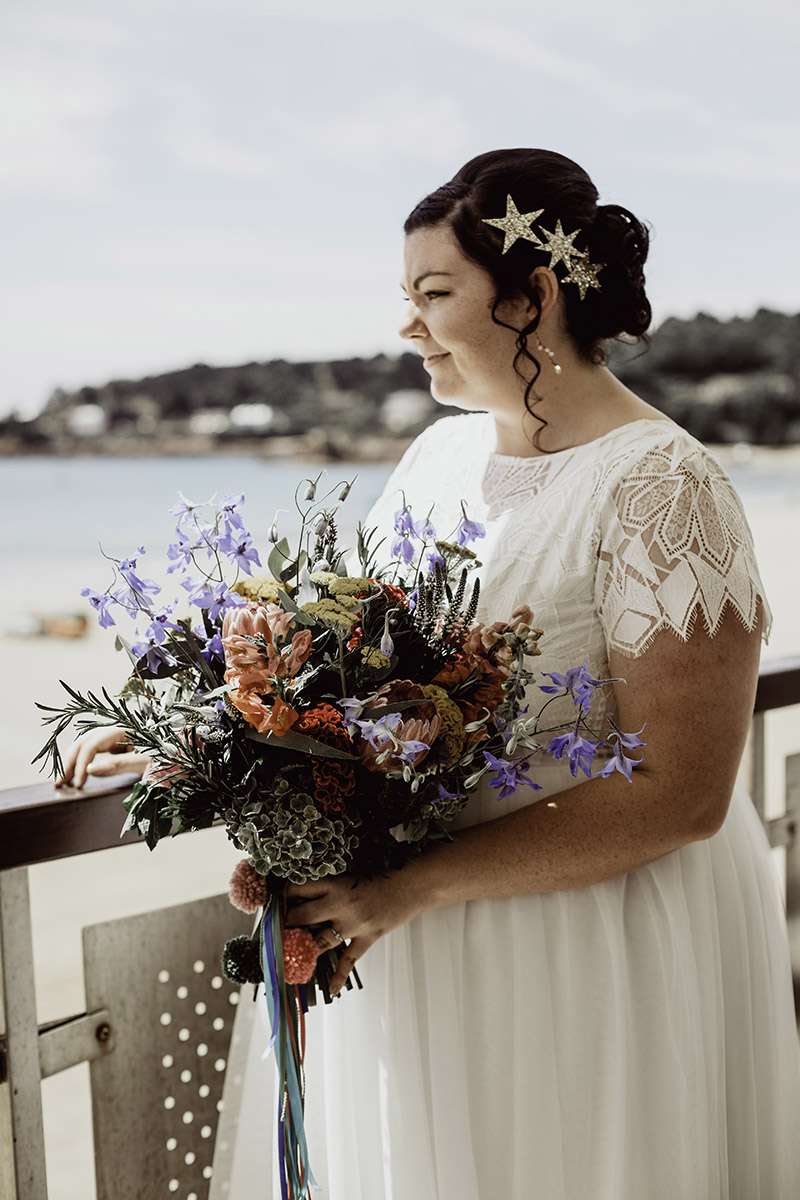 'Shredding for the wedding' culture is an insidious, ingrained part of the traditional wedding industry. You may get targeted on social media for weight loss ads as soon as you type the word wedding into a search bar (keep reporting any ads you find offensive, they'll be replaced but at least it's a way to give this type of messaging the finger).
Toxic messaging around 'The PERFECT body' for 'your PERFECT DRESS', adds a TON of pressure on us to change how we look. Not to mention the fear of being the centre of attention and having a professional photographer there. Yikes, I feel it babe. These ideas and stresses are all too real.
A place where these pressures *really* show up is dress shopping.
Clothes shopping in general can push many people out of their comfort zone. It's where we can be confronted with numbers and labels that create feelings of judgement even though there's very little standardisation and your worth is not a number.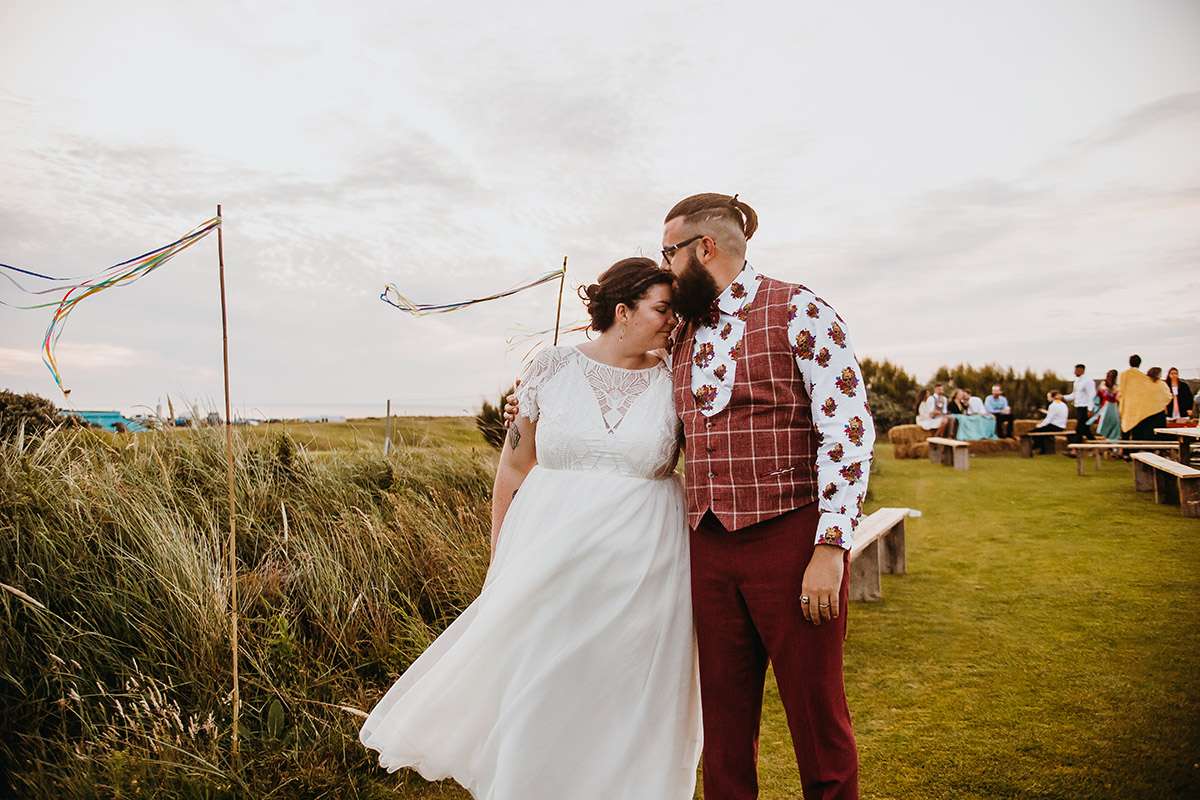 Wedding dress shopping can be a fuckery for anxiety.
If you're shy you may hate the idea of even making an appointment, being fussed over and having to articulate what you're looking for (when you likely won't even know yet). That's scary.
Many shops might not be able to cater to your accessibility needs either and if you're finding this, I'm sending love too babe, that's hard.
Any and all body conscious folks (regardless of size) may HATE the idea of a changing room and having to be helped into outfits by a stranger before showing anyone how they look. It's enough to put many people off wanting to do at all.
And let's talk about the stress of being plus size in a fatphobic wedding world.
Traditional wedding sizes are much smaller than high street shops so you might have to go up one or more numbers, this can be triggering even for the most body resilient person due to our fatphobic society.
There's literally few things worse in life than trying to get your body into a piece of clothing that simply isn't made for your body. I know this feeling; it makes you want the ground to swallow you up. It creates a particular type of shame that says 'your body is wrong', when in reality it's the clothing that are wrong, NOT your body! However, snooty dress shop owners carrying tiny sizes can easily make you think otherwise.
I remember having a pretty terrible dress shopping experience when looking for my own dress. It was a seriously hot day in August and the dress shop had a policy of NOT helping people get into their dresses. I struggled to get this damn dress over my head. Sweating more and more profusely, I continued to struggle to get this bloody dress onto my body, only to find that my fleshy arms didn't fit into the fabric. The shop didn't do custom alterations so I left disappointed not only at the customer service but also feeling like my request was unreasonable and my body wrong.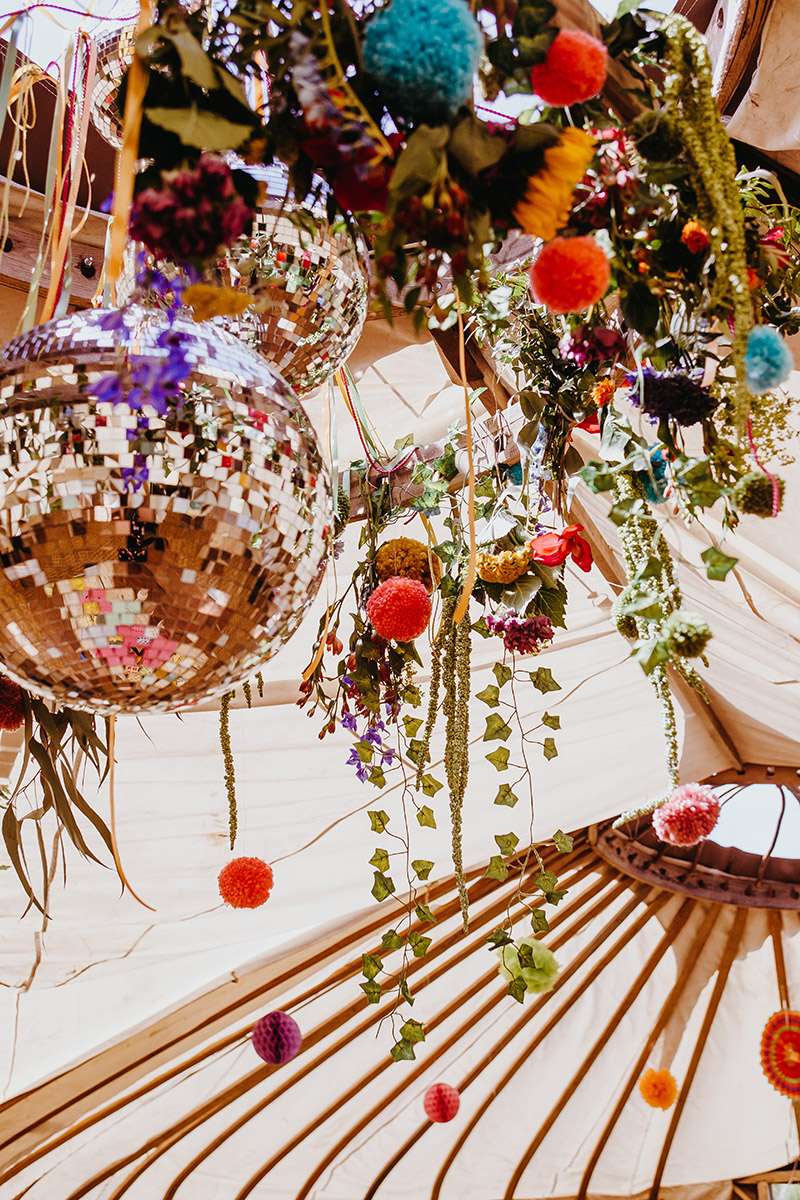 THANKFULLY, there are alternatives to this type of experience and I strongly advise you to not give your money to anyone who shames your body or your requests for alterations that will make you feel more comfortable.
I spoke to UK based bridal company, Lucy Can't Dance, who specialises in alternative wedding dresses for non-traditional brides, to get you the BEST insider advice to avoid dressing shopping pit falls.
First, I asked her what she thinks are the biggest mistakes that people make when buying a wedding dress:
Lucy: Firstly, I tell brides to make sure they try on a lot of different styles and shapes of dresses before ordering. Things can look completely different online or on hangers and often it is the wild card that ends up winning!
I often find people think that if they or their bridal party don't cry, that it is not "the dress". I think this comes from watching films and tv shows that over-dramatise the wedding dress shopping experience. A lot of the time it isn't as simple as putting one dress on and saying "that's it!" We get a lot of brides who are torn between a few dresses and this is completely normal.
Wedding planning is such an exciting time, but try to avoid rushing into ordering a wedding dress years before your wedding. (If possible). We recommend booking appointments and ordering a wedding dress 8-18 months before your wedding date.
When it comes to your appointment, think about who you are bringing with you – try to bring people who know you and your style and aren't going to railroad you into a dress that you don't want. If you have to bring someone who is a bit negative and makes you feel like shit, you can either bring them to see the dress once you have made your decision OR make sure you counter it by bringing others who make you feel great.
If you are blessed in the boob department, it might be a good idea to find the perfect bra that you want to wear on your wedding day before you start dress shopping. We can change features like back heights and strap width to accommodate bras, however, some designers may not be able to change things. Many brides pick a dress and then think about things like bras later on, which can sometimes prove stressful. If you know that you want, for example, a backless dress, it is worth researching and finding a decent supportive bra that you can take to your dress appointment with you. This way, you can make sure it is covered by the dress and feels comfortable.'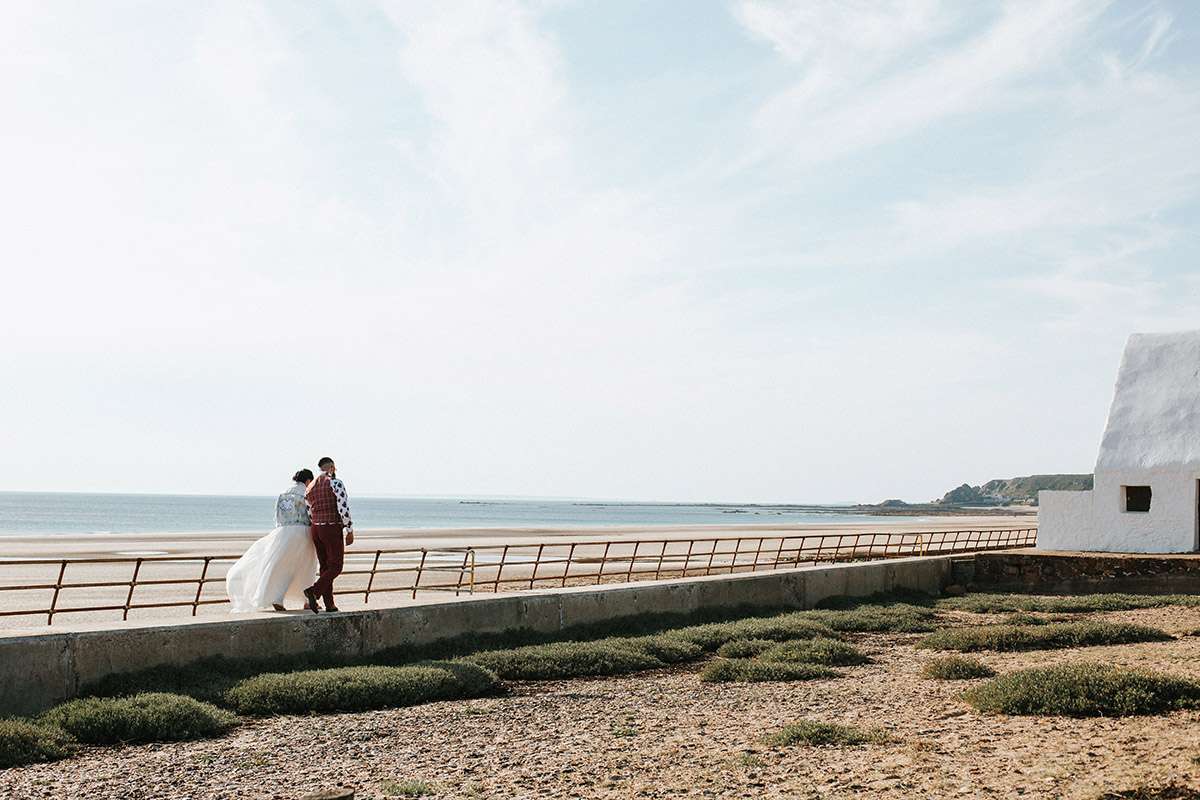 What great advice and wow I wish I'd known about the bra thing! Next, I asked Lucy how we can avoid shops that aren't body inclusive:
Lucy: The biggest piece of advice that I give brides is to email the bridal store in advance and ask them what sizes they stock as samples. If they only stock tiny sizes I would advise not going there as you want your experience to be enjoyable and uplifting.
We stock sample sizes 10-22 in our store and we are adding more inclusive sizes every year. We make dresses to any size and shape. We also work in a "sizeless" way during appointments – we make dresses to our brides' unique body measurements rather than standard sizes.
And finally, I asked Lucy for her best advice for anyone wanting to go wedding dress shopping:
Lucy: Have a look in your wardrobe at the clothes you wear and the shapes and styles you feel your best in. This will give you a good starting point when picking out some dresses to try in shops. I think it is very important that you feel comfortable and confident in your dress on your wedding day, as this will shine through in your photos and videos for years to come.
Stay true to your unique personality and your style and go for the dress that makes you feel authentically you. You deserve to feel the best version of yourself on your wedding day.
So, there you have it, rock 'n' roll brides, the ultimate advice for navigating dress shopping. Don't take any shit about what you want, do your research and if you can, find yourself a Lucy who can make or alter a dress that's made to fit your body.
Your one precious body which doesn't need to shrink for your big day. Remember, the most important thing about getting married is the LOVE you feel for the person waiting for you at the end of the aisle. It's easy to forget that in all the madness.
ABOUT HARRI
Harri Rose is a coach, writer and Co-Director and Head of Community at Anti Diet Riot Club. Her work focuses on life after diets and she writes about all things body acceptance, pleasure, self-compassion and joy – these are all the things she calls WONDER. Her first book 'You Are Enough' is out now (Octopus Publishing). Get your free introduction to her book here or say hi on Instagram @harri_rose_
A version of this article originally appeared in issue 39 of Rock n Roll Bride magazine. You can purchase the latest copy here, or why not subscribe to never miss an issue?