A chance meeting in a San Francisco gallery set Shannon and Trevor on course for a unique and chic rock and roll wedding under the glorious Californian sun. They wanted to make sure their day didn't feel like an uptight affair, rather a party they wanted to hang out at with their friends and family. With live music and no sit-down meal, Shannon and Trevor stuck to their motto of "Do whatever you want".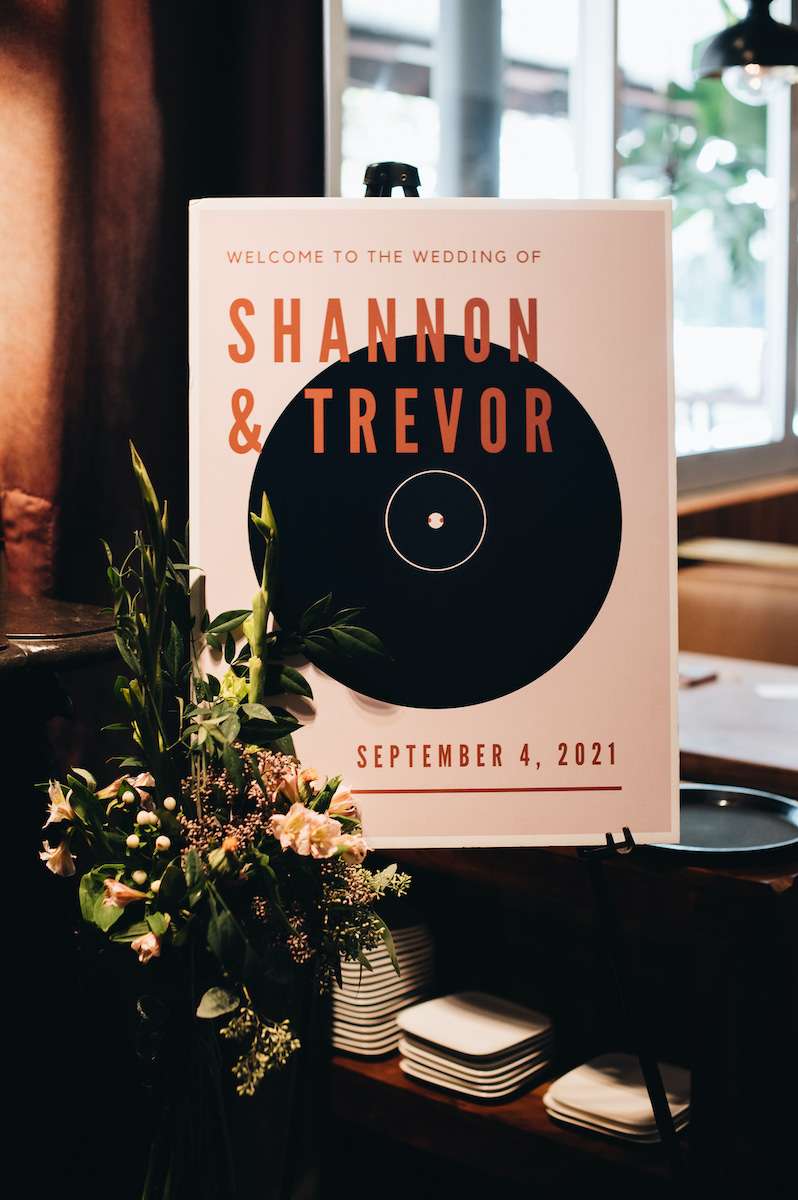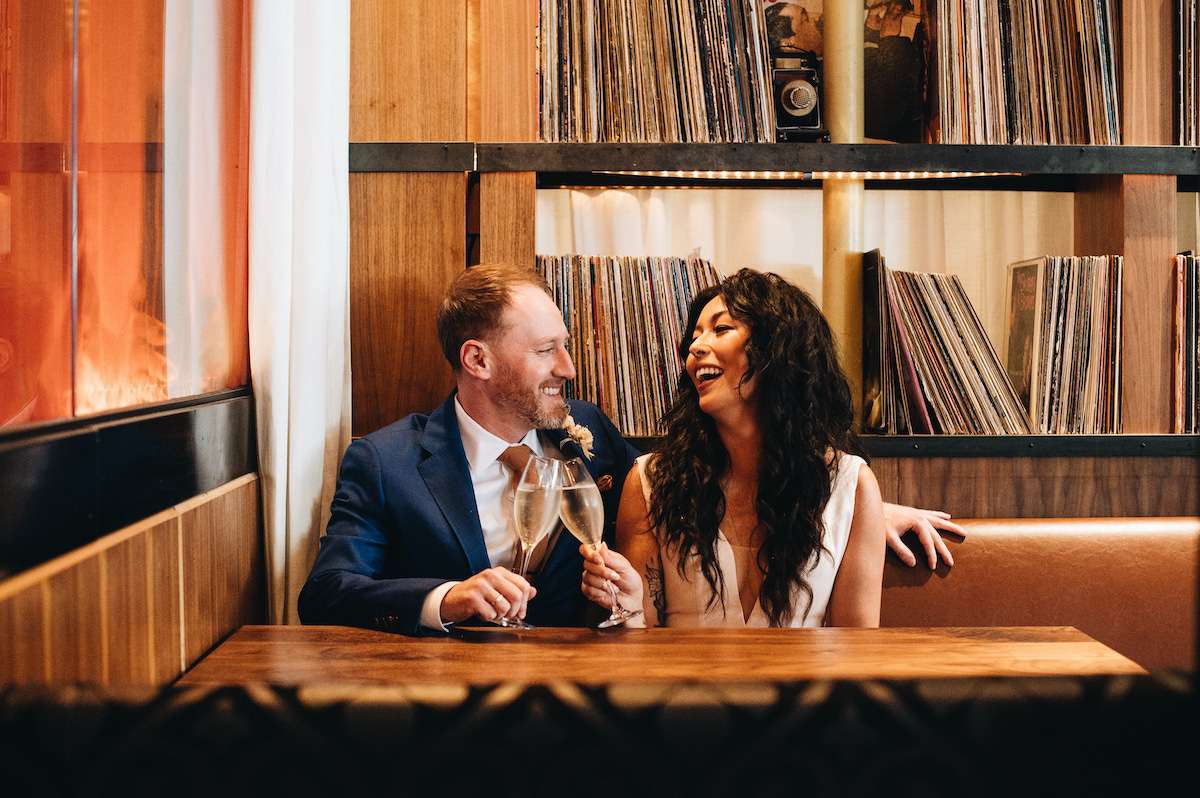 Trevor is a musician and, having missed enjoying music with friends throughout the pandemic, their wedding day celebrated the return of rock and roll. They chose the Phoenix Hotel as their venue, a favourite of music lovers. Shannon told us, "The venue already has a rock and roll theme with a large record collection and a great outdoor area with a whimsical feel." And with fire pits, a pool and strings of lights and paper lanterns to dress their gorgeous, leafy outdoor space, very little additional décor was required, saving time and money. They did dress the aisle, with a neon 'Til Death' sign and wooden arbour marking the space for their vows.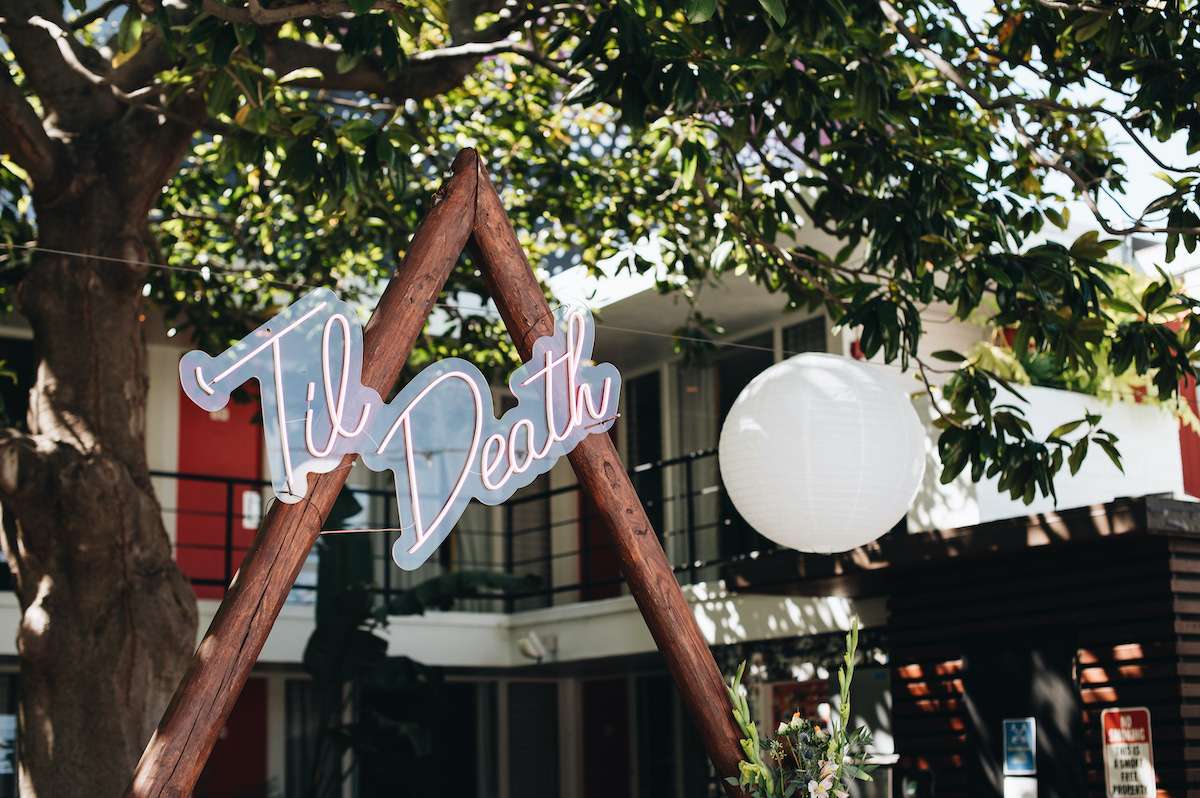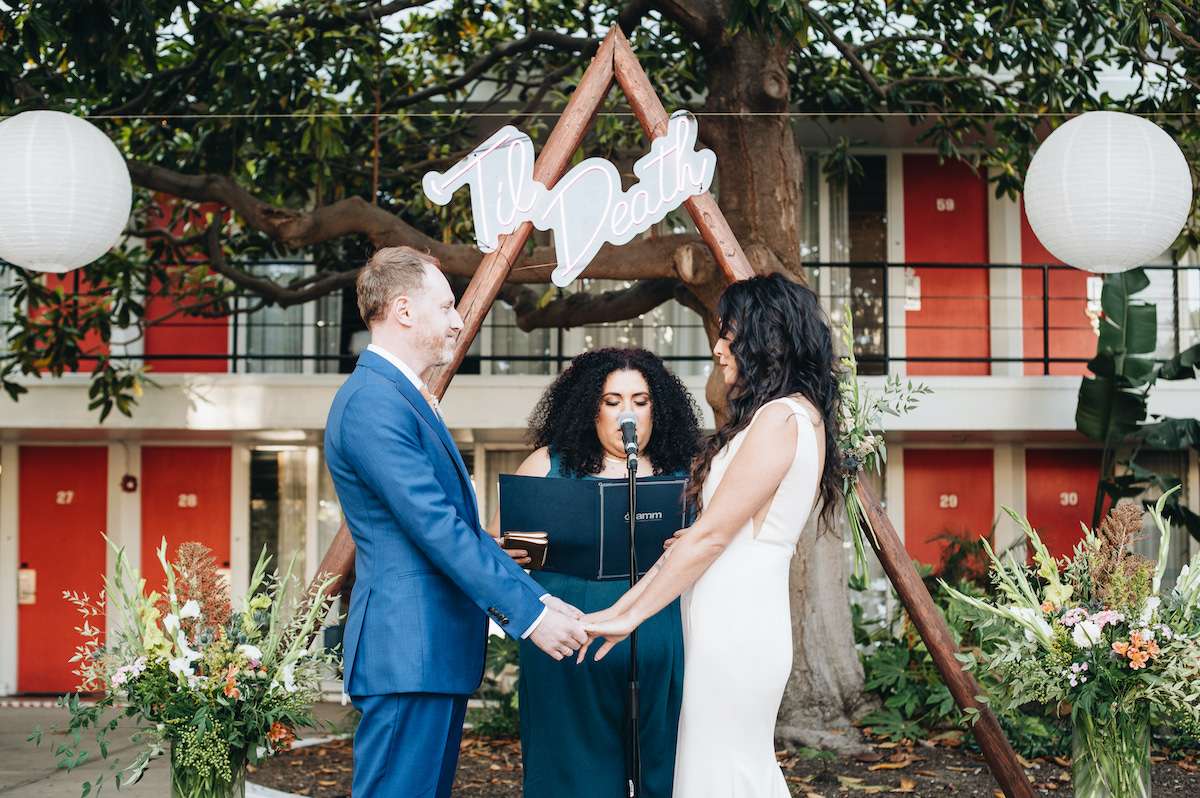 The couple walked together down the aisle, as Shannon explained, "We liked the idea of going in together. We were both nervous walking down the aisle, but then our guests began to cheer, so it loosened up the mood. We wrote our own vows and we laughed throughout the entire ceremony! At the end of the ceremony our nieces and nephew shot bubbles into the air."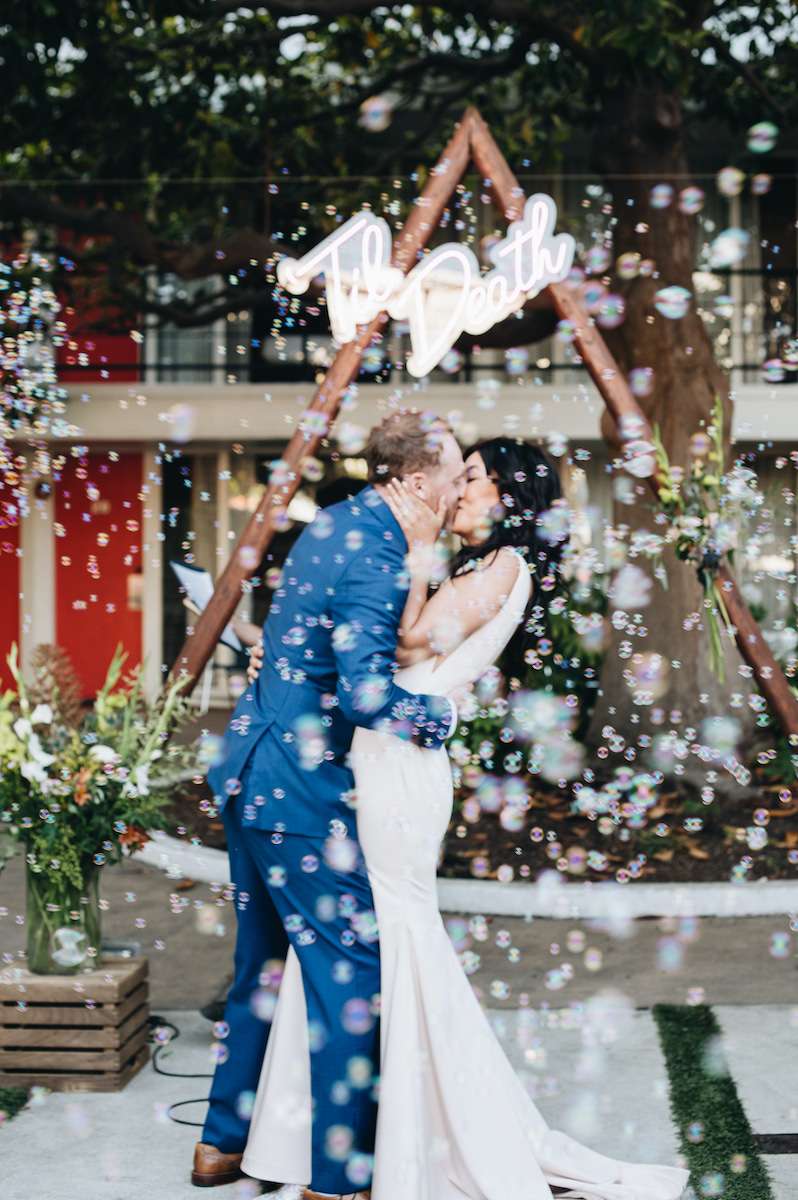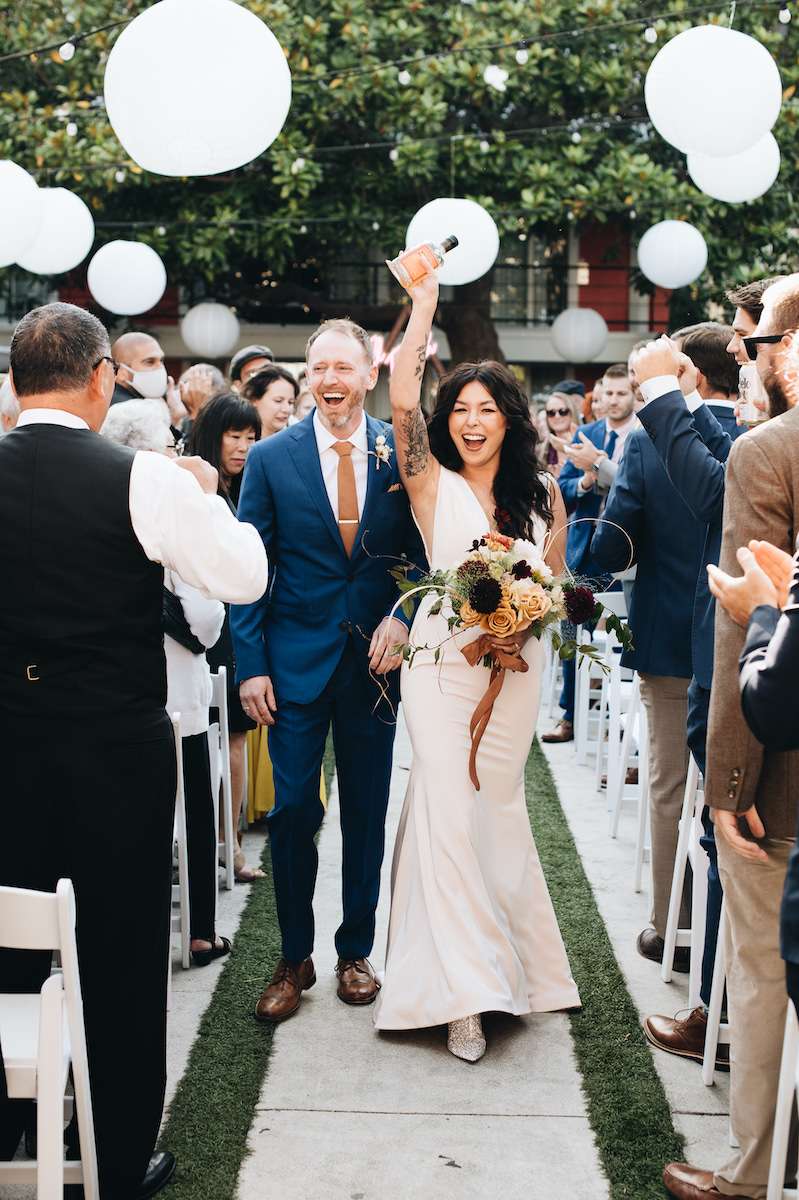 Friends and family played a huge part in Shannon and Trevor's day. They chose a high school friend of Shannon's to officiate, who also did her make-up, and another friend made the arbour under which they got married. However they chose not to have bridesmaids and groomsmen.
"The best idea we had!", Shannon told us. Edging away from tradition was important for the couple in creating a party vibe where everyone felt comfortable and enjoyed themselves. Food played a big part in this, and was the biggest expense in their $15,000 budget. The couple wanted to make sure the food was good, and opted for heavy appetisers throughout the reception, rather than a formal meal.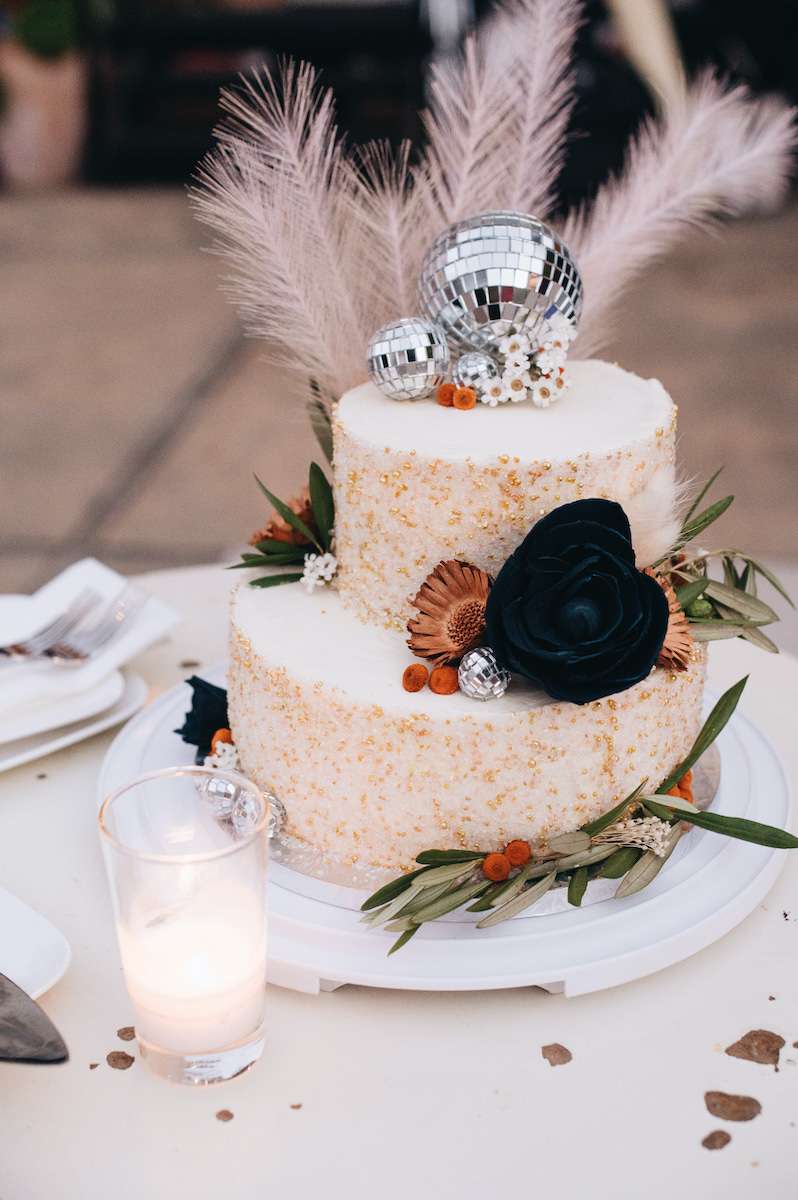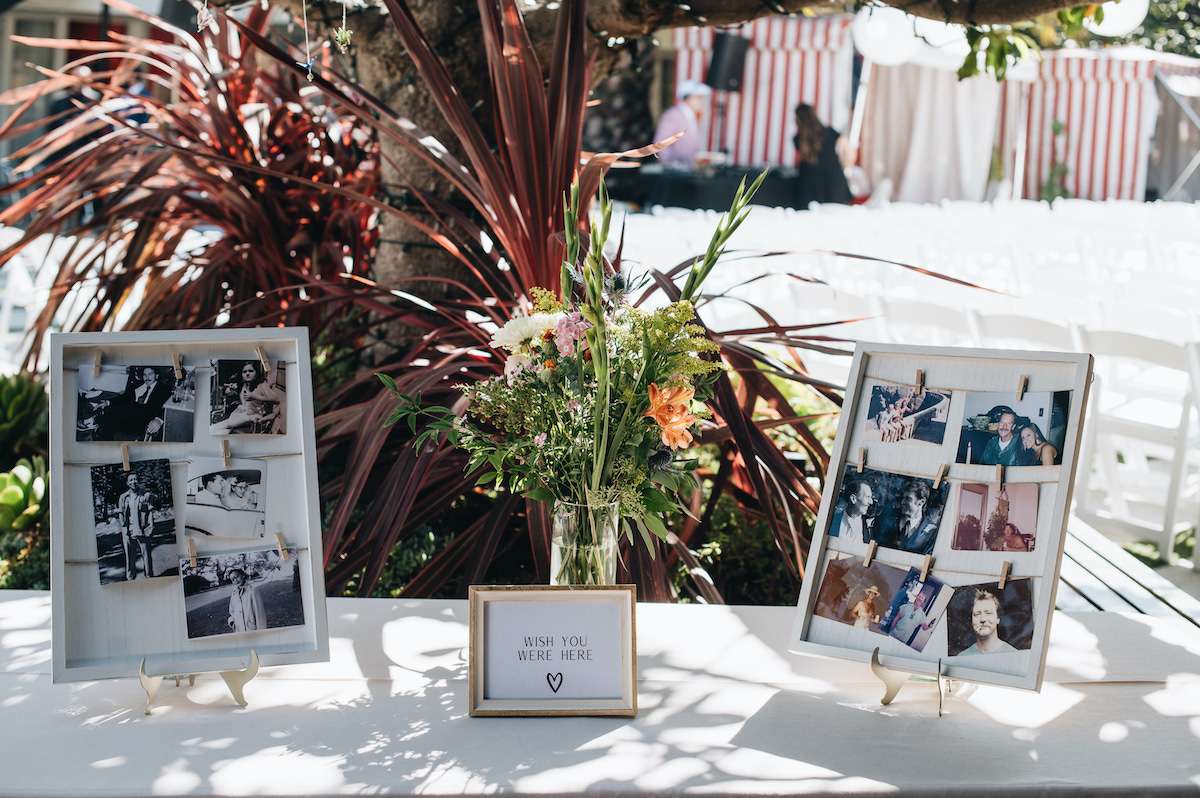 Differing opinions can cause the wrong type of sparks when it comes to mixing friends and family, whether that's political, medical (hi Covid!), or wedding-related, and Shannon explained how they'd overcome that. She told us, "You can try your hardest to make everyone feel special and included on your wedding day and people will always find something to complain about. Just worry about you and your partner having a good time."