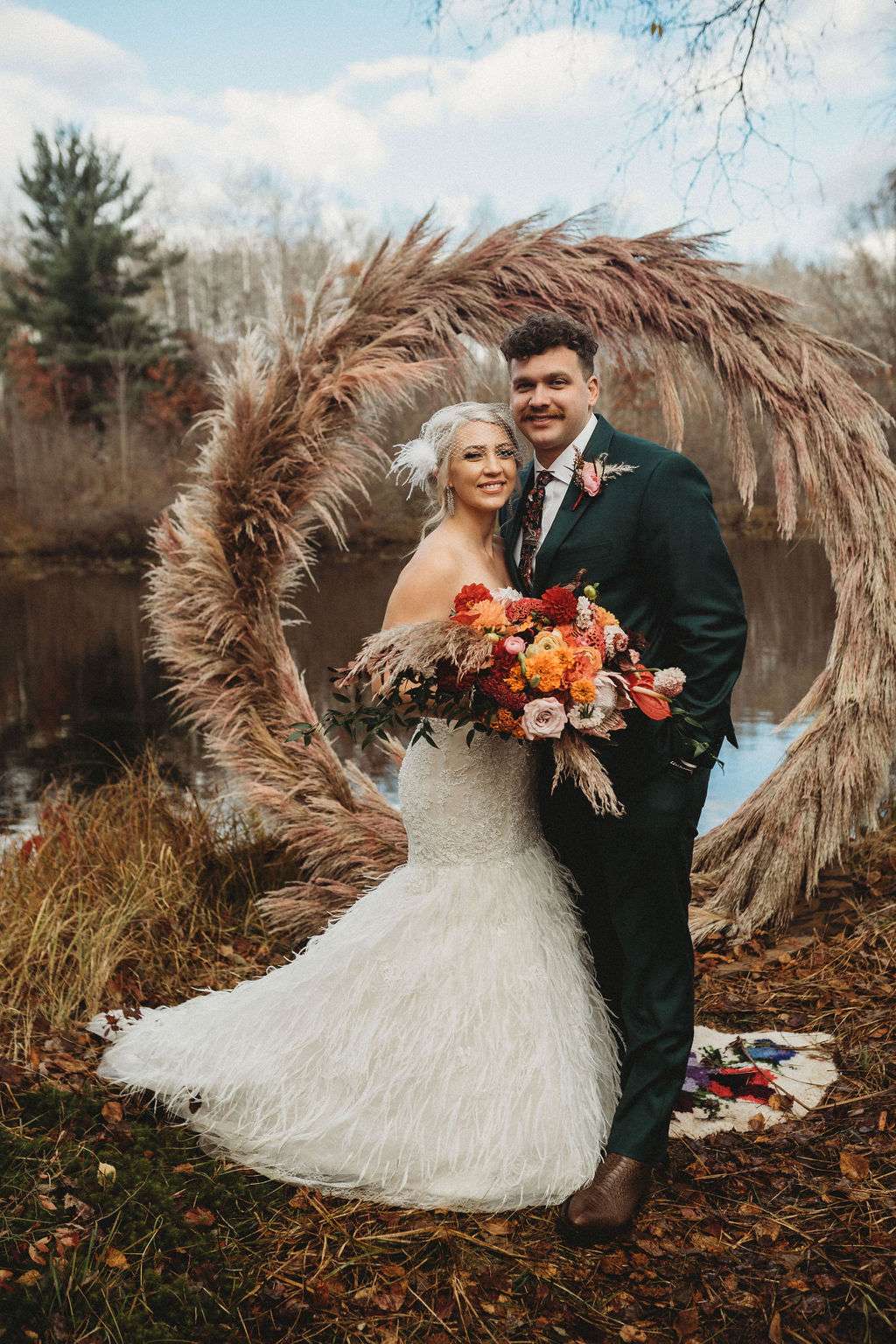 Wanting to celebrate the intimacy of having a small, family wedding, Hayley and Alex chose to embrace the Scandinavian tradition of having a 'feast-like' feel in the barn with a single long table down the centre. They also wanted to honour Haley's late grandmother, and Alex's late father in their day.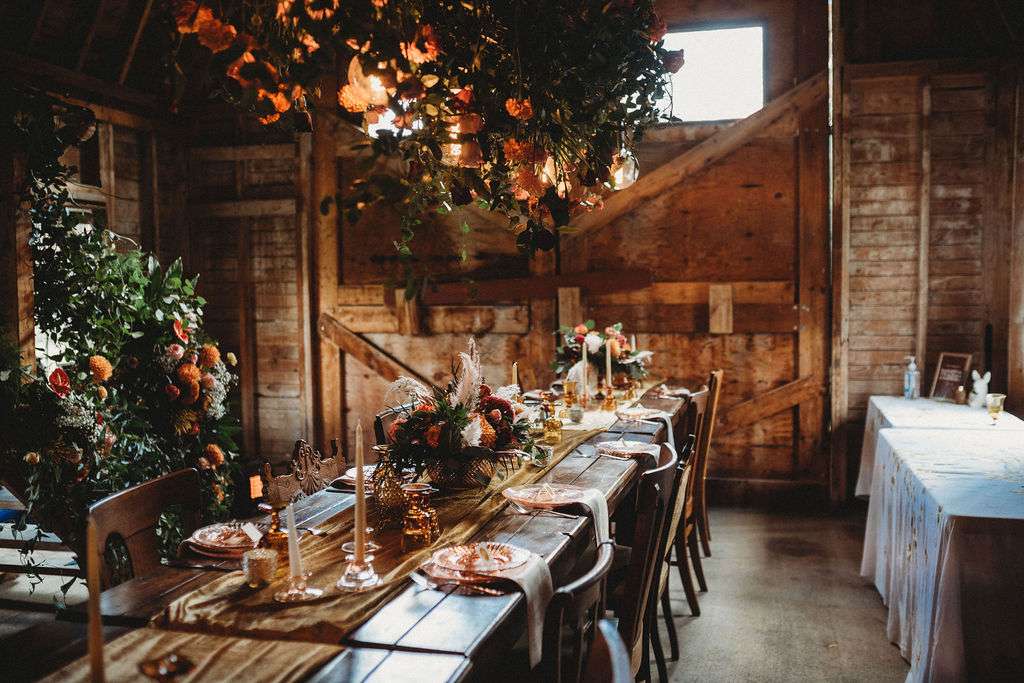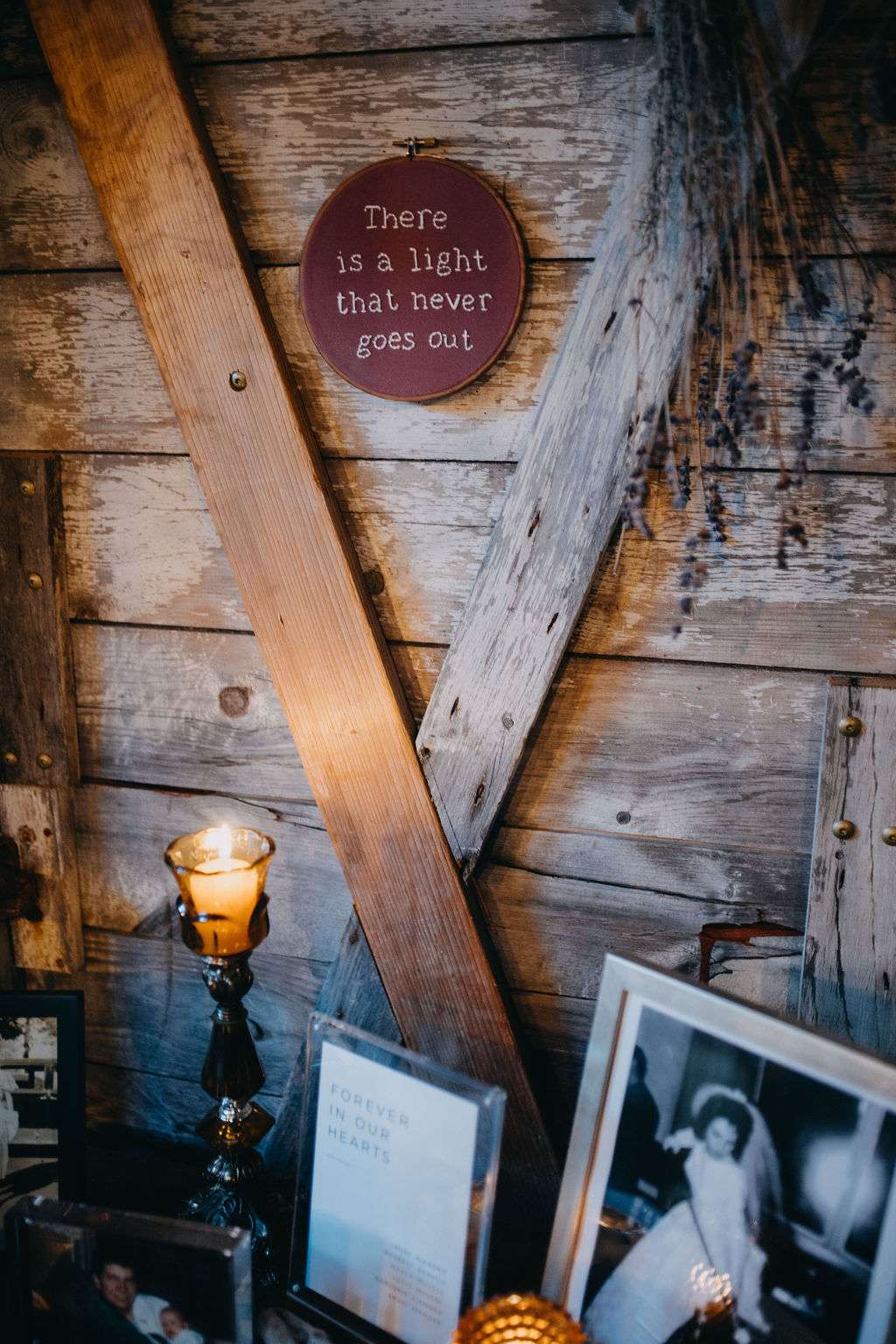 Their October 2020 wedding was held on the groom's family land on the Wisconsin river, a spot that the couple hold dear with fond memories of family fishing trips. Holding their day here meant a lot of coordination, but it was much cheaper than hiring vendors. "We hired vendors for catering, flowers, video and photography, but the rest was done ourselves," Hayley told us.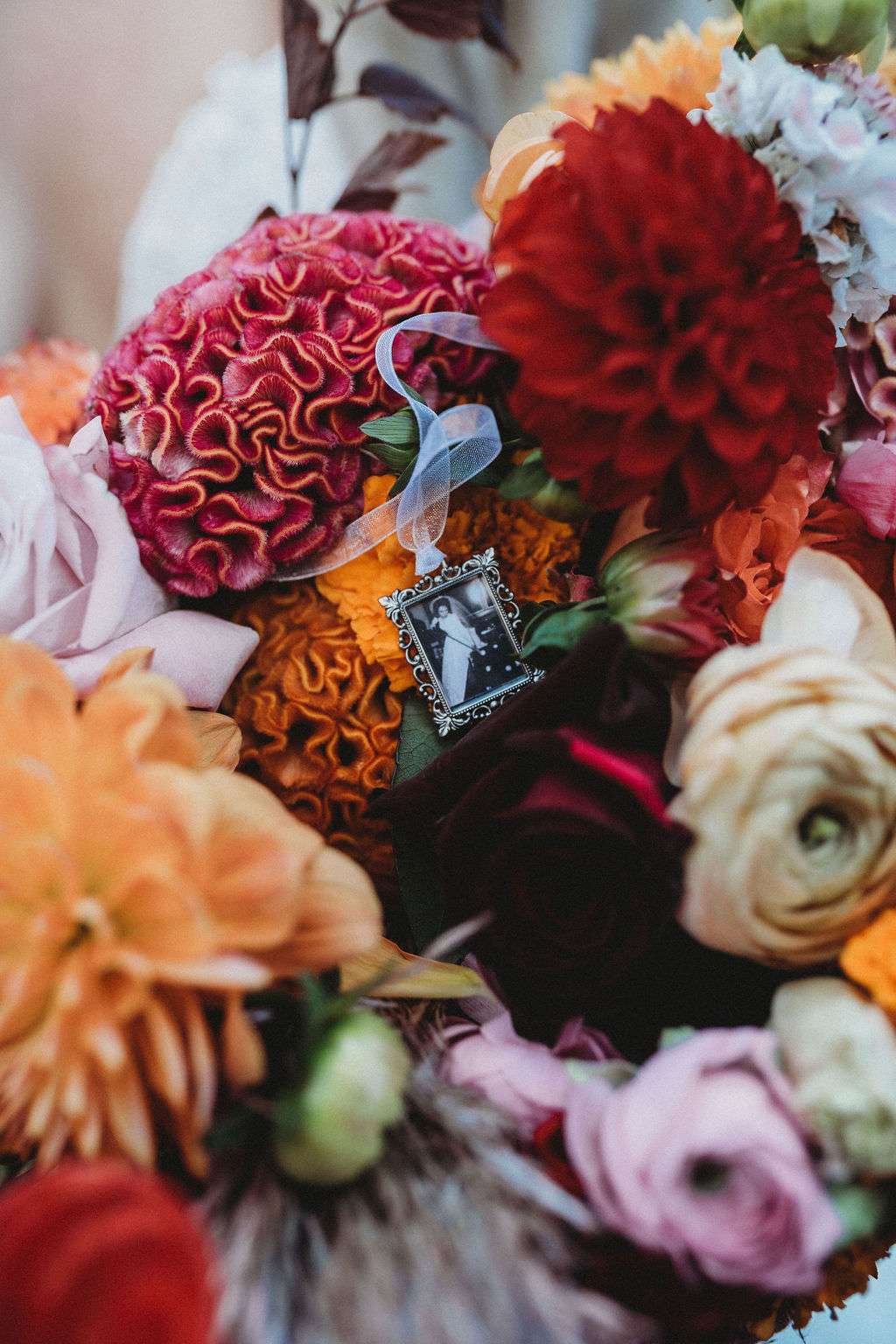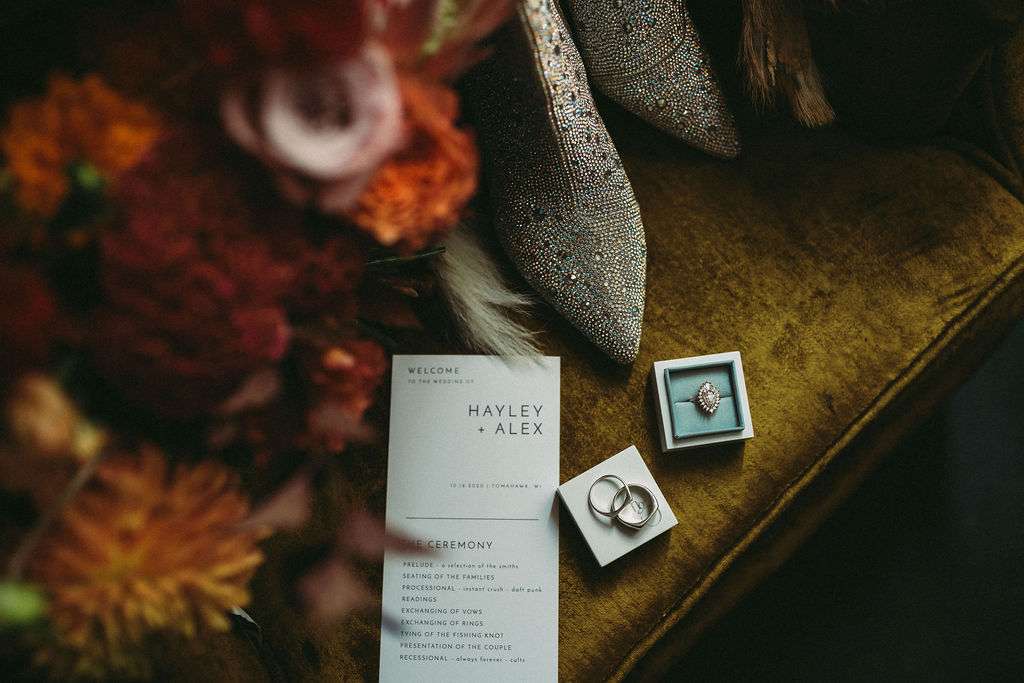 They restored a barn for their reception venue, built benches for their ceremony and installed lighting. Their head table was made by Hayley's dad, and dishes, linens and tableware was from Hayley's grandma and antique shops. "We're so thankful because our family members helped with each project and we had a 'project list' on the fridge to help us stay on task."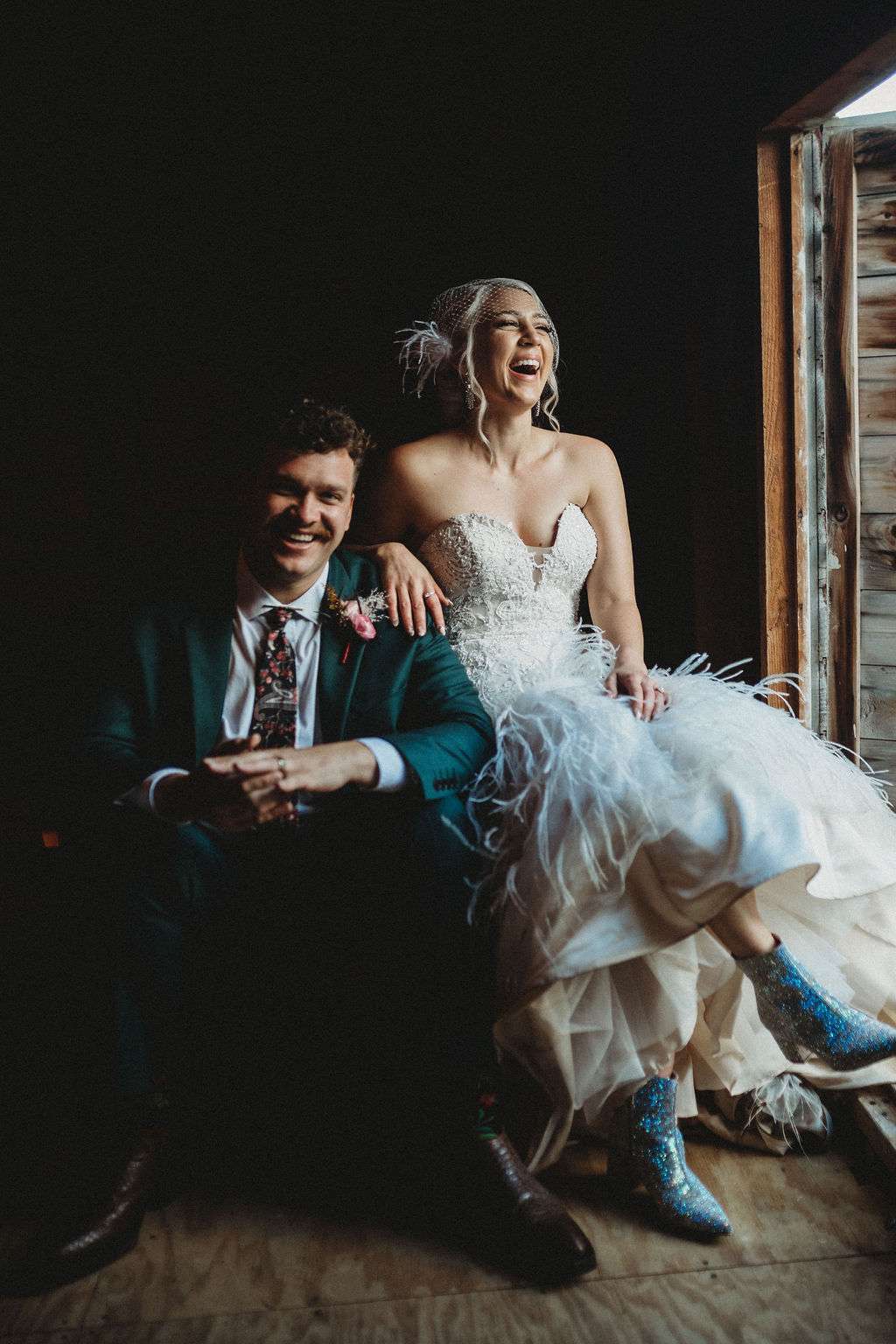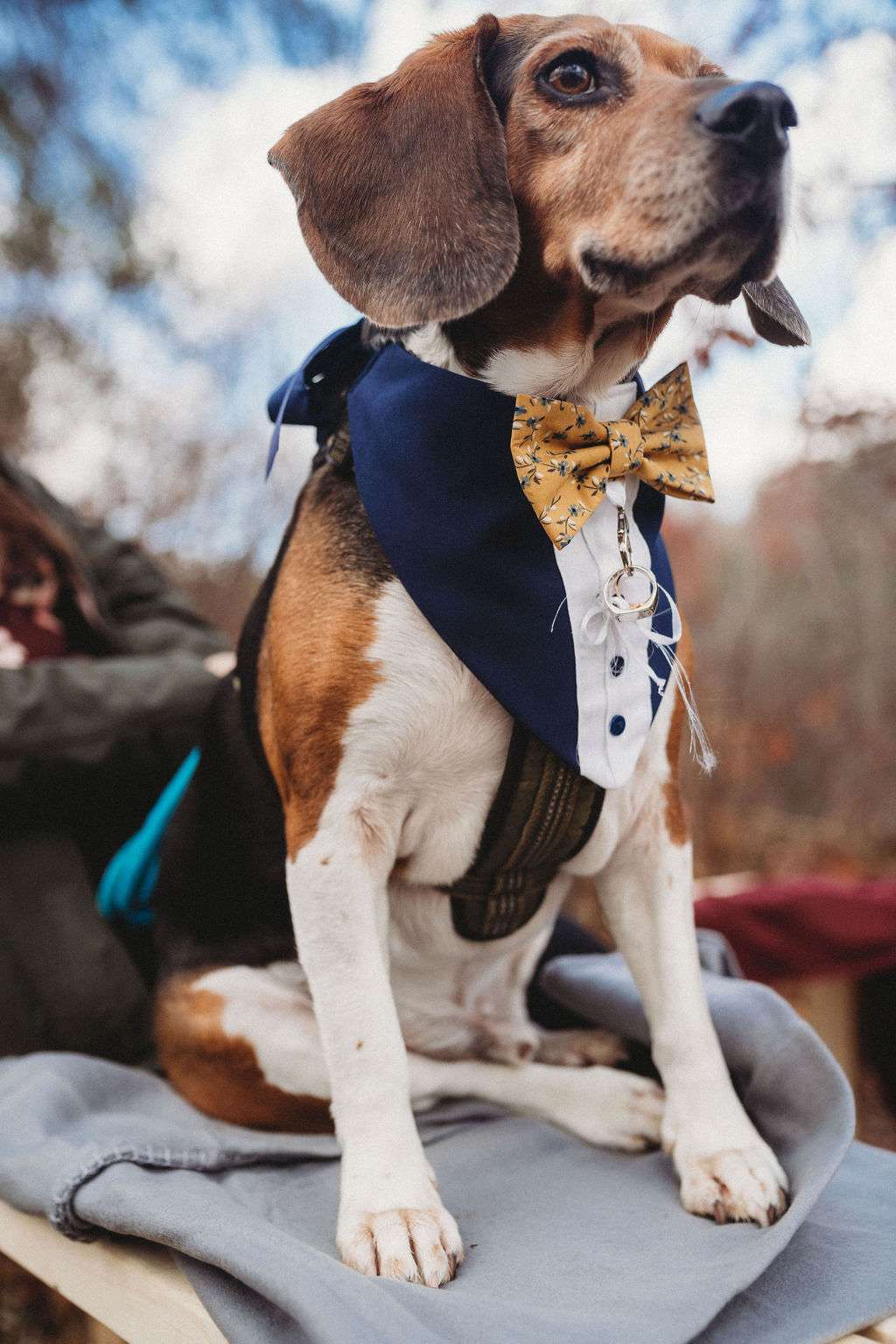 Reception decor was kept simple, in order for the florals to really do the talking. With a ladder suspended from the ceiling, Inspired by Nature installed florals to look like they were dripping down to the dinner table. "Florals were spendy, but they were really important to me as my grandma always painted flowers, had dried flowers in her basement, and pressed flowers."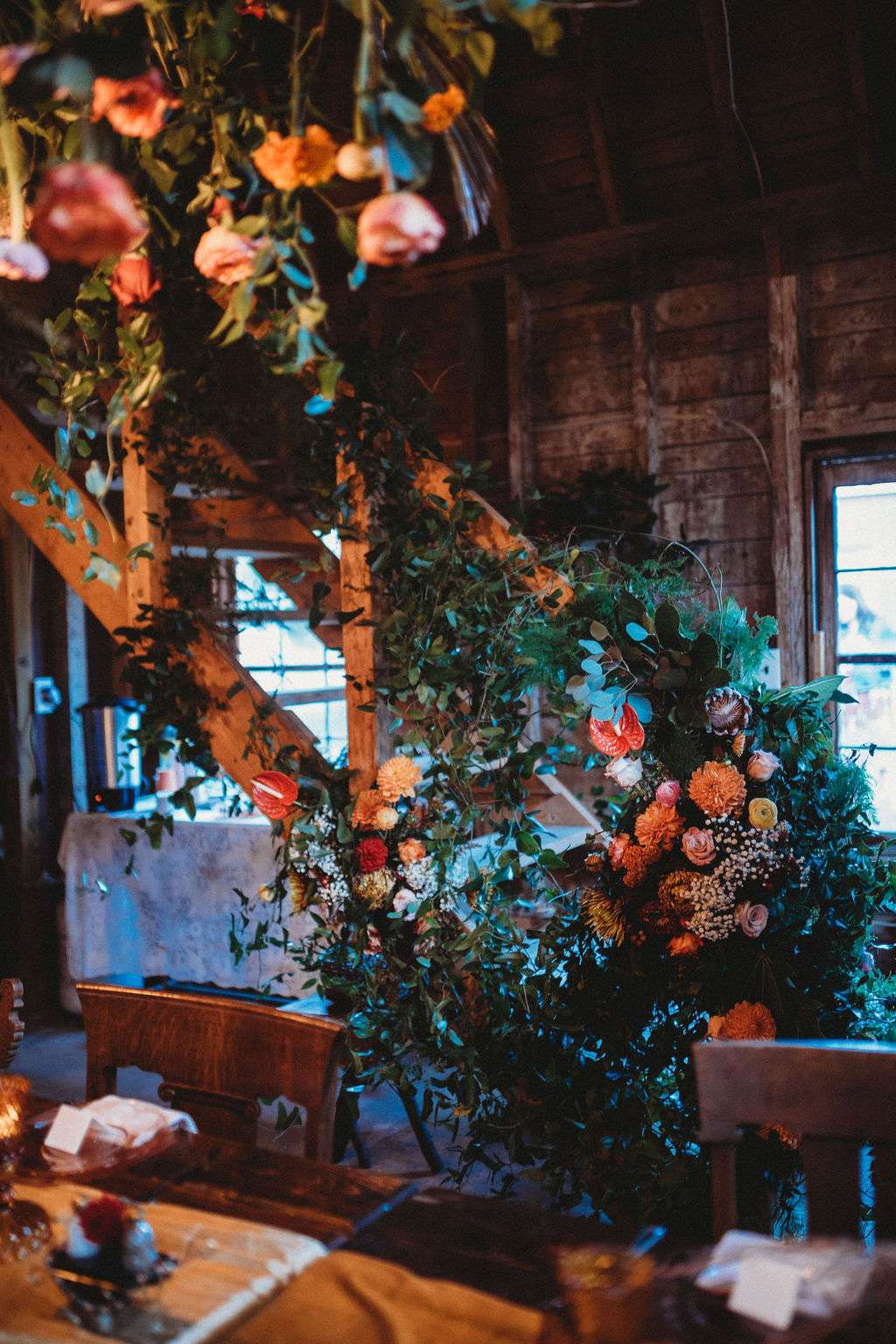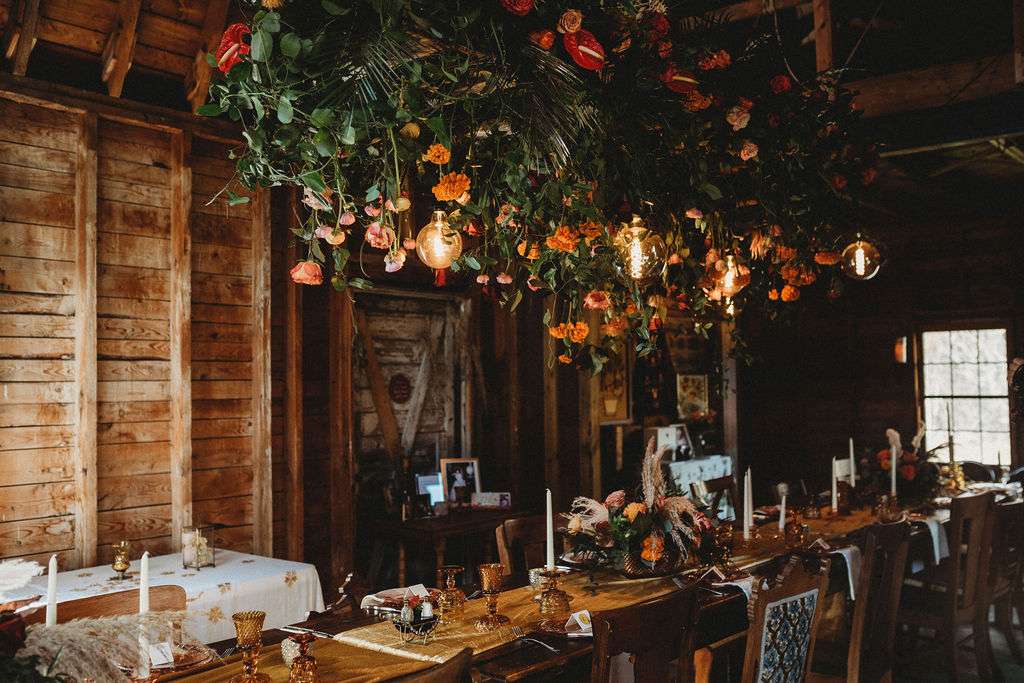 They further remembered those they hold dear with a memorial table with photos, candles, Hayley's grandmas paintings and driftwood from Lake Michigan to remember Alex's dad and all their fishing trips together. Hayley wore her Grandma's jewellery, and pinned a photo of her into her bouquet. Alex wore his dad's Alaskan gold nugget pin, and had a photo of him inside his jacket.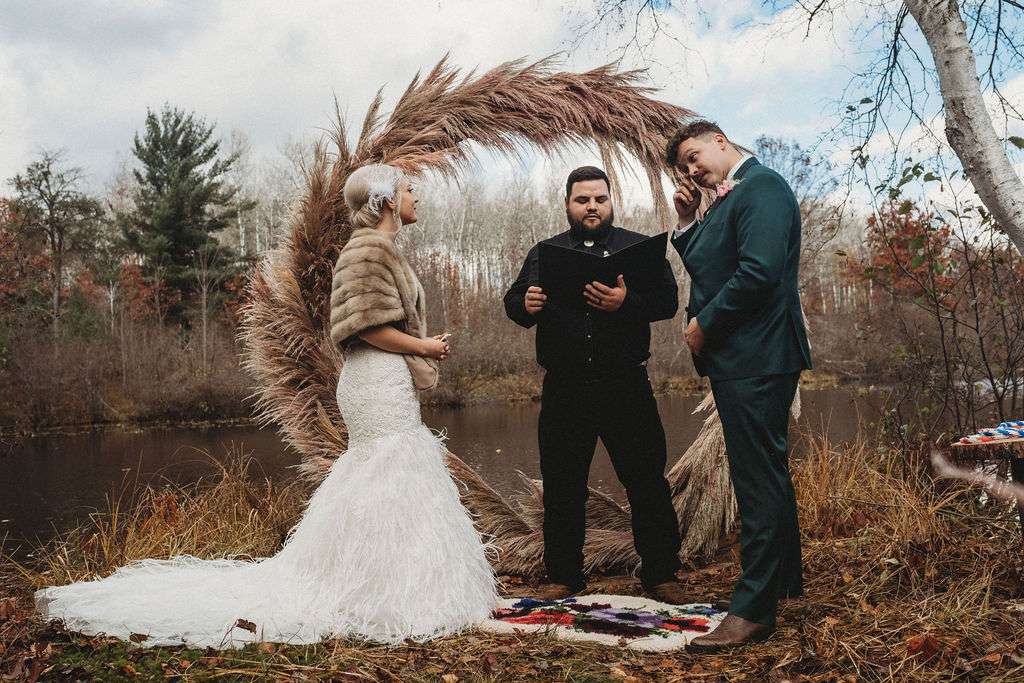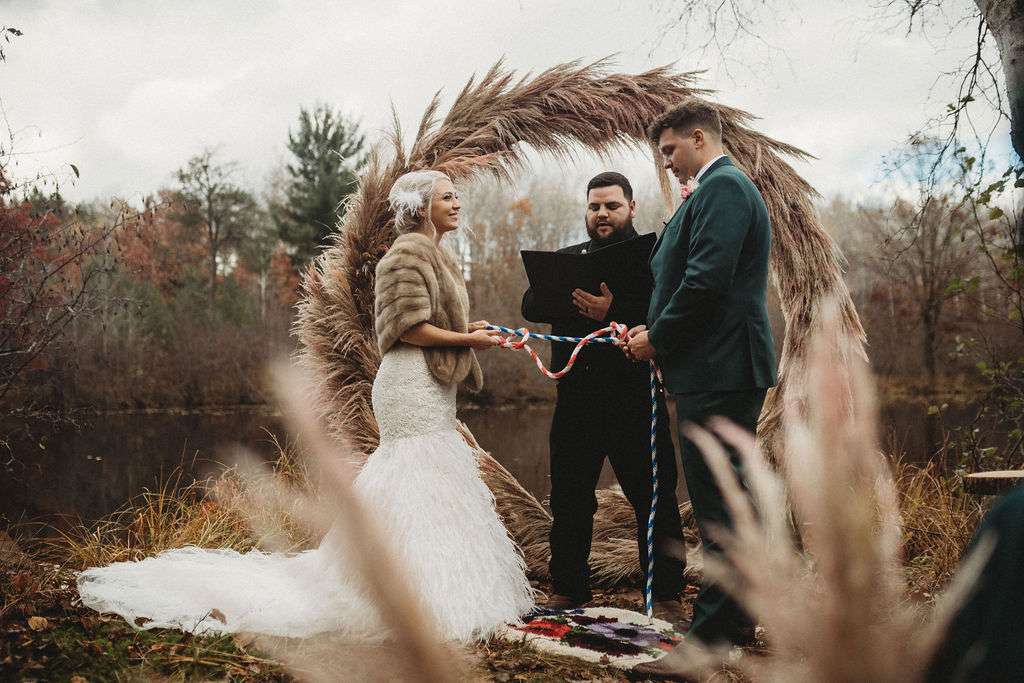 Their guests were chauffeured down to the waterfront in UTV's to where they had cleared a spot for their ceremony. "The Wisconsin River is where we've spent so much time fishing and boating – as soon as you walk to the waterfront through the rolling woods you immediately feel calm. We wanted our guests to feel the majesty of the water amidst the changing fall leaves. We had a bold, pink, pampas-grass arch that was an eye catching focal point."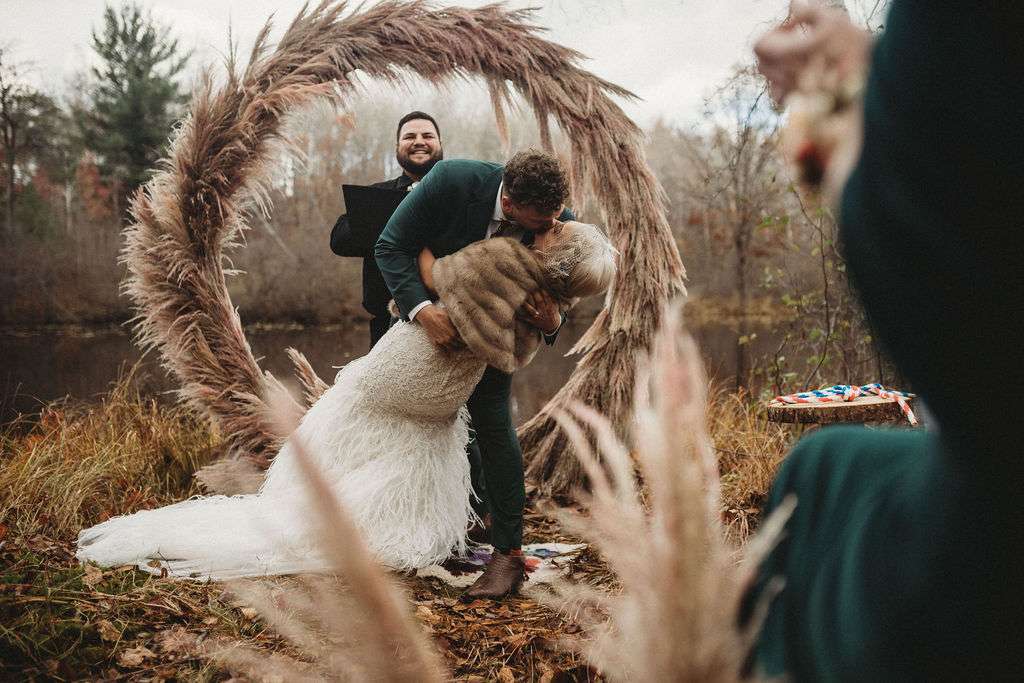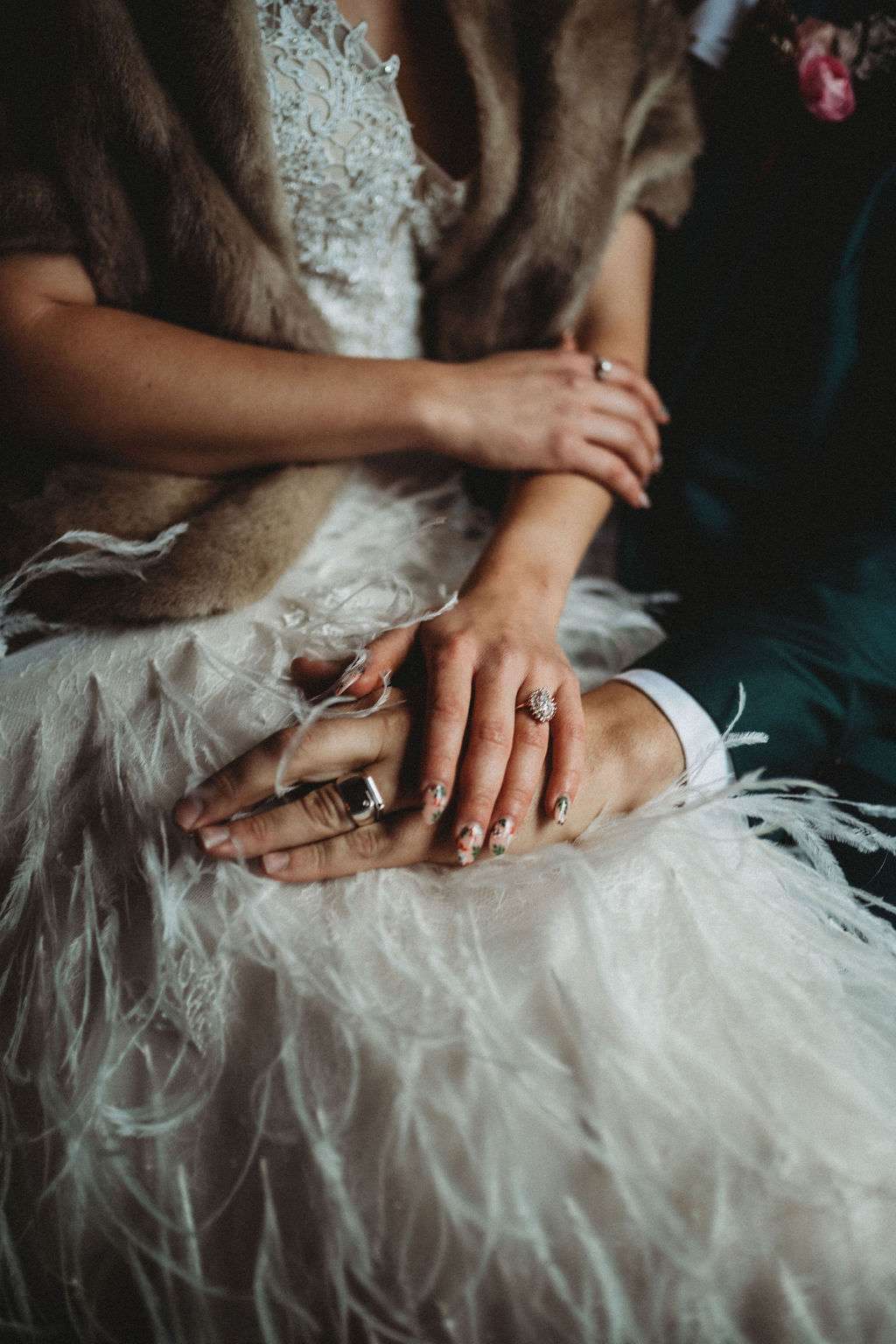 "Our best friend from Alaska helped us with the ceremony of tying a lover's fishing knot in rope to symbolise our new bond as a couple. Alex was a commercial salmon fisherman for many years in Ketchikan, Alaska and it's where we fell in love, so we wanted it to be part of the ceremony. We wrote our own vows. We had a strings arrangement of The Smiths playing while people were seated and I walked down the aisle to an instrumental of Daft Punk's Instant Crush. My sister read a bible verse and our beagle, John Boy, was our ring bearer. It was a perfect ceremony."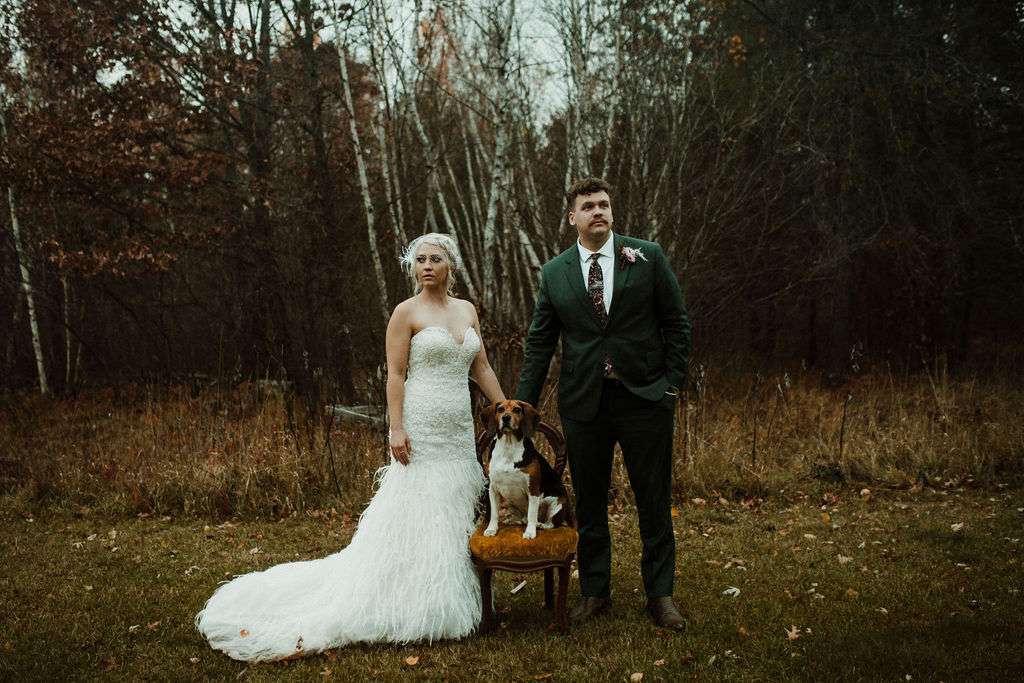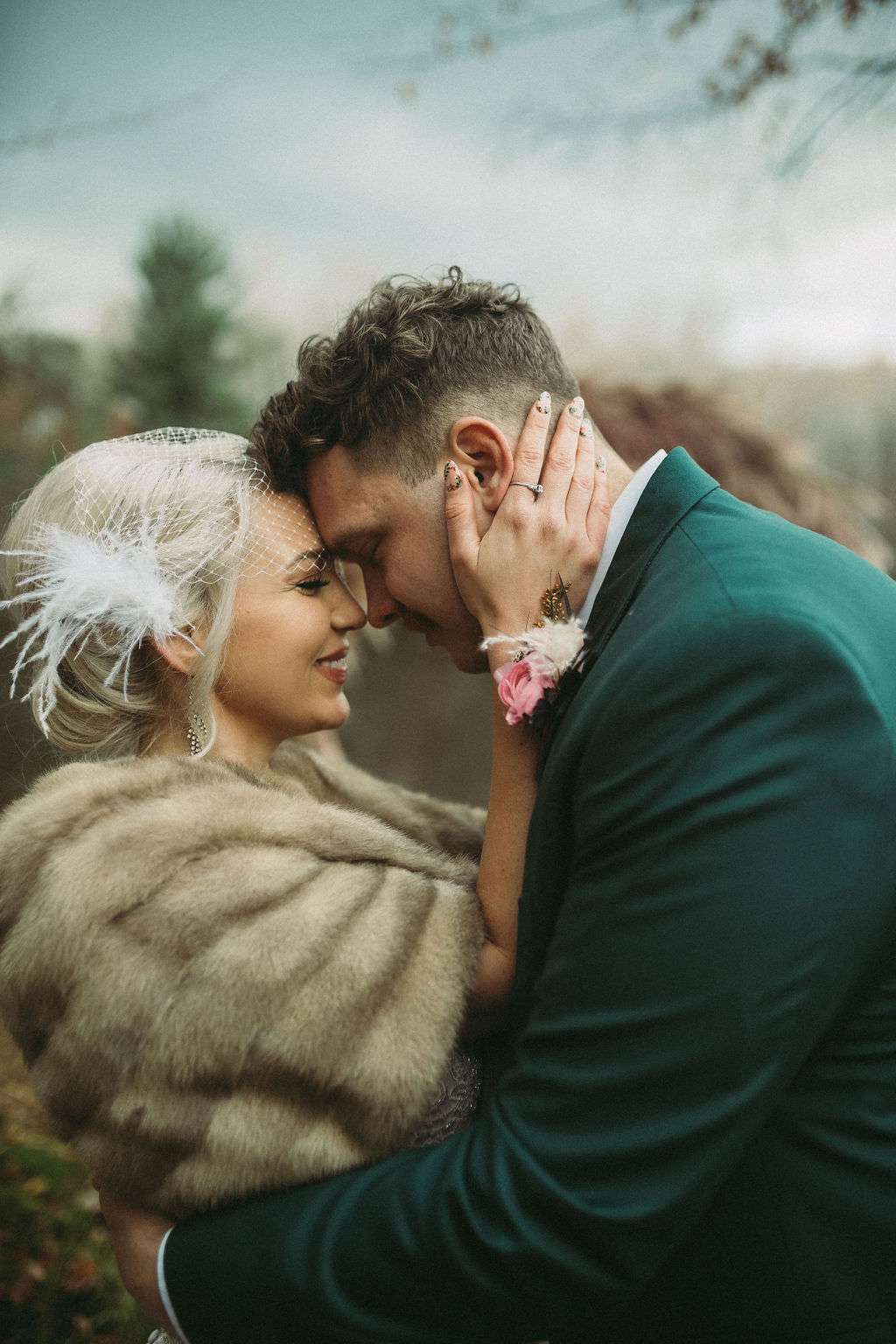 "We were worried about missing out on the true feeling of a reception since we had such a small gathering and no DJ," the bride continued. "But we took turns playing music on our Bluetooth stereo and had the most fun, cozy, dance party that lasted for hours. Making decisions together is fun because it helps you figure out your priorities as a couple. We used a wedding planning book to help us guide our priorities. We knew having an intimate family gathering was our biggest priority and talking about it beforehand helped paint a picture for how we wanted the day to look and feel. Talk about each of your top priorities before you begin planning. Don't sweat the small stuff and enjoy the feeling of the day."