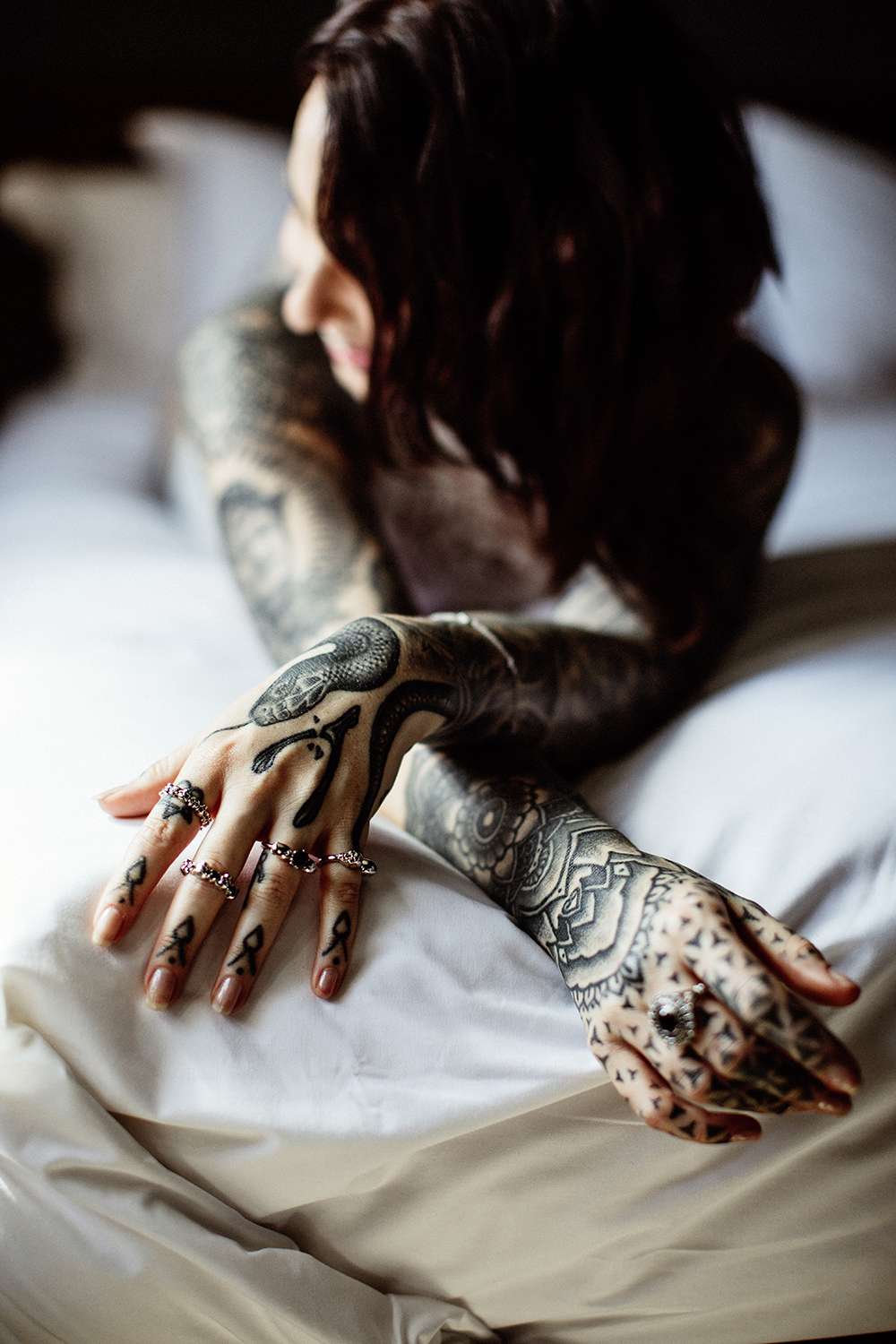 The exchanging of the rings is one of the most exciting and personal moments in any wedding. You also have to look at your wedding band every day, so making sure your rings are personal and authentically you is super important for even the most non-traditional couples. Whether you want something minimal or a ring that's never been seen before, there are plenty of unique ring options out there.
The Great Frog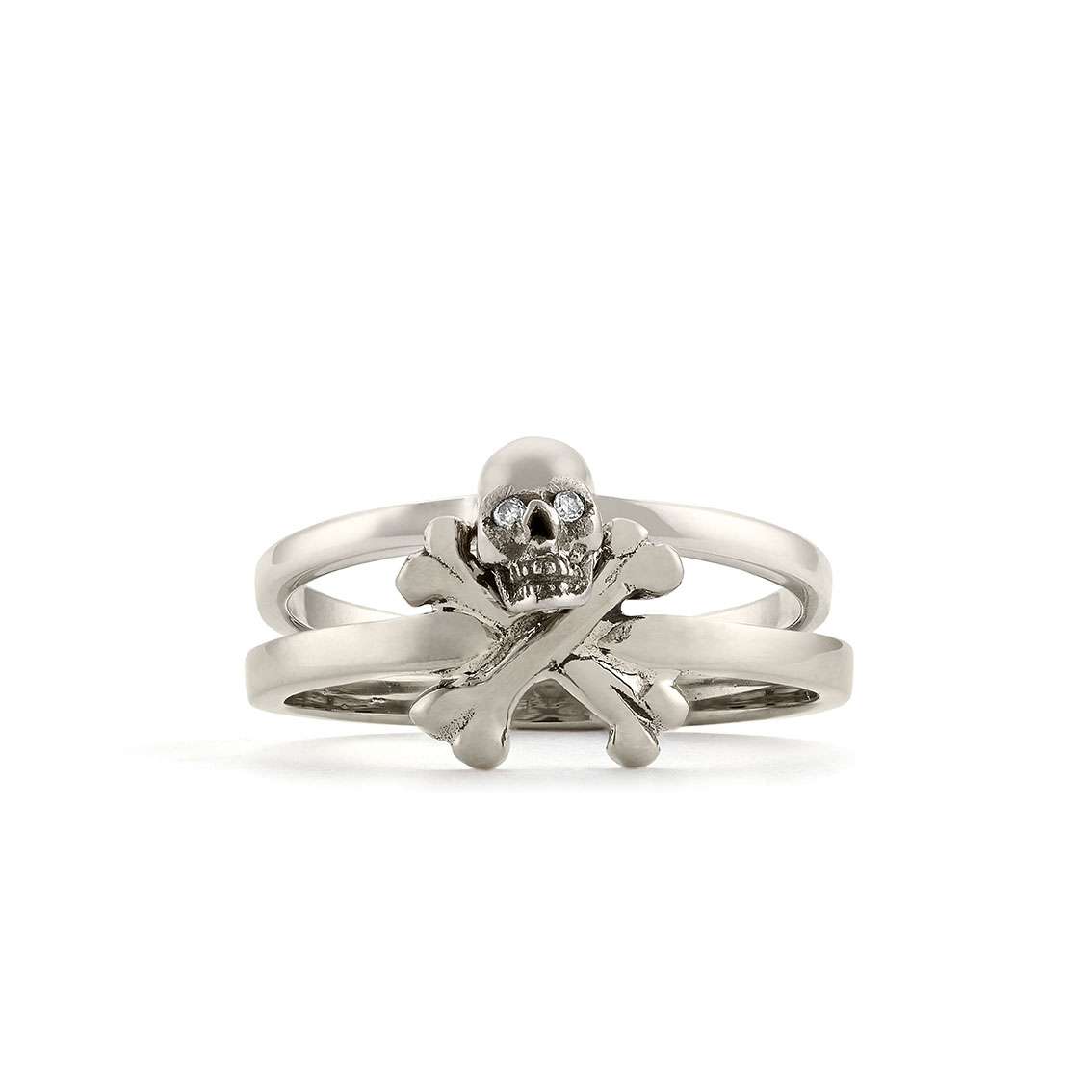 Chances are you're already familiar with The Great Frog (and if you're not, check them out immediately – their skull rings are legendary) but you might not know that they do their own range of wedding rings, too. All of their wedding bands can be created in silver or gold, and each is handmade for you. They have everything from the deceptively simple to more unusual geometric styles, so you're bound to find something that speaks to you.
Sofia Zakia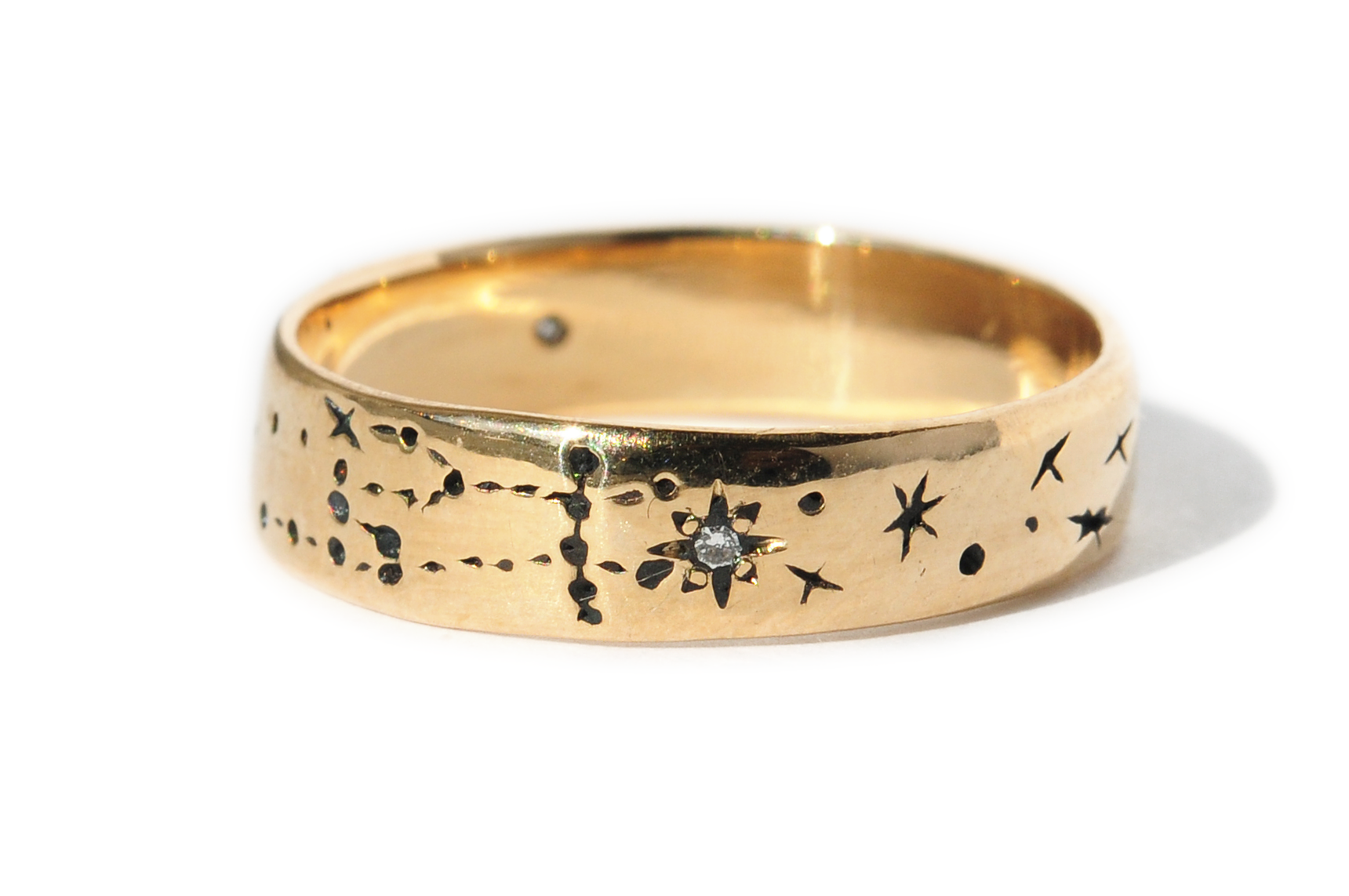 One way of making sure your wedding bands are unique to you is to get them engraved. Sofia Zakia has a range of out-of-this-world wedding rings, including these utterly beautiful constellation bands which you can have etched with the constellation of your other half's zodiac sign – I can't think of a better way to match without really matching.
If the zodiac's not your thing, there's also a huge range of gorgeous rings made with different stones and diamonds, inspired by everything from goddesses to the cosmos. A ring inspired by a Greek goddess is definitely something I'm on board with.
Kipkalinka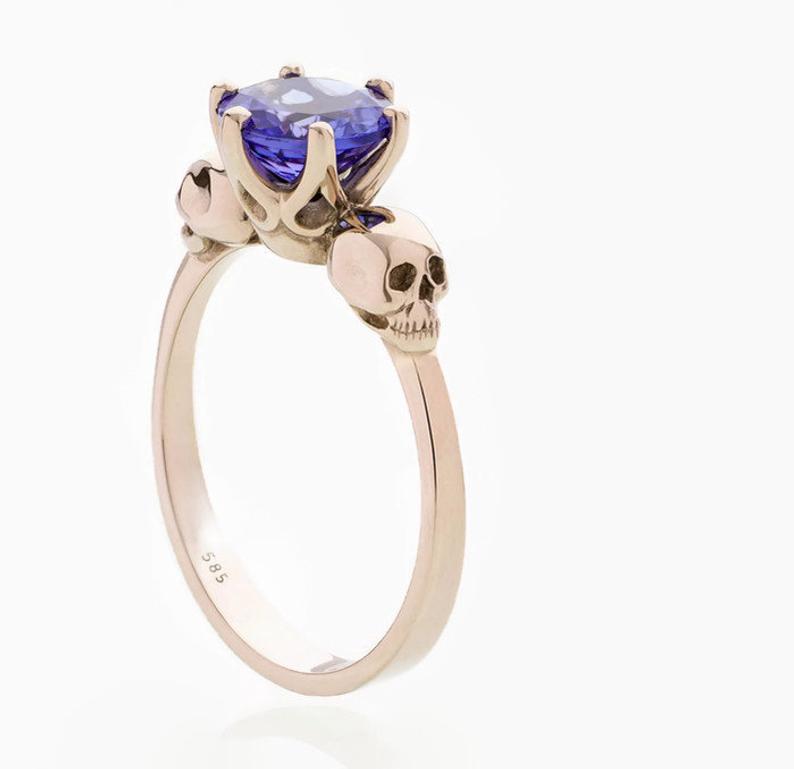 For those of you a little more inclined to head towards the dark side, you should head over to Kipkalinka's Etsy page. Her wedding bands are dainty but still full of character, with an amazing variety of metals and jewels so you can find something that suits your bad ass personality. Those simple skull bands would make amazing matching couples rings, whilst her various coloured diamonds would make the perfect showstopper.
Anna Fine Jewellery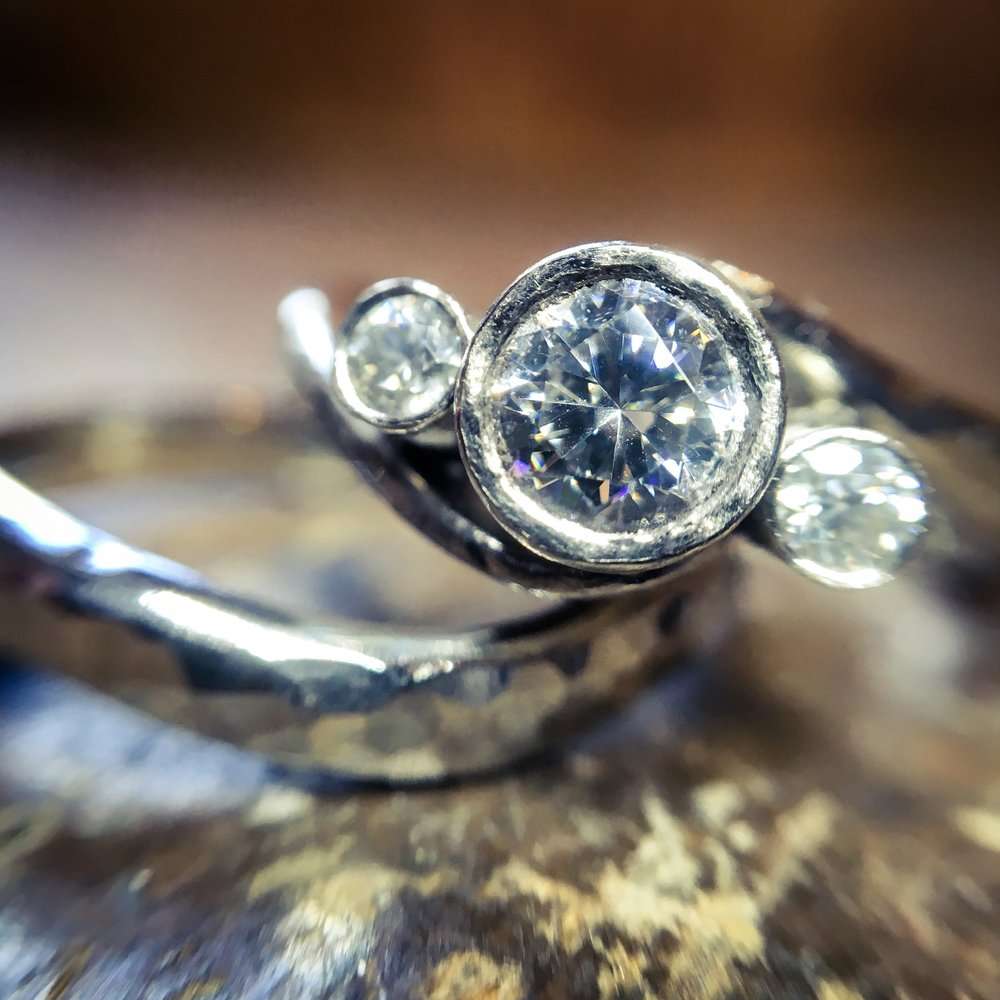 For all of our amazing eco-warrior brides out there, I'm sure you'll be looking for ways to make your wedding as environmentally and ethically conscious as possible. Anna Fine's rings are all handmade in her Malvern workshop, and each piece is created using locally sourced, recycled gold and silver to help eliminate waste.
I don't know about you, but I love the idea of keeping the planet beautiful and getting a handmade, unique ring out of it too. Each ring is beautifully simple and elegant with their own personalities, made just for you and your big day. She'll even commission you your own piece based on your designs so you know it's a total one-off, just for you.
Ken and Dana Design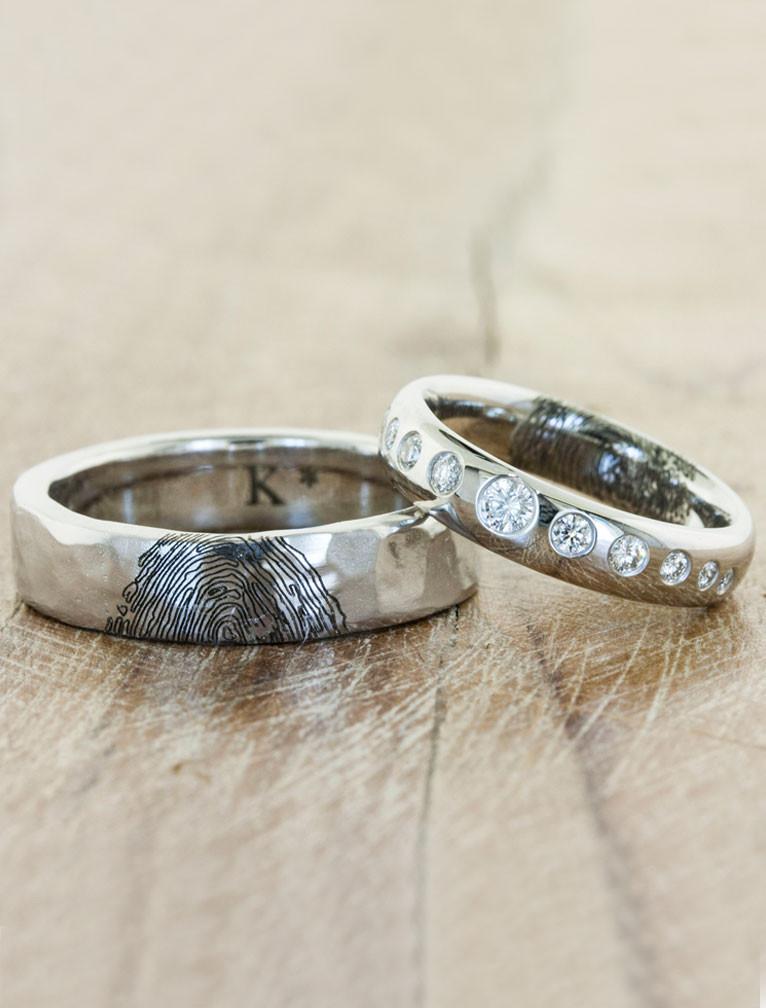 They may be based in NYC, but this family run business creates some of the most amazing rings for alternative couples in almost every corner of the world. Ken and Dana make some of my favourite wedding bands in the business, and the diversity of their range is mind-blowing. Almost any shape and metal is possible, and I can guarantee there'll be some ring styles that you would have never even thought of.
Whether you want to buy individual his and hers rings, or get yourselves matching ones, custom made just for you both, you won't be short of choice. They even offer engraving options, with the Lito ring allowing you to engrave everything from a name to a fingerprint onto its surface – you don't get much more unique than that.
Skin & Bone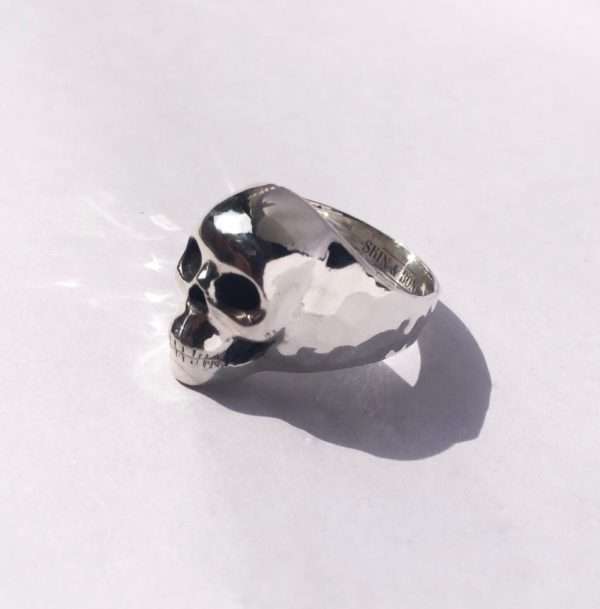 A regular band not your cup of tea? Try getting something totally off the wall, like Skin & Bone's amazing range of object rings. There's everything from romantic roses to oversized skulls, but if you're looking for something utterly unique that no one else has, they also do custom designs so you can create a ring that's as beautifully weird and wonderful as you are.
Shiruba Tree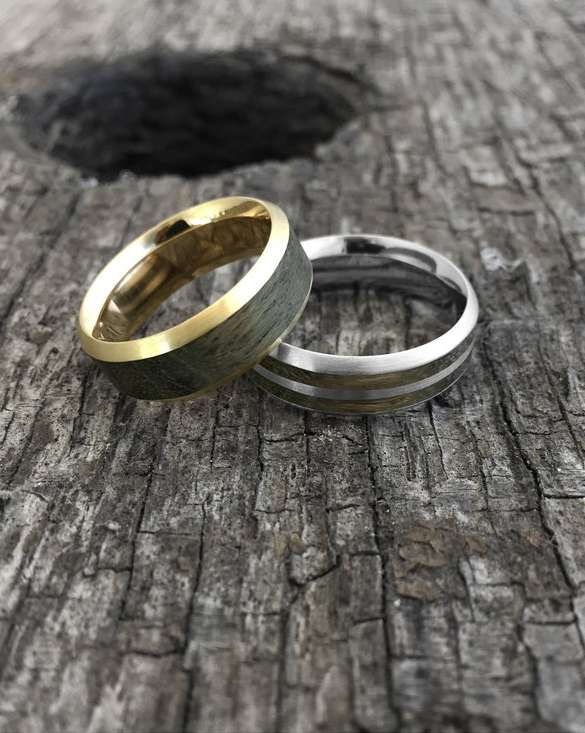 If you want to celebrate your love for each other AND show your commitment to the environment, then firstly you're a superhero, and secondly a wooden wedding ring is right up your street. Shiruba Tree work with sustainably sourced wood and a wide variety of precious metals and non-conflict diamonds to create personal, bespoke wedding rings that are totally unique. Easy on the conscience and one of a kind? Sign me up.
Iz & Co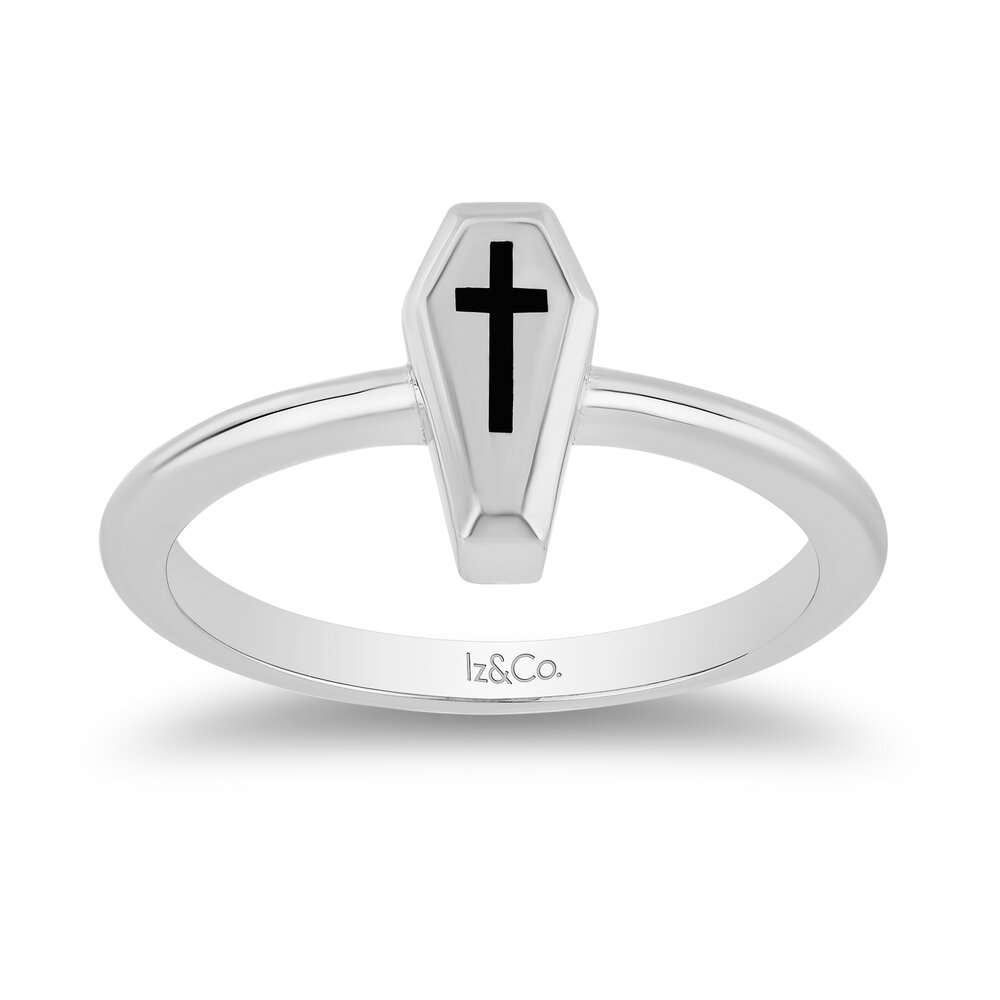 At Iz&Co. their mission to create fine jewellery pieces that are also edgy, bad ass and make the wearer feel sexy and confident. From skulls, black diamonds, crosses and even bat wing and coffin shapes, if you're a true Rock n Roll babe at heart then you'll LOVE their designs.
Make Your Own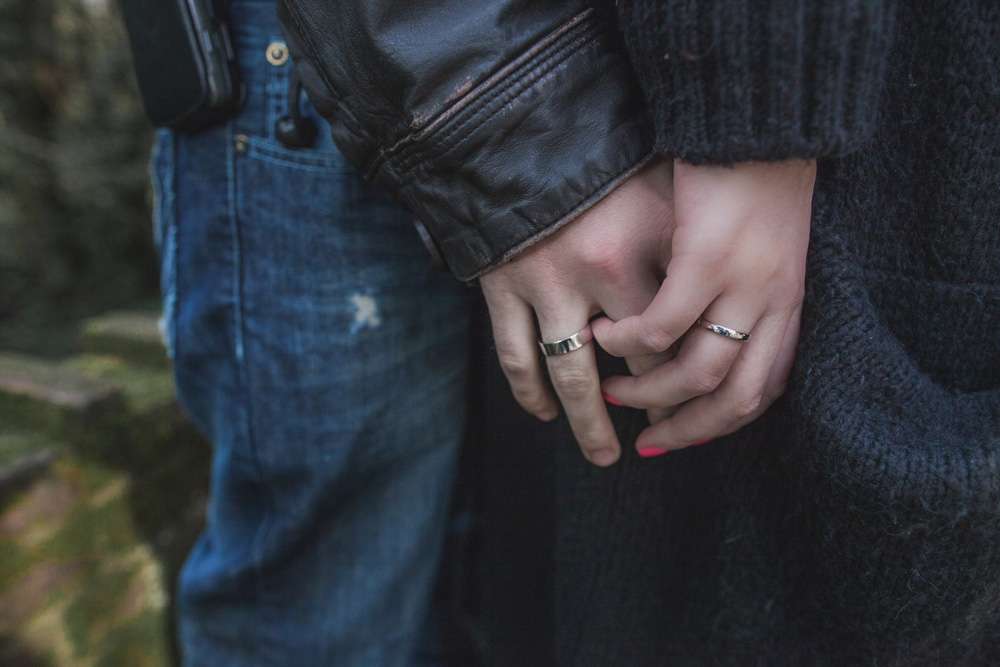 Nothing on the market take your fancy? I get it – sometimes there's so much choice that you end up totally overwhelmed and can't make a decision. Why not make way for one of the most personal and creative rings out there and your own? Making your own wedding bands not only allows you complete creative control, but it's also an amazing way of making your rings super personal from the very beginning. You and your other half get to spend time together, you get to create something that'll last forever, and it takes the pressure off you both trying to track down a ring that suits you both. You could even make each other's rings! That way you know they're really meaningful to you both too. I mean, more than a wedding ring already is…
There are plenty of places you can make your own rings. Look up local workshops, or check out places such as The Quarter Workshop or Rachel Jeffrey's Contemporary Jeweller, two amazing silversmiths renowned for making your wedding ring crafting the most magical experience. You get to choose your own materials and designs, and you even get provided with snacks and fizz while you work – what a dream.
Tattooed Rings
This one might be a little controversial for your preppy Aunt Sandra, but if you're on this page I'm going to guess that you don't mind going against the norm. Whether you don't like wearing jewellery, or nothing feels special enough, why not break with the tradition and get your ring tattooed on instead? Not only can you make it as intricate and intimate as you like, but it means that once your big day is over, you still have something special to look forward to that's just for you two. It doesn't have to be a typical ring, either – I had a simple heart tattooed under my engagement ring and it's the perfect memento of our engagement, especially during times where I can't wear my ring.
Tips For Choosing the Perfect Ring for You…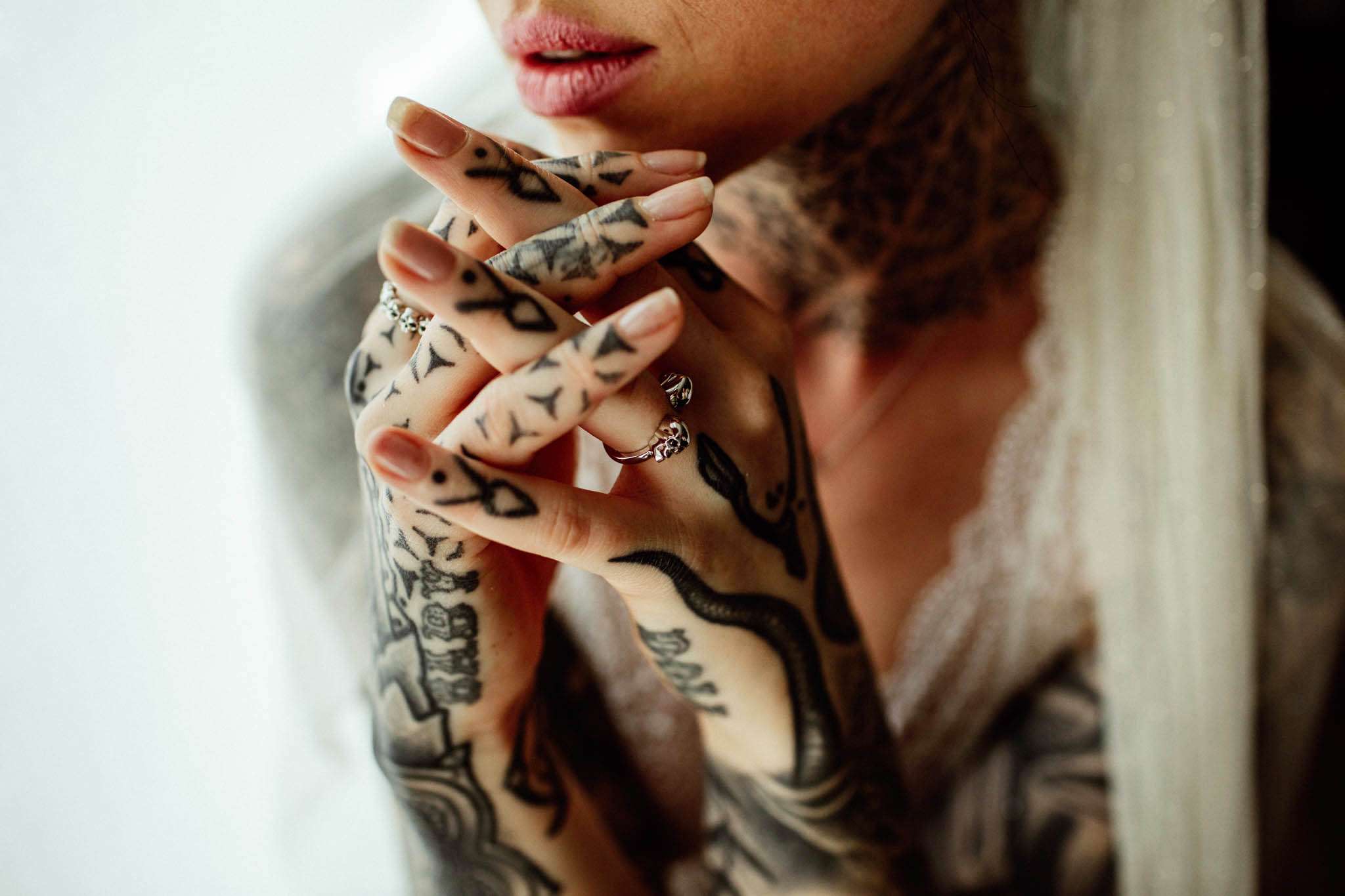 Whatever kind of wedding ring you choose, it'll be personal and perfect for you. It can get a little bit overwhelming, though, so here are some top tips to keep in mind and help you keep it as straight forwards as possible.
First things first; if you're going for a metal, pick a metal that works for you and your lifestyle. Tastes aside, remember that some metals will tarnish quicker than others, whilst others are notorious for being hard wearing and long lasting (I'm looking at you, platinum). There's plenty of easy guides online that'll give you a quick breakdown of different metals and why they might – or might not – work for you. Generally; Gold is the most commonly used, silver is softer, and platinum will last forever.
The type of stone you choose is also dependent on how it looks and what your lifestyle is. Most brides go for diamonds because they're classic, but also the hardest wearing. However, you know we love a curveball when it comes to our alternative weddings, and there are plenty of other stones that will withstand day to day wear. There's something called a Mohs scale, which determines how hardy your stones are. Sticking above 7 will generally mean your ring and its stones can be worn day in, day out – which let's face it is what we all want. Whatever you end up choosing, as long as it suits you, your partner and your lifestyle, you'll treasure it forever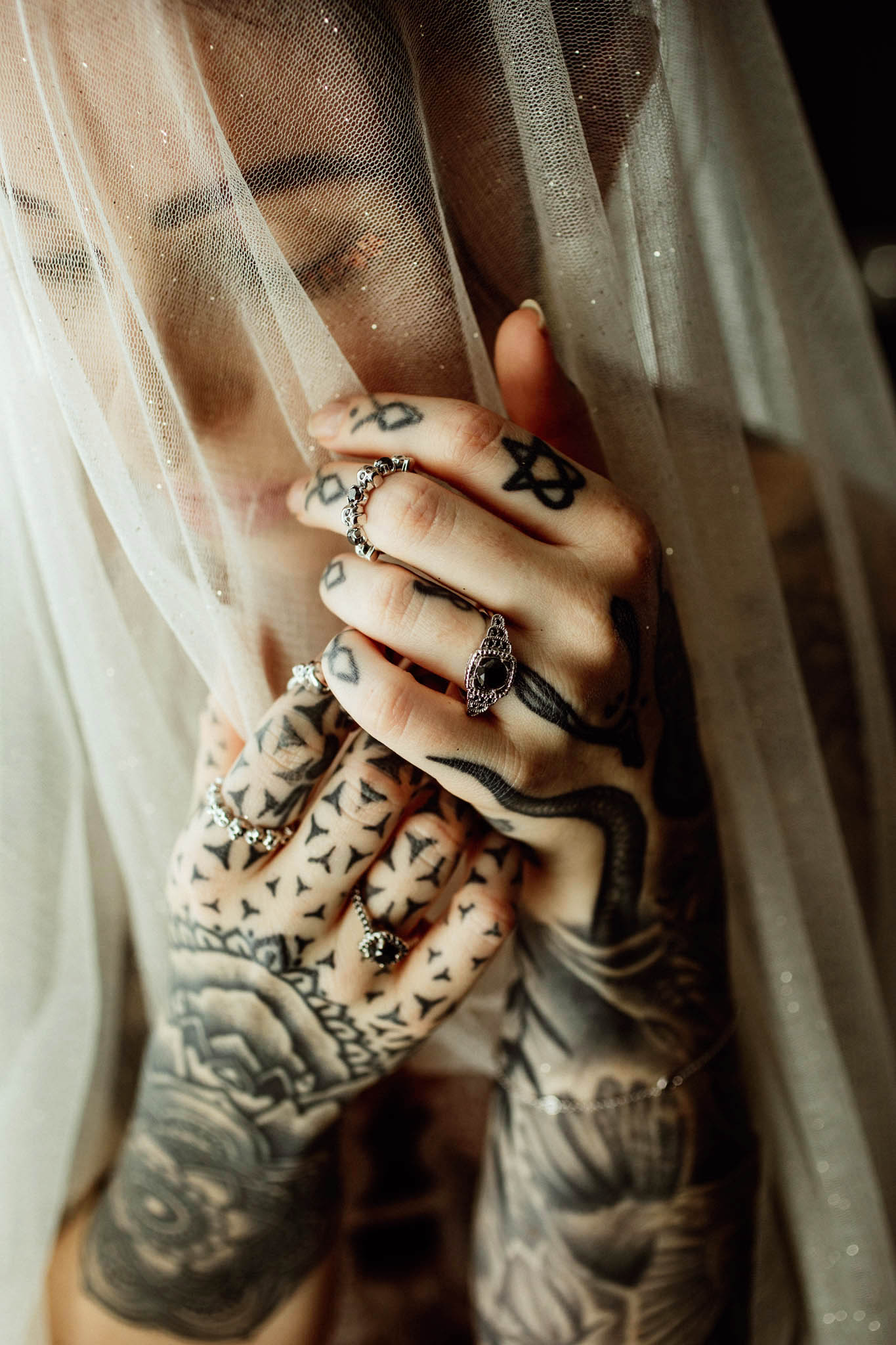 About Faith Richardson
Faith Richardson is a freelance travel, fashion and lifestyle writer living in the North East with her fiancé and three tiny dogs. She loves scavenging for the ultimate over the top second hand outfits via eBay and charity shops, and firmly believes in doing things your own way.