Lauren and Carl didn't have a set theme for their June 2019 wedding; it was simply a big mix of stuff they liked and a case of putting it together to make it work! "I spent every lunch break on Pinterest and Instagram creating mood boards," said Lauren. "I was inspired by a few things; notably the large, colourful flowers, lighting and animals from Shakespeare's Midsummer Nights Dream, the aesthetic of Sophia Coppola's Marie Antoinette with the antique gold frames, mixed pastels and lavish regal vibes."
With a £20,000 budget they were able to use it creatively to make their dream come to life. "Never again will we be able to spend money like that on creating an aesthetic/ambience and I loved every minute of it!" Lauren extensively researched all their suppliers, going on recommendations from friends or stalking their social media for months to ensure they had the perfect team to create the vision for their big day.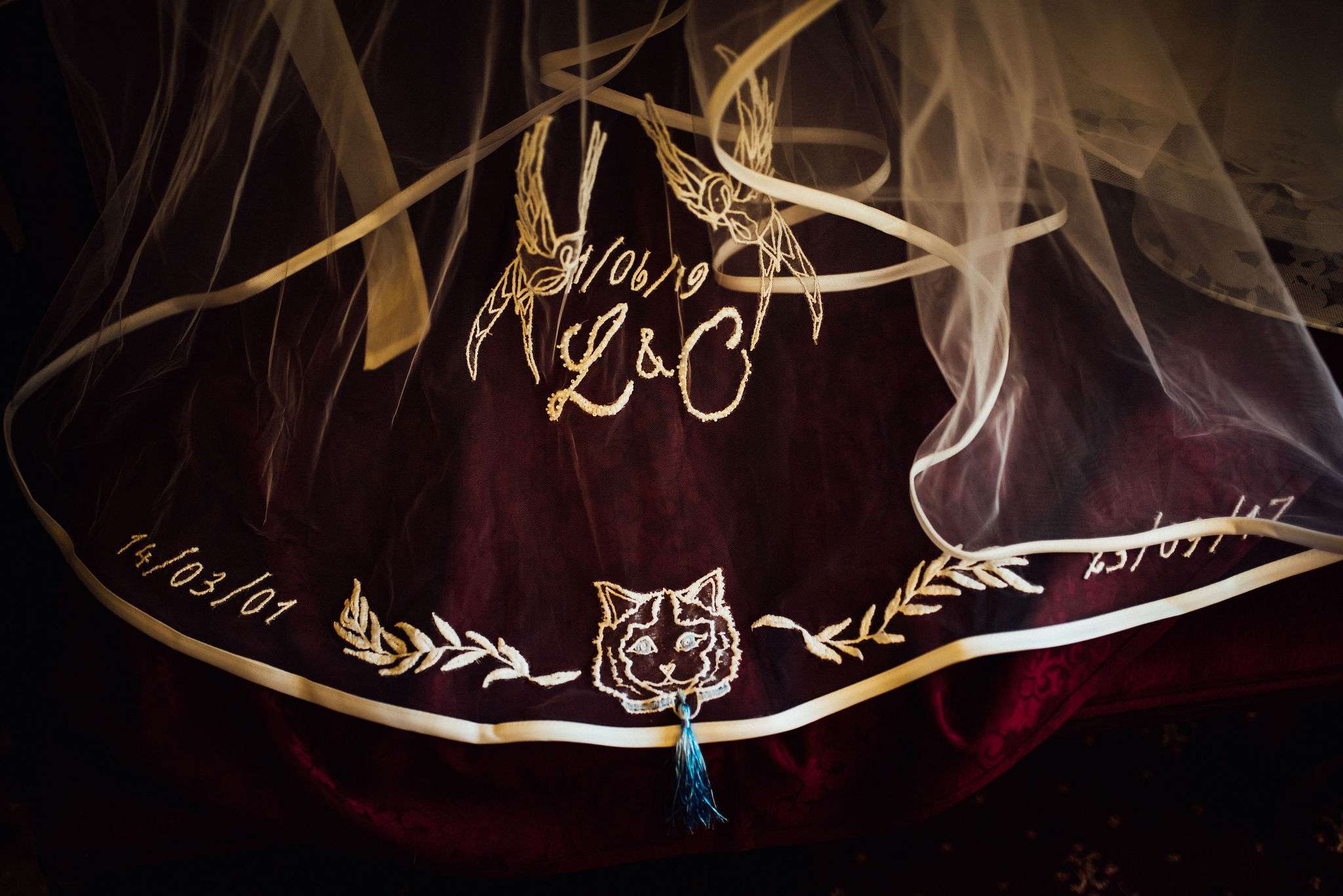 The couple dabbled in some DIY for their day tpp, with Lauren making her own veil. "I freelance in embellishment and embroidery and had been pondering over doing veils, jackets and other bits and bobs for a long while so I thought making my own veil for my wedding was an absolute must and a great chance to see people's legit reaction! It was the best thing I made and loved every second I added our initials, our significant dates, swifts and off course my absolutely beloved Ragdoll cat, Apollo, had to feature too – he has big blue eyes that I beaded on as my something blue and I couldn't resist adding in an extra blue tassel on his collar."
They also made all their signage, finding vintage mirrors in a Salvation Army shop years beforehand and stashing them away until the prime moment came to unleash a chalk pen on them! Instead of table names they wanted to use animals so over their year long engagement they found different statues and spray-painted them gold. "Anything you can hand make, do it yourself," advises Lauren. "It gives you such a feeling of achievement – everything is automatically personalised and meaningful by you doing it yourself."
Their venue, the Guidhalls Crypts, was a special one. "We were truly privileged to get the Guildhalls Crypts. My dad has been a town planner there since the 70s. Dad would take my brother and I for the Lord Mayor's parties as children and if we were good he would take us down to the crypts to see the roman skeleton which has since been excavated. So it was hugely amazing and emotional to find out we would be the first marriage there after they got their license last October."
Their ceremony took place in the crypt; with it's low ceilings and stained glass windows providing a warmth and intimacy that the couple wanted for they day. They tried to create a romantic feel with lanterns, candles and florals on gold stands which then doubled up as table features in their reception.
The couple opted out of writing their own vows as Lauren isn't the biggest fan of public speaking, instead choosing meaningful readings for some close friends and family to perform instead. "My best friend Harriet read Carrie's poem from Sex and the City which she'd chosen as we used to watch it consecutively for hours teamed with a Cosmo or two circa 2004. We also had Carl's Uncle Steve do a reading of his choice that was really beautiful too."
"It took us nineteen long years to tie the knot and we wouldn't have done anything differently. The best thing about our day was having all our friends and family in one place, and finally becoming husband and wife! I was just so happy to finally be getting married to Carl after so long – my beaming smile was from ear to ear all day long!"