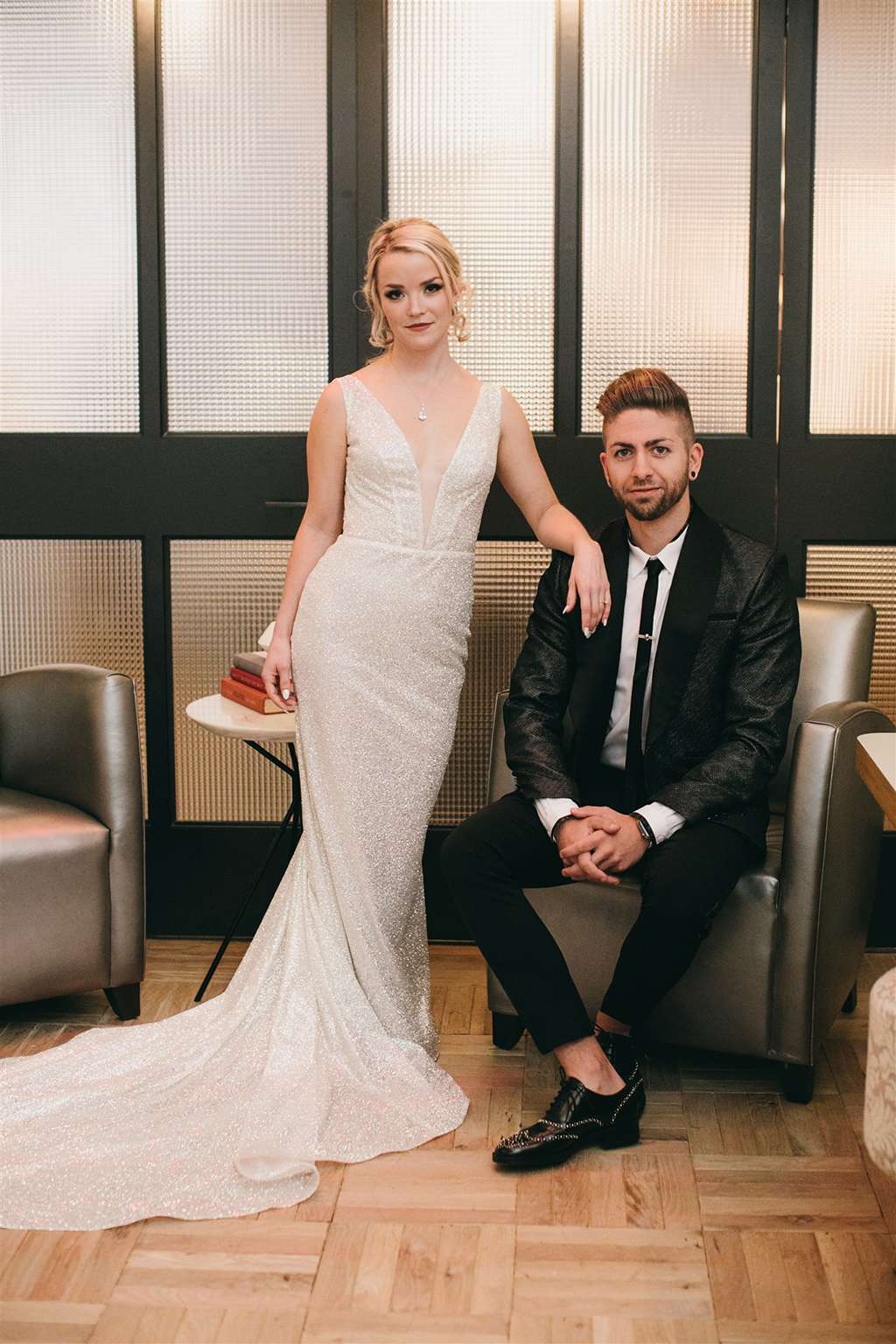 Matthew and Hillary wanted every aspect, from beginning to the end of their wedding day to feel very true to their personalities, their personal style and the things that they love. "We really wanted our guests feel like it was a wedding only we would have," said Hillary. " Our motto for the day ended up being 'aesethic or forget it!' We wanted to focus on what we love and share that with our guests, instead of focusing on traditions and the things we 'should do.'"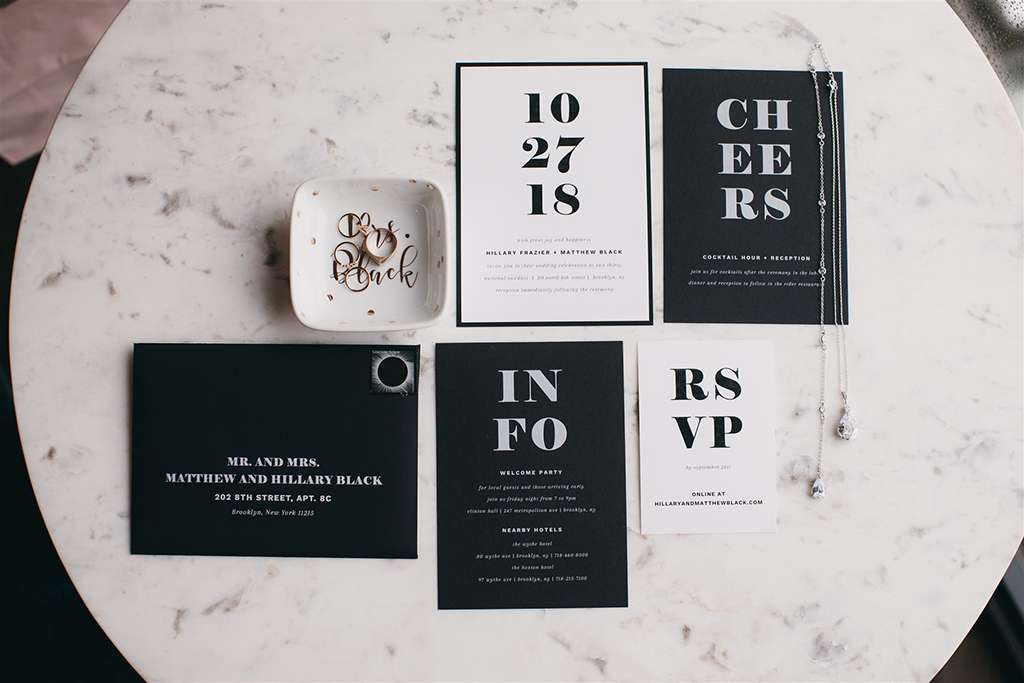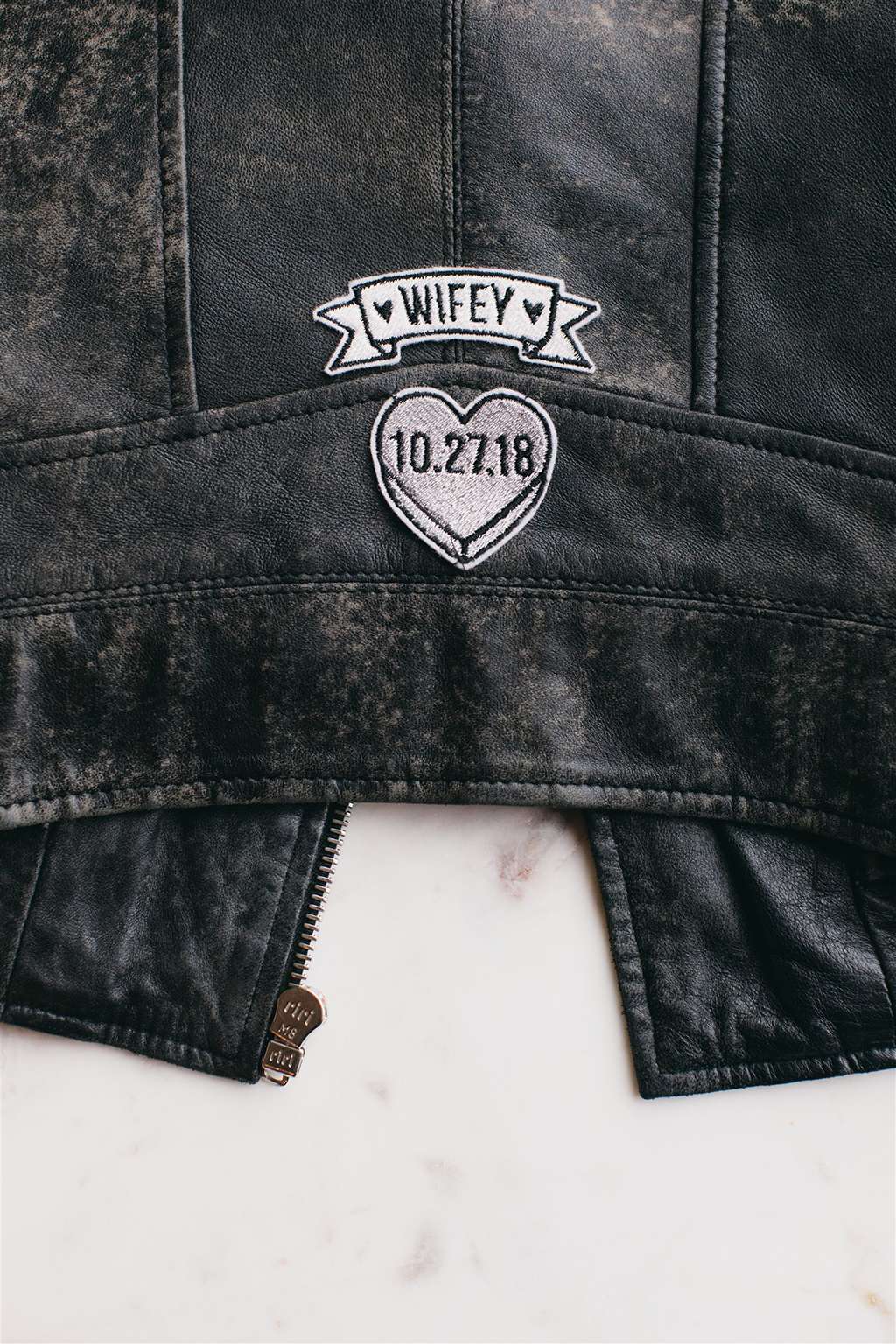 Hillary was never someone who pictured herself in a wedding dress, and when it came time for her to pick one nothing felt right – until spying LOVE by Pnina Tornai where it was love at first sight! The glittery gown of dreams came with a removable belt which she opted to DIY and add to the back of her beloved leather jacket that she customised with woven patches from Elisa and Eliza on Etsy. Her jewellery was also from an Etsy seller, and the backdrop necklace made some stunning dramatic photo moments.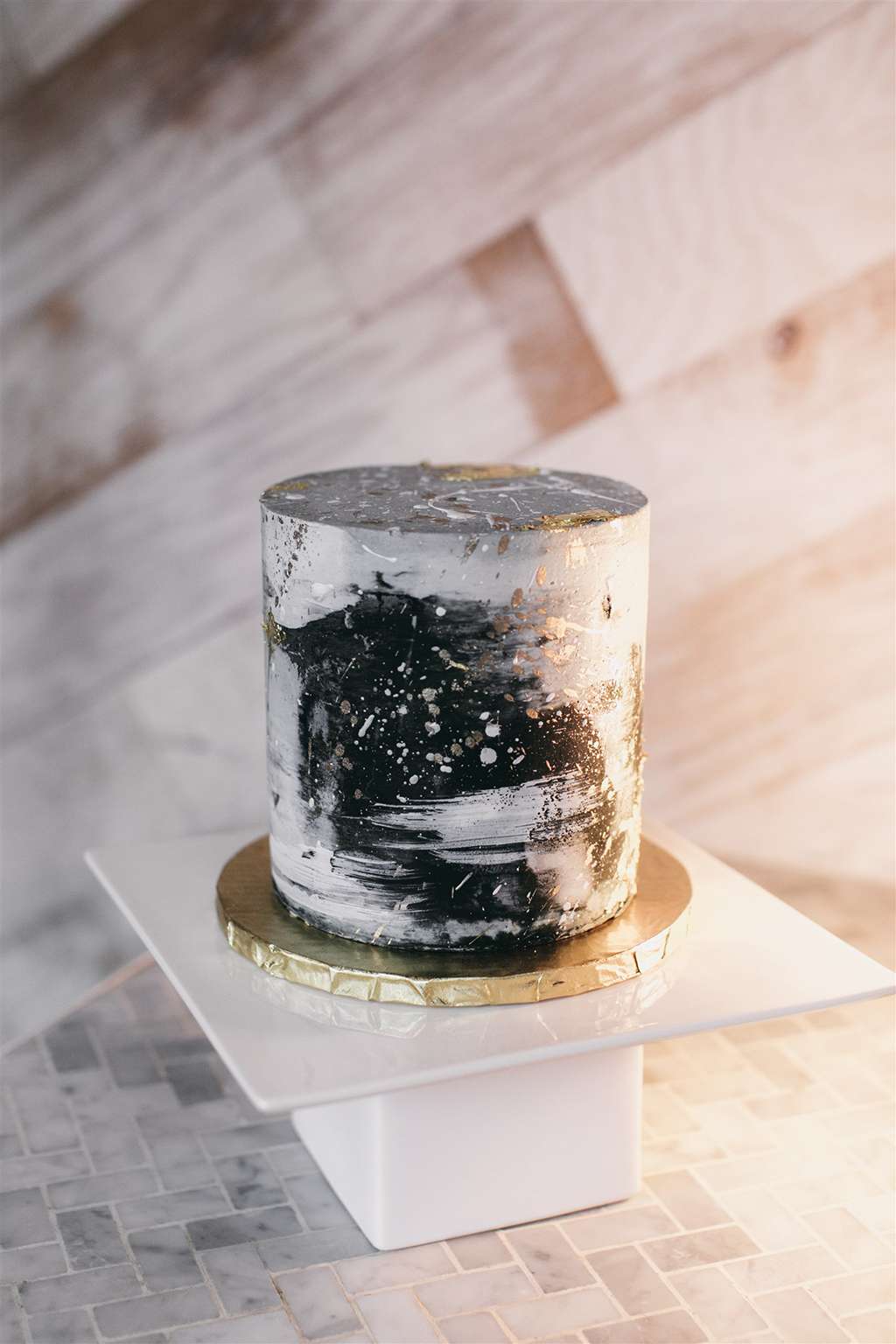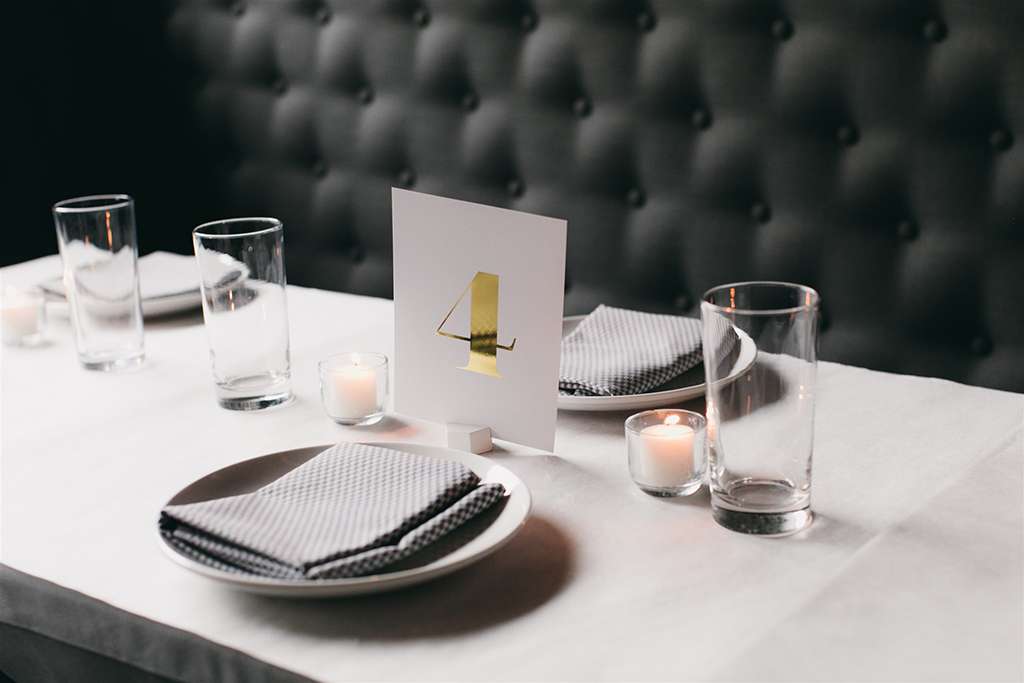 Matthew's suit was custom made – the couple shopped for the fabric themselves, opting for a black fabric with sparkling silver threads throughout and bright silver lining. The suit and matching tie was then made by King Sarah, who makes custom suits for rockstars, no less. "I guess we were meant to be with all that sparkle," said Hillary. "He had no idea what my dress looked like, which made for a fun moment during our first look when he saw that we matched."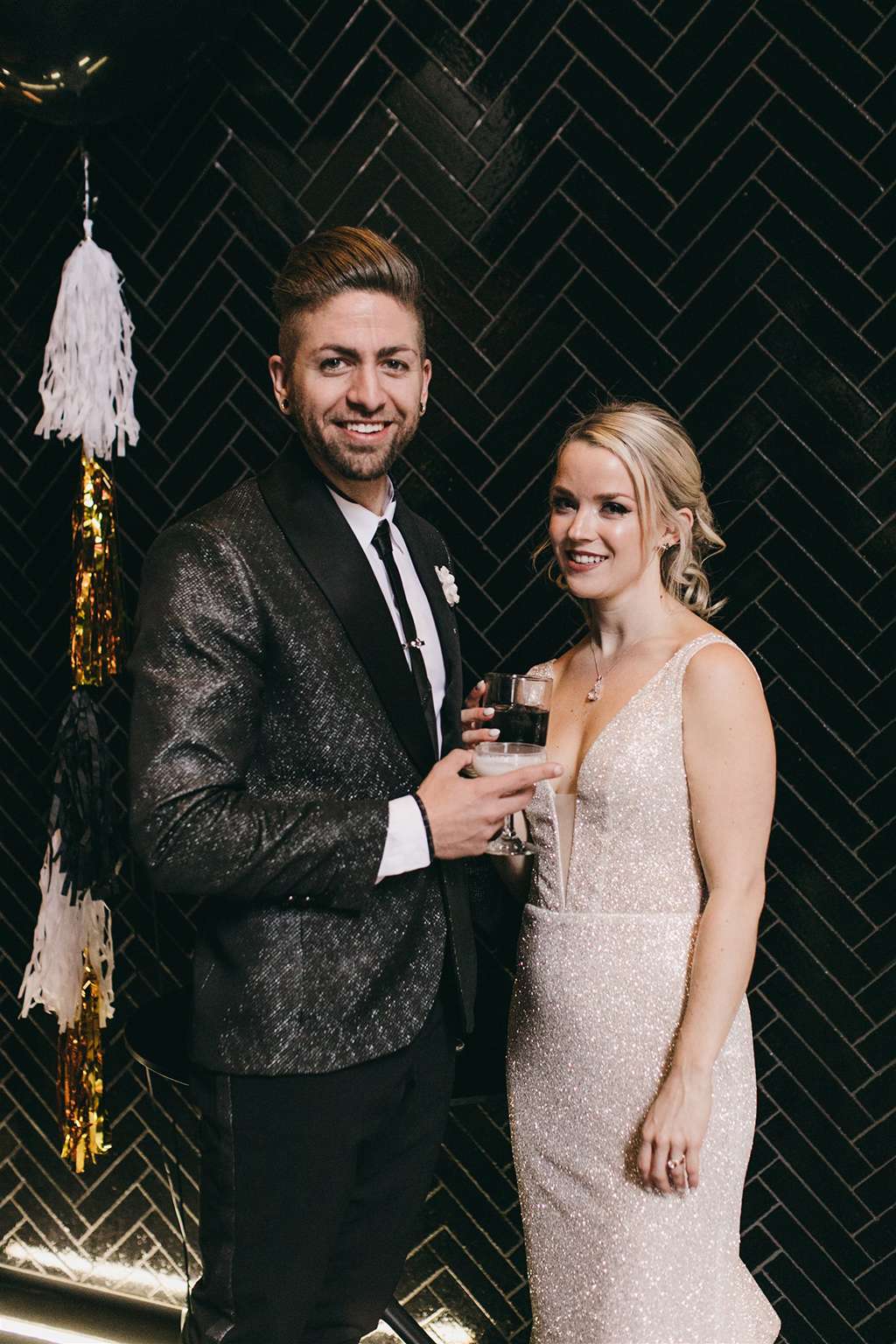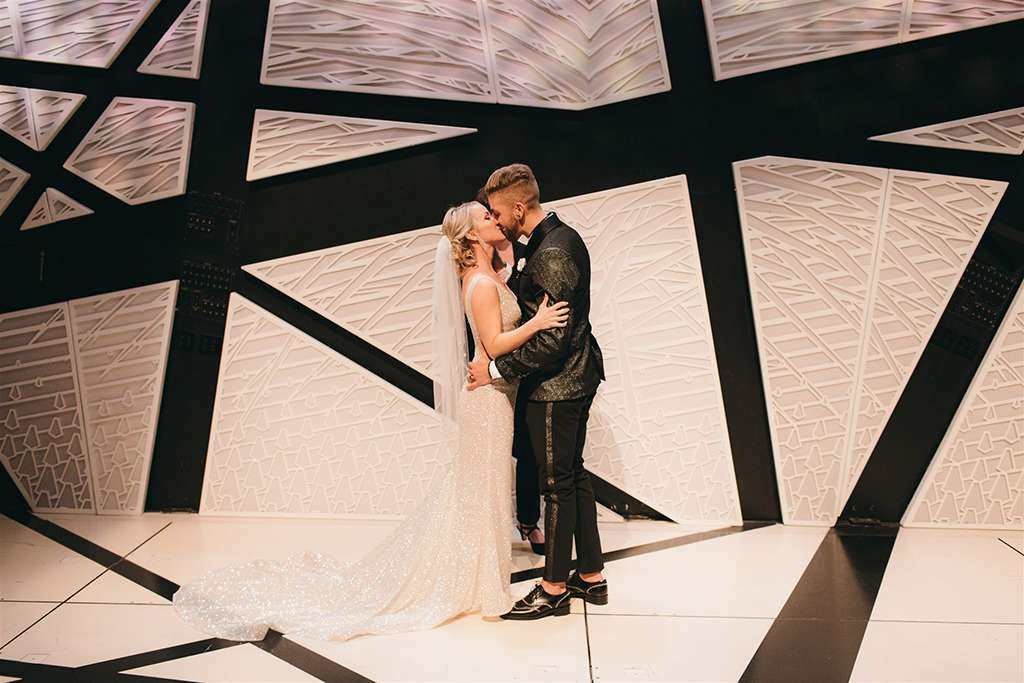 Hillary worked with Flowered Splendor to create a completely custom silk, velvet and leather bouquet complete with a blinding amount of rhinestones and pearls. "I love peonies and anemones and thought the look would be great for my wedding, but I hated the idea of spending a lot on flowers that would die, and those flowers weren't in season during our wedding, either," she explained. "The faux flowers looked so luxurious and adding leather and velvet to my bouquet felt very on brand for me. I'm so happy I chose to go with silk so I can still look at them every day."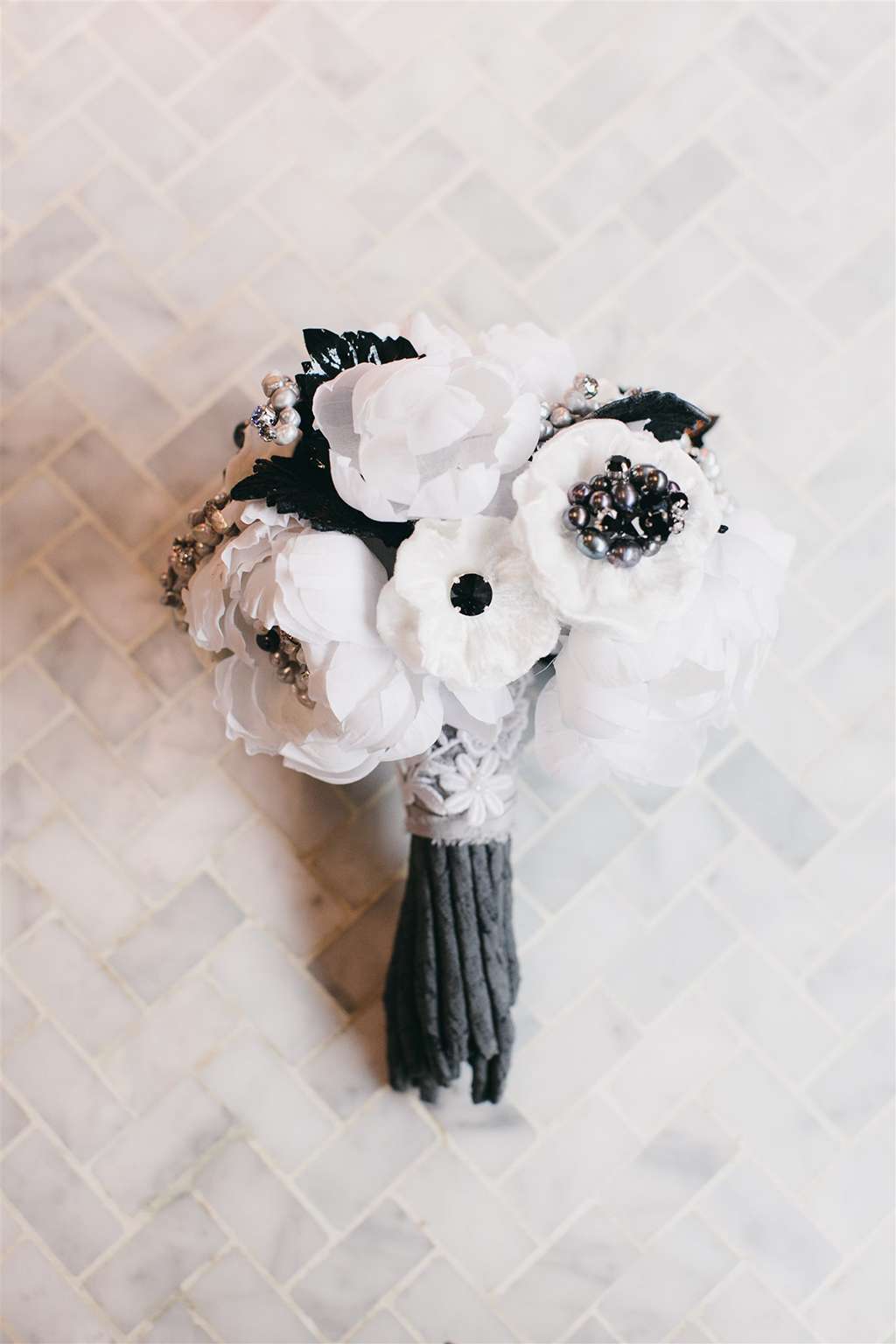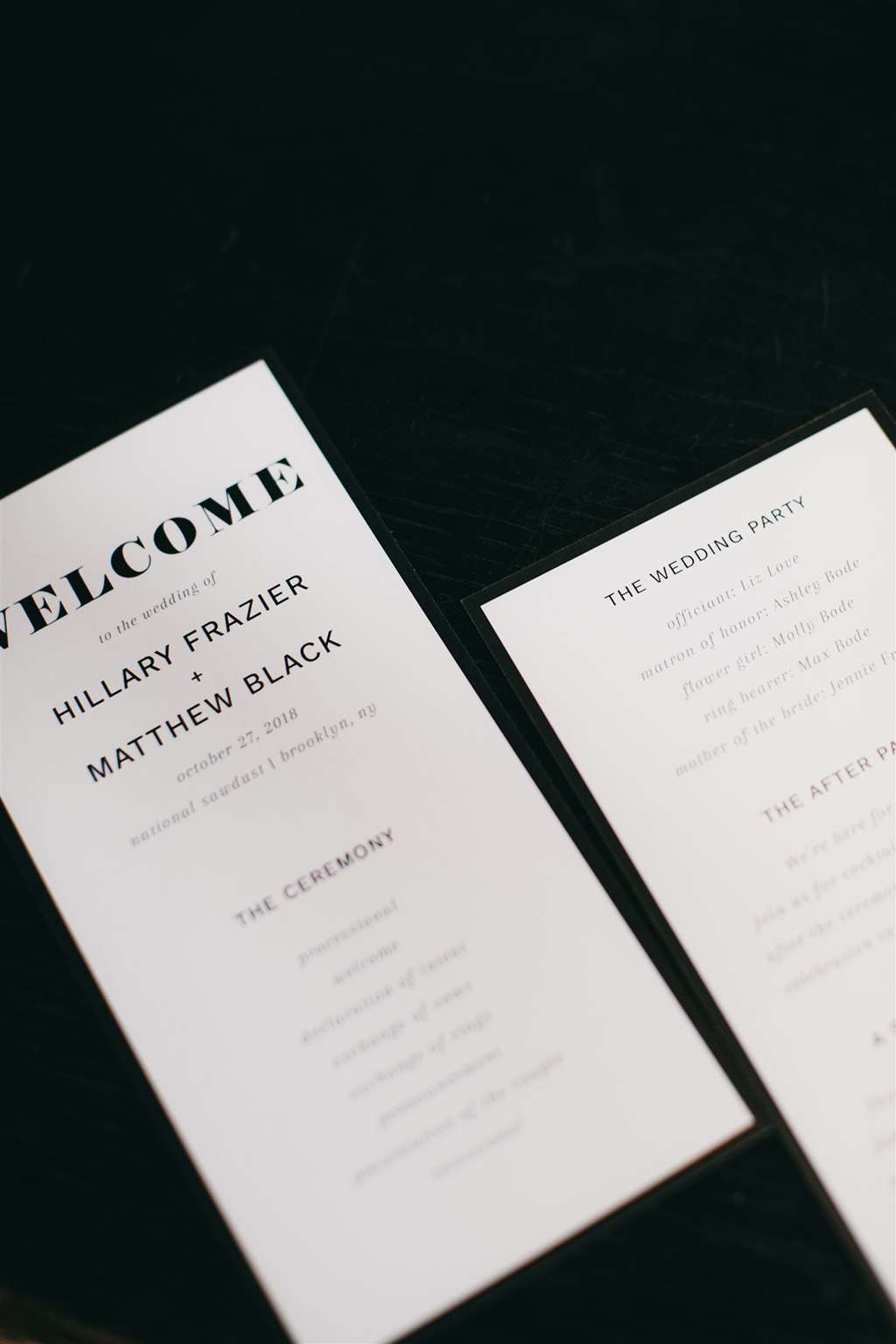 Impeccable attention to detail was paramount throughout their wedding. For their stationery, the couple spent hours trawling Etsy for the perfect modern and minimal yet bold invite suite before settling on a design by Loni Jane Creative. They even found black postage stamps to complement, that were originally made for the lunar eclipse by USPS in 2017 and picked them up off Amazon.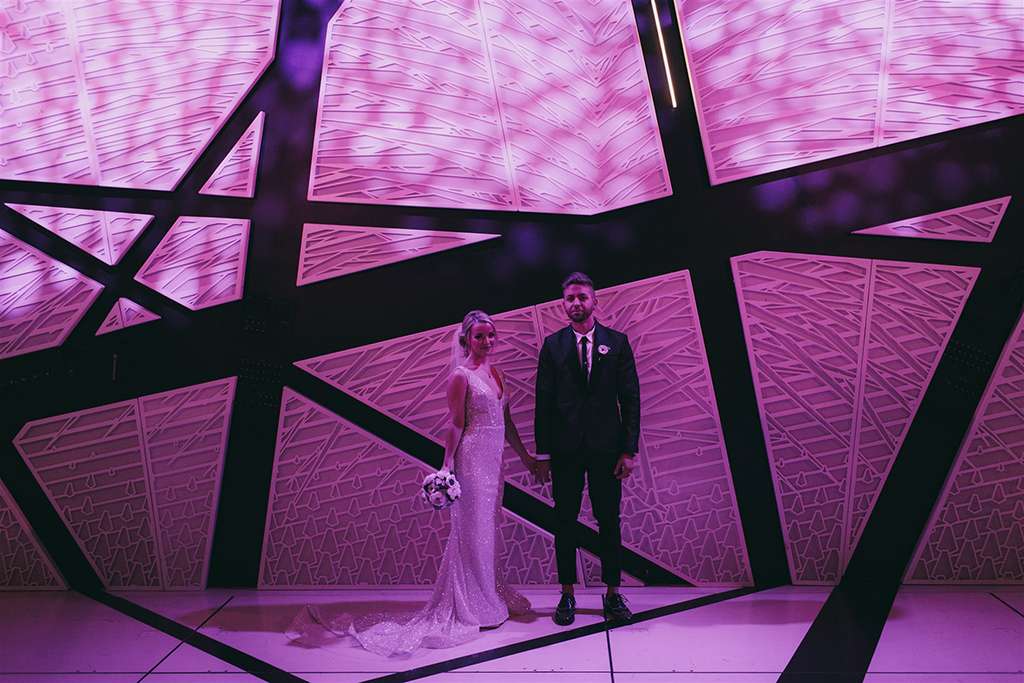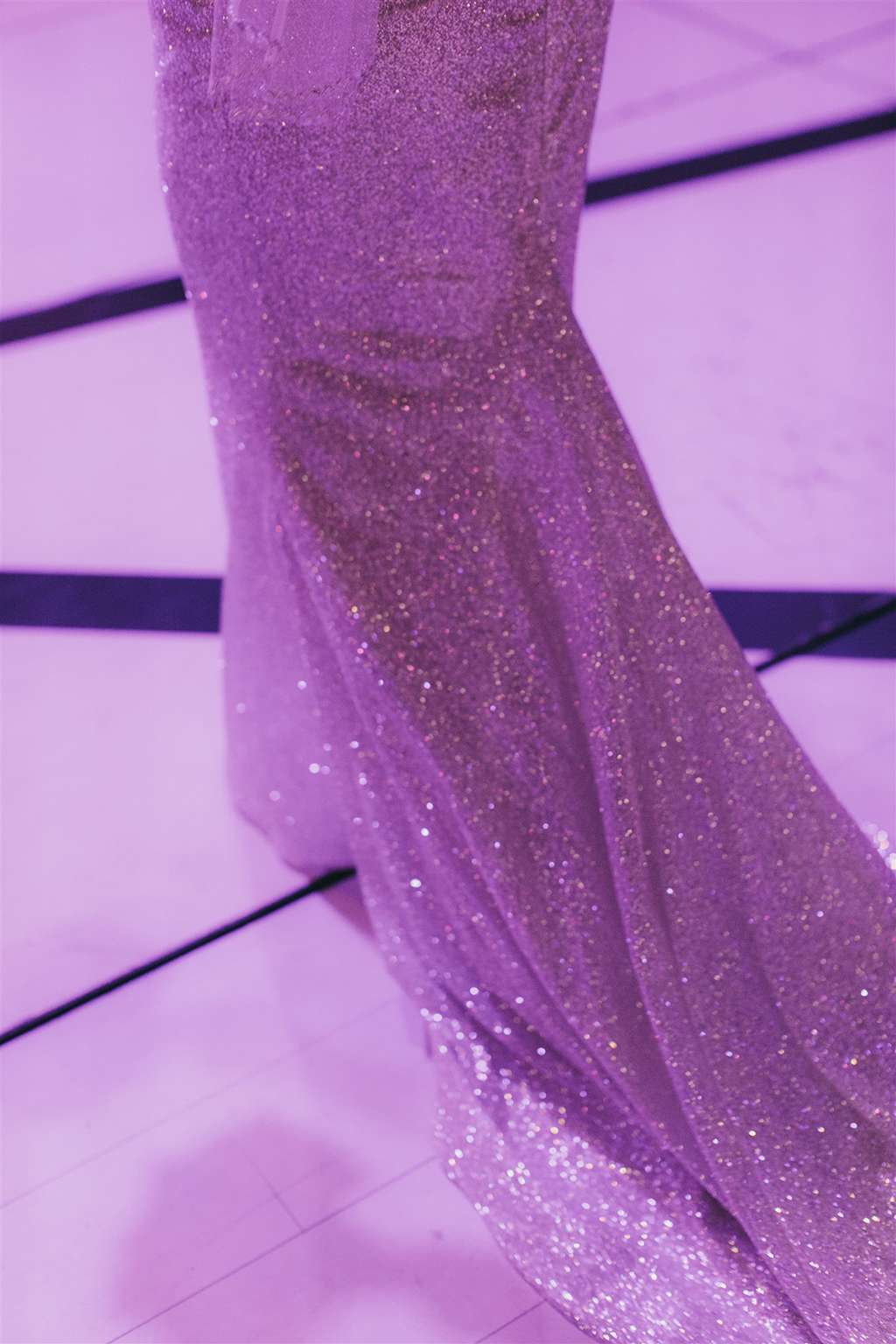 No sense was left unconsidered – from considering how the light would change from ceremony through to reception, to meticulously curating playlists for all aspects of their day. Their guests were gifted custom matches and black scented candles as favours – Hillary also bought larger versions to burn throughout the reception, so that when they, and their guests, burn the gifts at home the scent will remind them of the wedding.
Their reception was held at now-defunct Rider – an old favourite hangout of the couple's, not only because they loved the venue but because they also loved the food! Rider catered a full family-style dinner, came up with custom black and white coloured cocktails to suit the couples theme and edible gold covered donuts for dessert.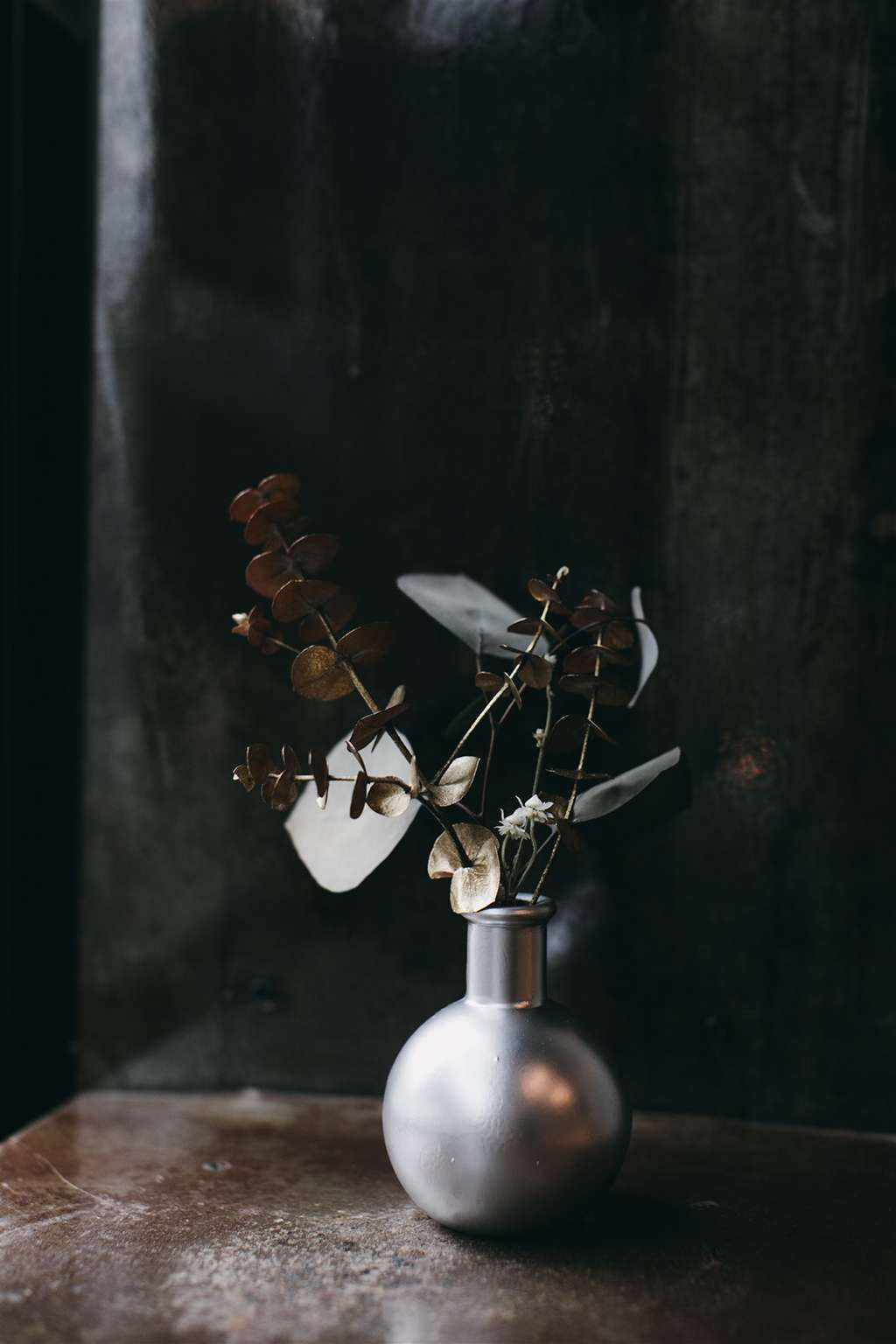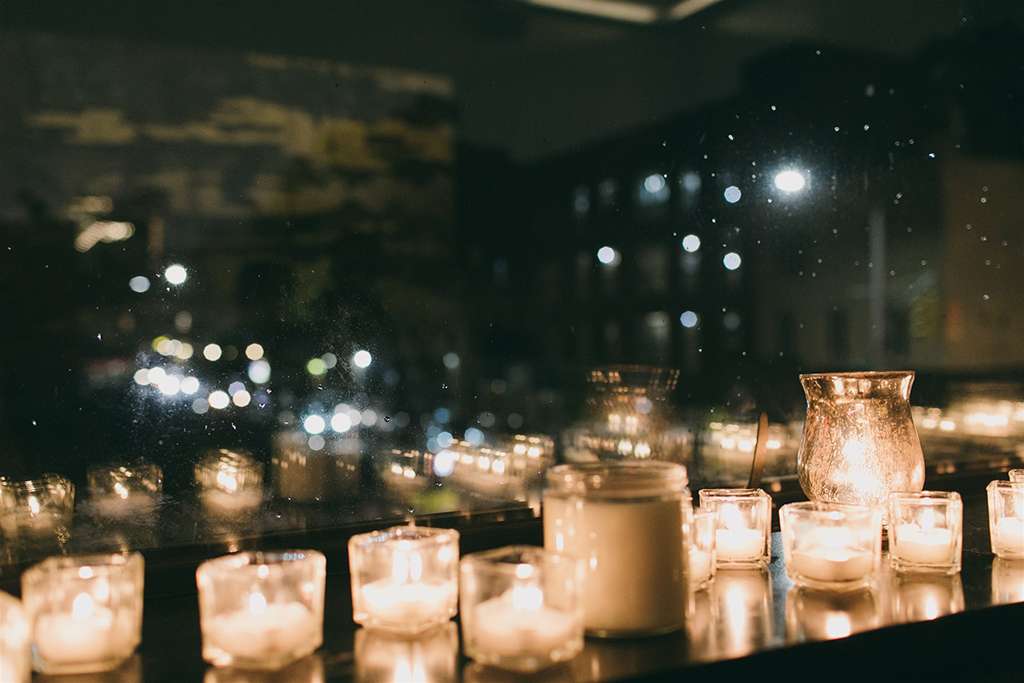 Their ceremony was held just next-door, which was no accident, of course. The two venues are connected from the inside, and the day flowed from one venue to the other with ease. The ceremony itself was short but sweet. They had a close friend officiate it, knowing early on in their planning that she would be the perfect officiant as she has a way with words and deep understanding love and the joining of marriage.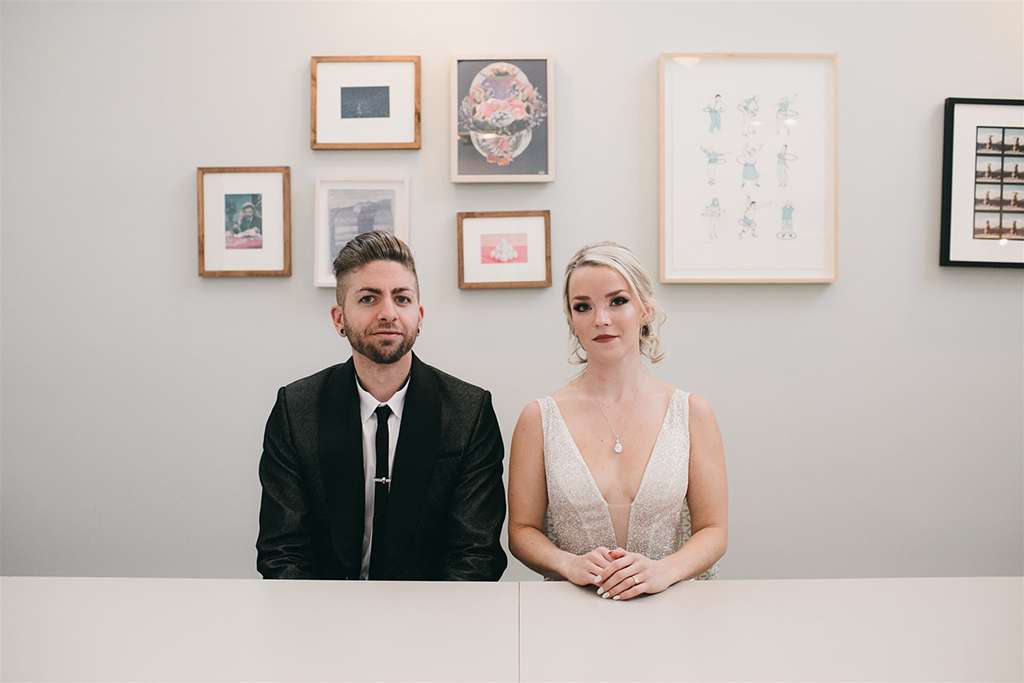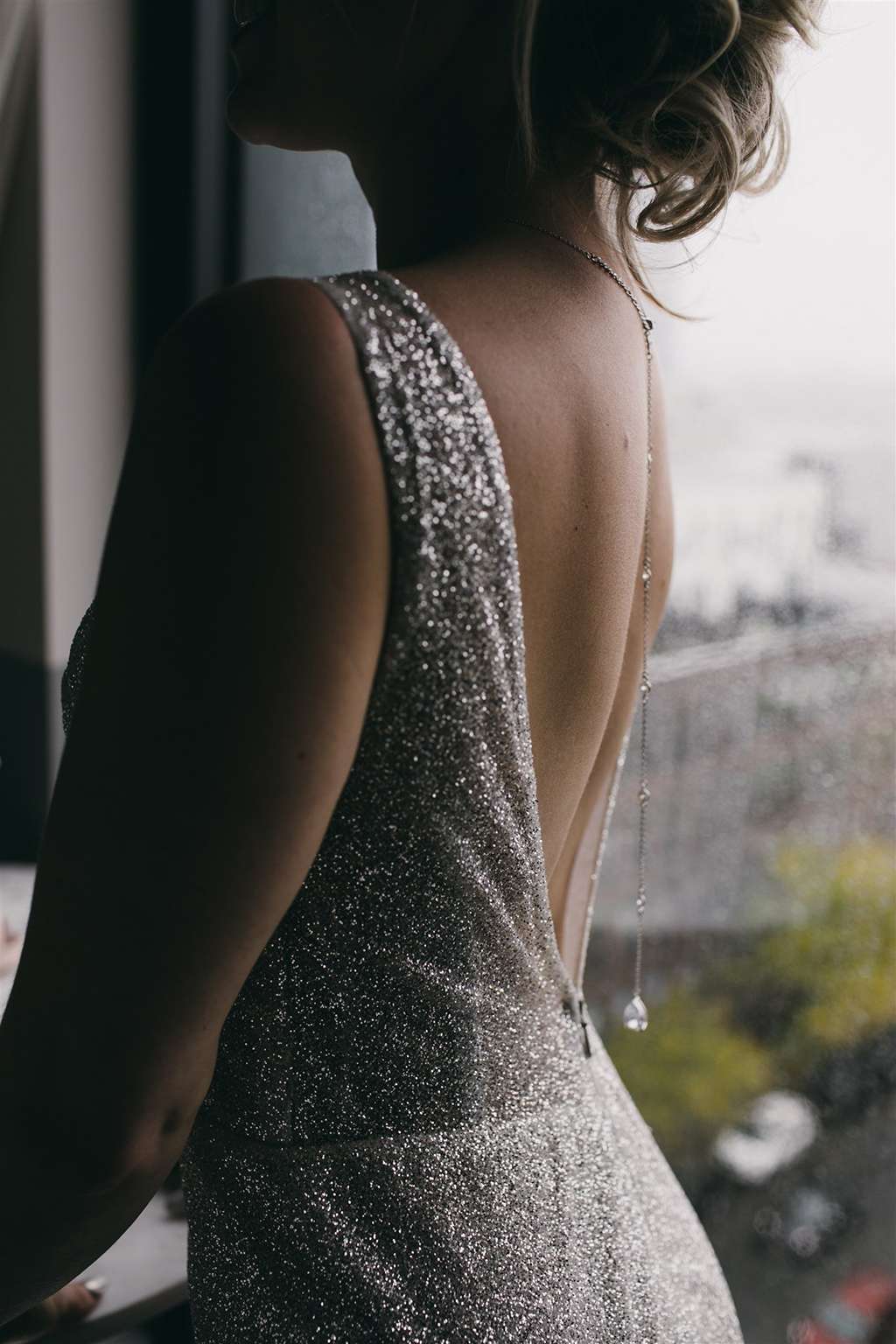 Hillary walked down the aisle with her mum by her side, to Frank Ocean's version of Moon River. They both wrote their own vows, surprising each other with how similar their messages ended up being. While Hillary is usually the emotional one ("I actually vowed I couldn't promise that I will be less emotional. I also vowed to be the CEO of our lives, and say yes no matter where life takes us"), Matthew's vows were filled with heartfelt vulnerability that made them all cry. "The officiant quoted Carl Sagan, Matthew said he felt like he was about to step foot on a spaceship to destinations unknown, and we walked out of our out of this world venue ready to take on the world. We even got matching spaceship-inspired tattoos on our honeymoon to remind us of the wedding."