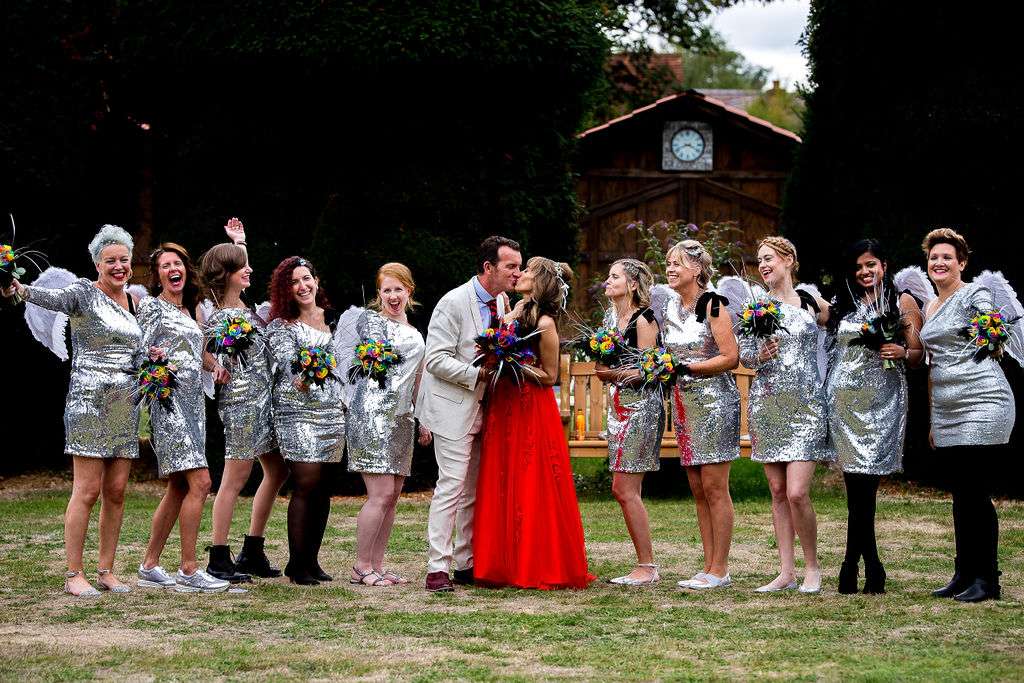 Vicky and Peter's big day was inspired by their joint love of parties, festivals and raves – and combined with Vicky's love of circuses, Alice in Wonderland and randomness, it made for a unique and fun-filled day! "Our main impetus was that everyone have a good time, instead of just watching us have a good time like you see at lots of wedding. We wanted to throw a crazy party that everyone could enjoy!" said Vicky.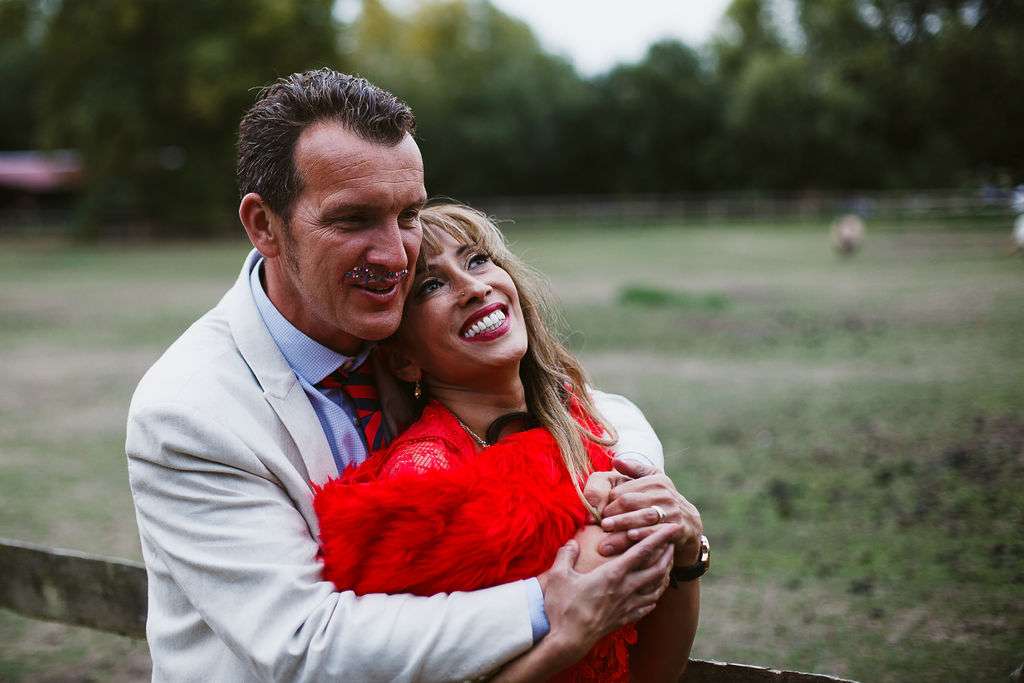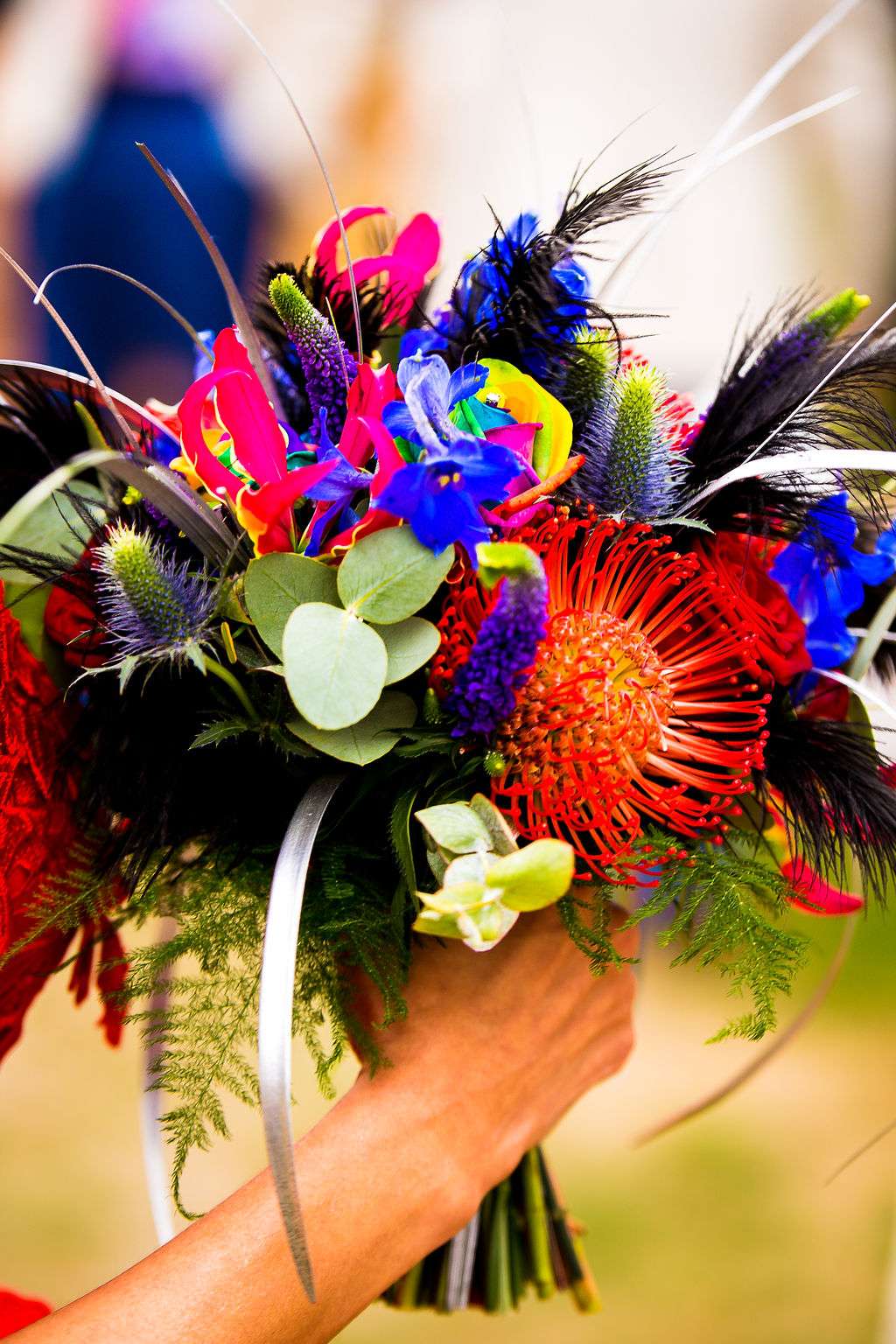 The couple were lucky enough to be able to call in a favour for the location of their big day and hold both the ceremony and reception in the gardens of the groom's boss' house, so it meant they were completely able to go to town with the way their day looked.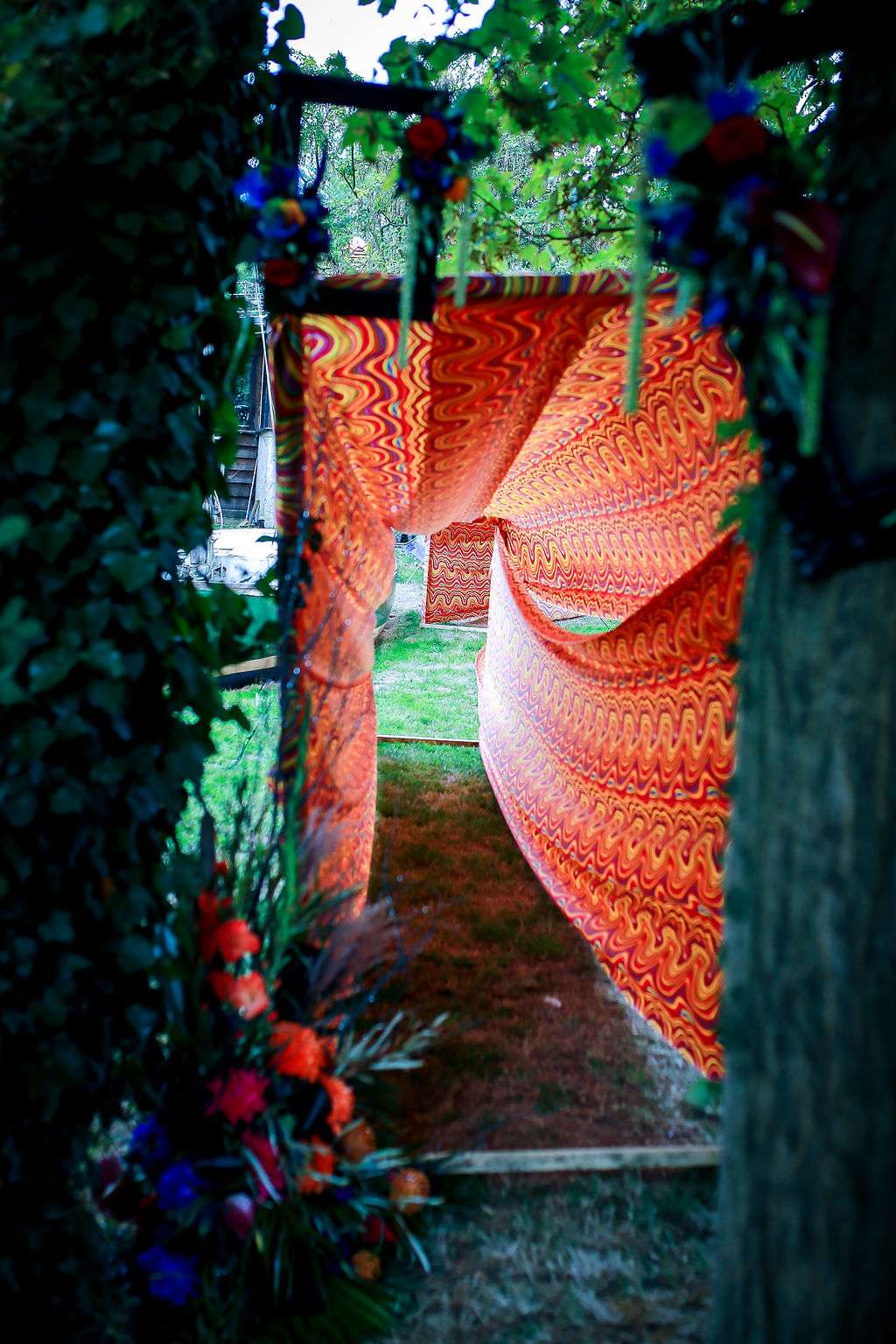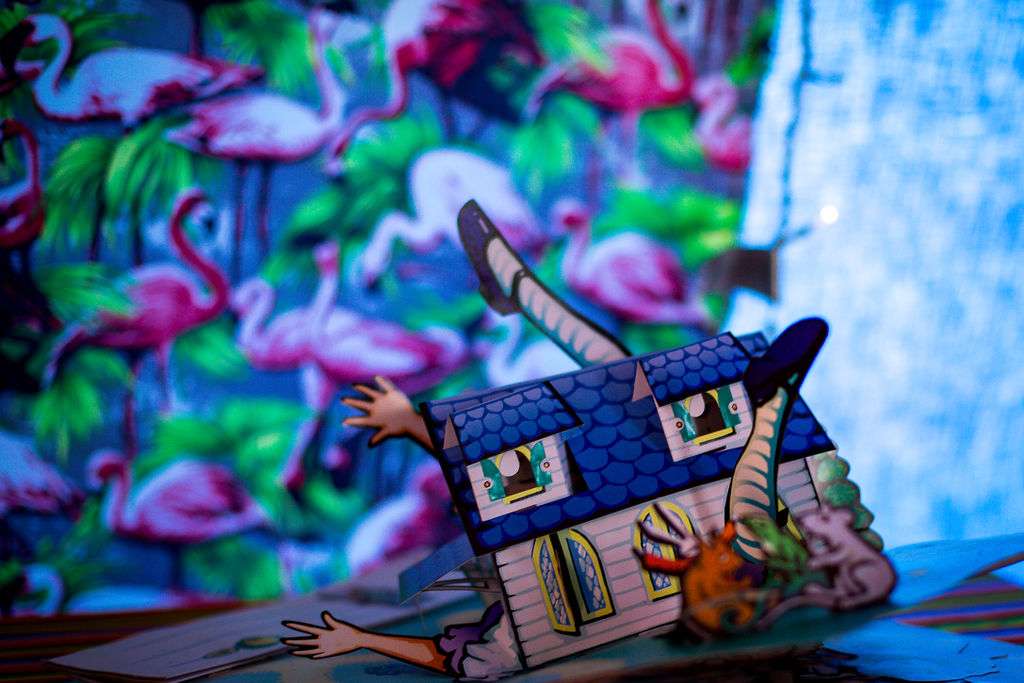 Peter and Vicky, along with friends and family, DIY'd almost all the decorations for their day – including building the stage, decorating the marquee with coloured fabric like a circus tent, and the Alice in Wonderland rabbit hole walkway which the guests entered the wedding through! It was filled with Alice-themed props – little furniture, distorted photos of the couple printed with 'Everyone's Mad Here' and their trip ended with a drinks on a table with 'Drink Me' labels. They even had a dressing up table with a light-up mirror, wigs, glittery festival make-up, and fancy-dress costumes – all for the guests to help themselves and wear during the wedding after the ceremony.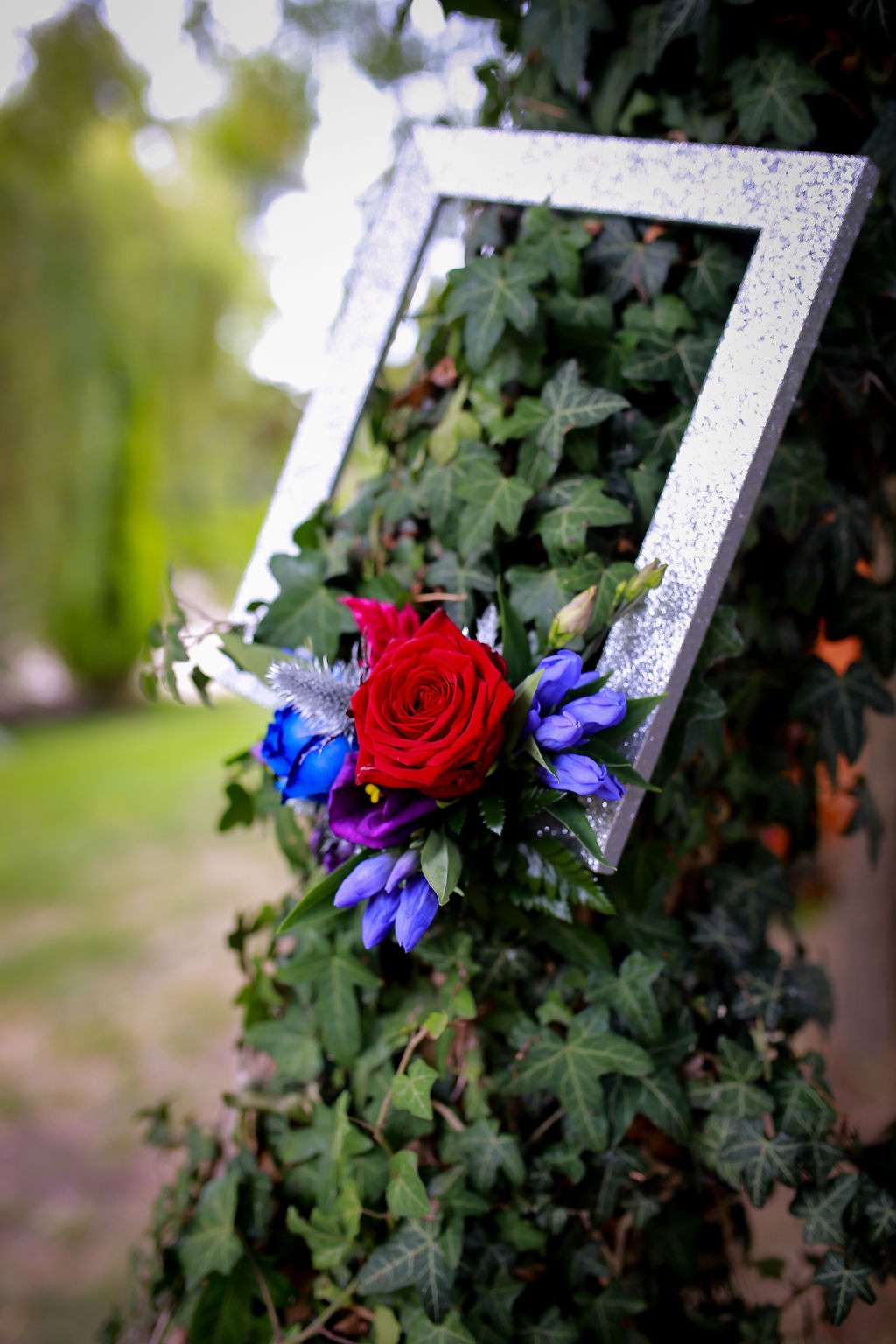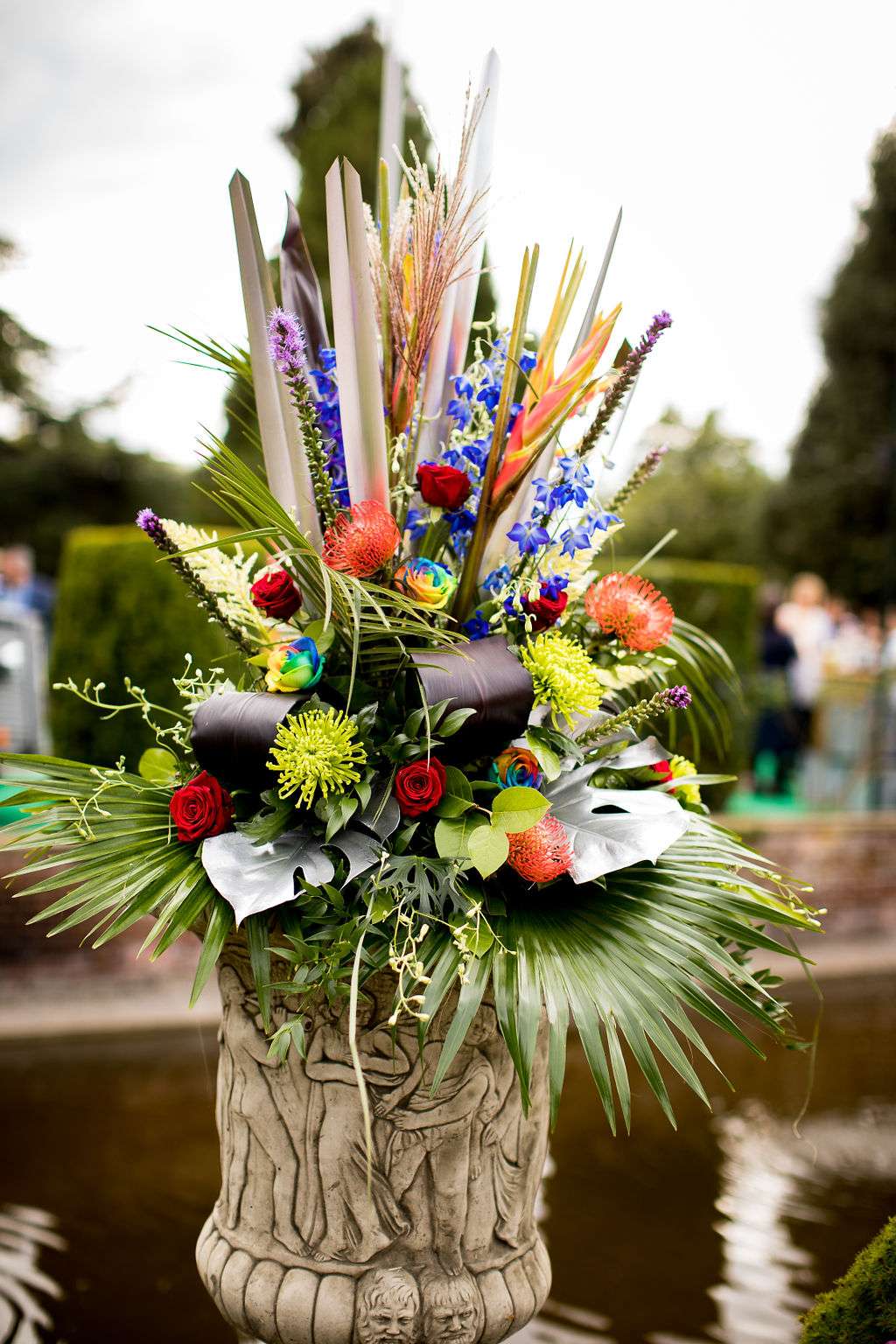 Vicky and Peter decided against having stationery, instead choosing to send online interactive invitations instead. "These were much more useful as we could get all the info people needed in one place – and the bonus of having less wasted paper!"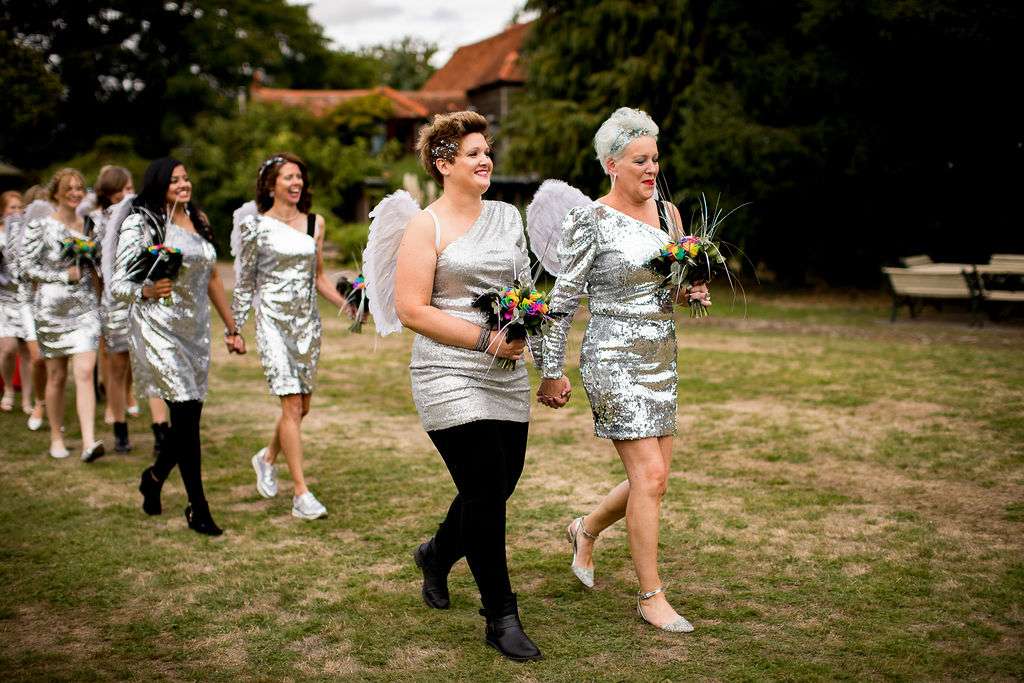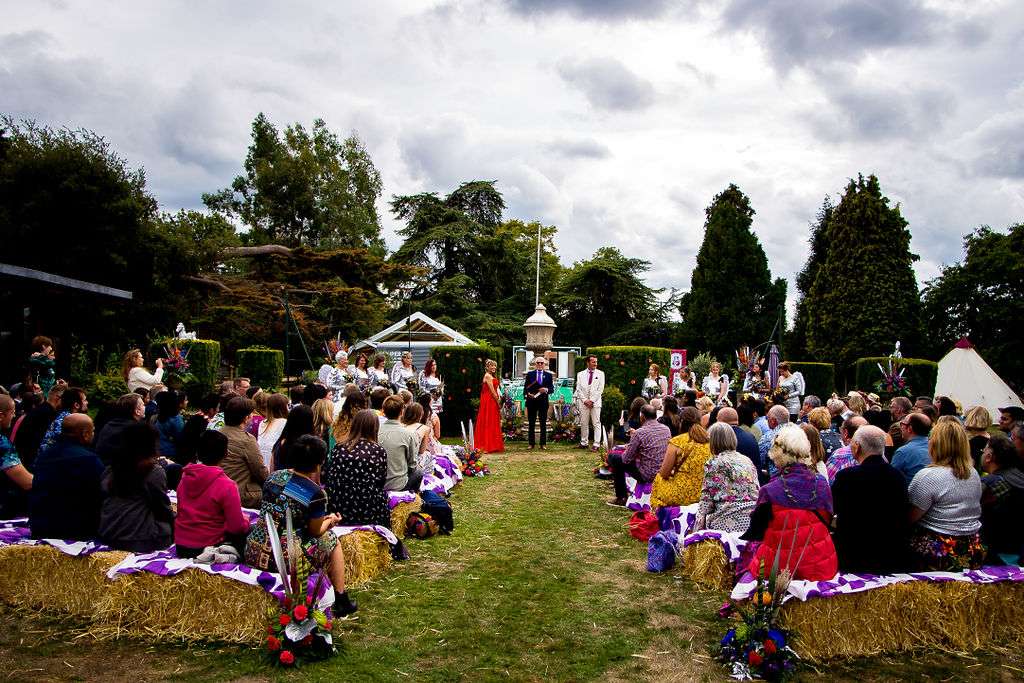 They decided to splash out on things like food, drink and entertainment; they had a street food van provide the wedding breakfast, and not one but two free bars for their guests to enjoy (and enjoy they did – there were stories of one guest turning up from America, partying all night and then getting straight on a flight back the next day, and rumours of a pair of mystery streakers at the end of the night, too!) and entertainment. Their guests were treated to not only a live indie-rock band and DJ, but also a stilt walker who gave out vodka jelly shots, a rodeo bucking sheep and a fire juggler!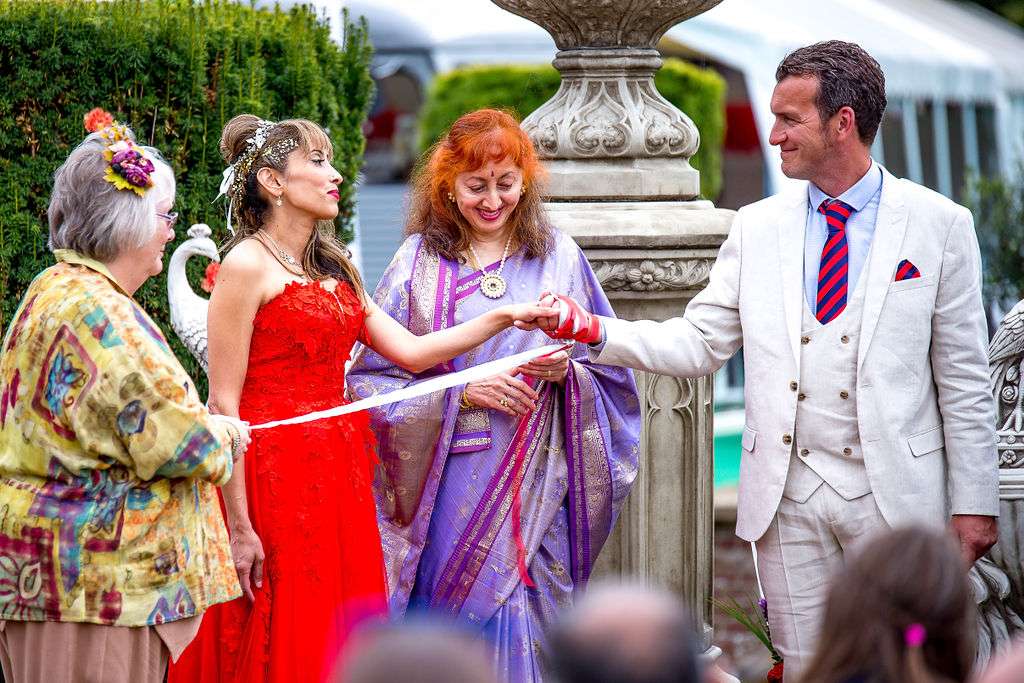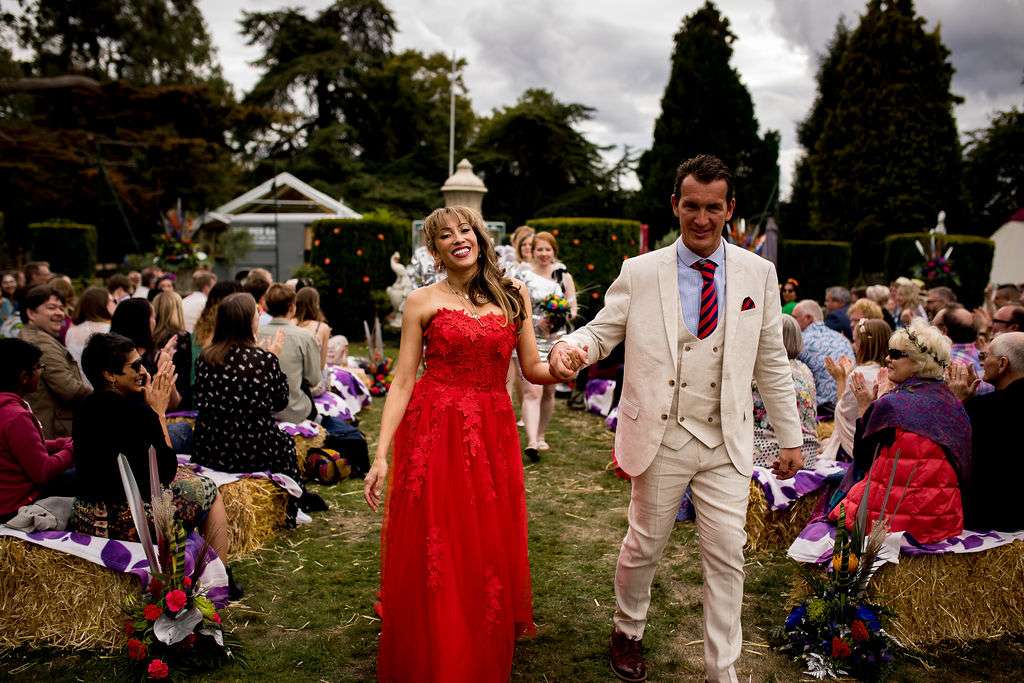 Vicky treated herself to two wedding dresses – both found online, the first; a long, strapless bright red number for the ceremony, and then a 3/4 length short-sleeved one which she sewed 100 fairy lights into! The bridesmaids all wore one-shouldered silver sequin mini dresses and white feathered angel wings, and all were accessorised with festival ready hair and body glitter.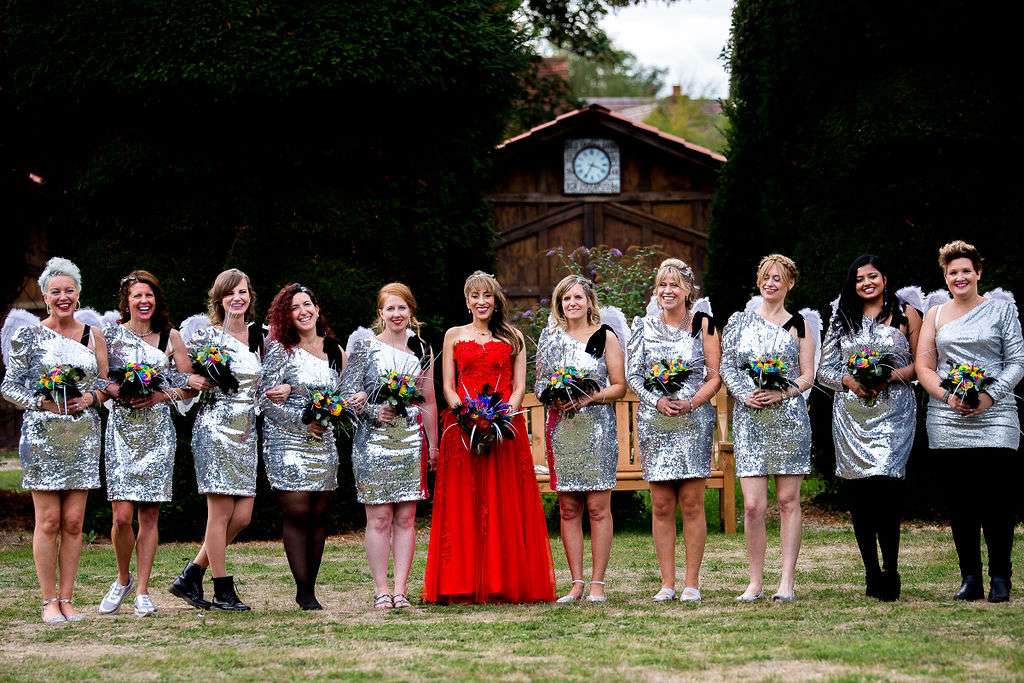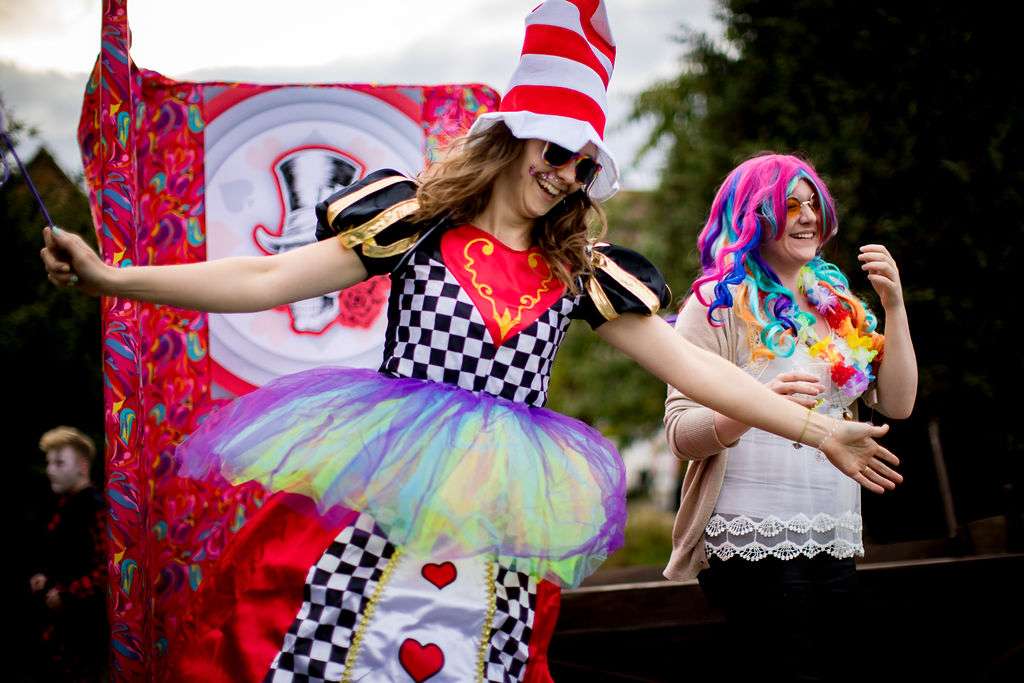 Their ceremony was an outdoor, non-religious, humanist ceremony, that focused on a celebration of love. Their guests sat in a semi-circle on hay bales and blankets. Vicky followed her ten (!) bridesmaids to the makeshift ceremony area that was decorated with large floral arrangements, ornamental urns and silver feathers. The celebrant talked about love, vows were exchanged, a hand-fasting ceremony was done (where two relatives of the bride and groom tie multicoloured ribbons around their hands), then the rings were passed round the audience to be blessed by them all before being returned to the bride and groom and exchanged. They then partied the night away in their weird and wonderful Alice-themed party.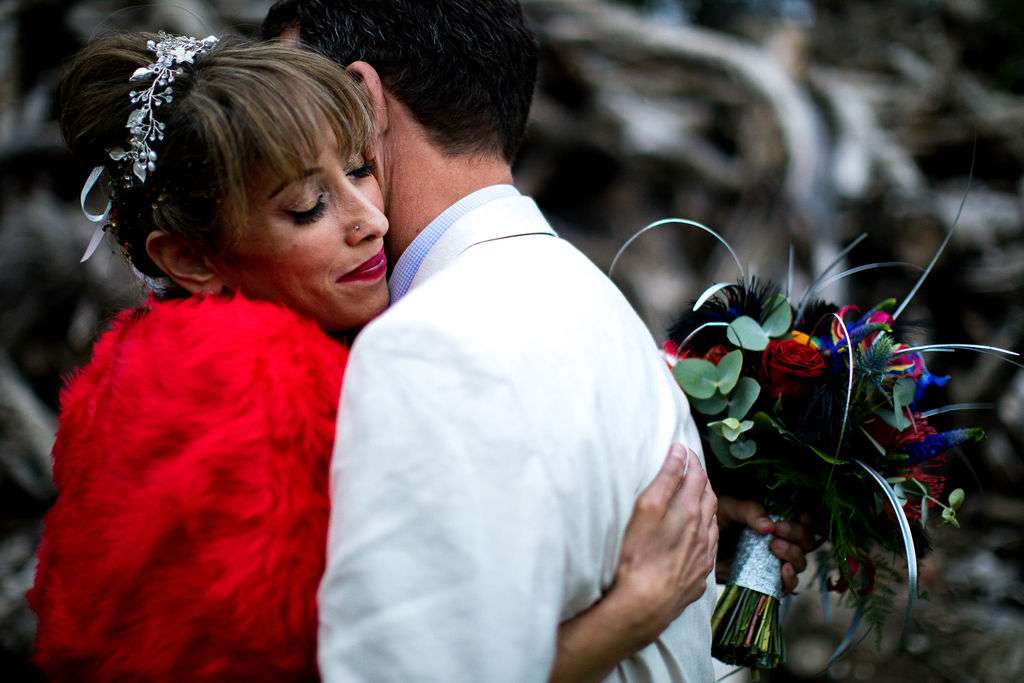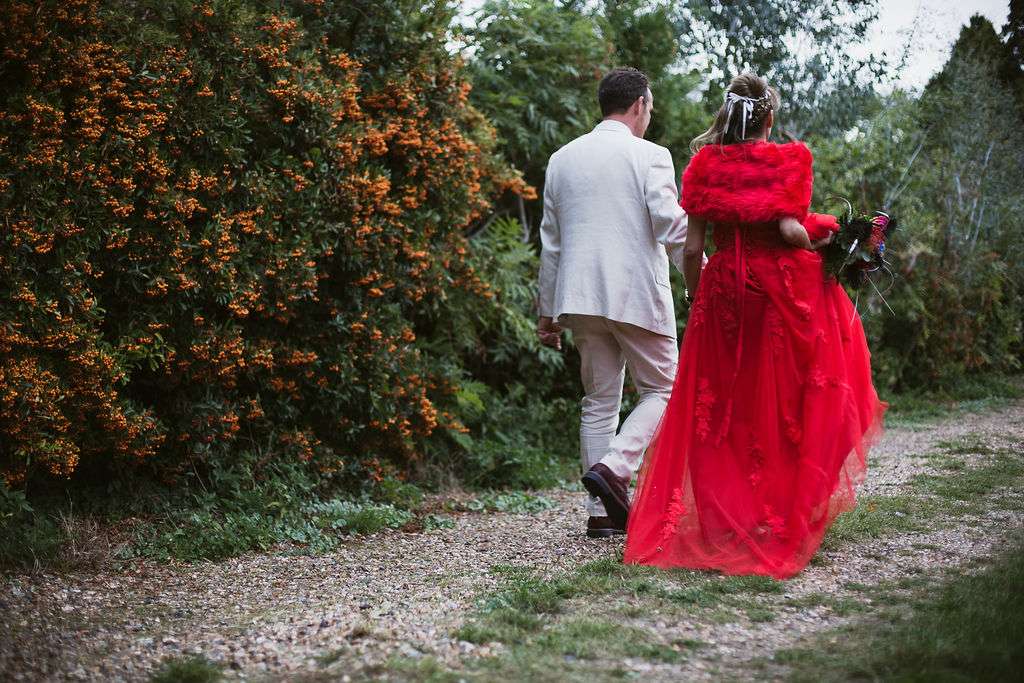 While there was nothing that the couple would change about their day, they do wish they'd given themselves more time to do everything beforehand. "I mean like, a month more!" said Vicky. "The night before the wedding, we were looking around at a marquee filled with random bits of wood and material and thinking 'We have to construct a wedding out of this in a few hours!'"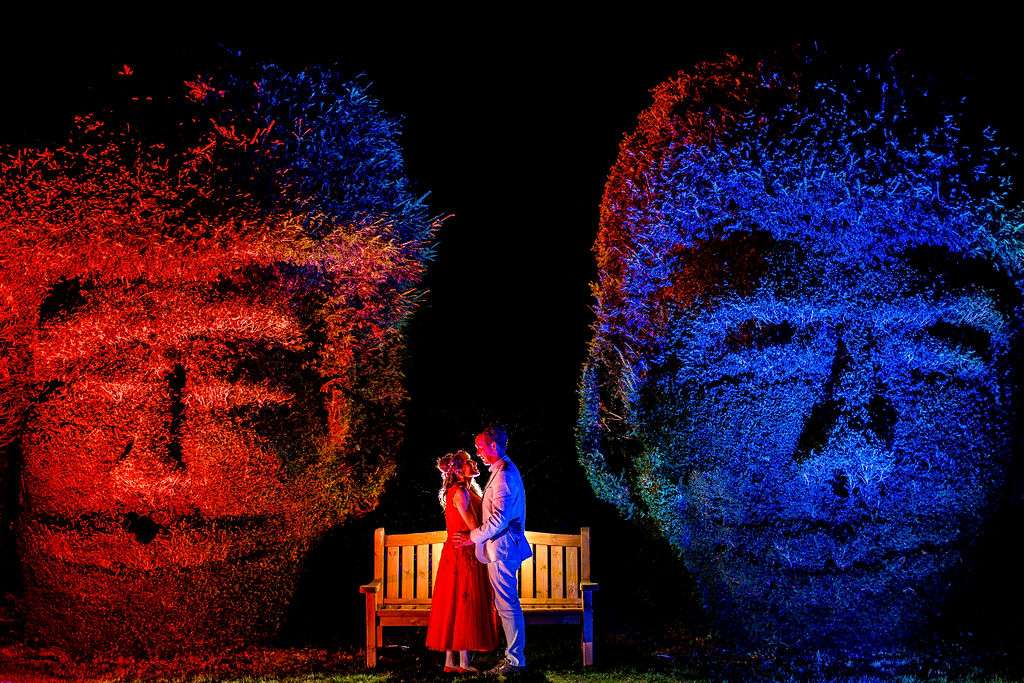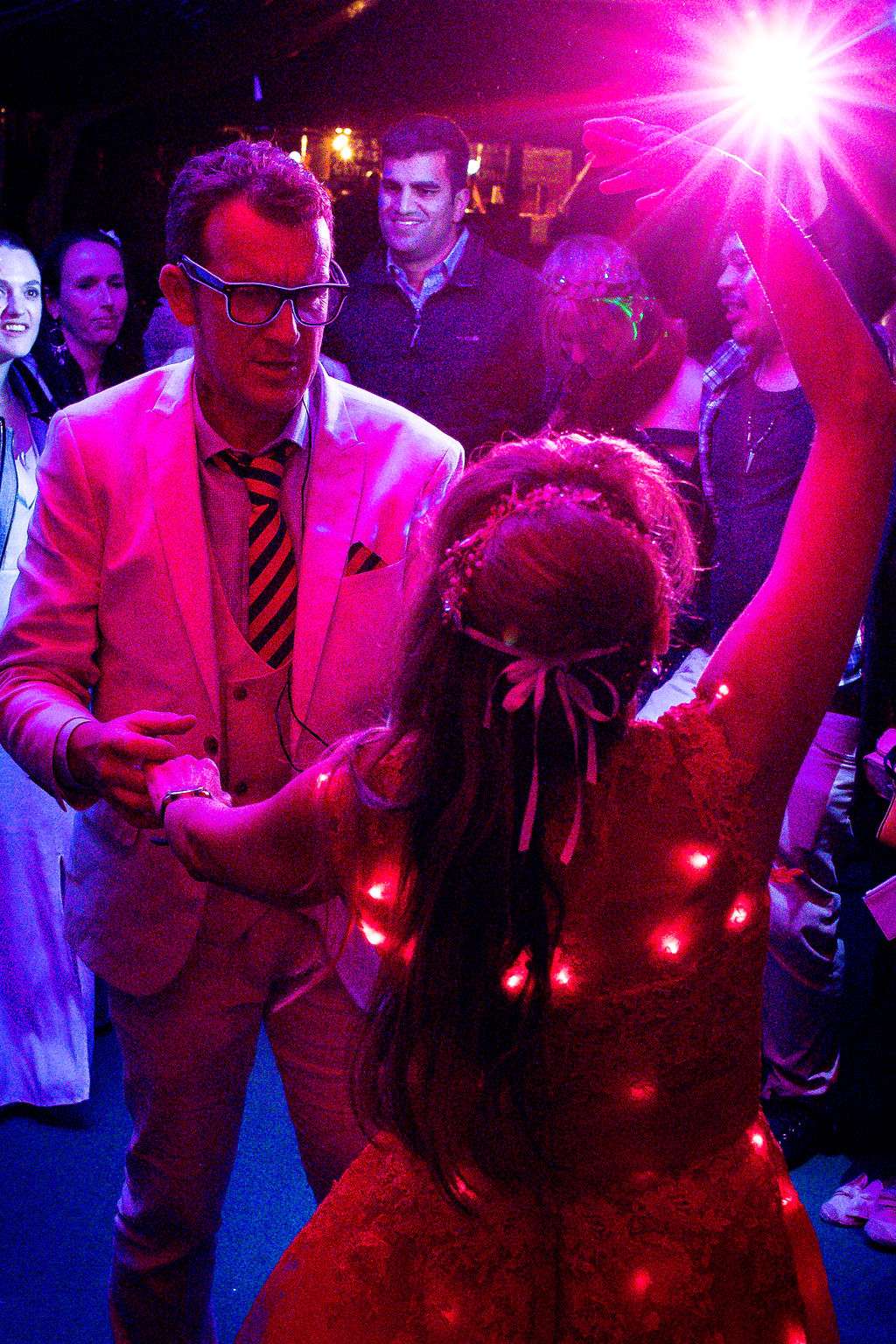 "While all credit goes to the groom and our amazing friends for putting the work in and pulling off our vision, trying to work full time and plan a DIY wedding will take up way much more time that you think. No task is too big if it's broken down into little chunks that you deal with each day and week, but if you can take a week or two off work to try and arrange as much as you can."