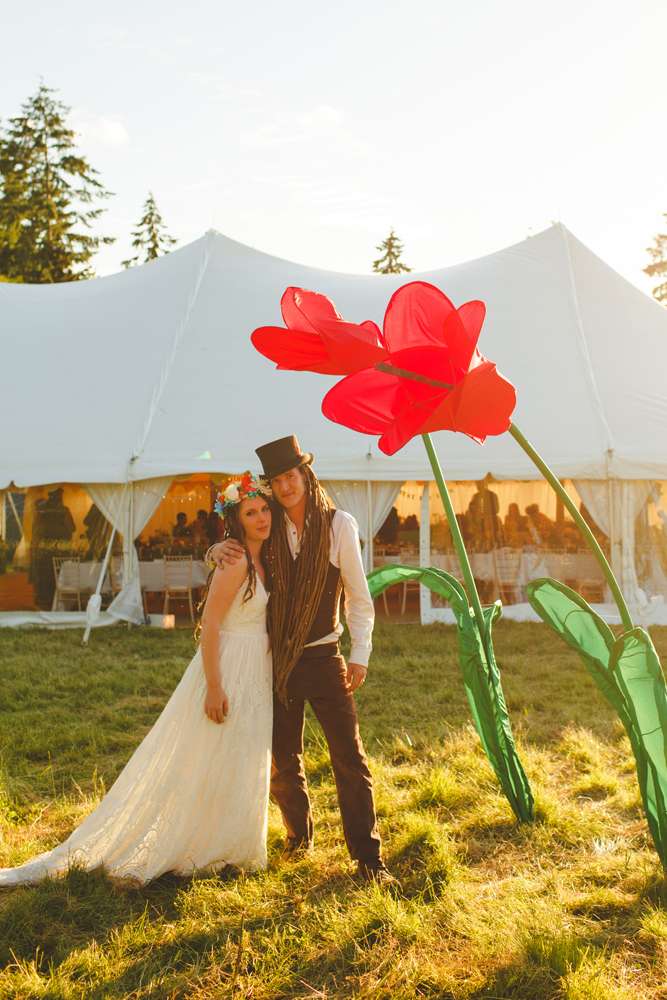 Choosing a venue has got to be, in my opinion anyway, one of the most stressful parts of planning a wedding. Not only is it usually one of the first things you have to do (you can't really organise anything else until you know where the day will be taking place!) but its hugely time consuming. Narrowing down your search by venue type, location and budget… then comparing packages and prices to make sure you get the best deal and that everything you need is included with no hidden surprises is, quite frankly, a bloody nightmare.
Now for Rock n Roll brides, an outdoorsy, festival vibes wedding is one of the most popular theme ideas, but your dream of a laid back, casual planning experience could very well be thrown out the window when it comes to finding the right company to supply the vitally important marquee. You know what I discovered when helping my sister plan her festival wedding a few years ago? The quality and price of marquees vary ENORMOUSLY from company to company and it can be really difficult to know which is the best option to go for.
Some offer all-inclusive packages, others break everything down for you. Some are lined and water-tight, others aren't. Some include electricity, bathrooms and décor, others literally just provide the canvas and you have to bring everything else in yourself. There's a lot more to think about than just Googling to find the company based closest to you.
I spent literally hours researching different marquee companies, sending out hundreds of email enquiries and asking the same questions over and over again. It would have been SO MUCH EASIER if there was one website that listed all the marquee companies in our area and easily broke down what each one offered as well as the prices, so I could quickly find what I was looking for without falling into admin hell.
Which is why my interest was very much piqued when I discovered Marqueebookings.co.uk. Launched in January last year by people who actually have a marquee hire background, they have since helped hundreds of couples find their wedding marquee with minimal stress. They do EXACTLY what I was hoping existed when I needed them!
The fantastic thing about Marqueebookings.co.uk is that they act as the wedding planner between you and the marquee companies and they have ALL THE INFORMATION YOU MIGHT NEED in one, easy to navigate website – think of them like the AirBnB or GoCompare of marquee hire, or one of those travel websites where you can book your flights and hotel in one easy step. They take all the hard work out of the research and all the stress out of managing your booking.
Simply use their site to search via location, budget or tent type any they'll instantly show you a list of companies and marquees that fit the bill. With over 180 marquee companies, and 650+ bookable marquees available, from tipis to big tops and stretch tents to yurts, you are sure you find what you're looking for.
They even have easy to use size generator and quote tool so you can instantly work out the price difference between upsizing or downsizing the marquee, and a snazzy floor plan creator which allows you to automatically generate, to-scale, floor plans for your wedding – GENIUS!
Not only that but before you book they'll even conduct a free site visit if you want it ensure your location is suitable for the marquee you want to book. All this sounds too good to be true right? Well I promise it isn't and even better than that, booking through Marqueebookings.co.uk doesn't cost you, the customer, any more than going to the marquee company directly!
I hope by now you're convinced that you need to check out Marqueebookings.co.uk to take the stress out of your marquee booking process. If you have any further questions you should be able to find the answers on the dedicated Rock n Roll Bride landing page on their website.
Happy wedding planning!