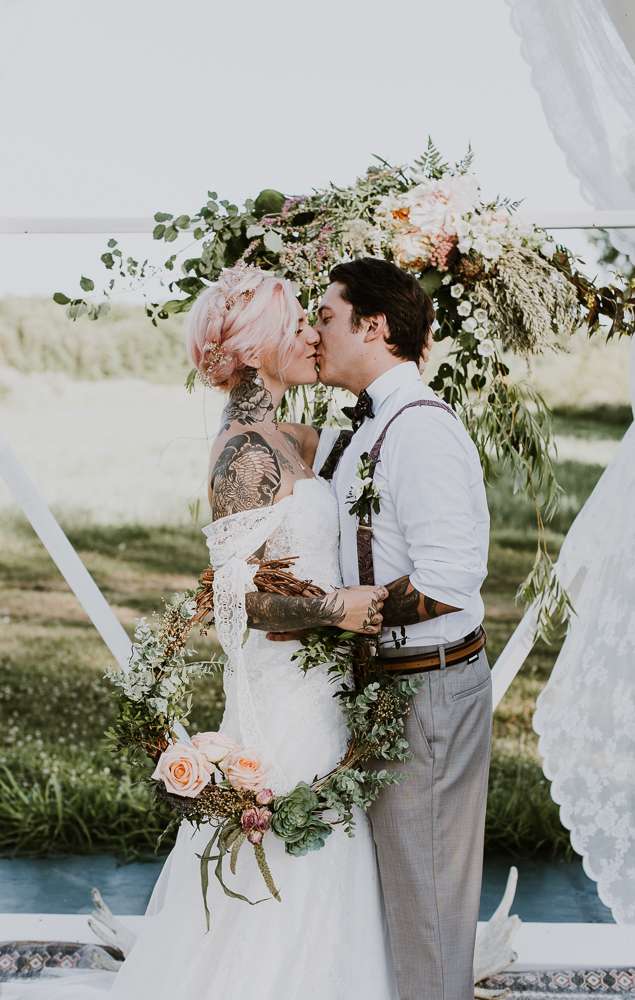 Serious wife goals and life goals from today's shoot, a dreamy festival-inspired wedding ceremony in Mouton Village, a charming estate hidden in a valley in Québec, Canada. In fact we love this so much we've shared it twice! If you've picked up a copy of issue 23 you may recognise a few of these shots from Kat's 'Dear Kat' letter!
Nestled in the countryside, Mouton Village is full of quirk and charm. Photographer Yanique Fillion wanted to use it as the location "to give the impression of being lost, and very far from civilisation. John and Natasha allowed us to capture their love, wrapped in sun and flowers. Who doesn't want to get married after looking at these pictures?!"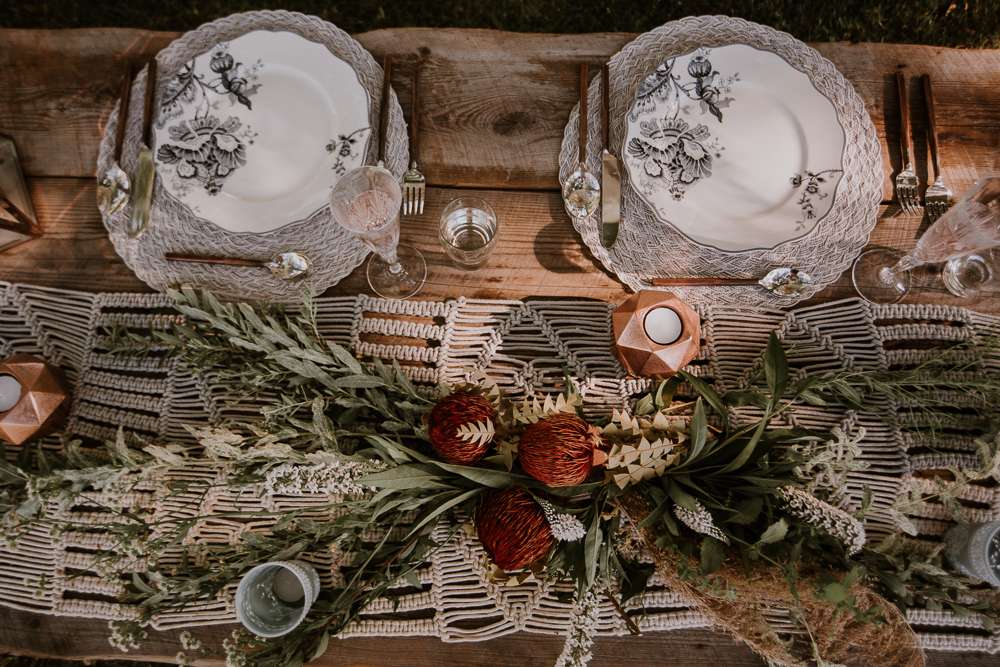 And she has a point. The team made the most of the beautiful outdoors with a towering white geometric backdrop for the ceremony, adorned with light fabric that fluttered in the breeze. Using nature's movements was a major inspiration for this shoot, as they decorated their reception with a parasol with floaty fabric that Natasha and John were lost in their own world underneath. Their long trestle table was prepared for an idyllic outdoorsy reception.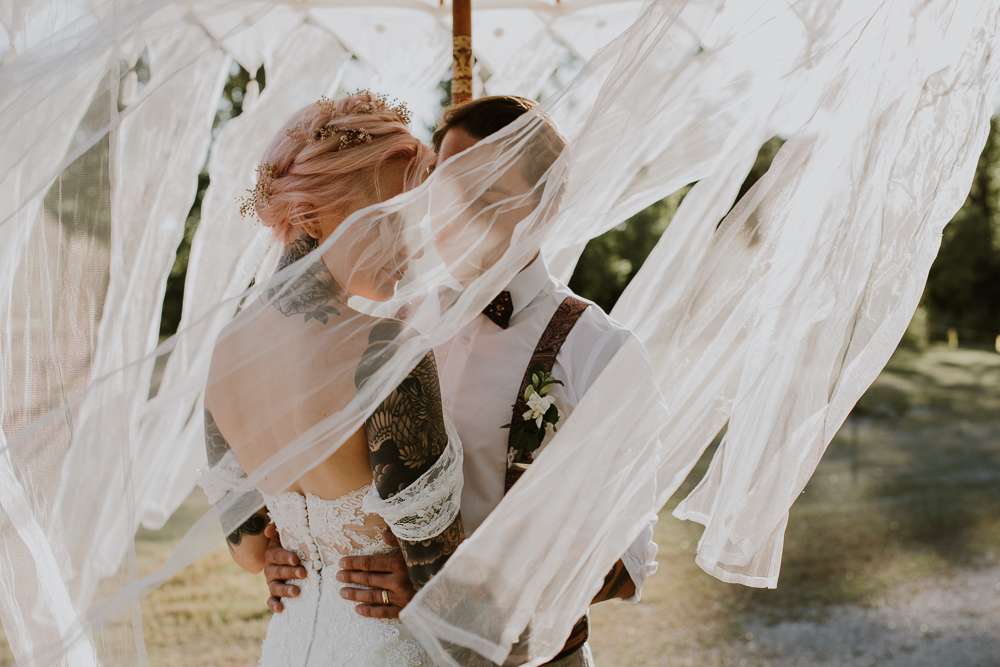 Mimosa Fleurs worked floral magic on the structures too, constructing clouds of textured foliage and flowers to hang behind the couple, as well as arrangements for the table. She also made the most incredible larger-than-life bouquet, overflowing with beautifully rustic foliage and ferns and studded with perfect roses.
Natasha's gorgeous off-shoulder dress was from La Boutique Champagne and was the perfect choice for a laid back festival-style wedding, elegant yet still playful. Her candy pink hair was styled into milkmaid braids by Marie-Ève Boily and Marie-Pier Paquette played with some beautifully dewy make up.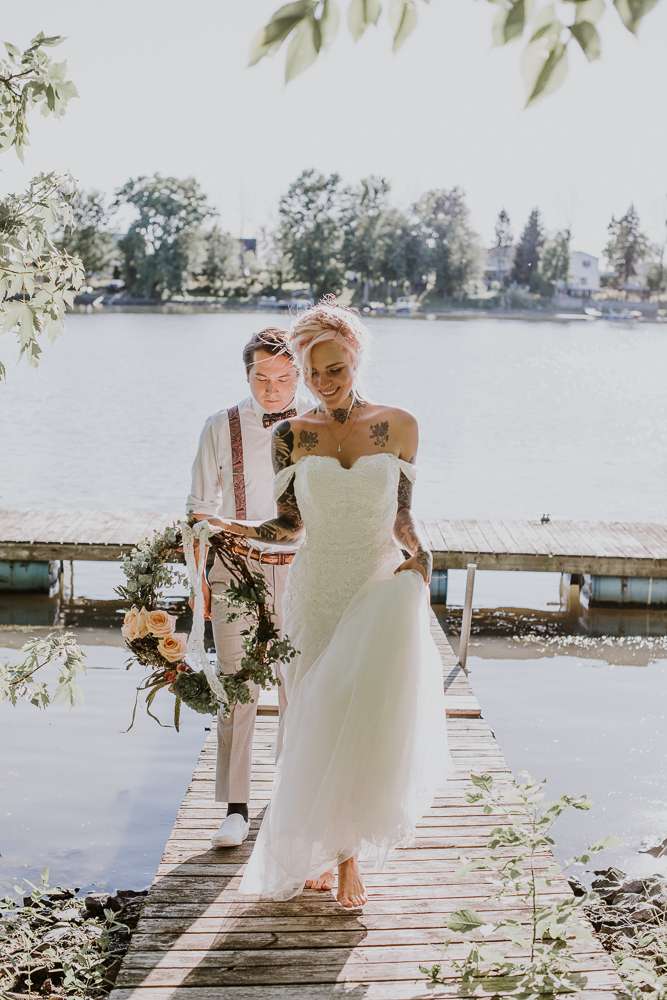 "The bride and groom are so loving and charming," Yanique explains, "that they give us the taste of living with them their idyllic love! The beautiful floral arrangement, the extraordinary places and the soft light transports us with them in their unique universes." Now we're off to wish it was summer and chase that light…