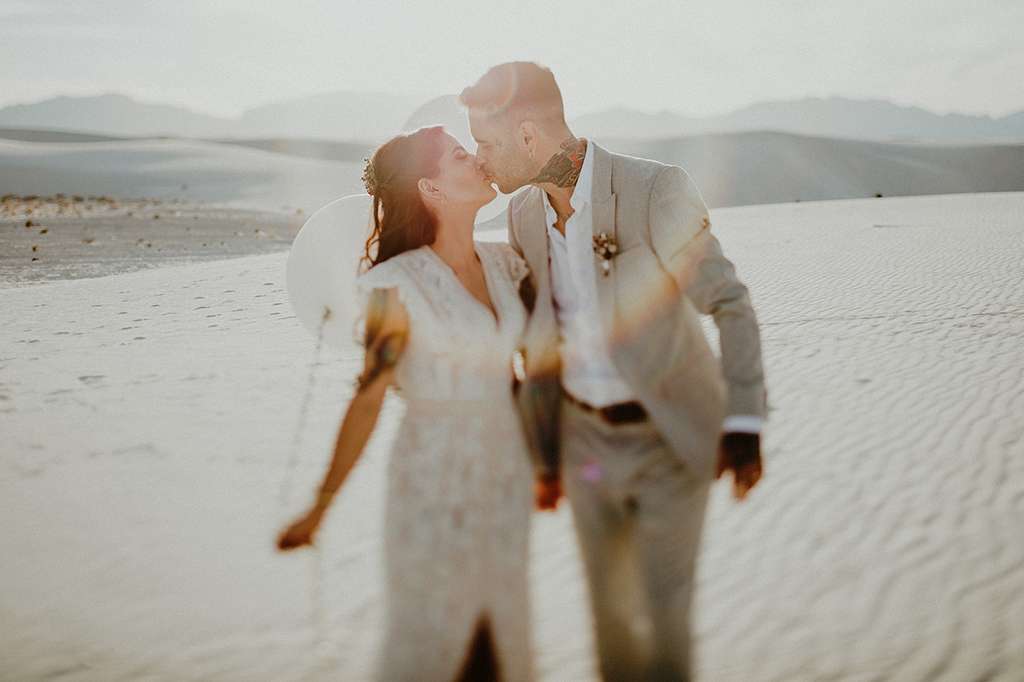 Tiago and Ines can thank a certain Mr Zuckerberg for their romance – like many modern love stories, they met on Facebook and the rest, as they say, is history! They've never felt particularly enamoured with traditional weddings – feeling that society can often bottleneck you into getting married, so an elopement was the perfect way for them to relieve themselves of all the external pressures that having a traditional wedding can sometimes bring.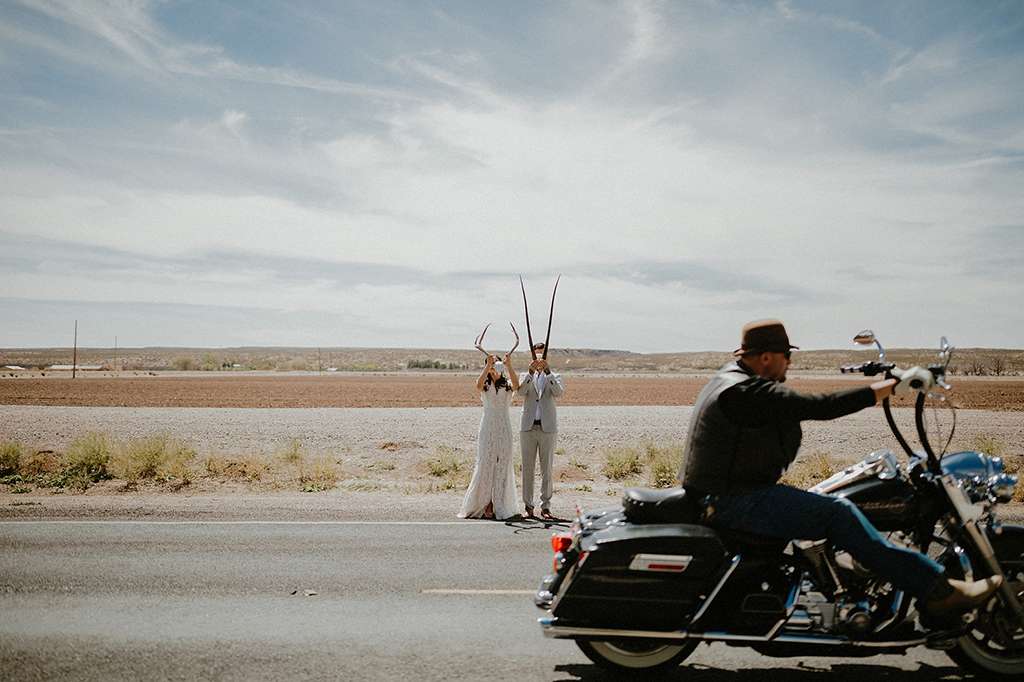 Despite living in the UK, and their photographer based in Portugal, they chose White Sands National Monument in New Mexico for their elopement as they both love the desert; specifically how devoid it is of other people! "We don't thrive in a big city lifestyle," explained Ines, "we like empty spaces, with limited (to no!) humans so we decided we would take the wedding to where we'd feel at home… the desert!"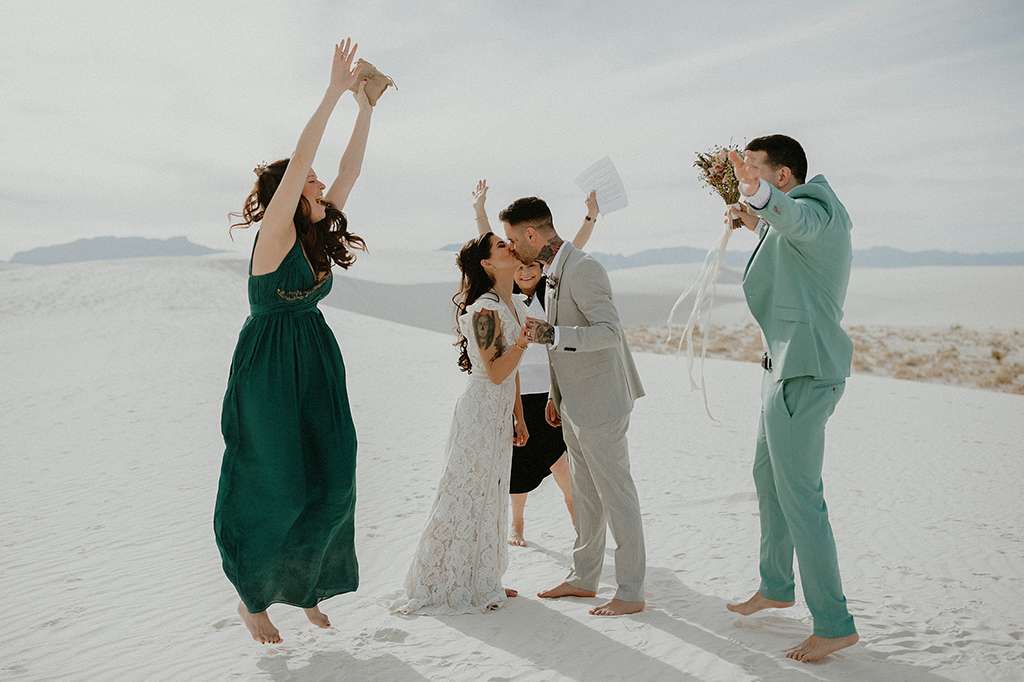 Tiago and Ines had a simple ceremony performed by a local officiant, and didn't even plan exactly where it would take place beforehand, instead walking through the sand dunes together to find the spot that felt just right for them. With just the sound of the breeze across the sand  and their two guests present, they said 'Yes!' and continued their desert party to sunset with a simple picnic reception.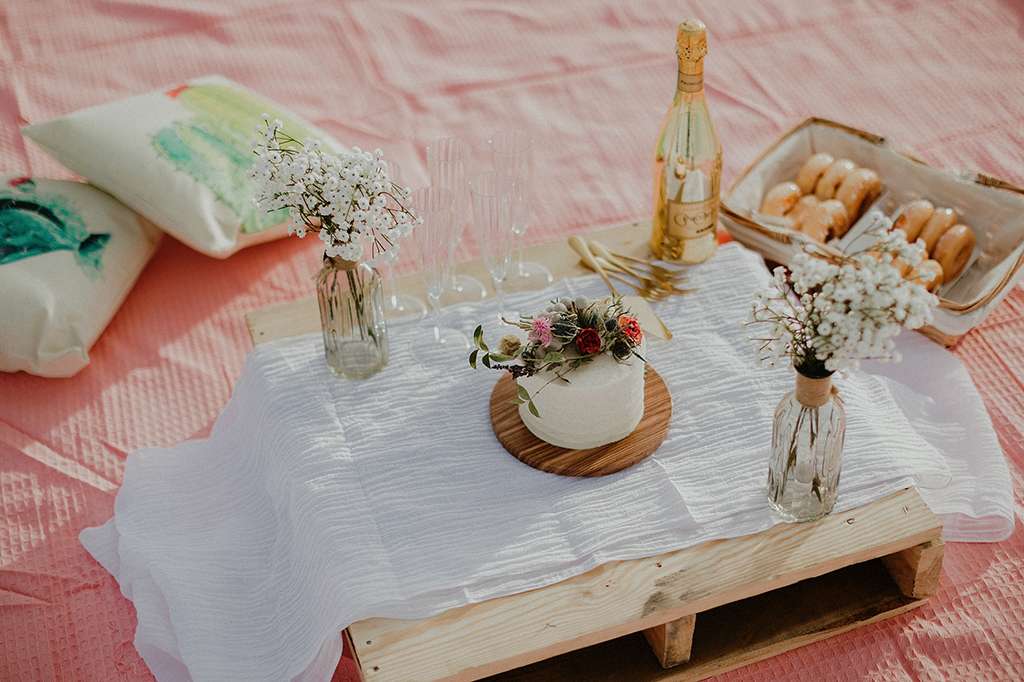 Without guests, venues, and all the other wedding accoutrements to organise, they were able to keep their planning spontaneous and creative – just like them! They ordered their props and picnic things from Amazon and had them delivered to their rented AirBnb. Tiago and his friend got changed in the back of a van just before they set off for the ceremony. They asked their officiant to keep the ceremony a surprise, so had a few giggles when she dropped a few unexpected jokes throughout! Despite it being a pretty chill affair, they did have an (unplanned!) run in with border control and then again the local park ranger, but they took it all in their stride and it only added to the fun memories of their day.
"Everyone is different, but if you're like us and feeling overwhelmed by societal pressures about getting married, just go for what you want!" said Ines. "We don't really see the monetary value of a wedding relating to the amount of happiness you'll have, in the end we knew all we wanted was to stay together forever… and that's what it all came down to for us."