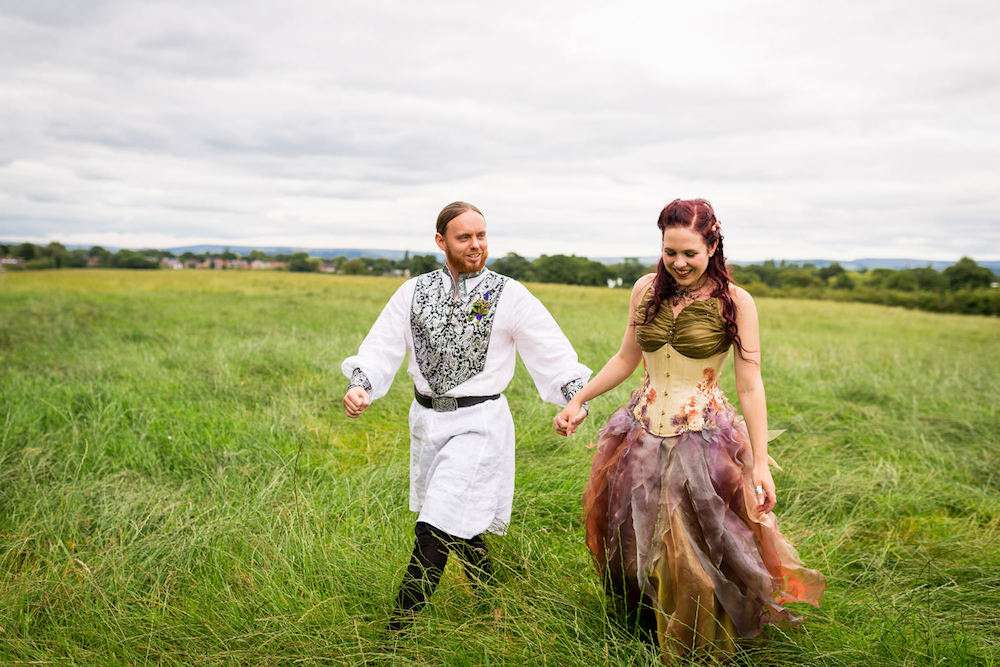 When a wedding is described as "Midsummer Night's Dream meets Lord of The Rings", you know it's going to be pretty unique, and Natalia and Steven's day certainly lives up to this promise. They even dared guests to outdo the bride and groom within the realm of the 'fancy dress' theme they'd set!
Their "playful and ethereal fantasy forest" wedding theme was based on everything that Natalia and Steven enjoy together – like the fancy dress theme, which is crucial to how they got together. "We had mutual friends but we really bonded after meeting for Halloween and admiring each other's fancy dress outfits", the bride explained. "I was a voodoo witch doctor and he was a cross-dressing banana (I'll leave that one to your imagination!) I admired his dedication to fancy dress and we started to discover how much we had in common – it quickly grew from there."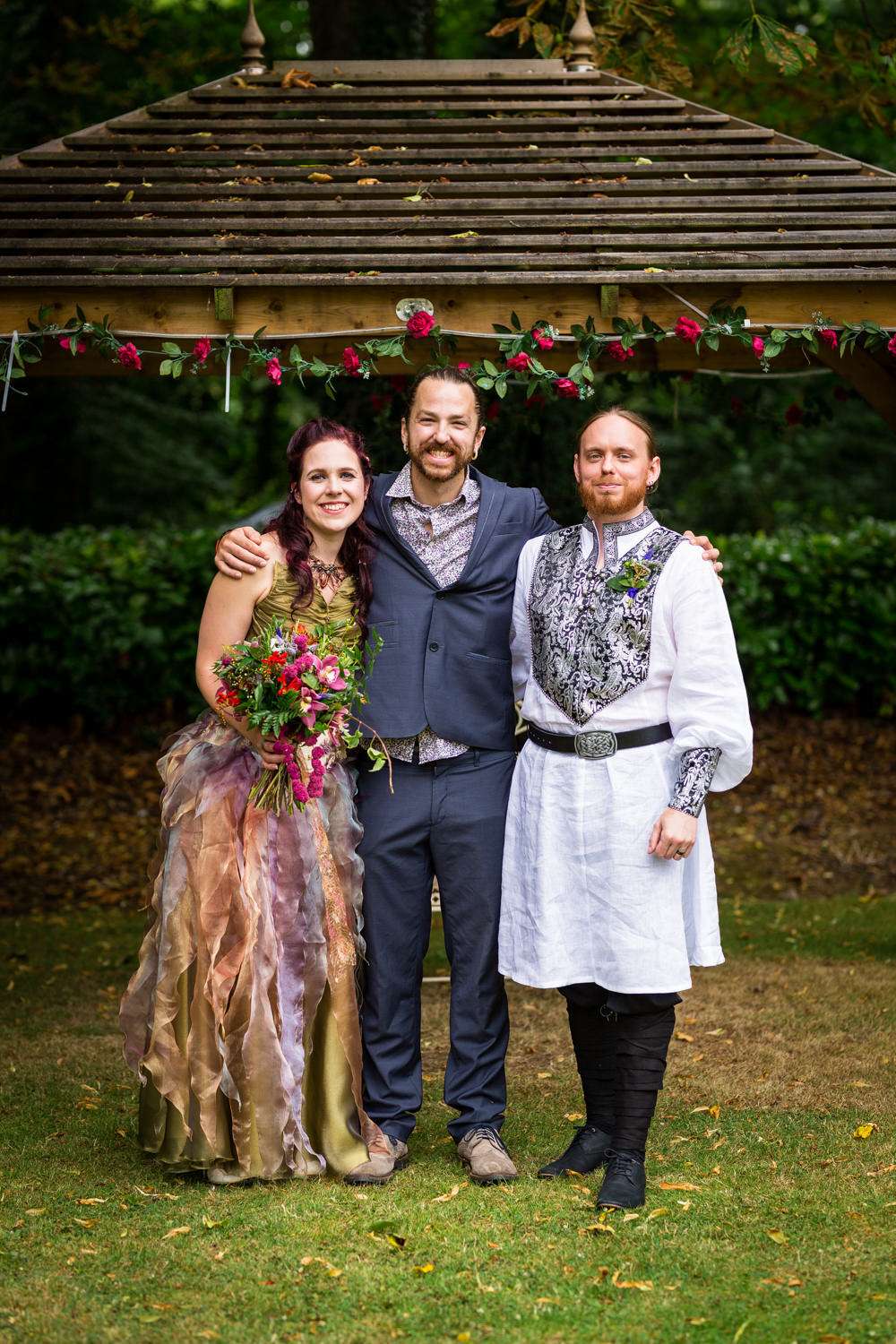 Guests were encouraged to wear fancy dress from any era or any realm, so long as they dressed up, and seeing the guests' amazing outfits made walking down the aisle even more special for the bride. It also meant the hotel manager came up to her about half an hour before the ceremony, exclaiming "YOU HAVE A UNICORN DOWNSTAIRS FOR YOUR WEDDING – I'VE NEVER HAD THAT BEFORE!" If that's not the sign of a Rock n Roll Bride wedding, I don't know what is!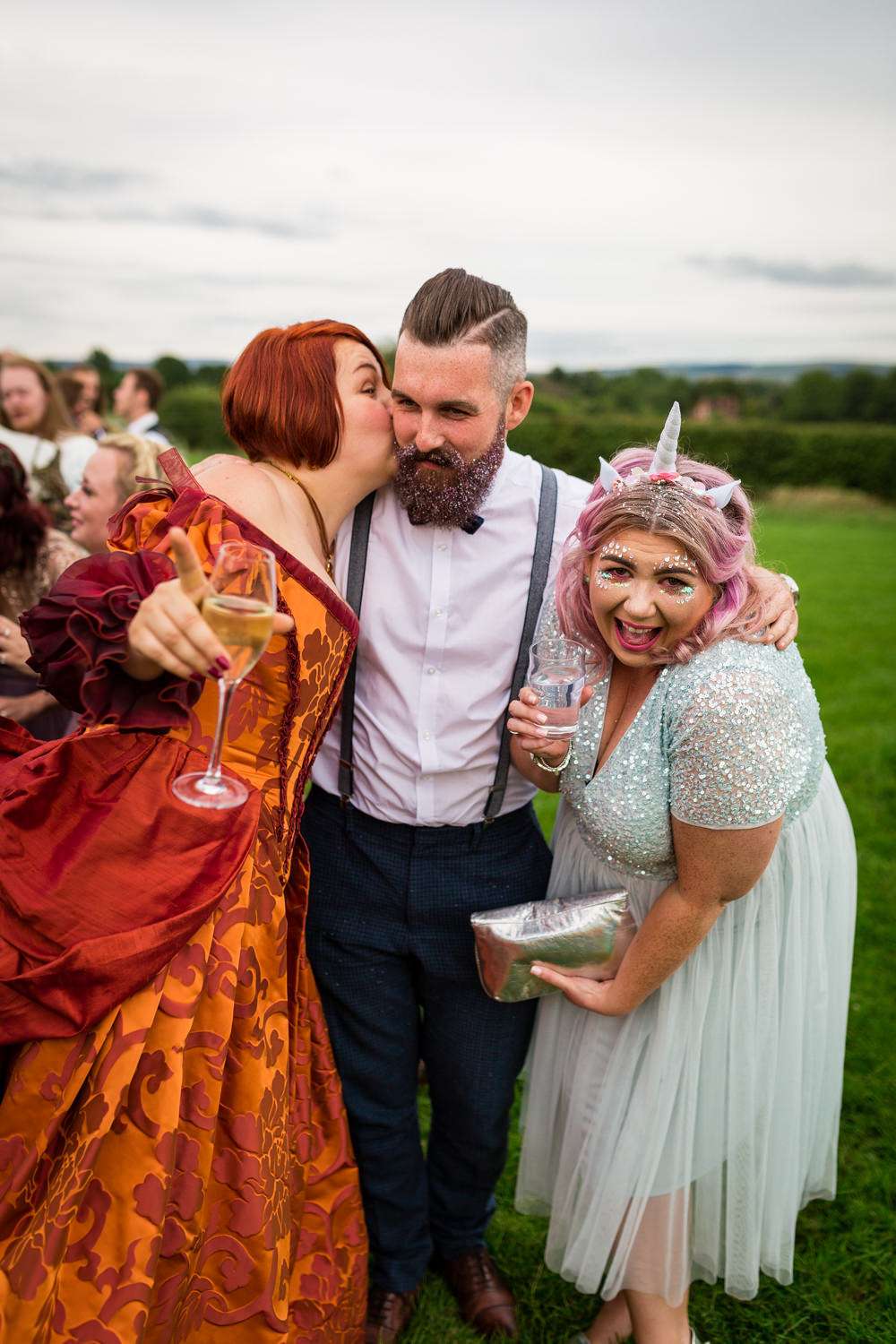 Of course, this meant they had to dress fancily too! "My dress was made by my mum, with a gold underskirt, an overlayer skirt with iridescent multi-coloured leaves, and a leaf-shaped top to sit alongside a corset from Royal Black Corsetry,." Natalia explains. "She is always in high demand with a year+ waiting list on bespoke corsets, but thankfully as we had a two-year engagement I grabbed her as soon as we had a dress design finalised!" The bridesmaids had similarly floaty layered skirts from Little Mistress, which they wore with nymph-like hooded shawls made by Natalia's mum.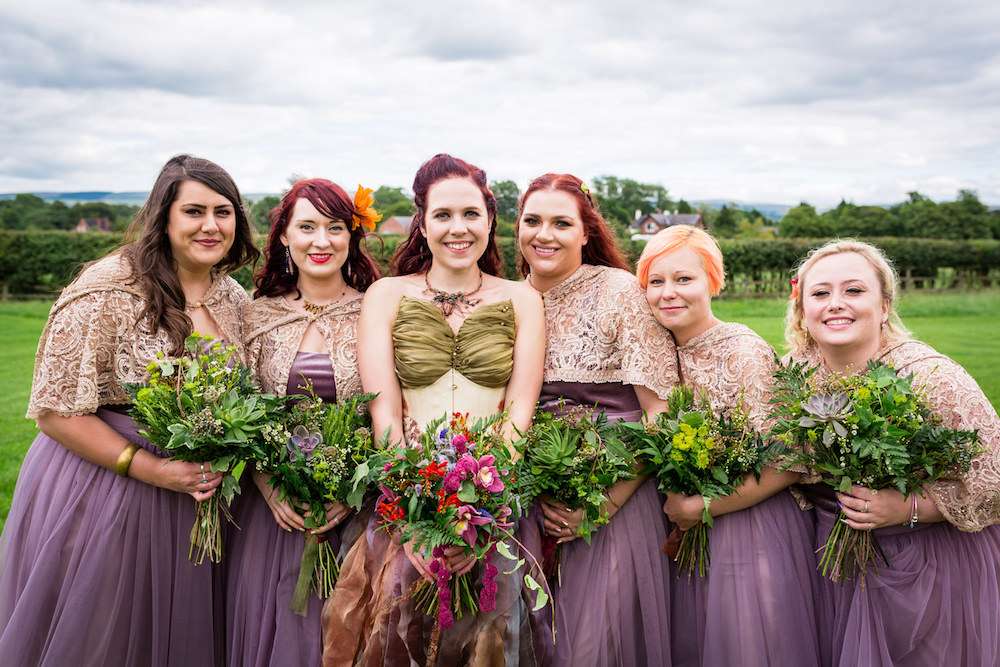 Steven spent almost as long finding his perfect outfit, as he wanted something elegant with a hint of medieval fantasy. "We eventually got his Medieval Wedding tunic and linen overcoat from Armstreet, and bought some belt buckles by ourselves out of vegan leather, as we wanted the whole wedding to reflect this lifestyle. He asked my mum to teach him how to sew so he could make his own black leg wraps, which were held in place by pins from SchmiedFolke on Etsy.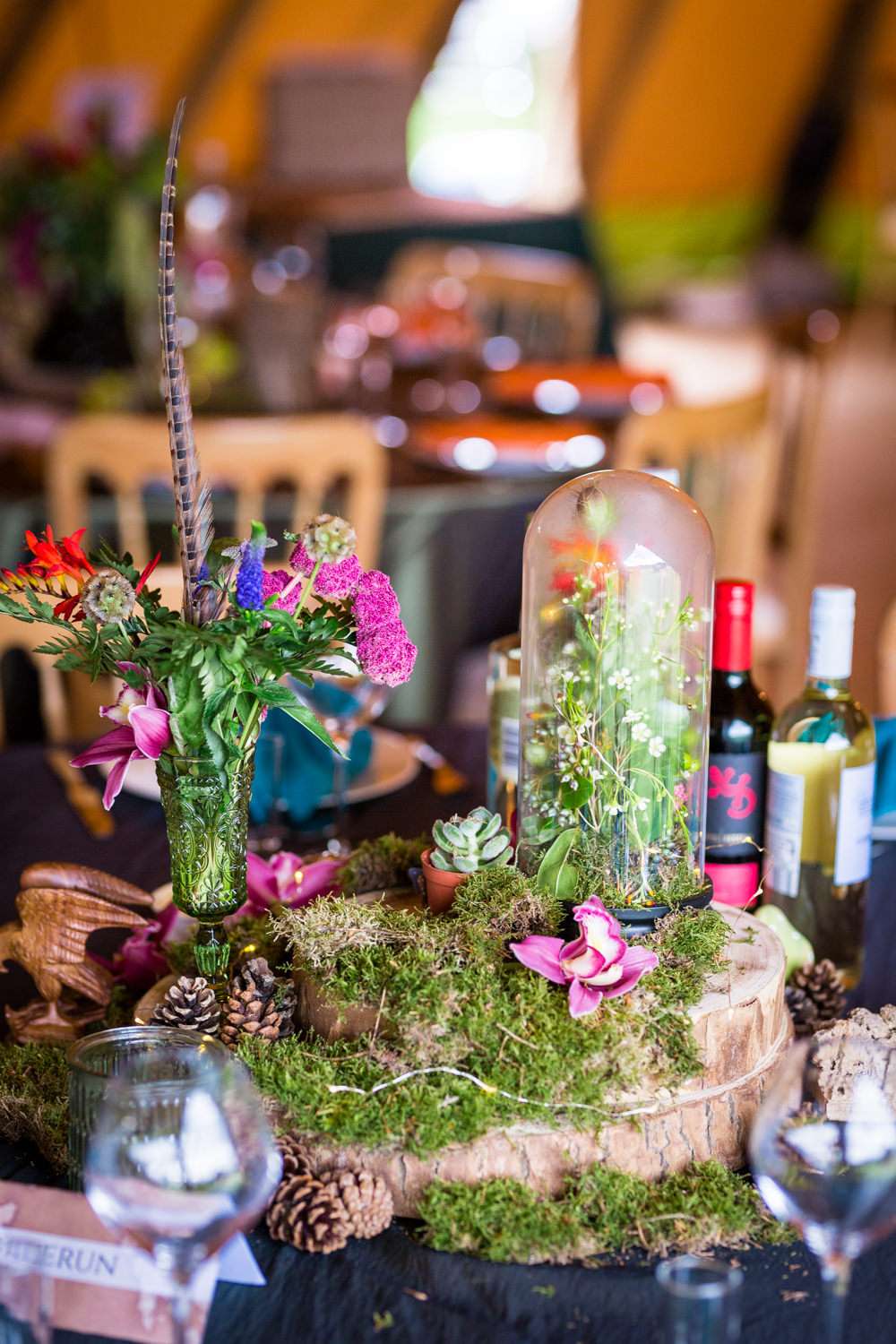 Diddibox helped turn the mossy woodland theme Natalia had in her head into reality after they fell in love with her work at a wedding show. "I'd been trying to articulate the theme I had in my head, and as I entered the venue, standing right in front of me was the vision straight out of my head!" Natalia remembers. "Bex and Ali helped us to personalise the woodland theme and kept it creative, colourful and affordable."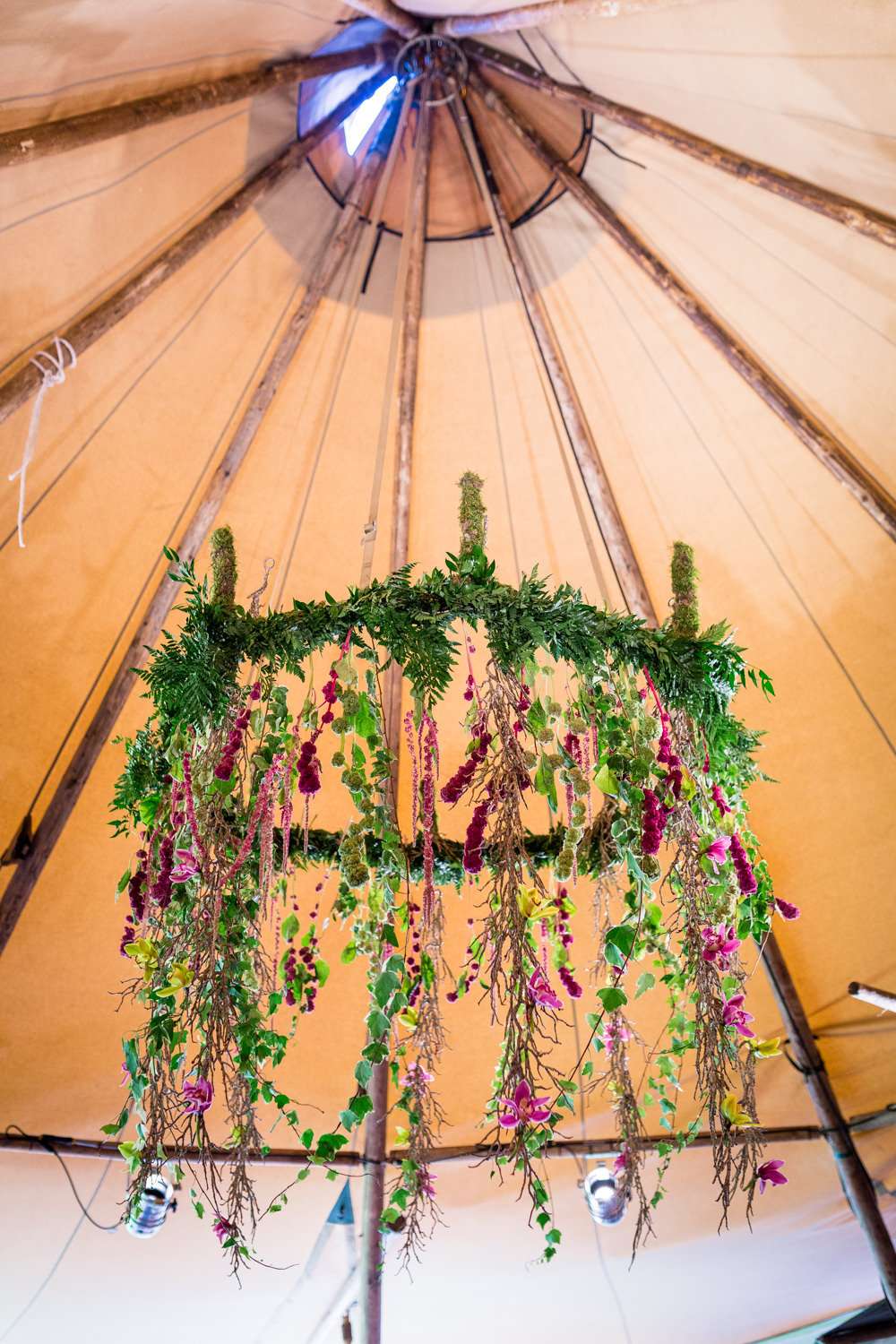 After Daniel Glastonbury led a humanist ceremony full of symbolism, including hand-fasting and a candle lighting ceremony to honour those who had passed away, Natalia and Steven moved onto their tipi reception held at The Wedding Meadow in Cheshire. As well as a main tipi decked out in gorgeous florals, fairy lights and vintage accessories, there were a couple of extra gazebos outside to create little adventure areas for the guests. "In one, we had upcycled an old rusting chest into a fancy dress box and a chill out area, and in the other we had board games. My parents found an old croquet set in their cellar, so we set that up too, and I brought along some hula hoops in the hope for good weather!"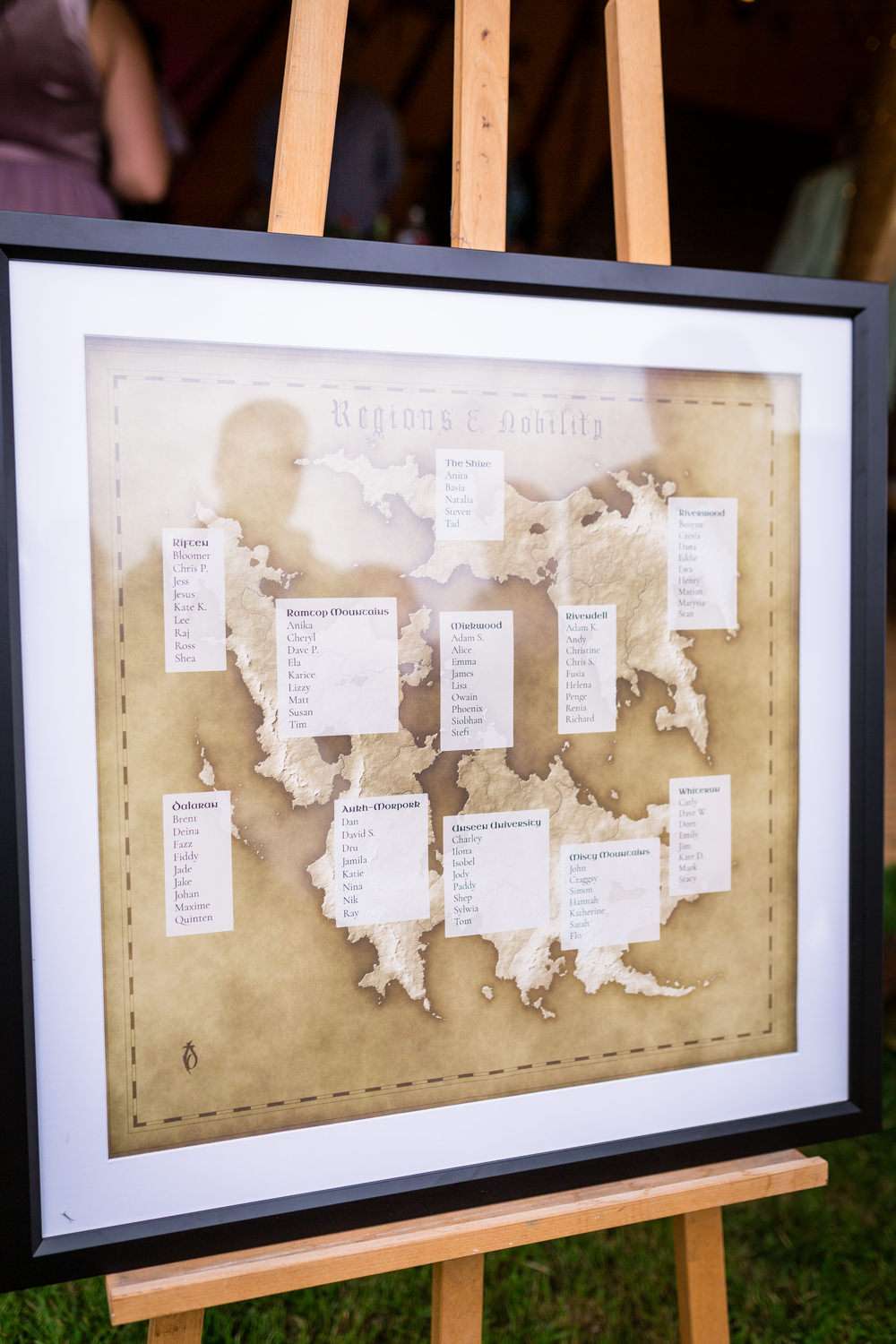 On each table sat DIYed table names based on the bride and groom's favourite places from fantasy realms, including Lord of The Rings, Discworld and Skyrim, alongside a bottle of Zubrowka vodka and shot glasses to celebrate Natalia's Polish roots. "Initially, folk thought we were crazy to do that and no-one would drink it straight, but soon enough my cousin was sending out ninja scouting parties to collect what was left on the tables and had created a secret Zubrowka society in the corner!"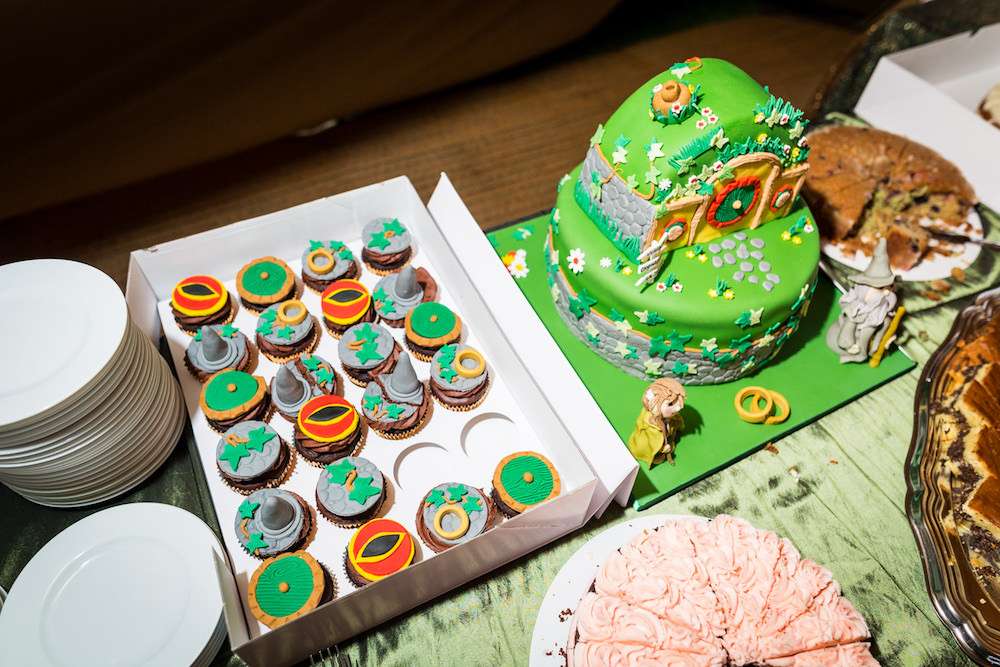 In addition to their vegan buffet, which Natalia and Steven found difficult to source, eventually ending up with the epic Rocket Catering – they asked all of their guests to bring something for the dessert table. "We didn't want to do the whole 'posing tipsily and awkwardly for cutting the cake photos' thing, which we knew would happen," Natalia explains. The table also included delicious vegan cakes from The Black Cat Cakery in Manchester, sneakily ordered by a bridesmaid, and 100 Lord Of the Ring inspired cupcakes and a Hobbit-inspired cake made by one of the groomsmen's mothers.
Sit back and transport yourselves to another realm with this wedding, folks…